This post may contain affiliate links. Read our disclosure here.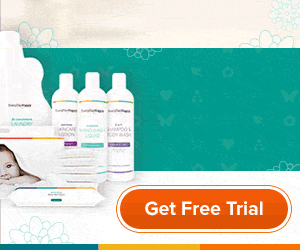 If you have a baby, here is a fun deal for you! You can get a  EverydayHappy FREE trial of premium baby products. Many moms love this brand if their baby has sensitive skin or is prone to rashes.
Right now you can get a free trial of natural diapers and wipes or family care kit. The diapers are toxin and carcinogen-free. They also do not have latex or any fragrances, which is what makes them perfect for babies with sensitive skin. Y'all, they are even vegan.
If you pick the family care kit instead it includes: shampoo, body wash, diaper rash cream, laundry detergent, and hand soap. This is a fun bundle even if you don't have a baby. You can give the diaper rash cream away or find another use for it.
Shipping for the free trial is $5.95.
To give you an idea of long term costs: they offer a subscription service, but you can cancel at anytime. You can get up to 40% off if you bundle kits. The diaper & wipes bundle is $79.95 per month. The Family Care Bundle is $35.95 per month. Shipping is $5.95. If you don't love your trial bundle, you will need to contact the company within 5 days of receiving it. You can also delay a month or skip a month.
Other Free Trials:
See more deals for baby.