This post may contain affiliate links. Read our disclosure here.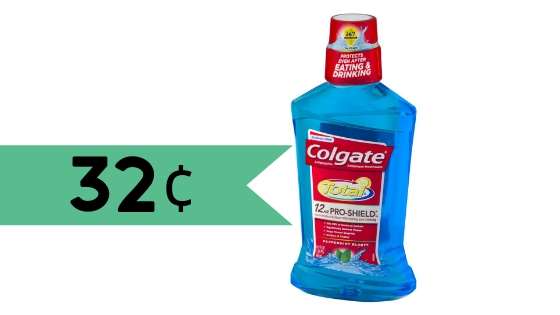 This week at Target, get a $5 gift card when you buy three participating oral care items in store or online (select pick up option).
Check out the deal scenarios below to get oral care items starting at just 25¢!
Oral Care Deals at Target (thru 8/3)
$5 Gift Card WYB (3) Participating Products
Act Kids Mouthwash, 16.9-18 oz, $3.99
-$1 off ACT Kid's Rinse printable
-$1 off ACT product, excl trial, SS 07/28


(buy (3), use (3) coupons, makes it $1.32 ea.)

Plackers Flossers, 160 ct., $3.79
-20% off Plackers Flossers, 90 & 160 ct varieties, Target Cartwheel eCoupon


(makes it $1.70 ea.)

Listerine Mouthwash, 250 mL, $2.99


(makes it $1.32 ea.)

Colgate Sensitive Toothpaste, 4-6 oz, $4.99
-$1 off Colgate Enamel Health, Sensitive or Essentials with Charcoal or Coconut Oil toothpaste, 3 oz+, SS 07/21 (EXP 8/3)
-$1 off Colgate Total SF, Optic White, Enamel Health, Essentials or Sensitive toothpaste printable
-20% off Colgate Sensitive Toothpaste, all varieties, Target Cartwheel eCoupon


(use cartwheel and (3) $1 off, makes it $1.66 ea.)

Colgate Total Pro-Shield Mouthwash, 1L, $4.99
-.50/1 Colgate Mouthwash or Mouth Rinse, 200 mL+, SS 07/21 (EXP 8/3)
-$1 off Colgate mouthwash or mouth rinse, 400 mL+ printable
-$2 off Colgate Total Mouthwash, 1L, peppermint or spearmint only, limit 5, at Target, Ibotta mobile app


(use (3) $1 off, and (3) Ibotta, makes it 32¢ ea.)

Dentek Floss Picks, 150 ct., $2.99


(online price)


-$1 off Dentek Floss Picks, 75 ct + printable
-5% off DenTek Floss Picks & Brushes, all count sizes, excl dental guards and Orabrush, Target Cartwheel (EXP 8/3) eCoupon


(use cartwheel and (3) $1 off, makes it 25¢ ea.)

Crest Pro-Health Toothpaste, twin pack, 4.6 oz tubes, $4.99


(online price)


-$2 off Crest Multipack toothpaste 3 oz+, excl Cavity, Baking Soda, Tartar Control/Protection, Kids, limit 2, PG 07/28
-$1 off Crest Toothpaste, 3.6 oz +, Target Cartwheel eCoupon


(use (2) $2 off and $1 off, makes it $1.65 ea.)

Zolli Pops Clean Teeth Pops, 3.1 oz, $3.99
(online price)
*not sold in all stores*
–B1G1 ZolliPops or Zaffi Taffy Clean Teeth Candy, 3-5.2 oz (sign up) printable
-15% off Zollipops Clean Teeth Candy, 3.1 oz, Target Cartwheel (EXP 8/3) eCoupon


(buy (3), use cartwheel and B1G1, makes it 64¢ ea.)

Colgate Kids Battery Powered Toothbrush, 1 ct., $4.99


(online price)


-$1.50 off Colgate Adult or Kids battery Powered toothbrush, any, SS 07/21 (EXP 8/3)


(use (3) coupons, makes it $1.82 ea.)

Tom's of Maine Charcoal Toothpaste, 4.7 oz, $5.99


(online price)


-20% off Tom's of Maine Charcoal Toothpaste, 4.7 oz varieties, Target Cartwheel eCoupon
-$1.80 off Tom's of Maine Adult Toothpaste or Mouthwash, excl children's and trial, limit 5, Ibotta mobile app


(buy (3), use cartwheel and (3) Ibotta, makes it $1.65 ea.)