This post may contain affiliate links. Read our disclosure here.
Are you ready to cut cable but scared you'll miss out on live sports and other favorite channels? Don't be fooled into thinking you have to stick with cable to get live TV.  In reality, you'll have MORE channels if you cut the cable and switch to streaming—not to mention you'll save a ton of money!!
No matter what you want to stream, there are tons of options with the 5 providers below.  Each is a flat rate monthly, with no taxes, hidden fees or contracts.  Plus, they all offer free trials!
Tip: If you already streaming content, remember there is no contract so you can always switch providers for more channels or a lower price!
Streaming Devices
With any of these options, you'll need a device to watch content on. Going super basic, you could stream from your smart phone or laptop. If you want to watch it on your TV, here are some options:
Roku
Fire Stick (works with Alexa)
Amazon Fire TV Cube
Smart TV
They are each a little different, but our personal favorite after trying almost all of them is definitely the Roku.
Tip: Before you buy a device, look at the services below.  A few of them offer a FREE streaming device when you pay for 3 months of their service!
2022 Best Streaming Providers for Live TV
Many streaming providers seem to be the same when you just look at price. However, the real comparisons are when you look at things like channel line ups, the number of screens allowed and other features.
Note: ALL of these providers are paid monthly.  There are no sign up fees, or cancellation fees, or extra taxes.  We only pay for service during college football season and then cancel after the bowl games until the next August.
Hulu with Live TV (bundled with Disney+ and ESPN+)

Price: $69.99 per month with ads; $75.99 per month without; 7 day free trial
Hulu with Live TV is the best of both worlds in terms of content. You can watch things as they air but you will also have access full seasons of shows that have already aired as well as movies. You have an unlimited amount of space to record live TV. You can check their list of which sports channels are offered here.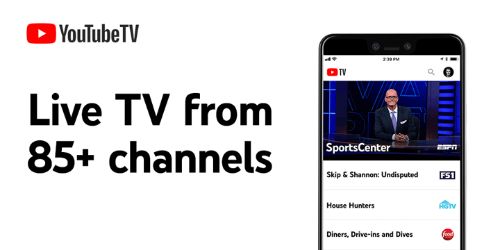 YouTube TV
Cost: $54.99 per month for first three months, then $64.99 per month; 14 day free trial

You Tube TV allows you to stream live TV from 85+ networks plus local sports and news. You can have up to 6 accounts per household and can stream on 3 devices at a time.  There is also a Cloud DVR with no storage limits. Go to the website and type in your zip code to see which channels are available.
Tip: Youtube TV doesn't care who you add to your 6 accounts "family".  We currently share Youtube TV every fall with our in-laws and each pay 33% of the cost.  You don't want to share with more than 3 people though as that is the max that can stream at the same time.
Sling TV
Cost: $61 per month (Sling $50 Orange+Blue + $11 Sports Package); 3 day free trial
Sling TV allows you to stream live TV. You will get different channels based on which package you get. To get all the sports channels that Youtube and Hulu offer you'll need to get the additional $11 sports package.
Right now Sling is offering 50% off your first month.
Fubo TV
Cost: $69.99 per month; 7 day free trial
The newest player in live streaming, FUBO TV is the most sports heavy of all the providers.  They offer all the top channels for college sports without needing add on packages.  Currently available anywhere in the US, Canada and Spain.  You can get local and national channels and use this with any streaming device.
 
AT&T TV (Formerly DirectTV Now)
Price: $49.99 for first two months, then $69+ per month for PLUS; 7 day free trial
You can get 45+ channels with AT&T TV. There is no satellite or annual contract required. It includes DVR cloud access. In select markets, you can add on an NFL Sunday Ticket subscription if you have at least the $70 Direct TV Now package.
Included in $69.99 Entertainment: ESPN, ESPN2, Fox, FS!, NBC Sports
Included in $89.99 Choice: ESPN, ESPN2, ESPN News, ESPN U, Fox, SEC, BTN and ACC Network, CBS Sports, FS1, FS2, Longhorn Network
My Pick
| | | | | | |
| --- | --- | --- | --- | --- | --- |
| | Hulu Live  | Sling | AT&T  | FUBO | YouTube TV |
| Price (monthly) | $69.99+ | $61 | $69.99+ | $69.99 | $64.99 |
| Channels | 65+ | 70+ | 45-60+ | 116+ | 85+ |
| DVR | Yes | $5 | Yes | Yes | Yes |
| On-Demand | Yes | Yes | Yes | Yes | Yes |
| Simultaneous Streams | 2 | 4 | 3 | 3 | 3 |
Each offers great service, and you'll love that there are no contracts, taxes or hidden fees!  Pick based on the channels you need and prices.
They all offer free 3-7 day trials… if you want to get creative that would at least give you almost 5 weeks of free streaming!