This post may contain affiliate links. Read our disclosure here.
Have you ever tried making your own DIY homemade cleaners? They only require a few simple ingredients and are not complicated to make. They are also much cheaper than buying "green" or "organic" brands and are completely natural and environmentally friendly.
Whether you want to cut out chemicals or just want to save money here are some ideas of what you'll need and some recipes so you can decide for yourself.
Tip: In our crazy world right now, many of these items are still in-stock!
Supplies:
White Distilled Vinegar
Water (distilled is best)
Baking Soda
Washing Soda
Borax
Rubbing Alcohol
Gentle Soaps (Ivory, Fels-Naptha, Dr. Bronners Castile)
Olive Oil
Lemon Juice
Extra Items:
Essential Oils (Tea Tree, Lemon, Lavender, etc.)
Orange or Lemon Peels
Fragrant Herbs (Rosemary, Cloves, Cinnamon, etc.)
Funnel (saves time and prevents spills)
Spray Bottles
How To Use The Ingredients:
Vinegar
White vinegar is your new best friend. Vinegar is a great cleaner because of its acidic nature and has a natural antibacterial effect. I like to use vinegar in almost all of my cleaners. The major plus side is that it's very cheap!
Baking Soda
Baking soda is great for the abrasive quality. It works well on surfaces in the bathroom and kitchen. You can even add a little salt if you want to boost the abrasive scrubbing power.
Lemon Juice
Lemon juice is another great ingredient to have. It leaves a steak-free shine, kills mold, and even cuts grease.
Hydrogen Peroxide
My favorite use of Hydrogen Peroxide is to use it as a laundry spot cleaner. You can mix it with water and leave it in your laundry room to have on hand.
Olive Oil
Olive oil covers a multitude of sins. I use it on wood and leather to hide scratches. You just rub it on and the scratch blends in. It also moisturizers wood making it great for polishing.
Liquid Castile Soap
I use Dr. Bronner's. It may seem a little expense at first, but a little goes a long way. I grabbed the peppermint, but you can use unscented as well.
Recipes for Homemade Cleaning Products:
All Purpose Cleaner
Ingredients:
2 Tablespoons White Distilled Vinegar
1 Teaspoon Liquid Castile Soap
2 Tablespoons Baking Soda
2 Cups Warm Water
Directions:
-Combine vinegar and Castile Soap in spray bottle
-Add baking soda & wait until it stops foaming
-Add warm water
-Shake Gently
Abrasive All Purpose Cleaner
Good for cleaning soap scum in bathroom or scrubbing grime off stove tops.
Ingredients:
Distilled white vinegar
Baking soda
Directions:
-Fill spray bottle with vinegar
-Spray vinegar on surface you want to clean
-Sprinkle over baking soda (it will bubble)
-Let it sit for at least 5 minutes then scrub surface with scouring sponge
Glass Cleaner
Ingredients:
1 cup Rubbing Alcohol
1 cup water
1 tbsp vinegar
Directions:
-Add all ingredients to a spray bottle and shake gently
-Spray on glass surface and wipe with an old rag, t-shirt, microfiber cloth or paper towel
Powdered Laundry Detergent
(Yields 3 cups = 40 loads)
Ingredients:
1  Gentle Soap Bar ( Ivory, Dr. Bronners Bars, Fels-Naptham, etc.)
1 c. Arm & Hammer Super Washing Soda
1 c. 20 Mule Team Borax
Directions:
-Grate the bar of soap with a small cheese grater or put it in an old food processor until powdered.
-Combine the three ingredients into a large container.
-For a small or un-soiled load, use approx. 1 tablespoon.
-For heavy or very dirty laundry, use 2-3 tablespoons.
Liquid Laundry Detergent
(Yields 2 gallons = 64 loads) Is a great options for those with sensitive skin.
Ingredients
1/3 bar of Gentle Soap ( Ivory, Dr. Bronners Bars, Fels-Naptham, etc.)
1/2 c. Arm & Hammer Super Washing Soda
1/2 c. 20 Mule Team Borax
Water (follow amount in directions)
A bucket or storage container
Directions:
-Grate bar of soap into a large stockpot with 6 cups of water
-Add washing soda and borax and stir until everything is completely dissolved in the water
-Remove from heat and stir in an additional 2 c. of hot water
-Pour into the container of choice an add an additional 1.5 gallons of water
-Allow the soap to sit and gel for 1 day
-Shake well and use 1/2 c. per load of laundry
Fabric Softener
Ingredients:
1 cup baking soda
6 cups distilled white vinegar
8 cups water
10-15 drops orange essential oils or lemon essential oils (optional)
Directions:
-Mix together ingredients
-Use 1 cup per load in final rinse cycle
Foaming Hand Soap
Ingredients:
An empty foaming hand soap dispenser
Bronner's liquid Castile soap (any scent you like)
Distilled water
Directions:
-Fill empty soap dispenser 1/4 with the Castile soap
-Fill the rest with water and shake gently (distilled water will make it last longer)
Furniture Polish
Ingredients:
1 Cup Olive Oil
1/2 Cup Lemon Juice
Directions:
-Combine ingredients in spray bottle
-Wipe surface with old rag or paper towel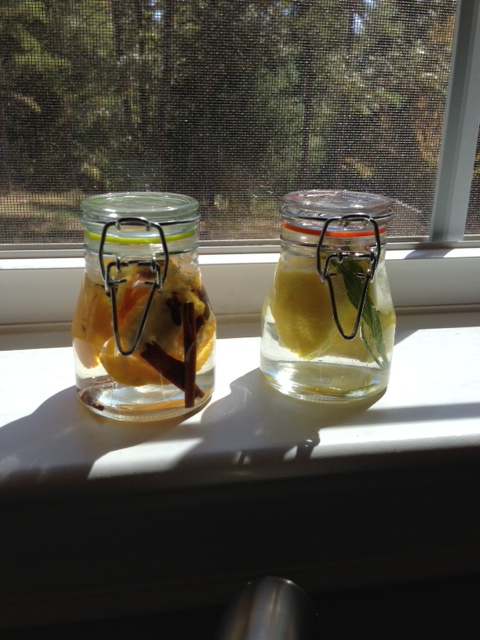 Adding Scents:
-Add around 10-15 drops of your favorite essential oil to your cleaner
Scented vinegar
-Add lemon peels, orange peels, rosemary, cloves, etc in a jar
-Fill jar with distilled white vinegar and close jar with tight fitting lid.
-Soak for around 2 weeks on counter (vinegar will naturally preserve so it will not rot)
-Add this to your cleaner to give them a nice scent
These are just a few examples of homemade cleaning products. If you have more ideas about making your own household cleaners please leave a comment below.
See more frugal living ideas.