This post may contain affiliate links. Read our disclosure here.
Chicken is one of the cheaper meat options at the grocery store, so incorporating it into your meal planning makes sense. And if you like using chicken as a main ingredient in things like casseroles, salads, or enchiladas, then I've got what I think is the easiest way to prep the chicken. All you need is an Instant Pot and a mixer!
I am a huge fan of freezer prepping and this is a go-to item you can always have cooked and ready to add to any meal.  If you make this Instant Pot shredded chicken, you can use some for that night's dinner and freeze some of it for a future meal. It requires almost no active work and is so easy, it's hardly worth calling a recipe.
Instant Pot Shredded Chicken
The first step is to buy some chicken. In these pictures, you'll see pictures of chicken tenderloin, but you can use any kind of boneless chicken (like breasts or thighs).   Buy in bulk for the lowest prices!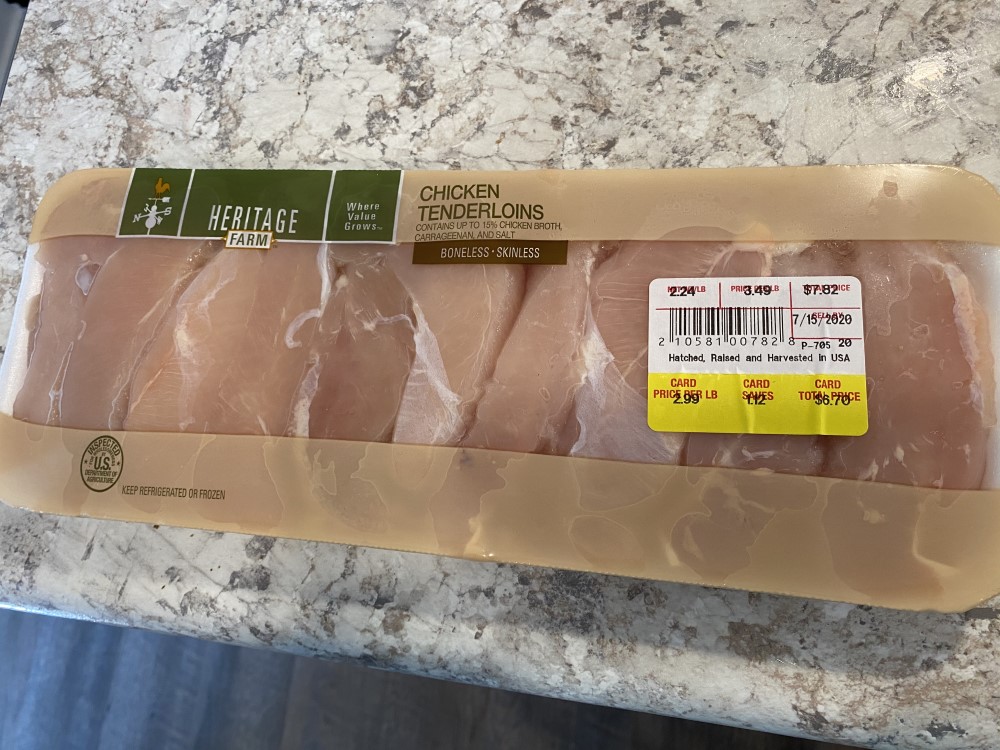 If you are using a larger cut than a tenderloin, cut the chicken into strips about the size of tenderloins, as that will allow it to cook evenly and quickly!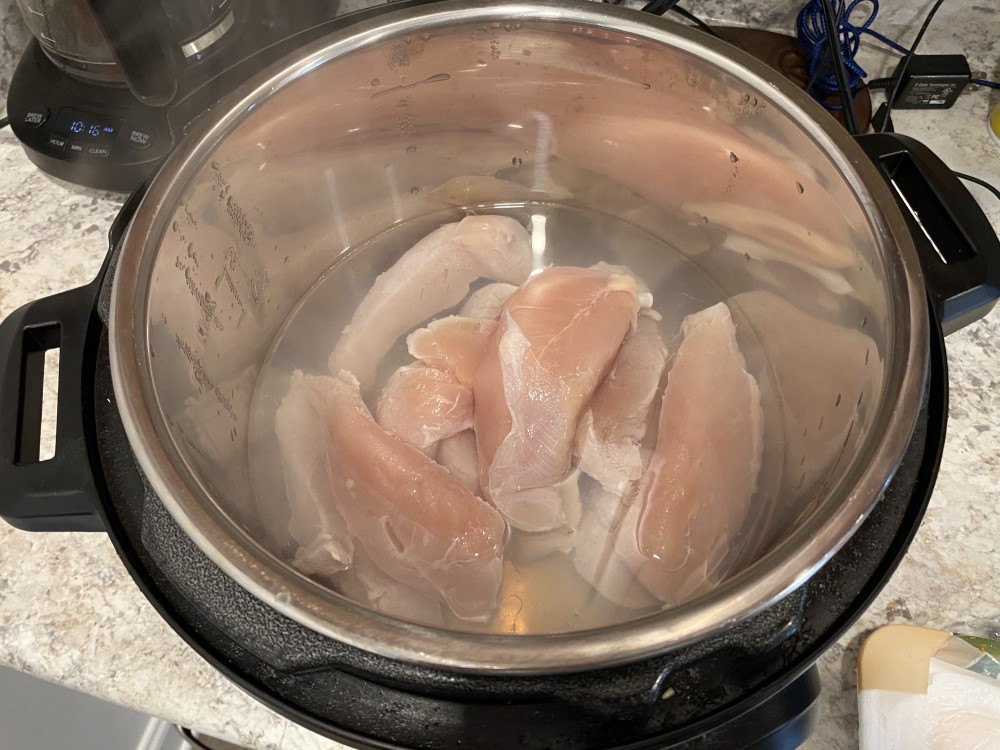 Once you have your chicken, put it in the main pot of the Instant Pot and add about 1.5 cups of liquid, like water or chicken broth. If you don't do this, the chicken will burn on the bottom of the pan.
Then you'll set the Instant Pot to high pressure for three minutes. That's right; just 3 minutes! Of course, it does take some time for the Instant Pot to reach full pressure, but you don't have to mess with it. You can get the chicken going and then go do something else.
After it's done, you can either let the pressure release naturally or you can manually release it. It won't make a huge difference.
At this point, if you want larger pieces of chicken, you can just put it in a bowl and do with it what you will. But if you want shredded chicken, keep reading.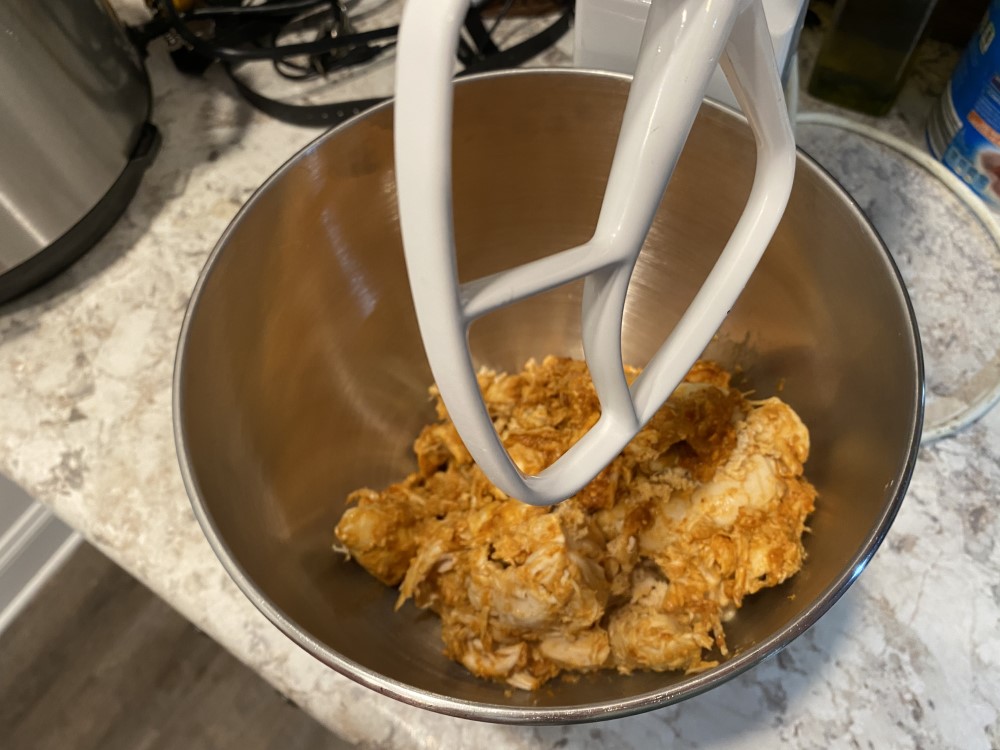 A stand mixer or hand mixer is by far the easiest way to shred chicken. Throw the cooked chicken in the mixing bowl and turn it on. I was making shredded chicken for enchiladas, so I added in a packet of taco seasoning before I mixed it. Once it was done, I had a beautiful bowl of seasoned shredded chicken.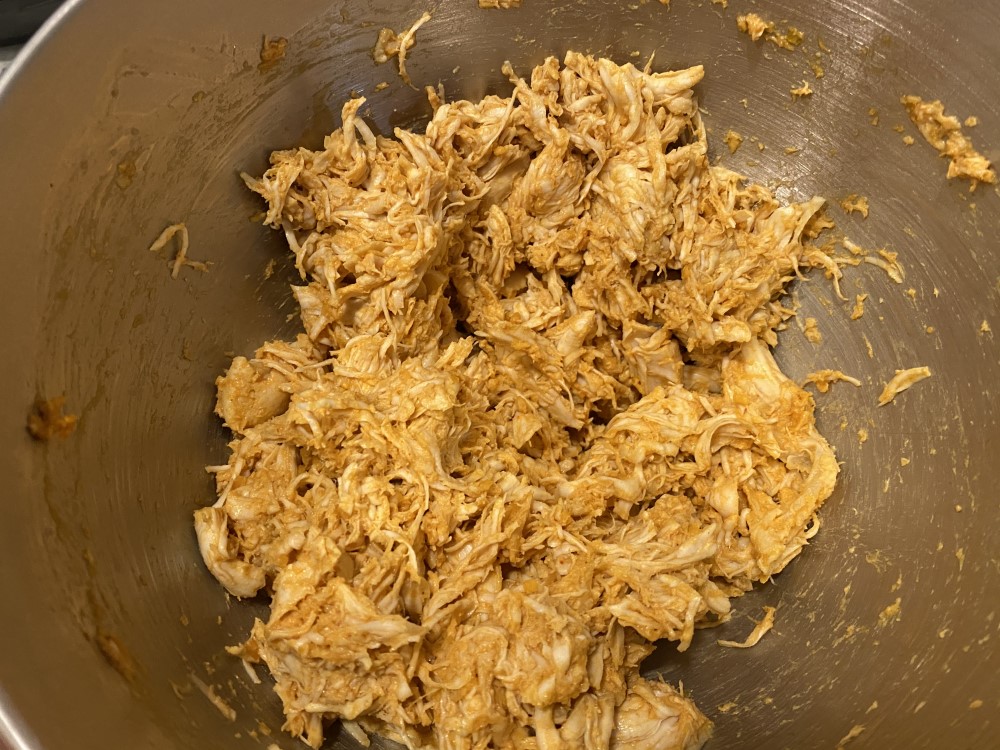 The possibilities for this are endless, and the best part is that you can easily freeze large portions of this Instant Pot shredded chicken for future meals.
Instant Pot Shredded Chicken
Ingredients
2-4 pounds chicken (breasts, tenderloins, thighs)
1.5 cups chicken broth
Directions
Cut the raw chicken into large strips. Place in the Instant Pot.
Add at least 1.5 cups of chicken broth (or water).
Cook on high pressure for 3 minutes. You can release the pressure naturally or manually.
Use a stand mixer or hand mixer to shred the chicken.
Created by SouthernSavers.com
Wondering the best way to freeze stuff like this? See my best freezer techniques!