This post may contain affiliate links. Read our disclosure here.
It's hard to believe, but in just a few short weeks, many kids will be headed back to school. Whether your kids are in full-day school every day or part of homeschool co-ops where they need to pack a lunch a few times a week, it can very quickly start to get overwhelming. And with food prices the way they currently are, we definitely don't want to be wasting money on food! As we approach the beginning of the school year, this week we'll be doing a short series on school lunches to rejuvenate your efforts to save money while keeping it simple.
Today we'll be talking about saving money on school lunches, and then we'll move into our favorite products, extra tips and hacks, and even some printables to help you plan school lunches your kids will eat!
Saving Money on School Lunches
You may not find it helpful to use all of these tips—you have to figure out which ones work for your family and your lifestyle. Maybe it's worth it to you to have a few more convenience foods.
Avoid pre-packaged foods
Instead of buying boxes or packages of chips, crackers, or yogurt, package them yourself with reusable bags or disposable ones. This also lets you better control portions and opens up the possibilities of what you can include in their lunch!
To give you a savings example:
Cheez-It Snack Packs, 12 ct., 1 oz bags – $3.49 (reg. $6.99)
vs.
Cheez-It Crackers, 12.4 oz box – $2.09 (reg. $4.19)
It's the same amount of Cheez-It crackers, but you are paying $1.40 extra for the individual bags.  You could buy quite a lot of sandwich bags for that price!
Buy pre-packaged foods with coupons
There's no judgment if you find it easier to buy those big packages of individually wrapped chips. Just make sure you use coupons to get the best deals!  Use the item search to find sales you need.
Repurpose dinner leftovers
When you're putting away your dinner leftovers, think about how you could include some or all of it in your kids' lunches. For example, you can use leftover chicken in a wrap or a sandwich. Leftover pasta can be used to make a cold pasta salad. You can also just take a quick survey of what's in your fridge from the past few days and see how you could combine it to make something worthy of your child's lunchbox.
Build lunches around what's on sale
It's a great idea to plan your kids' lunches just like you probably plan the rest of your family's meals, but don't get tied to certain items each week. If you had been planning blueberries and strawberries but clementines and pineapple are on sale, then guess what your kids will be eating this week? Don't get tied to specific items; be willing to be flexible! (I'll share more on creating a framework for planning lunches later this week!)
Collect a stockpile of lunchbox-friendly food items
Don't go buy a bunch of special things for your kids' lunches all at once. First of all, make sure you're sticking with things they actually will eat or things you can test at home before you pack them in lunches. Then, when you see something on sale that you know your kids will like, buy a bunch of them and rotate them with other items so your kids get some variety.
Ask your child for input
Let your child be part of the decision making and ask them for input; also ask their teachers if they are able to reheat food. This will open up a lot of options, especially for leftovers. Or your kids may not care what temperature things are… cold pizza worked for me as a kid and I have a few that love it now! Whatever works! Also, asking your child for input ensures that less food will be wasted, saving your money.
Prep lunch components ahead of time
The reason why it's so tempting to buy a package of fruit cups or a big package of individual servings of chips is that all you have to do is grab it and put it in the lunchbox. Nobody wants to have to do any extra work at 7 a.m. in the morning. If this is your tendency, then get ahead of yourself and prepare certain lunch components ahead of time.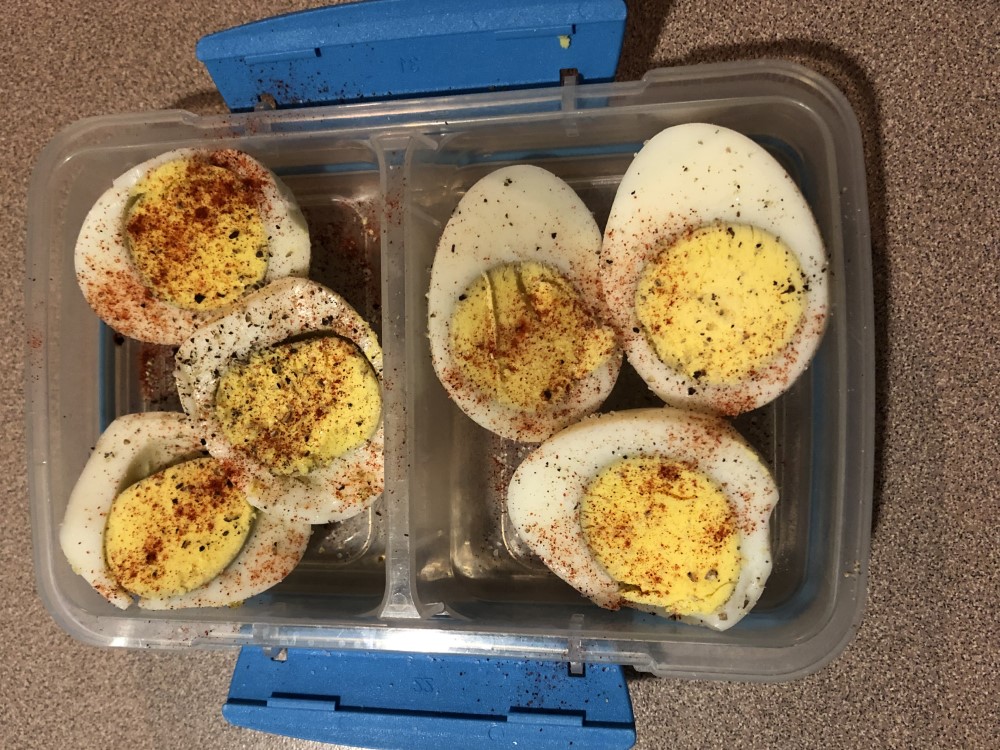 For example, you could do any of these early and use them over the course of the week:
Rinse and slice vegetables (cucumbers, bell peppers, celery) or prepare fruit (strawberries, blueberries, grapes)
Hard boil eggs
Make dips or sauces – ranch dip, hummus
Cook pasta for cold pasta salad
Make muffins or other baked goods (waffles for waffle sandwiches)
Note: Some fruit essentially comes in its own package and doesn't need to be prepared. You can put a banana or an orange straight into the lunchbox. To make apples easier to eat, use an apple slicer and then, without pulling the slices away from the core, wrap a rubber band around it and stick it in the lunchbox!
Provide special lunchbox items here and there
Maybe there's a certain kind of fruit snack that is really "in" right now and your kids are telling you how everybody is having those things in their lunches. See if you can get some on sale, then stash a box away in the back of the pantry. You don't have to provide one every day. The more infrequent it is, the better of a surprise it will be!
Keep up with our Back to School Feed for more ideas to save money!