This post may contain affiliate links. Read our disclosure here.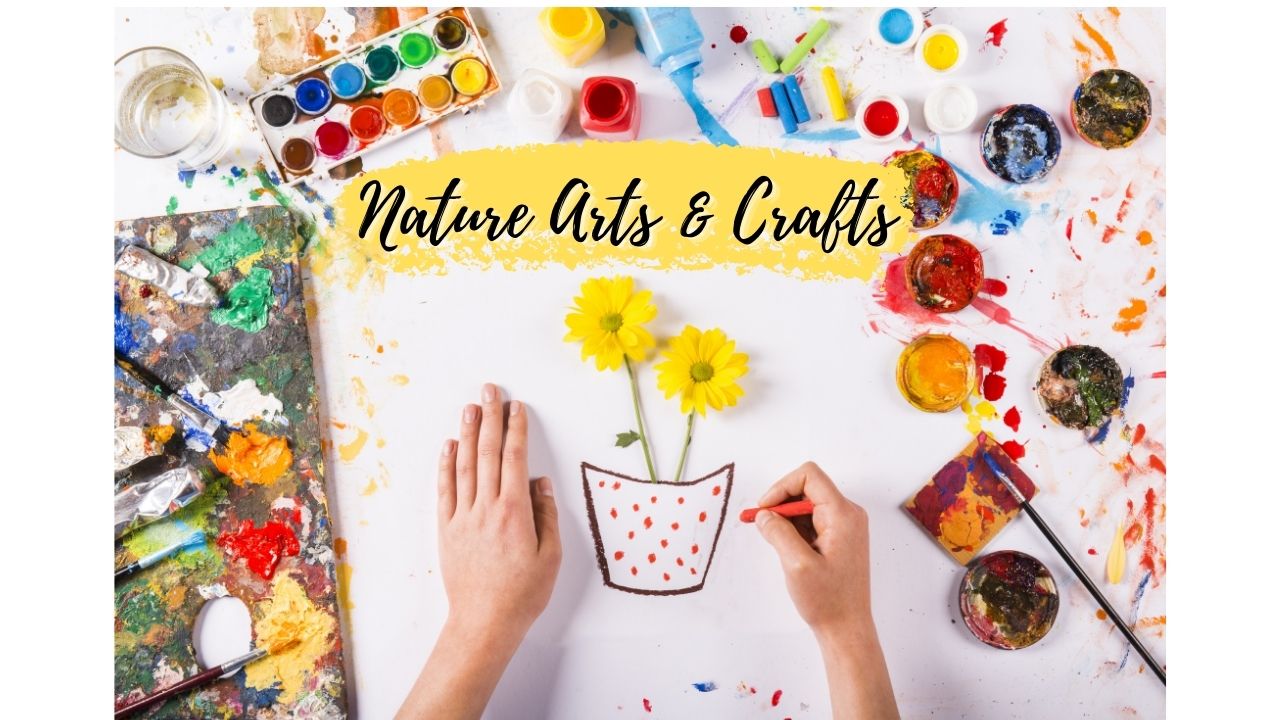 With the weather getting warmer, we are spending more time outdoors. One of the things I enjoy about having the kids outdoors is how much it encourages them to be nature explorers. I like to let the kids be creative with what they find outside, so I decided to research fun arts & crafts projects for kids using materials found in nature. There are some great ideas out there that can be adapted for kids of all ages. Here are ten of my favorite activities that require minimal supplies and preparation.
Flower Petal Stained Glass | Artful Parent
This beautiful art project uses nothing but nature and contact paper. Simply collect flower petals and leaves, place them between two sheets of transparent contact paper, and display them in your windows. I love to see what different designs the kids can come up with. This one works great for comparing colors in nature throughout the different seasons as well!

Nature Inspired Portraits | The Resourceful Mama
Oh the fun the children have with this one! They giggle as they create all kinds of faces with things they've collected outdoors. Twigs, leaves, flowers, rocks, bark, berries. It's a natural Mr. Potato Head!

Nature Mandala | Sprouting Wild Ones
Creating a nature mandala is a great time for kids to learn about patterns and the earth. I love how there are no limits to the creativity involved in this project. Make one big mandala or several small mandalas. This is a fun one for all seasons.

Nature Weaving | diy Thought
 This project requires just a little preparation on your part. Make a simple cardboard loom, then have your kids practice fine motor skills as they weave different objects from nature into the loom.
Mud Pie Nature Art & Sensory Activity | Rhythms of Play
Take some dirt, mix in some water, and make a mud pie! Add different objects from nature and decorate it to make your very own version of mud pie. This is not only great for creativity, but it allows for sensory exploration as well.

Nature's Stampers | Danya Banya
This nature art activity requires only playdough and loose parts from nature. Simply collect a bunch of natural items and use them as stampers and rollers to make impressions in playdough. Your kids will love seeing the different shapes and patterns found in nature.

Stick Owl Craft | I Heart Crafty Things
This stick owl is absolutely adorable! You can make any animal you want out of sticks and twigs! Just cut a piece of cardboard to the chosen animal shape, then break sticks and glue them on. Add some color with markers or paint and voila! This is such a cute, versatile project for kids of all ages (and adults too)!

Stick Family | Mini Mad Things
This is another great craft for older kids. Find some Y-shaped sticks to make people. Use colored yarn for clothes and glue on some googly eyes. The best thing about this project is that it doubles as a toy!

Painting with Natural Loose Parts | Montessori Nature
If you're not afraid to get a little messy, grab some finger paint and let your kids paint with natural loose parts. Use natural objects as stamps and rollers or place them all in a tray and roll them around to create an abstract piece.

Pounded Flower Art | Better Homes & Garden
This one makes a beautiful Mother's Day gift if you choose to preserve it. Grab some watercolor paper, wax paper, a hammer, and colorful flowers. Pound the flowers and watch as the natural dyes transform into a work of art. This is another great one for older kids since they need to use a hammer.
How do you incorporate nature into arts & crafts? Share your comments below!