This post may contain affiliate links. Read our disclosure here.
It's the time of year when many families hit the road and find themselves in the car for long periods of time. If that's you, then I've got something to help today—some of our favorite simple family road trip games. You don't need to spend money or buy any fancy supplies to play these. Most of them just use your own bodies and minds! The only thing that might be helpful is a pencil and paper.
10 Simple Family Road Trip Games
Twenty Questions
We sometimes called this the animal game because someone would choose an animal and everyone else would try to guess what it is. But you can do this with any category: places, people, foods, etc. Only yes or no questions can be asked (and we play until someone guesses it, not only 20 questions).
DIY CAR Bingo
For this game, see my post on DIY Car Bingo complete with free printables!
The ABC Game
In this game, everyone will start with A and try to be the first to spot that letter on a billboard. Each person tracks their own progress, and the first person to get to Z wins! You can only claim one letter per billboard, and only one person can claim a certain letter on a certain billboard.
The ABC Train Game
In this game, start with a category like animals. The first person chooses an animal, the next person must think of an animal that starts with the last letter of the animal the first person chose. So, for example, if I say, "Elephant," then the next person must think of an animal that starts with T. If someone can't think of something, then they're out. Other categories include movies, people, and countries.
License Plates
Give everyone paper and pencil and they can keep track over the whole trip of which license plates they see. Whoever collects the most states wins!  There are also lots of free printables if you want to color in states as you find them or track another way.
I  Spy
This is a great game for kids who can't read yet. Just take turns saying, "I spy with my little eye something red" and everyone else tries to guess what it is.  Make sure to set a few ground rules, like it has to be in the car…
Would You Rather…?
This is a great game for discussion in the car! Everyone takes a turn asking would you rather questions, such as "Would you rather only be able to live in water, or never be able to eat chocolate again?" Everyone can answer and the conversation is always great!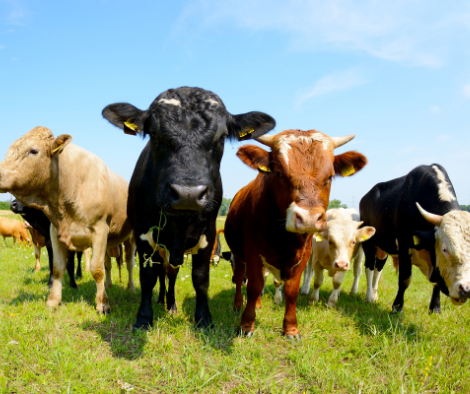 My Cows
No roadtrip is complete for our family without a trip long game of My Cows.  A college roommate started it and later we found others that played too!  Every time you see a field with cows the first one to call out "My Cows" gets the herd.  The person with the most herds at the end of the day/trip wins!
We play with a few added rules (thanks to the college roommate) like there have to be 6+cows in the field and if you call "My Cows" and then it turned out to be horses or something else completely you lose all your cows!!
I'm Stranded on a Desert Island…
This is a memory game you might remember playing growing up. Start with one person who says, "I'm stranded on a desert island, and I'm bringing (something that begins with the letter A.)." The next person says the same sentence, including the A word, and adds a B word. This continues where people have to remember all the things everyone chose in ABC order!
Famous Person
For older kids, this is kind of like the opposites of 20 questions. Someone thinks of a famous person and slowly begins to describe them. The first person to guess wins. For example, "I'm a president… I lived in the 1800s… I was born in Illinois… Most pictures of me have me wearing a hat…"
Do you have any favorite family road trip games? Let us know in the comments!