This post may contain affiliate links. Read our disclosure here.
If you're anything like me, I tend to wait until the last moment to plan any kind of dress up or costume outfit for my kids. It's just too hard and all of the pre-made dress up outfits at the stores are so expensive for an item that is just worn for fun a few times.
So this Fall, I have been trying to think through some fun dress up ideas for my girls that don't cost a ton and can easily be made with items found (mostly) around the house.
Let me know what you think of this list and if you have any other ideas… I'd love to expand our dress up box options with some new outfits!

Mailman
source
This dress up outfit is so fun – grab a mailman vest from JoAnns Craft Store and you're basically set. I like this one because it gives the kids a chance to be creative and create their own letters and postcards to put in their mail bag! Just grab a canvas tote from around the house to use as a mailbag and the outfit is complete.

Boo from Monsters, Inc.
source
All you need for this cute costume is a pink shirt, purple pants, and white sneakers. Pull hair back into pig tails and its the perfect last minute dress up idea.
Bag of jelly beans

source
This one I have seen so many times, and every time I still think its the most clever costume! Just grab a clear trashbag and a bunch of colorful balloons and you got a cute bag of jelly beans costume. You can add the Jelly Beans logo and the nutrition facts too, but I think it looks just as good without.
Baby Cow
source
A white onesie and black and white construction paper (or felt) for spots, ears and the utter make the perfect combo for a baby cow outfit. If you don't have any felt or construction paper around the house, use a marker to color the spots and make the ears. This can easily be sized up for older kids, too.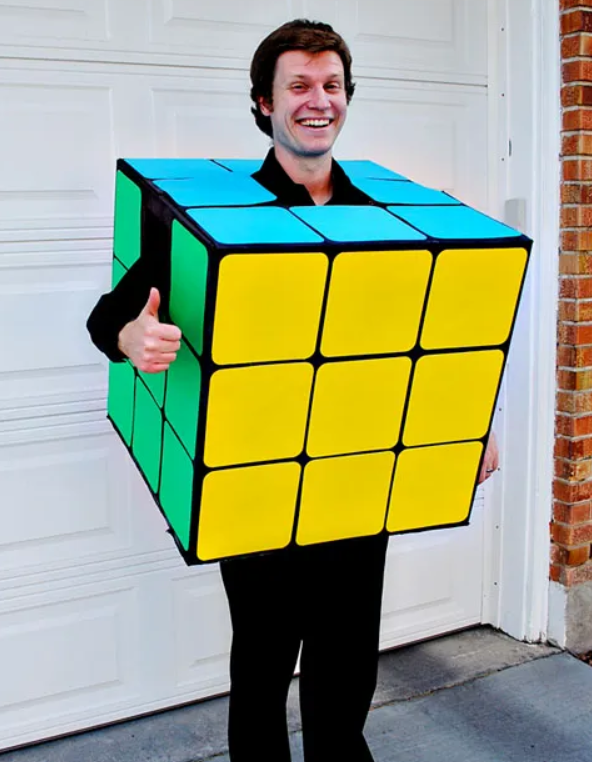 Rubik's Cube
source
This costume is quite simple – start with a large cardboard box and just use paint or cut out colored construction paper to make the squares on each side.
Scuba Diver
source
This little scuba diver outfit is truly one I think you can make with stuff around the house. Grab some swim goggles, paint two 2-liter bottles and dress your kid in an all black outfit and you've got yourself a scuba diver!

Rainbow Fish
source
For this cute outfit, you just need a red sweatshirt and pants (even an old t-shirt would do since you will end up covering it up), a hot glue gun, some colorful cupcake liners, and a ping pong ball. The cupcake liners make the colorful scales of the fish and the ping pong balls are glued to a hat to make the fish eyes.
Fairy Godmother (or Ballerina)
source
All you need to dress up as a fairy godmother or ballerina is a pink or white ballet outfit (or even a bathing suit or a onesie for a baby would work), some coffee filters, cardboard and glue. Create the wings with the filters and spruce the outfit up with a tutu if you happen to have one laying around.

Artist
source
Grab a striped shirt, black pants, and create a paint palette out of a paper plate or cardboard. Use a real paint brush or just play pretend with a pen or stick.
Cowboy or Cowgirl
source
All you need for this one is a plaid shirt, jeans, a bandana, and a cowboy hat. The bandana and cowboy hat are dress up box essentials.
Rocketman with Jet Pack
source
This is one of my favorites. With a little creativity, you can make this amazing jet pack that your kids will love. You need some red and orange felt, two 2-Liter bottles, paint, cardboard, and glue! 
Let me know if you have any other ideas or outfits to add to our dress up bin!
See more DIY costume ideas!