This post may contain affiliate links. Read our disclosure here.
Goodbye single-use products, hello money savings!
Have you ever balled up some aluminum foil, tossed a used sandwich bag or dumped your mop pad and thought "what a waste."
While I'm not opposed to flipping the foil or cleaning out a gently used Ziploc, sometimes it just makes sense to get the products MADE to reuse! Keep reading to check out 12 reusable products that can help you save money and reduce waste!
12 Reusable Products to Save Money: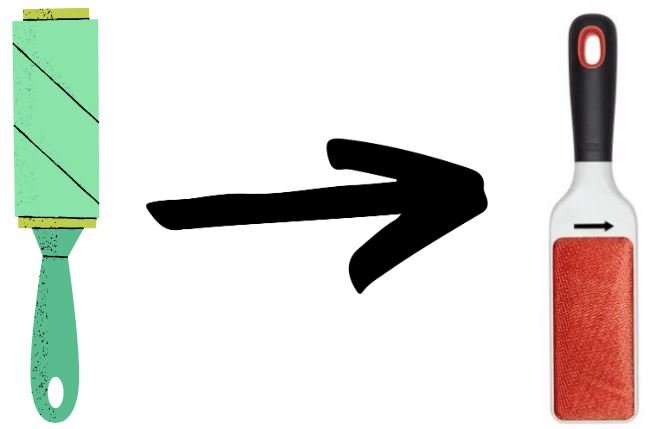 Lint roller
A lint roller is one of those things you may use rarely (wool coat on Sunday morning), or almost daily (pet lovers, unite!). While the tear-off sheet rollers work just fine, I personally think the bristle lint remover version works a little better AND there's no need to replace it. I have one I've literally owned a decade or more and it still works like new. Check out this OXO Good Grips Furlifter at Amazon or Walmart.com. 
Reusable mop pads
The disposable mop pad products are great. They clean well, they smell nice and they leave a nice shine on the floor. But buying those pads can get old, especially if you're cleaning a larger space and go through them quickly. Enter the spray mop! There are lots of different brands that make spray mops. I love spray mops because you can customize what you're putting on floors and toss the mop pads in the wash when you need to switch it.
Plus they are easy enough for kids to use (they love spraying and wiping!), making this a great chore to delegate. Check out the selection from Target.com or Amazon.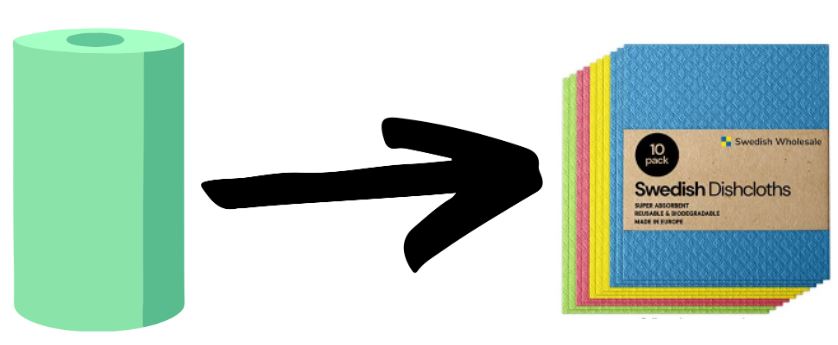 Reusable paper towel
How much do you spend on paper towels every month? A small fortune? I find that I always need some disposable paper towels around, but for everyday needs and clean up there's an alternative. Next time you have an old t-shirt you're going to throw away, cut it up into paper-towel-sized sections instead. Keep them in a drawer or cannister for everyday cleanup.
Not enough old tees around? This is a cool product I discovered recently: the Swedish dishcloth (aka the sponge cloth). Stiff until you add water, they are gritty enough to clean messes but still soft enough for everyday use. You wash them and reuse. They have great reviews and they come in some seriously cute designs! Find them at Amazon and Target.com.
Honorable Mention: Do your kids wrap paper towels around ice pops? Check out this reusable ice pop holder to replace those paper towels!
Period alternatives
Here's a category where every woman is different and you should go with what works best for you. But if you're willing to try something new, you could be saving a bunch of money on pads and/or tampons every month!
You can even mix and match products according to activity – swimming, running, relaxing, vacation. There are three tried-and-proven products to choose from in this category: reusable pads, period panties and menstrual cups.
Reusable pads are great for relaxing days at home. They may move around more than traditional pads so not the best choice for active days but are fantastic for at home or at an office desk job. You can buy them to suit your needs exactly including absorbency, shape and length. Here are two options at Amazon and Target.
Period panties are the newest product on the block. I love these products especially for girls just getting used to periods and for backup on the heaviest days. These are the easiest to use because they are just like regular panties. The top product in this category are the highly-rated Thinx brand.
Menstrual cups are amazing if you're used to tampons. They're inserted in a similar way but they can stay in for up to 12 hours. These are great for pool and beach days. Diva cup (buy at Target, Walmart and other stores) and Cora cup (buy at Amazon) are some of the most popular brands.
Reusable sandwich/snack bags
Sandwich in the lunch bag, pretzels for the pools, organizing nuts and bolts – we all use these disposable zip bags at some point or another. Whether you use them daily or occasionally, you can save money in the long run by grabbing reusable sealable bags!
These can go in the microwave and freezer and some brands are even dishwasher-friendly. The only annoying part is having to wash them, but sometimes I do that with disposable bags anyway and at least these will stand the test of time. They come in a variety of styles, including clear silicone and colorful designs.
Note: Some brands of reusable zipper bags can not go in the dishwasher, so if that's important to you make sure to read the description. The bags I've featured CAN go in the dishwasher!
Silicone baking mat
Make your rolls of aluminum foil and parchment paper last way longer by switching to reusable silicone baking mats! These mats are food save, oven safe, nonstick and can go in the top rack of the dishwasher (they are so easy to clean though I find just a quick hand wash is all that is needed). Baking mats can be used for baking of course, but also roasting and more.
Silpat is the unrivaled leader in this category and the highest-rated. However, the budget versions from Walmart Mainstays or Amazon Basics have great reviews, too.
Wool balls
If you're really trying to cut back on your budget and/or waste, you can definitely stop buying dryer sheets. Dryer sheets have lots of different uses (even after they've gone in the dryer) but there is an alternative.
Grab a pack of wool dryer balls (this is a popular brand on Amazon). Dryer balls can last 1,000+ loads and even shorten drying time! That saves money in dryer sheets, but you'll also save a bit on electricity. These are also a fantastic product for household who are trying to limit artificial products and fragrances.
Swim diapers
If your babe loves the water, you really don't have to shell out big bucks for disposable swim diapers.
I love reusable swim diapers because they're cuter than the disposable and I can just throw them in the wash with the other bathing suits. Here are some highly-rated and adorable reusable swim diapers from Amazon. I would get two pairs so you always have a backup. When your baby is potty-trained, pass down to the next kid or another mom!
Note: some swim lessons, resorts and public pools require disposable swim diapers. In this case you'll have to go with the rules of the pool. However, swim diapers make great covers for swim diapers if you want to make double sure there will be no accidents!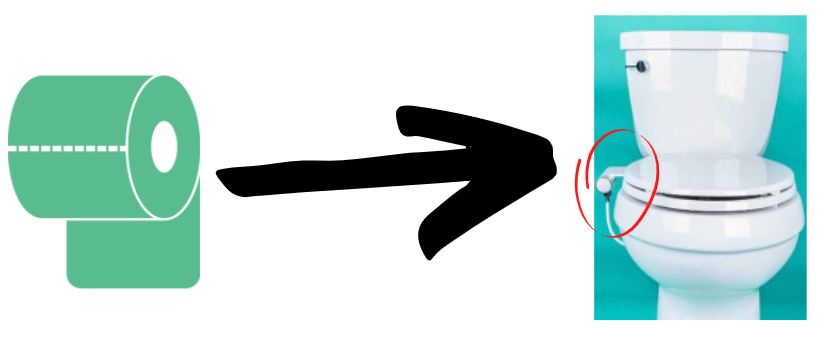 Bidet attachment
Ahh the bidet attachment – one of the most sought-after products of 2020! The good news is they are easy to find now and can save you a bunch of money on toilet paper. You won't have to install a new fixture in your bathroom as these attach easily to your existing toilet.
Bidet attachments are available with a variety of features and a range of prices. Check out this GenieBidet at Amazon that has a lower price point, is operated manually, installs quickly and has good reviews. You can also check out this highly-reviewed version by Tushy that can do warm or cool water!
I don't necessarily suggest this for your guest bathroom, but for your own private space it can be nice to get that just-showered clean feeling every go.
Cotton Rounds
I added this to the list not because cotton rounds are super-expensive, but for those of you browsing this list to simply reduce waste.
If you're using a cotton round or two every day to apply toner, remove nail polish or remove makeup, these reusable cotton rounds can be a great way to save on a little waste! Two highly-rated products are the Garnier SkinActive Micellar Cleansing Eco Pads (grab these at Walmart) and these ProCIV Reusable Cotton Pads (found at Amazon). 
Reusable K-Cup Pods
One great product is the reusable K-Cup pods. Not only because K-Cups can get expensive, but because I get to use fun or local brands in my Keurig! You can get the reusable cups for all types of Keurig brewers. This four-pack at Amazon is highly-rated and compatible with both the 1.0 and 2.0 brewers.
I do still buy K-Cups, especially for when I'm having company (my buy price is 9¢ per K-Cup or less) but I love to have this for daily use and for when I'm trying a unique coffee I've been gifted or have found around town.
SodaStream
I LOVE my SodaStream! Earlier this year I made the goal to stop buying canned sparkling water and only make my own! It tastes exactly the same and costs a ton less. Plus, not nearly as much material going in the recycle.
This SodaStream Terra bundle at Amazon has everything you need to get started.
What is your favorite reusable product?
See more frugal living ideas!