This post may contain affiliate links. Read our disclosure here.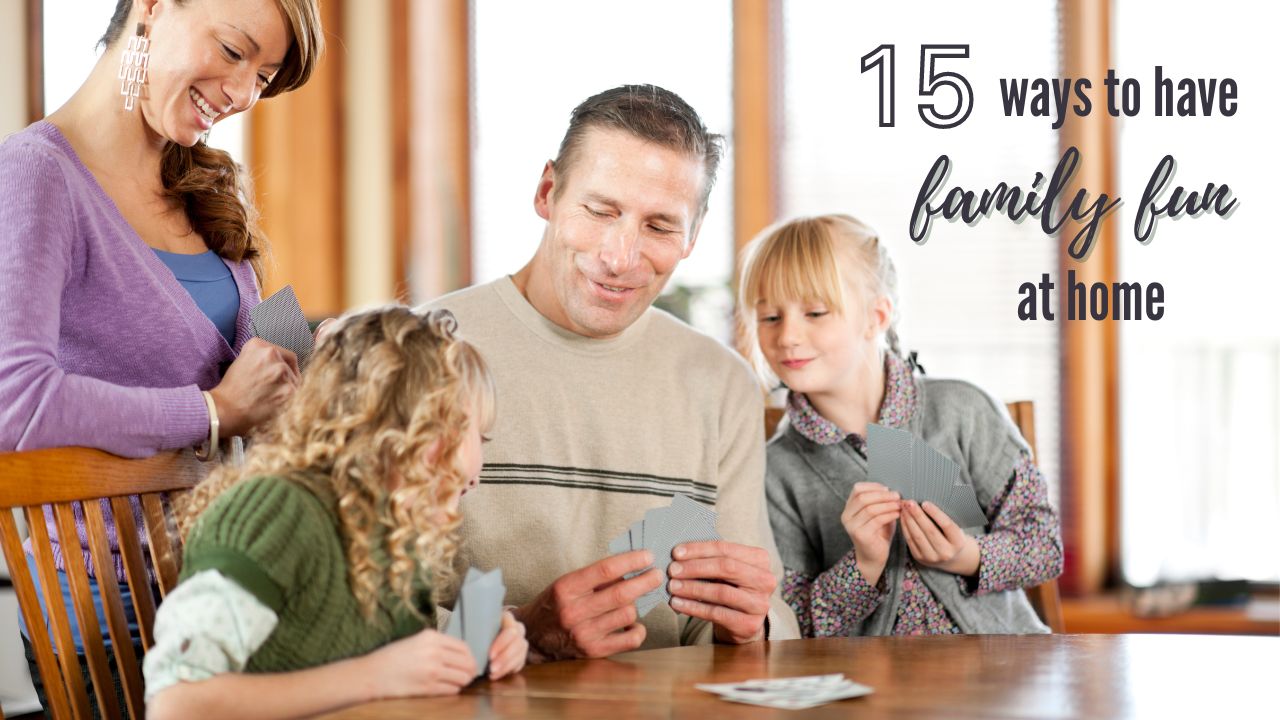 With gas prices hitting an all-time high this summer, many of you are choosing to spend more time at the house instead of driving to fun places. So, I asked my readers to share some of their favorite ways to have fun while at home. Here are 15 activities that you can add to your fun at home routine.
Board Games, Card Games & Puzzles

Board games are always fun for us. You can rotate board games with a friend for a week to try out some new ones! Keep all the classic card games on hand, and add some fun new ones to the mix. My little ones like this card holder. One reader also suggested family bingo with dollar store prizes. If your family enjoys puzzles, look in your local thrift shop for some new-to-you puzzles. You can complete them together or individually. Have some more fun with it by designing your own puzzles for a family member to put together!
Multi-Game Table Set
One of my readers has a multi-game table. They can play foosball, table tennis, air hockey, pool, and more! It makes for a perfect game day.
Video Game Tournaments
If you have gamers in the house, you can hold a video game tournament. Mario Kart is a popular option for this.
Reading
One of our readers orders gives her kids a new book bundle from the thrift shop each month. This is a frugal and fun idea for book lovers!
Outdoor Pools & Water Toys
I can't say enough about how much water entertains little (and big) kids. There are so many things you can do with water play outside. Get the biggest inflatable pool you can find. Have water gun and water balloon fights. Set up a sprinkler or two with a slip & slide and make it into an obstacle course. Add soap to a water table and clean some toys. Get a fun inflatable water slide! The options are endless.
Sandbox 
Kids love to play in the sand. Take an inflatable pool, fill it with sand, throw in some toys, and let the kids have at it. Even better, put the inflatable pool in a tent before you fill it in sand. Instant shaded play area!
Outdoor Games
Grab some outdoor games and have a family game day outdoors. Ladder ball, croquet, horseshoes, and corn hole are great ideas.
Gardening
Gas isn't the only thing going up in price. With grocery prices the way they are, why not grow your own? I also had readers suggest building a butterfly or fairy garden!
Family Art
I absolutely love this idea that results in several family masterpieces to display! Give each family member a blank sheet of paper and your art tool of choice (crayons, markers, colored pencils, paint, etc). You could even let each person choose a different tool. Set a timer for 3-5 minutes. Draw or paint whatever you want.  When the timer goes off, rotate papers and reset the time. Add on to the previous person's artwork. Do this until everybody has contributed to each sheet. So fun and creative!
Note: This idea stems off of a surrealist art game called exquisite corpse. It was one of Frida Kahlo's favorite games!
Family Movie Nights
Make it a movie marathon. Have a slumber party in the living room with sleeping bags and an indoor tent. Even better, get an outdoor movie projector and screen to take the movie outdoors! Pop some popcorn, bake a pizza, and throw in some candy for dessert!
Karaoke 
Turn up the music and turn on the mic! Karaoke is fun for the whole family. Perform a solo and then grab a partner for a duet! Here is an inexpensive karaoke machine that you will use over and over and over again!
Dance Party
What good is karaoke without a dance party?! You can take turns choosing songs to play on the echo dot and come up with some new dance moves. Have a dance competition and vote for the best dancer!
Cook as a Family
Have everyone contribute to the cooking and baking. This is such a great skill to have. Choose a new recipe to make and try together. Make it more fun by choosing one from a different country each week. This Global Family Cookbook has great reviews!
Science Experiments
There are lots of science experiments you can do with materials you already have in your home. This STEM book will walk you through them step-by-step. Each activity takes a complex, scientific concept and makes it easy for kids to understand.
Scavenger Hunts
Have your own scavenger hunt inside or outside the house. Write your own clues for your kids to find objects around the house. Then have them make some for you. If you don't want to make your own, this is a great game that does it all for you.