This post may contain affiliate links. Read our disclosure here.
It's hard to believe the summer is over, but denial doesn't actually keep time from passing! As the school year begins, you can make the thought of going back to school FUN by instituting some family traditions that your kids will look forward to. Today I'm going to share 17 fun (and relatively simple!) back to school traditions to help ease back into those school year rhythms.
17 Fun Back to School Traditions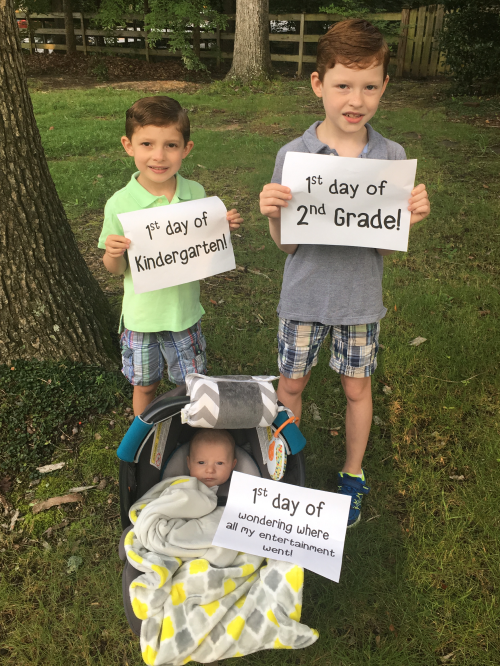 Take a picture on the first (and last) day of school with a sign 
Over the years, these pictures would make a fun collage you can share at their high school graduation!
Take a picture with their teachers to remember their teachers over the years 
It might also be fun to take a picture with their teachers. With multiple kids and multiple teachers each year, you can label the pictures with their teachers so you remember the extra special ones.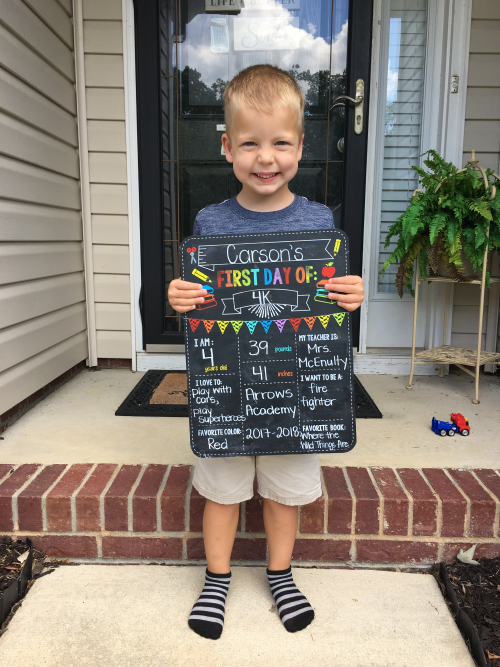 "Interview" your kids with the same questions each year and take a picture
We do this for other special occasions, too (like Mother's Day—for years my kids, when asked my age, would say "3"), and it's just as fun on the first day of school.
Celebrate "School Year's Eve"
If the thought of doing something the morning school starts back is too much, create your own holiday called "School Year's Eve" and do something fun the night before. (Maybe don't let them stay up until midnight, though!)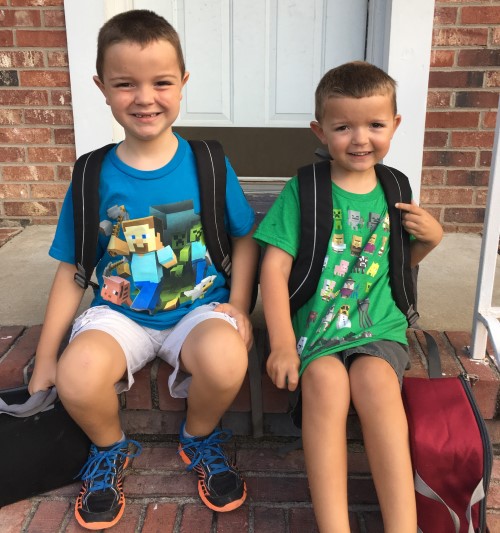 Buy them a new shirt or outfit
A friend of mine keeps her eye out all year for shirts with her kids' favorite characters on them and then buys them and tucks them away for the first day of school. She brings them out the night before school starts as a special surprise.
Countdown to back to school with a paper chain
For younger kids, a countdown might help build some excitement about school starting back and give them a visual reminder.
Celebrate with milkshakes or a special treat after school
Celebrate making it through the first day with milkshakes or another special treat!
Go back to school shopping together
Even if you've already bought all their back to school supplies on sale, they can help you pack their backpack and check the items off the list. 

Read a book together about the grade they're entering
You can buy these on Amazon, but check your library, too! Here's a list of ideas if you need inspiration:
Pick out a small gift together for your child to give their teacher
Maybe a bookmark, a special set of pens, or a $5 gift card to a local coffee shop would be a fun way to help your child connect with their teacher on the first day.
Pack a special lunch
You might not be planning to pack Lunchables every day, but on the first day, packing something special or even just a little extra treat could help give them a boost of encouragement at lunchtime.
Write a message on the driveway or sidewalk with sidewalk chalk
Use whatever path your kids will take to get to the car or bus and write an encouragement message with chalk.
Have your kids draw a self-portrait each year
Not only will these be treasured possessions, especially from the early years, but you'll also get to see their artistic skill progress over time!
Make a bucket list for the school year 
You've heard of the summer bucket list, but what about a bucket list for the school year? Sit down a few days before school starts and make a list of things you'd like to do over the school year. Even though it's often a much busier time, this will help you make sure you set aside a time to visit a local museum, pick apples in the fall, or pick strawberries over spring break!
Make a welcome home sign
You can wait and do this once they start school the first day! Make a big banner and hang it where they'll see it when they come home.

Put a special note in their lunch
Lunchbox notes like these would be a fun addition to the first day of school lunch as well as other days throughout the year!
Have a special back to school breakfast 
Pick up some donuts the night before or make special pancakes, or if your kids are like mine, just make a big hot breakfast of eggs, bacon, and toast. You probably won't do this every morning (I know I wouldn't), but it could be a fun to kick off the year.
Any fun traditions I haven't mentioned? Let us know in the comments!