This post may contain affiliate links. Read our disclosure here.
You know that I love to post deals at Kohl's, but you may not know how to get the best bang for your buck.  Let me share some of my secrets and extra tips that will help you save even more money! If you aren't taking advantage of all of these strategies, then you may be spending way more than you have to.
20 Ways to Save Money at Kohl's
1. Sign Up for email and Text Alerts
You'll save 15% by signing up for email or mobile app alerts—sign up for both and get two different coupons. You can sign up for email alerts here or to get text alerts, text SAVE24 to 56457.
2. Download the Kohl's App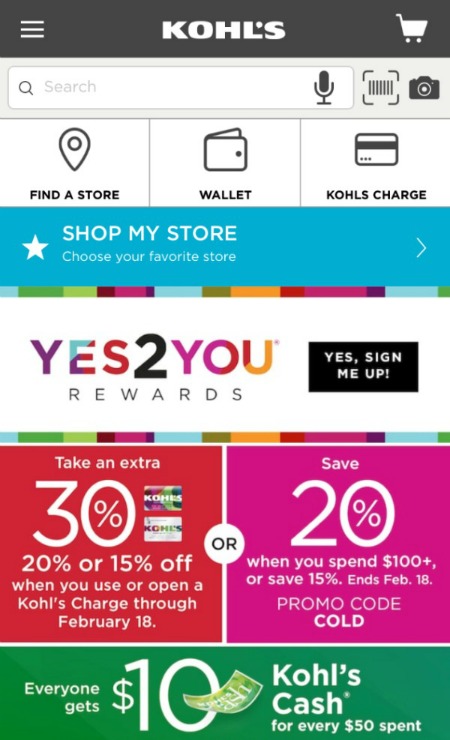 Use the Kohl's app as your personal coupon organizer.  Not only will you see all the current coupons available, you can also scan in physical coupons and Kohl's cash to save in your "wallet". When you add an item to your cart, you will be able to see immediately how the coupons in your account apply to your purchase.
3. Join the Yes2You Rewards Program
The Yes2You Rewards program is free to join and gives you $5 for every $100 you spend. You can redeem these dollars on anything at Kohl's. There are also extra discount offers, a birthday gift, plus watch for a special offer in your e-mail every Monday.  These rewards can be stacked with all current coupons and Kohl's Cash!
Tip: You'll get 50 rewards points when you download the Kohl's app and sign in to the app for the first time!  That gets you half way to your first $5 reward.
4. Sign up for a Kohl's Charge Card
You may be anti-credit cards, but the Kohl's Charge Card is one store card definitely worth getting!!  You'll get a 30% off coupon when you sign up, and then get even more in the mail.  Cardholders also save up to 30% off once a month, and get free shipping coupons regularly. If you spend more than $600 in one year, you'll get even more discounts!  No other store gives so many extra discounts to card holders!
5. Always Aim for Kohl's Cash
There are frequent promotions where you can earn $10 in Kohl's Cash for every $50 spent.  This is basically 20% back on your purchase and should be the first thing you aim for when shopping.  Watch for Black Friday/Cyber Monday when they run $15 back!
Tip:  You actually only have to spend $48 to get the Kohl's Cash back!  So don't start throwing in wash cloths… just checkout and you'll get your Kohl's Cash.  Also, they do have an expiration date, but some stores will let you use them after the expire.
6. Combine Receipts to Earn Kohl's Cash
Keep all your receipts during a Kohl's Cash promotion period. If your receipts add up to more than the minimum to receive Kohl's Cash, you can take your receipts to customer service and they will still give you the Kohl's Cash as if you had spent that amount in one transaction.
7. Stack Coupons, Rewards, and Kohl's Cash
When you're ready to start shopping, check out Today's Deals on their website; new coupons typically come out on Wednesdays or Fridays.
It's important to know how your Kohl's coupons and rewards will apply. You can use up to 4 coupons on the same purchase!! They apply in this order:
1 – Any Department Specific Coupons (dollar off or percentage)
2 – Dollar or Percentage off your entire purchase coupons
3 – Free Shipping
4 – Then Kohl's Cash and/or Yes2Rewards cash.
Keep in mind that most times you will have more coupons to use online than you can in the store.  You didn't really want to have to leave the house anyway.
8. Keep Your Receipts For Price Adjustments
Once you have bought something, you have 2 weeks to go back to the store with your receipt for a price adjustment if the item goes on a better sale. This even applies to coupons if you forgot to use them when you were shopping! They will issue you a refund for the difference.  The only exception is if the item was or is a BOGO sale or a clearance markdown.
If you're not sure how to take advantage of this, check out the official price adjustment policy.
9. Match Competitor Prices
Kohl's will match competitors' prices! This applies only to in-store items, not online. The best part is that you can still earn Kohl's Cash and Yes2You rewards on price-matched products!  Competitors must be national retailers with physical stores, excluding Costco and Sam's Club.  They will also match any price you find on Kohls.com. If you're still confused, check out the official price matching policy.
Note: You can only use a coupon up to 15% off on price matches.
10. Shop the Gold Star Clearance
Every so often, Kohl's will run what they call Gold Star Clearance events, usually at the end of a season. Items will be marked up to 80% off! Don't forget that you can stack coupons with these deals as well.  Supplies are limited to what is on hand, and you will find a lot more sizes and options online.
11. Don't Pay for Shipping
Kohl's charge cardholders can often get free shipping and there is almost always a free shipping code if you search online. If you can't find a code, use the in-store kiosk at the store and get free shipping with no minimum purchase! This is perfect if the store is out of your size or doesn't have the clearance deal you found online.
12. It Pays To Select In-Store Pick Up
If you can't get to the store to use the kiosk and can't get free shipping online, make sure to select in-store pick up.  Not only are you saving an extra cost, but many times they will offer an additional $5 in Kohl's Cash when you switch your order from shipping to in-store pick up.
13. Learn the Sale Codes
Sometimes saving money requires you to act like an investigator. Taking a careful look at the tags on items will help you know if it's the best deal you can get! The best one to watch for: If there is a small square dot in the top right corner of a digital tag, that means you won't find a lower price until the end-of-season clearance and you should snag it!
Here's a handy guide of other codes:
14. Buy Discounted Gift Cards
If you don't want to pay with a Kohl's Charge Card, another great option is to buy discounted gift cards online. Groupon sometimes offers discounts (today I got an offer for a $20 Kohl's gift card for $10) and Raise.com sells used gift cards at up to 15% off.  Raise also offers regular coupon codes that will save you an additional amount!
Remember you can still use coupons on your order at Kohls, so you are just stacking on extra savings!
15. Look for Rebates
Before you go shopping, check out the current rebates Kohl's is offering. They can net you up to $50 in savings in the form of prepaid Visa cards, cash back, or credit toward future purchases.  Rebate offers along with Kohl's cash are also fun as you will earn Kohl's cash on the pre-rebate price!
16. Shop at the Right Time
After 3 p.m. on Fridays and before 1 p.m. on Saturdays are Kohl's "Night Owl" and "Early Bird" hours. You can often get an 10-25% off sale prices! Sales are both online and in stores. Kohl's also offers some of their biggest discounts on the 2nd and 4th Saturdays of the month.
17. Don't Miss Senior Day if You are Over 60
If you're over the age of 60, the best day to shop is Wednesday because you'll save 15% off your total purchase! You can even stack dollar-off coupons, Kohl's Cash, and Yes2You rewards cash on top of the discount.
18. Sign Up for Kohl's Wifi
Connect to Kohl's Wi-Fi from your phone while in the store for the possibility of a $5 off $25 or $10 off $30 coupon!  The wi-fi is already free, so why not?!
19. Shop at Kohl's through Ebates
Use Ebates to earn cash back on online purchases. Sign up for free, and head to Ebates before shopping.  Search for Kohl's and they will send you to the Kohl's site.  Now everything you buy will earn you additional cash back!   This can range from 3% to 6% back on the final purchase price!
(If you're not familiar with Ebates, read our explanation of how Ebates works.)
20. Sign up for Swagbucks
By signing up for Swagbucks and using it when you search online, you can earn FREE Kohl's gift cards. Save them up over the course of the year and use the gift cards you earn to buy Christmas presents!  
Putting it All In Action
I'm already signed up for all of the offers and deals, but I asked a friend if she'd be willing to try signing up so that we could see how much money you can save if you've never taken advantage of any of these deals. My friend has a 2-year-old and is starting to think about needing to buy clothes for warmer weather. She added toddler clothes to her cart that added up to $109. Then she did the following:
She used a 20% off baby and toddler clothing promo, which made her total $87.20.
She used a 15% off whole purchase discount from signing up for text alerts, which made her total $74.12.
She applied for and paid with her Kohl's charge card and got an extra 35% off, which made her final total $48.17.
After tax, she paid $52.51 for $109 worth of merchandise, which is more than 50% off! And because she spent at least $48, she will get back $10 in Kohl's Cash!