This post may contain affiliate links. Read our disclosure here.
Every year toy manufacturers release thousands of new toys to the market just in time for the holidays.  Wading through that and figuring out what to get can be tricky. We want to get a great deal, but we also want a gift that will be loved and enjoyed.  
Here's a great list of this years top toys.  These were all kid tested and mom approved from our house.
Pop-oh-ver Stove Set 
reg. price: $39.95 on amazon
Everyone needs a play kitchen at some point in childhood. Parents will love that this Pop-oh-ver Stove & Counter Set doesn't take up a permanent space in the house!  Pop it over any dining room chair when they want to play and then fold it up and tuck it away.  They also make great kitchen accessory sets that are high quality with lots of fun pieces.  
B. Toys Teepee Tent, Rodeo Riders, & Train Set
reg. price: $30-$35 on Target
We have alwways loved B. Toys!  They make incredibly durable toys that last through many kids.  Even toys like a bouncing hippo we got 3+ years ago are still bouncing strong!  This year their new additions are the Teepee Tent, Rodeo Riders and Critter Express Train set.  Prices are around $30-$35 for each one.  These toys include a range of ages, I would say as young as 12 months for the rodeo rider and train and as old as you can fit for the tent!  I've crawled in ours for story time…
Phil the Fridge
reg. price: $15.97 on amazon
A fun game for kids 4+, try to fill up Phil the fridge with your groceries while he spins.  Phil randomly pops open his door open and spills out pieces to keep the game challenging. You can choose the speed of the game to set various difficulty levels depending on age of players.  Good for 2-4 players.  
Driven Fire Truck or Recycling Truck
reg. price: $34.99 on Target
If you have someone in love with trucks, check out the new line of Driven trucks this year!  You'll find an intricate truck with many moving parts, sounds and features that will keep hands busy for a while.  The Fire Truck shoots real water, the ladder lifts and swerves, lights flash and more. The Recycling truck has a moving conveyor belt and smasher.  These are getting great reviews from parents too! 
Comfy Critters
reg. price: $24.99 on mycomfycritters.com
This will be a favorite for kids of all ages.  Comfy Critters took a cozy fun blanket and upgraded it to be so much more.  You'll find designs ranging from favorite animals and TV characters to football mascots!  When they aren't using it as a blanket, it folds completely into a small pillow.  Find it online or in most Target stores.
Our Generation Dolls & Accessories
reg. price: $24.99 on Target

Dolls are a classic toy that will hopefully always be around.  Our Generation is making them affordable for all families. They have all the features of expensive dolls, but are almost 75% less!  You'll also find great accessories to go with the dolls, that are also much more affordable.  So save on the doll and add to the fun with extra clothes and sets (you'll still come out ahead over the expensive ones).  This years new additions include a super fun retro hot dog cart with tons of extras.  
furReal Pets: Ricky and Rex
Ricky – reg. price: $109 on amazon
Rex – reg. price: $39 on amazon
While furReal pets have been out for a few years, Ricky the trick lovin' pet is the latest and definitely greatest.  He has 100+ different sound and motion combinations, knows lots of tricks and even likes to to give kisses and licks.
furReal has also released Munchin Rex, a fun baby dino that has 35+ sound and motion combinations.  Munchin Rex is $39 regularly though we will see sales on him through the holidays.
World's Smallest Hot Wheels Mini Drag Race Set
reg. price: $11.99 on amazon
Hot Wheels have gone super tiny this year, and kids are going to love their World's Smallest racing sets.  See how can reach the finish line first or grab other sets to work on tight turns and loops. Sets are very affordable starting at $11 and come with cars.  All sets also work together if you want to expand your race course.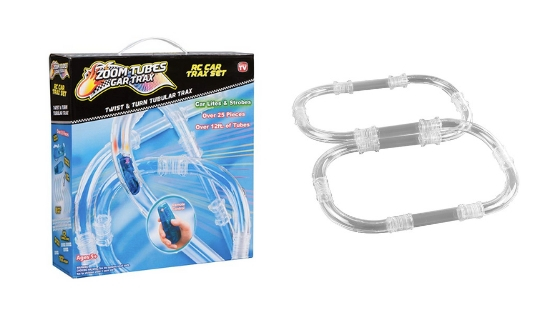 Zoom Tubes Car Trax Set
reg. price: $31.99 on amazon
Step up from a traditional race track to the new Zoom Tubes!  These are selling out in stores and are going to be a huge hit in every house.  Cars race through speed tubes and can shoot up two stories.  The cars light up as they fly through the tubes and will entertain everyone in the family even the cats! They also sell expansion kits to make the fun get even bigger.  In our house every person loved them, from the 3 year old to Dad…  
Crayola Color Chemistry Lab
reg. price: $24.99 on amazon
STEM toys are huge this year, and this a great kit for starting kids on a path to love science.  The Crayola Color Chemistry Lab, perfect for kids 7-10, lets them learn with 50 color filled science experiments.  The instructions are written for kids to be able to run the experiments themselves, though parent supervision is always recommended.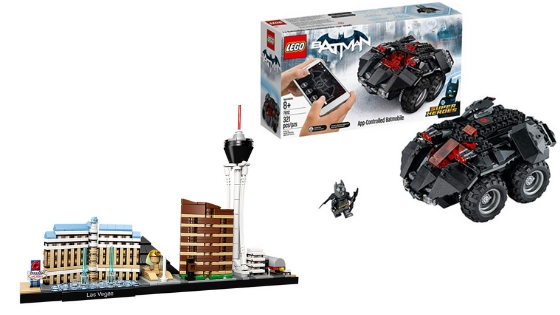 LEGO Toys – New Sets & Remote Control Cars
reg. price: sets starting at $12 +
LEGO Toys recently turned 86, but every year they make the fun continue with new sets, and new technology.  This year Lego is adding in remote controlled cars like the Bat Mobile that you can control with a mobile app on your phone, plus many other new sets that kids (and adults) will love.
Archi-TECH Electronic Smart House
reg. price: $42 on amazon
Let your kids build from the ground up with the brand new Archi-TECH Electronic Smart House.  Design and then build houses, but don't just stop with the wall.  Next they will wire up sensors, lights, alarms, trapdoors, elevators and more!  There are over 20 different projects in the box and they can make their buildings look anyway they want.  
Harry Potter Coding Wand
reg. price: $99.99 on amazon

One of the hottest toys this season brings the magic of Hogwarts to life as you build and code your own Wand.  It responds to movements and teaching coding skills through any iPad or computer. There are 70+ coding challenges where you can make feather fly, goblets multiply, fire flow, pumpkins grow and more!  No coding knowledge needed to get started.
3D Doodler – 3D Pen Create+
reg. price: $79 on amazon
Make anything you can dream up with the magic of a 3D Pen!  The new Create+ is designed for teens and adults, and can turn any idea into a real object as you melt and shape plastic and watch it come to life. Kits start at $79 and include everything to get started creating right now.  If you need help dreaming up ideas, check out their extensive library of free stencils.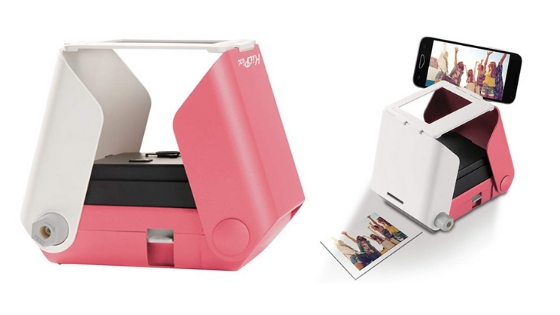 KiiPix Smartphone Picture Maker
reg. price: $39.99 on amazon
Here's a perfect gift for teens that love pictures but never get to print them!  The KiiPix prints any picture off a smartphone using Fuji Instamax Film with no batteries and cords to plug in.  They can take it anywhere and make memories to keep from every adventure!
Razor A2 Folding Electric Scooter
reg. price: $199 on Target
While it seems much more powerful than just a toy, the new Razor Power A2 Scooter is going to be a huge favorite.  It can go up to 10 mph for up to 40 minutes of continuous use. Kick off to start and the motor kicks in.  The scooter holds up to 146 lbs for optimal speed but I imagine most parents will hop on for a ride or two (I already have)!