This post may contain affiliate links. Read our disclosure here.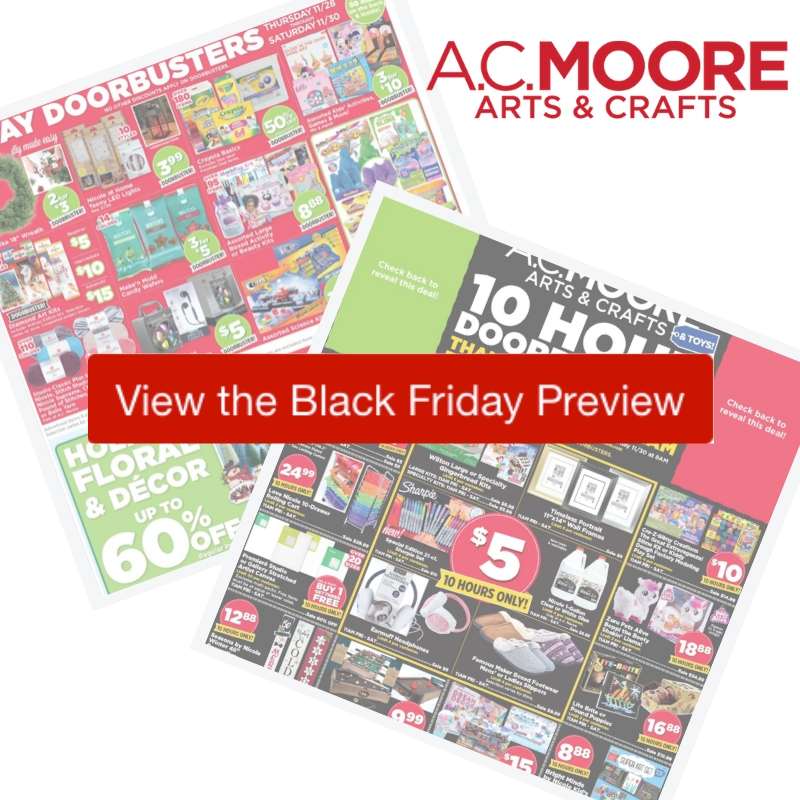 Have Crafts on your Christmas list? Check out all the deals in the AC Moore Black Friday Ad. Some of the deals are still a secret and they will reveal the coupons and discounts on Black Friday.
Doors open Thursday at 6 pm until 11 pm and then reopen on Friday at 6 am. Doorbuster deals end at 11 am Friday.
See the full AC Moore Black Friday Ad
Search across all the Black Friday ads
and see what stores have the best deals.
2019 AC Moore Black Friday Ad Deals
Supplies
Love Nicole Vinyl Rolls Adhesive, $4
Limit 4
Doorbuster Thurs. 6PM-11PM and Fri. 6AM-11AM Only
Love Nicole Vinyl Roll Iron On, $7
Limit 4
Doorbuster Thurs. 6PM-11PM and Fri. 6AM-11AM Only
Love Nicole 10 Drawer Rolling Cart , $24.99
Limit 2
Doorbuster Thurs. 6PM-11PM and Fri. 6AM-11AM Only
Wilton Large or Specialty Gingerbread Kits , $5
Limit 6
Doorbuster Thurs. 6PM-11PM and Fri. 6AM-11AM Only
Timeless Portrait 11 x 14 Wall Frames, $5
Limit 6
Doorbuster Thurs. 6PM-11PM and Fri. 6AM-11AM Only
Cra-Z- Slimy Creations The Great Extravaganza! Slime Kit or Kiddy Dough Factory Modeling Play Set , $10
Limit 4
Doorbuster Thurs. 6PM-11PM and Fri. 6AM-11AM Only
Sharpie 23 pc Special selection edition set, $5
Limit 4
Doorbuster Thurs. 6PM-11PM and Fri. 6AM-11AM Only
Nicole 1 Gallon Clear or White Glue, $5
Limit 4
Doorbuster Thurs. 6PM-11PM and Fri. 6AM-11AM Only
Premiere Studio or Gallery Stretched Artist Canvas B1G3
Limit 20
Doorbuster Thurs. 6PM-11PM and Fri. 6AM-11AM Only
Seasons by Nicole Winter 48″ Decorative Porch Signs, $12.88
Limit 3
Doorbuster Thurs. 6PM-11PM and Fri. 6AM-11AM Only
Bright Minds by Nicole Kids Super 235 pc Art Set, $8.88
Limit 4
Doorbuster Thurs. 6PM-11PM and Fri. 6AM-11AM Only
Assorted Kids' VAlue Pack Activity Kits, $15
Limit 10
Doorbuster Thurs. 6PM-11PM and Fri. 6AM-11AM Only
Pine Like 18″ Wreath, $1.50
Nicole at Home Teeny LED LIghts, $3.99
Crayola Basics 50% off
Diamond Art Kits Beginner , $5
Diamond Art Kits Intermediate, $10
Diamond Art Kits Advanced , $15
Make'n Mold Candy Wafers 3 for $5
Studio Classic Plus by Nicole, Stitch Studio by Nicole Supreme, Chateau, Pound of Stiches, Paz or Belle Yarn, $4.88
Bytech Wireless Earbuds or Speakers, $5
Assorted Science Kits, $16.99
Assorted Nickelodeon or Cra-Z-Slimy Slime Kits, 24 oz Tub 1lb Cra-Z Sand Or Play-Doh 4 pk 3 for $10
Seasons By Nicole Winter Decor, Nicole's Tree Farm, Ready to Finish Pine-Like Collection, Holiday Home Expressions by NIcole Collection, Simply Winter Floral, Simply Winter or New Traditions Pre-Made Bows up to 60% off
Seasons by Nicole Lighted Cone Trees or Lighted Boxes Small $8, Medium $10 and Large $12
Nicole's Woodland Garden or Mini Tree Trimmings B3G2
Simply Winter Ribbon Rolls #9 or #40 Velvet Rolls 60% off
Simply Winter Mega Ribbon Rolls, $7
Poinsettia Pots 13 1/2″ 3 for $10
Nicole's Home Accents 18 oz, Mason Jar or Jar Candle 4 for $10
Nicole at Home Candle Lamps, $3
Pine-Like 9 ft Garland, $1.88
Ready to Finish LED 9ft Lighted Garland, $8.88
America's Favorite 22 oz Jar Candle, $8.88
Nicole Decorative Flags Small, $4
Seasons by Nicole 15″ Nutcrackers B1G1
Nicole Home Accents 2 pc LED Pillar Candle Sets, $6
Simply Winter 10 1/2″ x 16″ Rigid Bows or Special Selection 9 ft to 20 ft Christmas Ribbon, $1
Entire Selection Circut Accessories or Tools B3G2
Journals 3 for $10
Entire Selection Open Stock Paper 50% off
Entire Selection Scrapbook or Photo Albums, $5.88
Royal & Langnickle 152 pc Artist Satchel Sketching Set 151 pc Mixed Media Set or Pre Art Easel Travel Bag Set, $39.99
Royal & Langnickel Black Series Art Sets, $16.99
Royal & Langnickel Art Instructor Sets, $12.99
Royal & Langnickel Art Sets in Aluminum Carrying Case, $19.99
Royal & Langnickel Mixed Media Table Easel Set, $24.99
Royal & Langnickel Deluxe Sketching & Drawing Chest , $49.99
Pre 34 pc Wooden Sketch Box Easel, $69.99
Special Selection Art Sets, Pencil Sets, Marker Sets or Gel Pen Sets, $10
Deco Mesh Ribbon or rolls, $6
Seasons by Nicole 100 ct Mini Lights, Clear Glass Boxed Ornaments, Pine-Like 24″ Wreath or 32″ Swag, $3.99
DIY Wood or Light-Up Plaster Ornaments 3 for $10
Seasons by Nicole Ready Made Open Stock Ornaments starting at , $1
Entire Selection Ready to Finish Woodland Villages or Christmas Wood Projects 40% off
Nicole's Kitchen 3 Pc Jumbo Cookie Sheet or Alphabet Cookie Cutter Set, $9.99
Holiday Entertaining Glassware 50% off
Designer Made Wreaths or Arrangements 40% off
Nicole's Kitchen Cupcake Holder, Silicone Mat with Measure, 24 Cavity or 48 Cavity Jumbo Muffin Pans, $10
Nicole's Boutique Chenille, Cozy Socks, Infinity, Faux Cashmere Oblong or Faux Fur Loop in Scarves 3 for $10
Entire Selection Wall Frames 50% off
Stitch Studio by Nicole 24 pc Crochet Hook Set, $10
Premier Sweet Roll, Candy Shop or Everyday DK Colors Yarn, $2.88
Singer M1500 Sewing Machine , $89.99
Toys
Zuru Pets Alive Boppi the Booty Shaking Llama, $18.88
Limit 2
Doorbuster Thurs. 6PM-11PM and Fri. 6AM-11AM Only
Lite Birte or Pound Puppies, $16.88
Limit 2
Doorbuster Thurs. 6PM-11PM and Fri. 6AM-11AM Only
Nicole Tabletop Games, $9.99
Limit 10
Doorbuster Thurs. 6PM-11PM and Fri. 6AM-11AM Only
Assorted Kids' Activities, Games & More 3 for $10
Snuggle Buds Plush, Hand Puppets or Beanie Babies 2 for $5
8″ SquishMallow or Moosh Plush 2 for $8
Squshmallow or Moosh Plush 12-13″ 2 for $15
Melissa & Doug Assorted Activities, $19.99
CAT Transportable Tool Shop, $29.99
Assorted Nostalgic Activities, $4.99
Assorted Family or Nostalgic Games or Activites , $9.99
Nicole Desktop Games 3 for $10
Assorted Games, Nostalgic Activities or Electronic Games, $14.99
Blume Dolls, $9.99
Penelope & Friends by Nicole 18″ Doll, $19.99
Penelope & Friends by Nicole Deluxe Outfit Sets, $9.99
Timeless Creations Paint Pouring Kits, Marbling art Kit with Tub or So Factory Activity Kits, $16.99
Other
Earmuff Headphones, $5
Limit 4
Doorbuster Thurs. 6PM-11PM and Fri. 6AM-11AM Only
Famous Maker Boxed Footwear Mens' or Ladies Slippers, $5
Limit 4
Doorbuster Thurs. 6PM-11PM and Fri. 6AM-11AM Only
Nicole at Home Natural Fiber Holiday Door Mats, $10
Entire Selection Nicole's Boutique Pashmina Scarves 2 for $8
Nicole's Boutique Cozy Oblong Scarves, $7.88
Nicole's Boutique Quilted Wristlets 3 for $10
Nicole's Boutique Quilted Bag Collection 2 for $15
Nicole Ornament Frames 4 for $10
Special Selection Holiday, Malden Linear, Life's Great Moments or Timeless Lauren Tabletop Frames, $5
Nicole's Boutique Super Soft Boot Socks, $5
Nicole's Boutique Cozy Slippers or Sherpa Lined Cabin Socks, $5
Nicole's Boutique Buttersoft Crew Socks, $5
Nicole's Boutique Monogram Tote Bags, $5
Assorted Ladies Fashion Leggings, $5
Glidan Long Sleeve Hooded T-Shirts, $5
Jessica Multi-Craft Table, $99.99
Adjustable LED Table Lamp, $5
Store it by Nicole Decorative Boxes or Holiday Willow Baskets 50% off