This post may contain affiliate links. Read our disclosure here.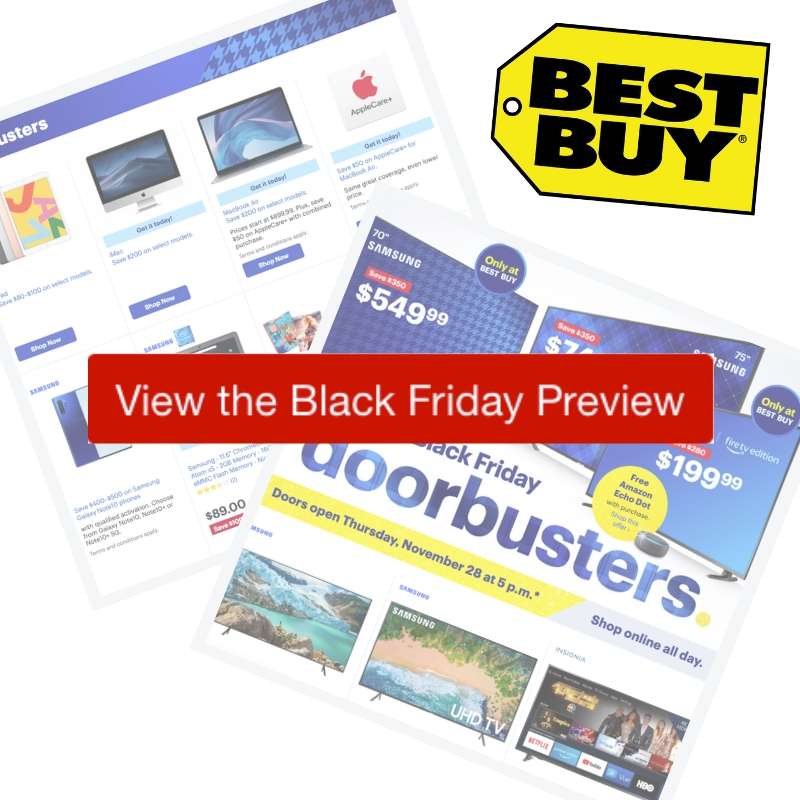 The massive Best Buy Black Friday Ad is here! A chunk of deals are already available online through Sunday 11/10.
You can shop the deals online starting at midnight Thanksgiving Day or head to your local store Thursday at 5pm to shop in-store doorbusters. Doors open again Friday morning at 8am.
See the full Best Buy Black Friday Ad
Search across all the Black Friday ads
and see what stores have the best deals.
2019 Best Buy Black Friday Deals
TVs
Samsung 70″ Class LED 6 Series 2160P Smart 4K UHD TV with HDR, $549.99
Samsung 75″ Class LED 2160P Smart 4K UHD TV with HDR, $899.99
Insignia 58″ Class LED 2160P Smart 4K UHD TV with HDR Fire TV, $199.99
LG 55″ Class LED 2160p Smart 4K UHD TV with HDR, $299.99
Samsung 65″ Class LED 2160p Smart 4K HDTV, $549.99
Samsung 50″ Class LED 2160P Smart 4K UHD TV with HDR, $279.99
Samsung 43″ LED 2160P Smart 4K UHD TV with HDR, $279.99
Hisense 65″ Class LED 2160P Smart 4K UHD TV with HDR, $299.99
Samsung 55″ Class LED Q60 Series 2160P Smart 4K UHD TV with HDR, $699.99
Samsung 65″ Class LED Q60 Series 2160P Smart 4K UHD TV with HDR, $999.99
Samsung 75″ Class LED Q60 Series 2160P Smart 4K UHD TV with HDR, $1499.99
Samsung 65″ Class LED Q70 Series 2160P Smart 4K UHD TV with HDR, $1199.99
Samsung 75″ Class LED Q70 Series 2160P Smart 4K UHD TV with HDR, $1999.99
Samsung 70″ Class LED 6 Series 2160P Smart 4K UHD TV with HDR, $549.99
Samsung 75″ Class LED 2160P Smart 4K UHD TV with HDR, $899.99
Insignia 58″ Class 2160P Smart 4K UHD TV with HDR Fire TV edition, $199.99
Hisense 65″ Class LED 2160P Smart 4K UHD TV with HDR, $299.99
LG 55″ LED 2160P Smart 4K UHD TV with HDR, $299.99
Samsung 65″ LED 2160p Smart 4K UHD TV with HDR, $549.99
Samsung 50″ Class LED 2160P Smart 4K UHD TV with HDR, $279.99
Samsung 43″ Class LED 6 Series 2160P Smart 4K UHD TV with HDR, $279.99
Insignia 40″ Class LED 1080P HDTV, $129.99
Hisense 32″ LED 720P Smart HDTV, $79.99
Samsung 75″ Class LED 2160P Smart 4K UHD TV with HDR, $899.99
Samsung 75″ LED Q60 Series 2160P Smart 4K UHD TV with HDR, $1499.99
Sony 75″ Class LED 2160P Smart 4K UHD TV with HDR, $1099.99
LG 82″ Class LED 2160P Smart 4K UHD TV with HDR, $1599.99
Sony 85″ Class LED 2160P Smart 4K Ultra HD TV with HDR, $2999.99
Sony 75″ LED 2160P Smart 4K UHD TV with HDR, $2499.99
Samsung 75″ LED Q70 Series 2160P Smart 4K UHD TV with HDR, $1999.99
Samsung 55″ LED 2160P Smart 4K UHD TV with HDR, $329.99
Samsung 65″ LED Q60 2160P Smart 4K UHD TV with HDR, $999.99
Sony 65″ A8G 2160P Smart 4K UHD TV with HDR, $1999.99
LG 65″ OLED B9 Series 2160P Smart 4K UHD TV with HDR, $1799.99
Samsung 65″ LED Q80 2160P Smart 4K UHD TV with HDR, $1699.99
Samsung 65″ LED Q70 2160P Smart 4K UHD TV with HDR, $1199.99
Sony 65″ LED 2160P Smart 4K Ultra HD Tv with HDR, $1099.99
Samsung 65″ LED 7 Series 2160P Smart 4K UHD TV with HDR, $599.99
TCL 65″ Class LED 4 Series 2160P 4K UHD with HDR Roku TV, $399.99
Sony 55″ Class OLED A8G 2160P Smart 4 UHD TV with HDR, $1499.99
Samsung 55″ Class LED A60 2160P Smart 4K UHD TV with HDR, $699.99
Sony 55″ Class LED 2160P Smart 4K UHD TV with HDR, $499.99
Samsung 55″ Class LED 2160P Smart 4K UHD TV with HDR, $449.99
TCL 55″ 2160P Smart 4K UHD TV with HDR Roku TV, $279.99
Samsung 50″ LED 2160P Smart 4K UHD TV with HDR, $279.99
Samsung 43″ LED 6 Series 2160P Smart 4K UHD TV with HDR, $279.99
Samsung 40″ LED 5 Series 1080P Smart HDTV, $199.99
Samsung 50″ Class LED 7 Series 2160 P Smart 4K UHD TV with HDR, $349.99
TCL 50″ Class LED 2160P Smart 4K UHD TV with HDR Roku TV, $249.99
Insignia 43″ Class LED 2160P Smart 4 UHD TV with HDR Fire TV Edition, $199.99
Insignia 40″ Class LED 1080P HDTV, $129.99
TCL 32″ Class LED 3 Series 720P Smart HDTV Roku TV, $119.99
LG 32″ LED 720P HDTV, $99.99
Hinsense 32″ Class LED 720P Smart HDTV, $79.99
Insignia 22″ Class LED 1080P HDTV, $59.99
Rocketfish Full Motion TV Wall Mount for most 40″-75″ TVs, $99.99
Sanus Premium Series Advanced Tilt TV Wall Mount fits most 42″ – 90″ TV, $69.99
Rocketfish Tilting TV Wall Mount for Most 32″ – 70″ Tvs, $49.99
Sans Super Slim Fixed TV wall mount for most 32″-64″ TV, $39.99
Sanus Premium Series Full Motion TV Wall Mount for Most 40-84″ TVs, $159.99
Sanus Elite Series Advanced Tilt TV Wall Mount for Most 46-95″ TV, $99.99
Rocketfish 4′ 4K Ultra HD in Wall HDMI Cable, $9.99
Insignia 8 Outlet Surge Protector with Two 8′ 4K UltraHD/HDR HDMI, $19.99
IOGEAR Wireless Video/Audio Extender, $24.99
Mohu Leaf Fifty Amplified Indoor HDTV Antenna, $39.99
Paramax 8 Outlet Surge Protector, $114.99
Paramax 9 Outlet Surge Protector, $169.99
Computers and Tablets
iPad $80-$100 off select models
iMac $200 off Select models
MacBook Air $200 off Select models
AppleCare+ for MacBook Air $50 off
Samsung 11.6″ Chromebook Intel Atom x 5, $189
2GB Memory
16GB eMMC Flash Memory
Microsoft Surface Pro 7 12.3″ TouchScreen Intel Core i3 , $699
4GB Memory
128GB SSD
Dell Inspiron 15.6″ Touchscreen Laptop with Intel Core i3, $449.99
8GB Memory
128GB SSD
Lenovo IdeaPad 1 14″ Laptop, $229.99
4GB Memory
64GB eMMC
Xbox 1 S 1TB All Digital Edition Console, $149.99
Amazon Fire 7 Tablet 16GB , $29.99
Amazon Fire 8″ Tablet 16GB , $49.99
HP Envy 5014 Wireless All in One Printer , $119.99


+$10 of Instant Ink

WD Easystore 5TB External USB 3.0 Portable Hard Drive, $109.99
HP 14″ Laptop , $199.99
AMD A9 Series
4GB Memory
128GB SSD
HP Spectre x360 2 in 1 15.6 Ultra HD Touchscreen Laptop , $1099.99
Intel Core i7
16GB Memory
512GB SSD
32GB Optane
HP Envy x360 2 in 1 15.6″ TouchScreen Laptop, $749.99
Touchscreen Laptop
Intel Core i7
12GB Memory
512GB SSD
32GB Optane
HP Pavilion x360 2 in 1 14″ Touchscreen Laptop, $499.99
Intel Core i5
8GB Memory
256GB SSD
16GB Optane
Dell Inspiron 15.6″ Touchscreen , $279.99
Intel Core i3
8GB Memory
128GB SSD
Dell Inpsiron 15.6″ Touchscreen Laptop, $349.99
Intel Core i5
8GB Memory
256GB SSD
Lenovo IdeaPad 1 14″ Laptop, $129.99
4GB Memory
64GB eMMC
HP 17.3″ Laptop, $399.99
Intel Core i5
8GB Memory
256GB SSD
Samsung 11.6″ Chromebook , $89
2GB Memory
16GB eMMC Flash Memory
Samsung 11.6″ Chromebook , $119
4GB Memory
32GB eMMC Flash Memory
Lenovo 2 in 1 11.6″ Touchscreen Chromebook 4GB memory, $179


32GB eMMC Flash Memory

Acer Spin 11 2in1 11.6″ Touchscreen Chromebook , $219
4GB Memory
32GB eMMC Flash Memory
Samsung Plus 2 in 1 12.2″ Touchscreen Chromebook, $299
Intel Celeron
4GB Memory
32GB eMMC Flash Memory
HP 2 in 1 14″ Touchscreen Chromebook , $349
Intel Core i3
8GB Memory
64 eMMC Flash Memory
Dell Inspiron 2 in 1 14″ TouchScreen Chromebook , $449
Intel Core i3
4GB Memory
128GB eMMC Flash Memory
Google Pixel Slate 12.3″ Tablet, $449


64GB

HP Pavilion 27″ Touch-Screen All in One , $999.99
Intel Core i7
12GB Memory
256GB SSD
HP Pavilion Desktop, $499.99
Intel Core i8
8GB Memory
256GB SSD
HP Pavilion 23.8″ Touch-Screen All in One, $699.99
Intel Core i5
12GB Memory
256GB SSD
Lenovo 23.8″ Touchscreen All in One, $529.99
8GB Memory
256GB SSD
HP 20.7″ LED FHD Monitor, $59.99
HP 27″ IPS LED FHD FreeSync Monitor, $109.99
HP 31.5″ IPS LED FHD Monitor, $149.99
HP Pavilion 32″ LED QHD Monitor, $209.99
Samsung 28″ LED 4K UHD Monitor, $229.99
Wacom Intuos Drawing Tablet, $49.99
Logitech M310 and M325 Wireless Optical Mouse, $9.99
Blue Yeti Microphone and Logitech Webcam, $129.99
Solo Urban Laptop Briefcase Black/Orange, $9.99
Targus City Laptop Backpack, $9.99
Microsoft Surface Pro 7 12.3″ TouchScreen Intel Core i3 , $799
12.3″ Touchscreen
Intel Core i5
8GB Memory
128GB SSD
Amazon Kindle Paperwhite E-Reader 6″ 8GB, $84.99
Amazon Kindle 6″ 4GB , $59.99
Digiland 10.1″ tablet 32GB , $59.99
Spark Cases (select) 50% off
HP Deskjet 2680 Wireless All in One Printer, $19.99


+$10 Instant Ink Included

HP Envy 5014 Wireless All in One Printer , $29.99
HP OfficeJet 3830 Wireless All in One Instant Ink Ready Printer, $39.99
HP OfficeJet Pro 6978 Wireless All in One Instant Ink Ready Printer, $69.99
Canon PIXMA Wireless all in One Printer, $69.99
HP Envy Photo 7155 Wireless All in One Instant Ink Ready , $79.99
Epson EcoTank ET-2720 Wireless All in One Printer, $149.99
Brother HL-L2370DW Laser Printer, $89.99
HP LaserJet Pro MFP M29W Wireless All in One Printer, $99.99
HP LaserJet Pro MFP Color Wireless All in One Printer, $279.99
Cannon imageCLASS Wireless Color All in One Printer, $169.99
Verizon Ellipsis Jetpack 4GB LTE Prepaid Mobile Hotspot, $24.99
HP 15.6″ Gaming Laptop AMD Ryzen 5, $449.99
8GB Memory
NVIDIA GeForce GTX 1050
256GB SSD
Cyber Power C Gamer Master Gaming Desktop AMD Ryzen 3 2300X, $479.99
8GB Memory
+ 3 Month Xbox Game Pass
Asus 15.6″ Gaming laptop, $579.99
Intel Core i5
8GB Memory
NVIDIA GeForce GTX1650
512GB SSD
Asus 17.3″ Gaming Laptop, $899.99
Intel Core i7
16GB Memory
NVIDIA GeForce GTX 1660
512GB SSD
MSI 15.6″ Gaming Laptop, $1399.99
Intel Core i7
32GB Memory
NVIDIA GeForce RTX 2060
512GB SSD
CyberPower PC Gamer MAster Gaming Desktop, $599.99
AMD Ryzen 5 3600
8GB Memory
IBUYPOWER Gaming Desktop, $649.99
Intel Core i5-9400F
8GB Memory
NVIDIA GeForce GTX 1660
CyberPowerPC Gamer Supreme Liquid Cool Gaming Desktop, $1049.99


16GB Memory

HP OMEN Obelisk by HP Desktop, $899.99
Intel Core i7-9700
16GB Memory NVIDIA GeForce GTX1660
IBUYPOWER Gaming Desktop , $1499.99
Intel Core i7-9700K
16GB Memory
NVIDIA GeForce RTX 2080
Asus 24″ LED FHD Monitor, $169.99
Dell 27″ LED QHD GSync Monitor, $349.99
Oculus Go Stand Alone Virtual Reality $50 off
Oculus Rift S PC Powered VR Gaming Headset, $349
Corsair Pro Wired Gaming Bundle with RGB Black Lighting, $89.99
Intel Corei7-9700K Octa-Core 3.6 GHz Desktop Processor, $299.99
MSI GeForce GTX 1650 Gaming x 4GB GDDR5 PCI Express 3.0 Graphics Card, $154.99
XFX AMD Radeon RX 580 GTS Black Edition 8GB GDDR5 PCI Express 3.0 Graphics Card, $169.99
NetGear Nighthawk AC2400 Dual Band Wi-Fi Router, $89.99
Linksys AC1900 Dual Band Wi-Fi 5 Router, $99.99
Linksys Velop Ti-Band Mesh Wi-Fi System 3 pk, $279.99
Games and Movies
Select Blu-Rays starting at, $7.99
Microsoft Xbox One X 1TB Star Wars Jedi Fallen Order Console Bundle, $499.99
FiFa 20 Standard Edition Playstation 4, $39.99
NBA 2K20 Standard Edition Xbox One, $59.99
Borderlands 3 Standard Edition Playstation 4, $59.99
Madden NFL 20 Standard Edition Xbox One, $59.99
Tom Clancy's Ghost Recon Breakpoint Standard Edition Playstation 4, $39.99
Nintendo Switch with Mario Kart 8 Deluxe Console Bundle, $299.99
Pokemon Sword Edition, $59.99
Pokemon Shield Edition Nintendo Switch, $59.99
Nintendo Poke Ball Plus for Nintendo Switch, $19.99
The Legend of Zelda Breath of the Wild Standard Edition Nintendo Switch, $39.99
Super Mario Odyssey Standard Edition Nintendo Switch, $39.99
Super Mario Party Standard Edition Nintendo Switch, $39.99
Splatoon 2 Standard Edition Nintendo Switch, $39.99
Hori Pokemon Sword & Shield Hard Pouch for Nintendo Switch, $19.99
Sony Playstation 4 1TB Only on Playstation Console Bundle, $199.99
Select Games starting at , $14.99
Xbox One X 1TB Star Wars Jedi Fallen Order Deluxe Edition Console Bundle, $349.99
Microsoft Xbox One S 1TB NBA 2K20 Bundle, $199.99
Microsoft Xbox One S 1TB All Digital Edition Console, $149.99
Turtle Beach Stealth 300 Headsets 50% off (select)
Select DVD and Blu-Rays starting at, $3.99
Cameras
EOS Rebel T7i DSLR Two Lens Kit with 18-55 mm and 55-250 mm Lenses, $1199.99
GoPro Hero8 4K Waterproof Action Camera Special Bundle, $349.99
FujiFilm Instax Mini 9 Instant Camera, $49.99
Cannon IVY REC Waterproof Outdoor Digital Camera, $99.99
Sony Alpha a7 III Mirrorless Camera with FE 28-70 mm F3.5-5.6 OSS Lens, $1999.99
SunPak PlatinumPlus 5858D 58″ Tripod, $9.99
Lowerpro Adventura Camera 60% off select
JOBY HandPod Mobile Lock for Mobile Phones, $24.99
Insignia Essential Accessory Kit for GoPro Action Camera, $39.99
HP Procket 2nd Edition Instant Photo Printer, $99.95
Household
Chefman TurboFry 3.7 qt / 3.5L Analog Air Fryer, $59.99
Insignia 6 qt Multi-Function Pressure Cooker, $49.99
KitchenAid Professional 500 Series Stand Mixer, $229.99
Ninja Foodi 8 qt 9 in 1 Deluxe XL Pressure Cooker & Air Fryer, $199.99
Keurig K-Classic K50 Single Serve K-Cup Pod Coffee Maker, $59.99
Ninja Mega Kitchen System 72 oz Blender, $99.99
Bella Pro Series 6 qt Digital Air Fryer, $49.99
Crock-Pot Express Crock 6 Qt, $49.99
Bella Pro Series 10.5 qt Digital Air Fryer, $89.99
Ninja 4 qt Digital Air Fryer, $79.99
Chefman 26.4 qt Toaster Oven Air Fryer, $99.99
Oster Air Fryer Toaster Oven, $79.99
KitchenAid Convection Toaster Pizza Oven, $69.99
KitchenAid Classic Stand Mixer, $199.99
KitchenAid Pasta Cutter and Fresh Prep Attachment Bundle, $99.99
Instant Pot Duo Nova 6 qt 7 in 1 One Touch Multi-Cooker, $64.99
Keurig K-Duo Single Serve & Carafe Coffee Maker, $129.99
Ninja 10 Cup Coffee maker, $99.99
Ember 10 oz Temperature Controlled Mug 2 pk, $129.99
Nespresso VertuoPlus Deluxe Coffee Maker and Espresso Machine by DeLonghi, $99.99
Magic Bullet Blender, $29.99
Insignia .9 cu ft. Compact Microwave, $54.99
iRobot Roomba 675 App Controlled Robot Vacuum, $199.99
iRobot 890 App Controlled Self Charging Robot Vacuum, $279.99
iRobot Roomba 960 Wi-Fi Connected Robot Vaccum, $399.99
iRobot Braava Jet m6 Wi-Fi Connected Robot Mop, $399.99
Shark iQ Robot App Controlled Robot Vacuum, $299.99
Dyson Ball Animal 2 Bagless Upright Vacuum, $299.99
Hoover WindTunnel 2 Whole House Rewind Bagless Upright Vacuum, $89.99
Shark Navigator Pet Pro ZU62 Bagless Pet Upright Vacuum, $129.99
Hoover PowerDrive Bagless Upright, $129.99
Shark Rocket iX141 Bagless Cordless Pet Handheld/Stick Vacuum, $169.99
Hoover Power Scrub Deluxe Carpet Upright Deep Cleaner, $99.99
Dyson Pure Cool Tower 172 Sq. ft. Air Purifier and Fan, $299.99
Dyson Pure Hot+Cool 400 sq. ft. Smart Tower Air Purifer, $549.99
Honeywell Home Ceramic Tower Heater, $49.99
Braun Series 9 Wet/Dry Electric Shaver, $199.99
Philips Norelco 5100 Wet/Dry Electric Shaver, $34.99
Panasonic Arc 5 Wet/Dry Electric Shaver, $99.99
Garmin Drive 52 5″ GPS, $79.99
Thinkware F100D Front and Rear Camera Dash Cam, $119.99
Garmin DriveSmart 65 & Traffic 6.95 GPS with Bluetooth, $179.99
Amazon Echo Auto Smart Speaker, $29.99
Sound Bars
Vizio 2.1 Channel Soundbar System with 5 -1/4″ Wireless Subwoofer , $99.99
LG 2.1 Channel 300W Soundbar System with 6″ Subwoofer, $119.99
Samsung 2.1 Channel 290W Soundbar System with 6 1/2″ Wireless Subwoofer, $139.99
Samsung 5.1 Channel 360W Soundbar System with 6 1/2″ Wireless Subwoofer, $279.99
Polk Audio 2.1 Channel Soundbar System with 5-1/4″ Wireless Subwoofer, $139.99
Sony 2.1 Channel 320W Soundbar System with Wireless Subwoofer, $149.99
LG 3.1 Channel Soundbar with Wireless Subwoofer and DTS Virtual, $199.99
Samsung 3.1 Channel 340W Soundbar System with 6 1/2″ Wireless Subwoofer, $209.99
JBL 3.1 Channel Soundbar System with 10″ Wireless Subwoofer, $299.99
Samsung Harman Kardon 3.1.2. Channel 330W Soundbar with 8″ Wireless Subwoofer, $479.99
Insignia 2.1 Channel 80W Soundbar System with Wireless Subwoofer, $79.99
Sony 7.1.2 Channel Hi-Res Soundbar with Wireless Subwoofer and Dolby Atmos, $1199.98
Samsung 7.1.4 Channel 512W Soundbar System with 8″ Wireless Subwoofer and Dolby Atmos, $1399.98
Sonos Bean Soundbar with Voice Control Built In, $319.99
Sonos Playbar Soundbar Wireless Speaker, $559.99
Sonos Sub Wireless Subwoofer , $559.99
Sonos AMP 250W 2.1 Ch Amplifier , $479.99
Bluetooth Speakers
JBL Charge 4 Portable Bluetooth Speaker, $99.99
JBL Flip 4 Portable Bluetooth Speaker, $59.99
Ultimate Ears Boom 2 LE Portable Bluetooth Speaker, $69.99
ION Audio Boombox with AM/FM Radio, $69.99
Sony SRS-XB2 Portable Wireless Speaker, $124.99
Sony SRS-XB12 Portable Bluetooth Speaker, $34.99
Sony SRS-XB01 Portable Bluetooth Speaker, $14.99
Boise SoundTouch 10 Wireless Music System, $99.99
Boise SoundLink Revolve Portable Speaker, $119.99
Marshall Stanmore II Bluetooth Speaker, $199.99
Harmon Kardon Onyx Studio 5 Portable Bluetooth Speaker, $119.99
ION Audio PowerGlow 10″ 200W 2 Way PA Bluetooth Speaker with Built in Battery, $124.99
ION Audio Sport Go Tailgate Portable PA Speaker, $59.99
JBL Clip 3 Portable Bluetooth Speaker, $29.99
JBL Boombox Portable Bluetooth Speaker, $379.99
Streaming Media and Blu-Ray Players
Amazon Fire TV Stick with Alexa Voice Remote, $19.99
Amazon Fire TV Stick 4K with Alexa Voice Remote, $24.99
Amazon Fire TV Cube 16GB 2nd Gen Media Player, $89.99
Roku Streaming Stick + 4K Streaming Media Player with Voice Remote, $29.99
Roku Ultra 4K Streaming Media Player with JBL Headphones and Enhanced Voice Remote, $49.99
Google Chromecast Streaming Media Player, $25
Google Chromecast 4K Streaming Media Player, $49.99
Sony Streaming 4K Ultra HD Hi-Res Audio Wi-Fi Built-in Blu-Ray Player, $199.99
Samsung Streaming 4K Ultra HD Audio Wi-Fi Built-in Blu-Ray Player, $149.99
Sony Streaming 4K Ultra HD Hi-Res Audio Wi-Fi Built in Blu-Ray Player, $129.99
LG 4K Ultra HD Blu-Ray, $99.99
LG Streaming Audio Wi-Fi Built-in Blu-Ray Player, $49.99
LG Streaming Audio Blu-Ray Player, $49.99
Components Speakers and Turntables
Sony Home Theater Receivers $200 off
Pioneer Elite 7.2 Ch Bluetooth Capable with Dolby Atmos 4K Ultra HD HDR Compatible, $379.98
Onkyo TX 7.2 CH HI-Res 4K HDR Compatible A/V Home Theater Reciever, $249.99
ELAC Home Theater Speakers 40% off Select
Definitive Technology 2000 7 1/2″ 650W Powered Subwoofer, $299.98
Sonance 6 1/2″ 2 Way in Ceiling Speakers, $149.98
Hard Drives SSD and Storage
WD Easystore 12TB External USB 3.0 Hard Drive, $179.99
SanDisk Ultra 512GB Internal Sata Solid State Drive for Laptop, $54.99
SanDisk Ultra 2TB Internal SATA Solid State Drive, $179.99
Seagate Game Drive Hub for Xbox Officially Licensed 8TB External USB 3.0 Desktop Hard Drive, $159.99
PNY Pro-Elite 512GB USB 3.0 Flash Drive, $69.99
Samsung 860 EVO 1TB Internal SATA Solid State Drive, $109.99
Samsung T5 1TB External USB Type C Portable Solid State Drive, $139.99
Seagate Game Drive for Xbox 2TB External USB 3.0 Hard Drive, $79.99
WD Easystore 128GB USB 3.0 Flash Drive, $14.99


WD Easystore 64GB USB 2.0 Drive $7.99

WD Easystore 32GB USB 3.0 Flash Drive, $4.99
WD Easystore 64GB USB 3.0 Flash Drive $8.99
WD Easystore 128GB USB 3.0 Flash Drive $15.99
Headphones
Sony Wireless Noise canceling Over the ear Headphones with Google Assistant, $279.99
Sony Wireless Noise Canceling Over the Ear Headphones, $89.99
Jabra Elite 65T True Wireless Earbud Headphones, $109.99
Beats by Dr. Dre Powerbeats Pro Totally Wireless Earphones, $199.99
JLab Audio JBuds True Wireless Earbud Headphones, $29.99
Beats by Dr. Dre Beats Studio Wireless Noise canceling Headphones, $199.99
JayBird Tarah Wireless in Ear Headphones , $49.99
Beats by Dr. Dre Powerbeats Wireless, $89.99
Samsung Galaxy Buds True Wireless Earbud Headphones, $119.99
Skullcandy HESH 3 Wireless Over the Ear Headphones, $49.99
Bose QuietComfort 35 Wireless Noise Cancelling Headphones II, $279.99
Bose SoundLink Wireless Around Ear Headphones II, $179.99
Bose Soundsport Free Wireless Headphones, $169.99
Jabra Elite Active 65T True Wireless Earbud Headphones, $139.99
JBL Live Wireless Noise Canceling Over the Ear Headphones, $99.99
SkullCandy Crusher Wireless Over the Ear Headphones, $79.99
JBL Live 500BT Wireless Over the Ear Headphones, $74.99
JBL Free True Wireless In Ear Headphones, $74.99
Jlab Audio Epic Sport Wireless In Ear Headphones, $69.99
AfterShokz Titanium Wireless Bone Conduction Open Ear Headphones, $59.99
Sony Wireless in Ear Headphones, $39.90
SkullCandy Method Wireless In Ear Headphones, $24.99
Insignia Wireless Over the Ear Headphones, $24.99
JLab Audio JBuds Pro Signature Wired Earbud Headphones, $4.99
Sennheiser RF Wireless Over the Ear Headphones, $199.98
Sennheiser Momentum Wireless Over the Ear Headphones, $199.98
Watches
Samsung Galaxy Active Smartwatch 40mm , $149.99
Samsung Galaxy Fit Activity Tracker + Heart Rate, $79.99
Samsung Galaxy Watch Smartwatch 46MM , $269.99
FitBit Versa , $119.95
FitBit Ace 2 Activity Trackers, $49.95
FitBit Charge 3 $50 off
Garmin Forerunner 35 GPS WAtch, $99.99
Garmin Fenix 5X Plus Sapphire Smart Watch, $299.99
Garmin Forerunner 235 GPS Running Watch, $149.99
Garmin Instinct Smarwatch , $199.99
Garmin Venu Smartwatch 43mm , $299.99
Exercise Equipment
ProForm Performance 600i Treadmill, $499
Hyperice Hypervolt Vibration Massage Device Cordless, $299
Theragun G3PRO Professional Handheld Precussive Massage Gun with Travel Case, $399
Upright GO Posture Trainer White, $59.99
Toys
Select LOL Surprise up to 50% off
Melissa & Doug Save 50% off Select
Sharper Image Toy RC Hobby Lite Truck, $29.99
Barbie DreamCamper Play Set, $49.99
Hasbro Nerf Elite Titan CS-50 Toy Blaster, $49.99
Hot Wheels City Ultimate Gator Car Wash Play Set, $44.99
Fast and Furious Chase Twin Pack, $29.99
Jazwares Peppa Pigs transforming Campervan, $29.99
Fisher Price Laugh & Learn 3 in 1 Smart Car, $29.99
Zuru Pets alive Boppi the Booty Shakin Llama, $14.99
Arcade1Up Deluxe 8 in 1 Head to Head Cocktail Table with Pac-Man and Galaga, $449.99
Hover-1 Drive Self Balancing Scooter, $99.99
Hover-1 Origin Self Balancing Scooter, $129.99
Appliances
Samsung 25.5 cu. ft. French Door Refridgerator, $1049.99
Samsung 4.5 cu. ft. 12 Cycle Front Loading Washer with Steam, $679.99
Samsung 7.5 cu. ft. 12 Cycle Electric Dryer with Steam, $679.99
Samsung 25.5 cu.ft. French Door Refrigerator, $999.99
Samsung 5.0 cu. ft. 10 Cycle Top Loading Washer, $569.99
Samsung 7.4 cu. ft. 10 Cycle Electric Dryer, $569.99
Samsung 27.8 cu ft. 4 Door French Door Refrigerator with Food Showcase, $1999.99
Whirlpool 26.8 cu ft. French Door Refrigerator , $1799.99
Samsung 22.6 cu ft 4 Door Flex French Door Counter Depth Refrigerator, $1999.99
Whirlpool 24.7 cu ft. French Door Refrigerator, $1499.99
LG instaView Door in Door 27.8 cu ft. 4 Door French Door Refrigerator, $2299.99
LG 26.2 cu ft. French Door Smart Wi-Fi Enabled Refrigerator, $1749.99
KitchenAid 20 cu. ft. French Door Counter Depth Refrigerator, $1799.99
Whirlpool Cabrio 4.3 cu. ft. 12 Cycle Top Loading Washer, $499.99
Whirlpool Cabrio 7.0 cu ft. 13 Cycle Electric Dryer, $499.99
Samsung 5.0 cu. ft. 10 Cycle Top Loading Washer, $569.99
Samsung 7.4 cu ft 10 Cycle Electric Dryer, $569.99
LG 4.5 cu. ft. 8 Cycle Top Loading Washer with 6Motion Technology, $579.99
LG 7.3 cu. ft. 8 Cycle Electric Dryer, $579.99
Samsung 5.0 cu ft 10 Cycle Top Loading Washer, $599.99
Samsung 7.4 cu. ft. 12 Cycle Electric Dryer with Steam, $599.99
Samsung 4.2 cu. ft. 8 Cycle High Efficeincy Front Loading Washer, $549.99
Samsung 7.5 cu ft. 9 cycle Electric Dryer, $549.99
Samsung 4.5 cu. ft. 10 Cycle HE Front Loading Washer with Steam, $649.99
Samsung 7.5 cu. ft. 10 Cycle Electric Dryer with Steam, $649.99
LG 4.5 cu. ft. 10 Cycle Front Loading Smart Wi-Fi Washer with 6M Technology, $699.99
LG 7.4 cu. ft. 12 Cycle Smart Wi-Fi Electric SteamDryer, $699.99
Gift Cards
Spotify $60 Gift card, $51
App Store and iTunes Gift Cards 20% off $100 gift cards
Electronics
Amazon Fire TV Stick with Alexia Voice Remote, $19.99
Amazon Echo Show 5 Smart Display with Alexa, $49.99
Jlab Audio JBuds Air True Wireless Earbud Headphones, $49.99
Beats by Dr. Dre Beats Studio Wireless Noise Canceling Headphones, $349.99
Samsung Galaxy Watch Active Smartwatches $50 off
Ring Bundle with Echo Show 5, $179.99
Amazon Fire TV Stick 4K with Alexa Voice Remote, $24.99
Arlo Pro 2 4 Camera Indoor/Outdoor Wireless 1080P Security Camera System, $649.99
Epson Home Cinema 2150 1080P Wireless 3LCD Projector, $599.99
Sunpak Portable Vlogging Kit for Smartphones, $19.99
Hydrow Connected Rower, $1199
Amazon Echo 3rd Gen Smart Speaker with Alexa, $59.99
Philips Hue White & Color Ambiance LED Starter Kit, $129.99
Ring Video Doorbell 2, $129.99
Amazon Echo Dot 3rd Gen, $22.99
Amazon Echo Show 5 Smart Display with Alexa, $49.99
Arlo Pro 2 2camera Indoor/Outdoor Wireless 1080P Security Camera System, $279.99
Facebook 8″ Portal Mini with Alexa, $79.99
Lenovo Smart Clock with Google Assistant, $39.99
Google Home Mini, $19.99
Google Nest Hub with Google Assistant, $79.99
SimpliSafe Protect Home Security System, $149.99
TP Link Kasa Smart Wi-Fi Plug Mini, $14.99
August Smart Lock Pro + Connect, $149.99
Yale Assure Lock Touch Screen Smart Lock, $209.99
Honeywell Smart Color Thermostat with Wi-Fi Connectivity, $119.99
SanDisk Extreme Plus 128GB SDXC, $19.99
SanDisk Extreme Plus 128GB MicroSDXC UHS-1 Memory Card, $19.99