This post may contain affiliate links. Read our disclosure here.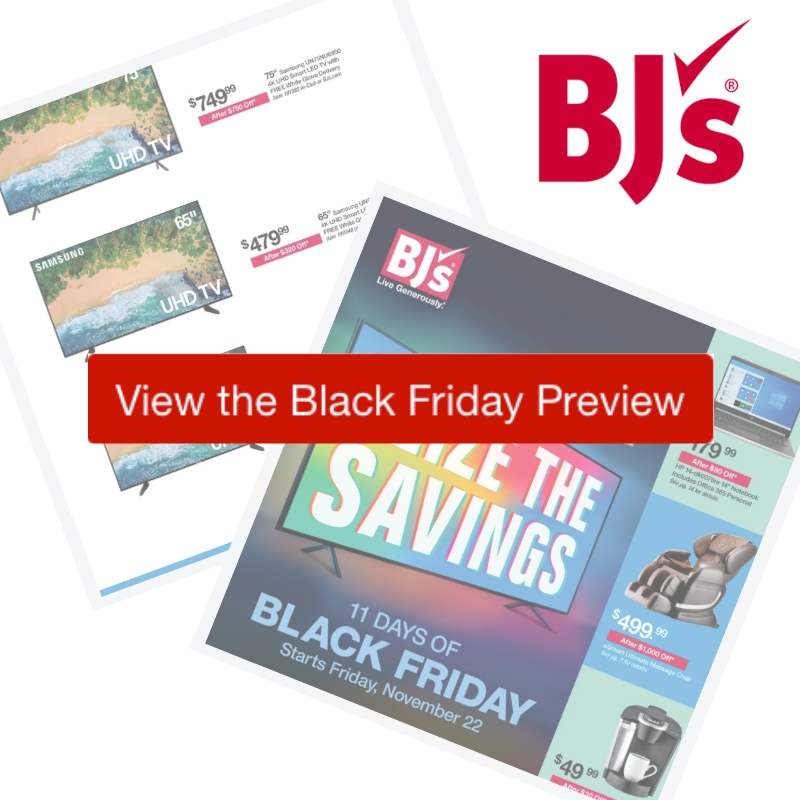 Get ready for a lot of great deals at BJ's on Black Friday! The 2019 BJ's Black Friday Ad is out with tons of door busters to not miss.
Most of the deals actually start early on 11/22, though the top doorbusters start 11/28 online and in the store on Friday 11/29 at 7 am.
See the full BJ's Black Friday Ad
Search across all the Black Friday ads
and see what stores have the best deals.
2019 BJ's Black Friday Ad
Electronics
Samsung 65″ 4K UHD Smart LED TV, $479.99
eSmart Ultimate Massage Chair, $499.99
Keurig K-Classic K50 Single Serve Coffee Maker, $49.99
Samsung 75″ 4K UHD Smart LED TV, $749.99
Samsung 65″ 4K UHD Smart LED TV, $479.99
Samsung 55″ 4K UHD Smart LED TV, $329.99
Samsung 50″ 4K UK UHD Smart LED TV, $279.99
Samsung 82″ 4K UHD HDR Smart TV, $1779.99


Online Only

Samsung 75″ 4K UHD HDR Smart TV, $1279.99
Samsung 65″ 4K UHD HDR Smart TV, $779.99
Samsung 55″ 4K UHD HDR Smart LED TV, $529.99
Samsung HW-R60C Sound Bar with Bluetooth, $199.99
Samsung 75″ 4K UHD Smart QLED TV, $1999.99
Samsung 65″ 4K UHD Smart QLED TV, $1199.99
Samsung 55″ 4K UHD Smart QLED TV, $999.99


Online Only

Samsung Harman Kardon Q7CR Series 3.1.2 Channel Sound Bar with Bluetooth Technology, $469.99


Online Only

Samsung 82″ 4K UHD Smart QLED TV , $1999.99
Samsung 75″ 4K UHD SMART QLED TV, $1499.99
Samsung 65″ 4K UHD Smart QLED TV, $999.99
Samsung 55″ 4K UHD Smart QLED TV, $699.99
Samsung Harman Kardon Q6CR Series 5.1 Channel Sound Bar with Bluetooth Technology, $269.99
LG 86″ LG 4K UHD HDR Smart LED TV, $1949.99
LG 75″ 4K UHD HDR Smart LED TV, $969.99
LG 65″ 4K UHD HDR Smart LED TV, $499.99
LG 55″ UHD HDR Smart LED TV, $349.99
LG 55″ UHD HDR Smart LED TV, $349.99
LG 70″ 4K UHD HDR Smart LED TV, $649.99
LG 65″ 4K UHD HDR Smart LED TV, $479.99
LG 70″ 4K UHD HDR Smart LED TV, $649.99
LG 65″ 4K HDR Smart OLED TV, $1899.99
LG 55″ LG 4K UHD Smart OLED TV, $1299.99


Online Only

LG 75″ 4K SUHD HDR Smart LED TV, $1469.99
LG 65″ 4K SUHD HDR Smart LED TV, $769.99
Hisense 70″ 4K Roku Smart TV, $479.99
Hisense 65″ 4K Roku Smart TV, $399.99
Panasonic DECT 6.0 Plus 3 Handset Expandable Digital Cordless Phone with Answering System, $29.99
Royal 16 Sheet Professional Crosscut Shredder, $79.99
HP 15.6″ Laptop, $399.99
+ 1 year Office 365 Personal
8GB Memory
256GB SSD
Samsung 11.6″ Chromebook 4, $169.99
4GB Memory
32GB eMMC
Lenovo 21.5″ Ideacentre All in One Touchscreen Desktop Computer with Keyboard and Mouse, $399.99
Acer 11.6″ 2 in 1 Chromebook, $194.99
4GB Memory
32GB eMMC
HP 14″ Notebook, $179.99
4GB Memory
64GB eMMC
Samsung Galaxy Tab A 10.1″ 128GB Tablet, $229.99
Samsung Galaxy Tab A 10.1″ 32GB Tablet, $159.99
Samsung Galaxy Tab A 8″ 32GB Tablet, $109.99
HP Envy Photo 7858 Wireless All in One Printer, $94.99
Samsung Galaxy Watch Active 2 Bluetooth Smart Watch, $239.99
Garmin Vivosmart 4 Bundle, $99.99
Atomi Qi Wireless 10,000 mAh Power Bank or Acessori 10,000 mAh Power Bank 2 pk, $19.99
Norton 360 Premium 10 Devices 1 yr subscription, $29.99
Night Owl 16 Channel 10 Camera 1080P Wired Security System with 1TB HDD DVR, Spotlights and Google Assistant , $349.99
Night Owl 8 Channel 4 Camera 1080P Security System with 1TB HDD DVR Spotlights and Google Assistant, $179.99
Night Owl 8 Channel 2 Camera 1080p Wireless Security System with 1TB HDD NVR, $229.99
Arlo Pro Wire Free HD Smart Security 2 pk with Bonus Battery Charging Station and Outdoor Mount, $189.99
Arlo Wireless All in One 1080p HD Video Baby Monitor, $79.99
Night Owl 1080p Wireless Smart Doorbell, $64.99
Carpool Karaoke, The Mic Portable Karaoke Machine, $39.99
Vava Portable Bluetooth Speakers, $29.99
Sony XB20 Wireless Portable Bluetooth Speaker with Extra Bass, $39.99
Edison Professional EN-1600 15″ BLuetooth PA Speaker, $119.99
Edison Professional Party System 1220 Bluetooth Speaker System, $269.99
JBL Duet Active Noise Canceling Wireless On Ear Headphones, $59.99
TaoTronic Waterproof Wireless Bluetooth Sports Earphones, $19.99
LG Tone Ultra Neckband Headphones, $39.99
OFX Dueal 12″ Portable Disco Bluetooth Party Speaker 50% off
Lorex 8 Channel 4 Camera 5MP Security System with 2TB 4K HDD NVR, $349.99


Online Only

Acer Aspire 3 Laptop AMD A9-9420 Dual Core Processor, $249.99
6GB Memory
1TB Hard Drive
15.6″ Screen
Online Only
Acer Predator Helios 300 Gaming Laptop, $999.99
15.6″ Screen
16GB Memory
512 GB SSD
Westinghouse 32″ Roku Smart LED TV, $99.99


Online Only

Defender 4 Channel 4 Camera 4K Security System with 1TB HHD DVR, $249.99


Online Only

Samsung Galaxy Tab S4 10.5″ Tablet, $499.99
64GB Memory
Online Only
Samsung 43″ 1080p Smart LED TV, $189.99
Westinghouse 40″ 1080P Roku Smart LED TV, $169.99
Magnavox 32″ 720p Smart Roku LED TV, $119.99
Hisense 32″ LCD TV, $89.99
LG 24″ 720P Smart LED TV, $99.99
Cannon EOS Rebel T7 24.1MP DSLR Wi-Fi Camera Bundle with EF-S18-55mm and EF 75-300mm Lenses 32GB SD Card, $499.99
Nikon D5600 24.2MP Wi-Fi DSLR Camera Bundle with 18-55mm VR and 70-300mm Lenses, 2 Rechargeable li-Ion Batteries, SD Card & Bag, $599.99
GoPro Hero 7 Silver with Super Suit Bundle, $179.99
Nikon D3500 24.2MP CMOS DSLR Camera Bundle with 18-55 mm VR and 70-300mm Lens 32GB SD Card bag, $39999
Gift Cards
Fanactics $50 2 pk, $69.99
Build A Bear $25 2 pk, $34.99
Jiffy Lube $50 2 pk, $64.99
Spa Week $25 2 pk, $34.99
Uber $25 gift Card, $19.99
Applebees $25 Gift Card , $19.99
Seasonal
Sylvania 7.5′ 8 Function Color Changing Prelit LED Tree with Foot Pedal, $149.99
Blue Fir Artificial 7′ Christmas Tree with 500 Multi-Color Lights , $69.99
Berkley Jensen LED Window Candles 4 pk, $16.99
Berkley Jensen Shatterproof Ornaments 100 ct, $19.99
Toys
Maple Wood Mansion Doll House, $69.99
FurReal Friends Bootsie Interactive Plush Kitty Toy, $19.99
Just My Style Personalized Jewelry Studio, $9.99
Doc McStuffins Baby Checkup All in One Nursery, $39.99
Barbie Remote Control Convertible car, $19.99
Little Darlings Changing Table with 2 Dolls, $19.99
WowWee Robosapien, $39.99
AirZone Play 48″ Air Hockey Table OR Triumph 47″ Foosball Table, $49.99
Kid Motorz Fire Engine 6V Battery Operated Ride On, $99.99
MD Sport 48″ 3 in 1 Game Combo, $79.99
MD Sports 2 Player Basketball Game, $39.99
Radio Control 4 x 4 Silverado Remote Control Truck, $59.99
Hot Wheels Zero Gravity Slot Car Track Set, $39.99
Hover-1 Nomad Off Road Hoverboard with 8″ All Terrain Rubber Wheels, $179.90
Kid Trax Dodge Ram 1500 6V Ride-On, $119.99


Online Only

Monster Jam Grave Digger Mini Quad, $49.99


Online Only

Cozy Escape Playhouse, $999.99


Online Only
Clothing
Eddie Bauer Women's Aztec Eyelash Cardigan, $14.99
Rampage Women's Oversize Wrap or Gloves 3 pk. Steve Madden Fluffy Socks 3 pk or Rampage Earmuffs, $5


In Store Only

John Paul Richard Women's Chenille Sweater, $14.99
RBX Women's Sherpa Hoodie, $12.99
Eddie Bauer Men's 1/4 Zip Fleece Pullover, $19.99
Old River Men's Popcorn Fleece 1/4 Zip Pullover, $9.99
One day Away or Visitor Men's Fleece or Flannel Shirt, $9.99
Free Country Women's Puffer Jacket, $24.99
Free Country Women's Reversible Vest, $12.99
Free Country Men's Midweight Jacket, $24.99
Smith's Workwear Men's Puffer Vest, $12.99
Berkley Jensen Men's 2 pk Fleece Pajama Pants, $10.99
Hanes Men's Underwear OR T-Shirts 40% off


In Store Only

Rocawear Men's Fleece Robe, $12.99
Dearfoams Unisex Adult Holiday Slippers, $12.99


In Store Only

Sporto Men's or Women's Winter Boots, $19.99


In Store Only

Bearpaw Women's Winter Boots, $29.99


In Store Only

Eddie Bauer Men's Hikers, $24.99


In Store Only

OshKosh Girls or Boys Boots, $12.99


In Club Only
Doorbusters – Electronics
Nintendo Switch Bundle with Bonus Pro-Gaming Earbuds Traveler Case, $299.99


Friday 11/29 – Monday 12/2 Only

Xbox One S All Digital 1TB Fortnite Bundle OR Xbox One S 1TB NBA 2k20 Bundle, $199.99


Friday 11/29 – Monday 12/2 Only

Xbox or PlayStation 4 Controller, $39.99


Friday 11/29 – Monday 12/2 Only

Amazon Echo Dot Speaker, $24.99


Friday 11/29 – Monday 12/2 Only

Singing machine Carnaval Portable Hi-Def Karaoke system with Built-in Color Monitor, Microphone Remote Control, $129.99


Friday 11/29 – Monday 12/2 Only

Bose Soundsport Pulse Wireless Headphone, $99.99


Friday 11/29 – Monday 12/2 Only

ION Audio Pathfinder Charger High Power All Weather Speaker with Qi Wireless Charging, $99.99


Friday 11/29 – Monday 12/2 Only

Dell Inspiron 14″ 5000 Series 2 in 1 Touchscreen Notebook, $429.99
Friday 11/29 – Monday 12/2 Only
14″ Screen
8GB Memory
128GB SSD
Amazon Fire 7 Tablet 7″ DIsplay 16GB, $29.99


Friday 11/29 – Monday 12/2 Only

HP DeskJet 3639 All in One Wireless Printer, $29.99


Friday 11/29 – Monday 12/2 Only

Apple iPad 10.2″ 128GB Wi-Fi, $349.99


Friday 11/29 – Monday 12/2 Only

HP OfficeJet 5258 All in One Wireless, $53.99


Friday 11/29 – Monday 12/2 Only

FitBit Inspire HR Activity Tracker with 2 bands, $79.99


Friday 11/29 – Monday 12/2 Only

Garmin VivoActive 3 with bonus band, $129.99


Friday 11/29 – Monday 12/2 Only

FitBit Versa 2 Smartwatch with Bonus Band, $149.99


Friday 11/29 – Monday 12/2 Only

FitBit Charge 3 Activity Tracker with Bonus Band, $99.99


Friday 11/29 – Monday 12/2 Only

Select DVDs starting at , $3.99


Friday 11/29 – Monday 12/2 Only

LG 43″ 4K UHD HDR Smart LED TV, $229.99


ONLINE ONLY Thursday 11/28 – Monday 12/2

Lorex 8 Channel 4 Camera 4K Security System with 1TB HDD DVR, $249.99


ONLINE ONLY Thursday 11/28 – Monday 12/2

Boise Noise Canceling Wireless Headphones, $269.99


ONLINE ONLY Thursday 11/28 – Monday 12/2
Doorbusters – Household
T-Fal 14 pc Forged Aluminum Non-Stick Cookware Set, $69.99


Friday 11/29 – Monday 12/2 Only

Ninja Professional Blender with 2 Nutri Ninja 16 oz cups and lids, $69.99


Friday 11/29 – Monday 12/2 Only

FoodSaver Deluxe System with Handheld Vacuum Sealer, $69.99


Friday 11/29 – Monday 12/2 Only

RubberMaid 56 pc Food Container Set, $14.99


Friday 11/29 – Monday 12/2 Only

Berkley Jensen Open Stock Cookware, $12.99


Friday 11/29 – Monday 12/2 Only

Dyson V7 Cordless Motorhead Stick Vacuum, $199.99


Friday 11/29 – Monday 12/2 Only

Dyson V10 Cordless Cyclone Motorhead Stick Vacuum, $349.99


Friday 11/29 – Monday 12/2 Only

iRobot Roomba 671 Robot Vacuum with Wi-Fi Connectivity, $199.99


Friday 11/29 – Monday 12/2 Only

Emerson 4.4 cu. ft. Black Stainless Steel Refrigerator, $99.99


Friday 11/29 – Monday 12/2 Only

Propel Trampolines 15′ Round Trampoline with Detachable Basketball Hoop, Mister and Enclosure, $199.99


Friday 11/29 – Monday 12/2 Only

Foldable Exercise Bike with Backrest, $89.99


Friday 11/29 – Monday 12/2 Only

3Sixty NEO Hoverboard, $99.99


Friday 11/29 – Monday 12/2 Only

Barbie 3 Story Townhouse, $59.99


Friday 11/29 – Monday 12/2 Only

Champion Power Equipment 9375W Peak, 7500 Rated Gas Powered Portable Generator with Electric Start, $699.99


Friday 11/29 – Monday 12/2 Only

Berkley Jenson Snow Brush, $12.99


Friday 11/29 – Monday 12/2 Only

Ninja 3 in 1 Cooking System, $69.99


ONLINE ONLY Thursday 11/28 – Monday 12/2

Stamina Air Rowing Machine, $224.99


ONLINE ONLY Thursday 11/28 – Monday 12/2

Ballarini Click and Cook 3 pc Fry Pan Set, $34.99


ONLINE ONLY Thursday 11/28 – Monday 12/2

California Brand Co. 11′ INflatable Stand Up Paddleboard, $299.99


ONLINE ONLY Thursday 11/28 – Monday 12/2

Shark Rotator Powered Lift-Away Upright Vacuum NV650, $129.99


ONLINE ONLY Thursday 11/28 – Monday 12/2

Emeril Lagasse 6 qt Air Fryer, $99.99


ONLINE ONLY Thursday 11/28 – Monday 12/2

Char-Griller Pro Deluxe Charcoal Grill, $119.99


ONLINE ONLY Thursday 11/28 – Monday 12/2

Abbyson Living Braylen 3 pc Brown Leather Reclining Set, $1799.99


ONLINE ONLY Thursday 11/28 – Monday 12/2

Osaki Massage Chair, $1799.99


ONLINE ONLY Thursday 11/28 – Monday 12/2

Thompson 5 pc Queen Size Panel Bedroom Set, $999.99


ONLINE ONLY Thursday 11/28 – Monday 12/2

Booker Top-Grain Leather Stationary Living Room Set, $1499.99


ONLINE ONLY Thursday 11/28 – Monday 12/2

Honey Can Do Double Rod Freestanding Closet, $24.99


ONLINE ONLY Thursday 11/28 – Monday 12/2

Fiman 10,000 W Peak/8,000 W Rated Gas Powered Portable Generator with Remote Start, $869.99


ONLINE ONLY Thursday 11/28 – Monday 12/2

Snow Joe 22″ Electric Snow Thrower, $149.99


ONLINE ONLY Thursday 11/28 – Monday 12/2
Household
Sealy 15″ King Posturepedic Mattress, $399.99


In Store Only

Sealy 15″ Queen Posturepedic Matress, $299.99


In Store Only

Sealy Full Mattress, $179.99


In Store Only

Berkley Jensen Queen Mattress, $249.99


In Store Only

Berkley Jensen Twin Mattress, $79.99


In Store Only

Berkley Jensen Twin over Twin Stairway Storage Bunk Bed with Trundle, $349.99


In Store Only

Zico Memory Foam Twin Mattress, $79.99


In Store Only

Lifetime 6′ Commercial Folding Table or 6′ LIght Commercial Fold in Half Table, $42.99


In Store Only

eSmart Ultimate Massage Chair with 30 Airbags, 8 back rollers and speakers, $499.99
Covington Recliner, $249.99


In Store Only

Covington Reclining Sofa, $399.99


In Store Only

Lifemart Lift Chair, $249.99
Chatham Barn Door Fireplace TV Stand Console, $329.99
Linon Barstools 3 pk, $119.99


In Store Only

Handy Living Slipper Chair, $69.99


In Store Only

Stack-On Total Defense 24 Gun Convertible Executive Safe, $299.99
SentrySafe Fireproof/Waterproof Digital Scale 1.23 cu. ft, $129.99
Stack-On Personal Safe with Electronic Lock, $39.99
La-Z-Boy Alex Managers Chair, $129.99
SimplySmart PhotoShare 8″ Digital Picture Frame, $69.99
Bella 4 qt Stainless Steel Air Fryer, $49.99
Bella 10 qt Multi Cooker with Digital Display, $49.99
Keurig K-Classic K50 Single Serve Coffee Maker, $49.99
Bella 5.3 qt Digital Touchscreen Air Fryer, $49.99
Galanz 1.5 cu. ft. Countertop Toaster Oven, $49.99
Cuisinart 8 Cup Food Processor, $49.99
Sunbeam .9 cu ft. 900W Stainless Steel Microwave, $49.99
Ninja Foodi 5 in 1 Indoor Grill with 4 qt Air Fryer, $159.99
Ninja Intelli-Sense Smart Kitchen Blender System, $99.99
Power AirFryer Pro 6 qt Oven with Rotisserie and Food Hydrator, $99.99
Ninja Food Multi-Cooker and Air Fryer with TenderCrisp, $149.99
FoodSaver 2 in 1 Manual Food Preservation System with Storage Bags, $99.99
Bella Stainless Steel 4 Slice Toaster Oven, $19.99
Chefman Immersion Stick Hand Blender, $19.99
Bella 6 qt Programmable Slow Cooker with Mini Dipper, $19.99
Bella 12″ x 22″ XL Electric Griddle, $19.99
Hamilton Beach Multiblend Chopper with Blender, $19.99
Whirlpool 3.1 cu. ft. Stainless Steel 2 Door Refrigerator/Freezer, $119.99
Emerson 115 can / 34 Wine Bottle Beverage Center with Temperature Control, $129.99
Emerson 7.0 cu. ft. Stainless Steel Upright Freezer, $179.99
Emerson 10.1 cu. ft. Stainless Steel 2 Door Refrigerator, $229.99
Frigidaire 12 bottle wine Cooler, $79.99
Frigidaire 26Lb Stainless Steel Compact Ice Maker, $79.99
Frigidaire Top Load Stainless Steel Water Cooker, $99.99
Frigidaire 3.2 cu. ft. Red Retro Fridge, $99.99
Shark Rotator Pet Plus HEPA Upright Vacuum NV255, $169.99
-$50 Clipless Coupon
-$20 Coupon
=$99.99
Shark ION Wi-Fi Connected Robotic Vacuum RV850, $299.99
-$130 Clipless Coupon
-$20 Coupon
=$149.99
Shark Rocket Deluxe Pro Ultra-Light Corded Stick Vacuum UV330, $99.99
Shark Rocket Pro Cordless Stick Vacuum UZ145, $179.99
Bissell Crosswave All in One Multi-Surface Cleaner, $179.99
Hoover PowerDrive Upright Vacuum UH74205, $79.99
Shark DuoClean with Zero M Upright Vacuum, $199.99
Dyson Ball Allergy Extra Upright Vacuum, $199.99
Cuisinart Professional Non-Stick Hard Anodized 15 pc Cookware Set, $99.99
Berkley Jensen 5 qt Enamel Coated Cast Iron Dutch Oven, $24.99


In Store Only

NeoFlam 12 pc Smart Seal Dry Food Pantry Canister Set, $29.99
Berkley Jensen 28 pc Square and Rectangle Glass Food Storage Containers, $22.99
Berkley Jensen 16 pc Dinnerware Set, $19.99


In Store Only

Berkley Jensen 5 Tier Serving Set or 4 pc Oven to Table Set, $19.99


In Store Only

Bialetti 15 pc Aluminum Non-Stick Cookware Set with Soft-Touch Handles, $49.99
Starfuit 7.2 qt XL Jumbo Cooker or 7.5 qt Wok with Lid, $19.99


In Store Only

KitchenAid 5 qt Artisan Stand Mixer, $229.99


+$20 BJ's Gift card WYB KitchenAid 5 qt Stand Mixer with White Painted Bowl

Rotating Cutlery Block 34 pc, $39.99
Berkley Jensen 89 pc Stainless Steel Flatware Set, $39.99
Contigo Autoseal Travel Mugs 2 pk, $12.99
Contigo Autospout Beverage Bottles with Straws, 3 pk, $12.99
New Home OR Innovaze Stainless Steel Trash Cans 30L and 5L 2 pk, $34.99
Whitmor 6 Cube Organizer with 3 Bins, $49.99
Be Cool 6 pc 1200 Thread Count CVC Cooling Sheet Set Queen or King, $24.99
My Pillow Classic Standard Size Pillow, $19.99
Guest Essentials Queen Inflatable Bed Set with Air Mattress, Pump, Pillows and Sheet Set, $49.99
Somerville Home Collection 20 pc Comforter Set Queen or King, $49.99


In Store Only

Ridgefield 5'x7′ Area Rug, $49.99
Sealy Cool Gel Memory Foam Mattress Topper Full or Queen, $49.99
Sealy Copper Luxe Standard Pillows 2 pk, $19.99
Stockbridge Home Fluffy Oversized Throw, $7.99


In Store Only

Vacmaster 12 gal Wet/Dry Vacuum, $49.99
Gstandard 2 pc 6 drawer rolling Tool Storage Chest, $89.99
Pulsar 2 gal Twin-Tank Air Compressor with Hose and Nailer/Stapler, $99.99
BioBidet Luxury Bidet Oval Seat, $249.99
Cosco Reach 17′ Multi-Position Ladder System, $99.99


In Store Only

Lights of America 5,500 Lumen 48″ Linkable LED Shop Light, $19.99
Genrac 3100psi Gas-Powered Pressure Washer with PowerDial Gun, $299.99
Masterbuilt 30″ Digital Smoker, $99.99
Blackstone 22″ 2 Burner Tabletop Griddle with Cover, $89.99
MyRide 2 in 1 Heating n Cooling Gel Seat Cushion, $14.99
Lasko 1,500 Oscillating Tower Heater with Remote Control, $54.99
Global Outdoors 47,000 BTU 7.25′ Steel Patio Heater, $89.99
Bell + Howel TacLight Pro 3 pk , $9.99
Handy Brite Ultra Bright Cordless LED Work Light 2 pk, $19.99
Duraflame Infragen 5,200 BTU 3D Electric Stove with Remote Control, $119.99
Sharper Image Foldable Shiatsu Massage Chair with Heat, $149.99
Samsonite 5 pc Liggage Set, $99.99
Kenneth Cole Reaction 2 pc 20″ and 28″ Hardside Luggage Set, $79.99
HoMedics Bubble Bliss Footbath, $14.99
Sharper Image Massaging Aromatherapy Neck Wrap, $14.99
SpaMist Essential Oil Diffuser with 3 bonus oils, $14.99
American Tourister Kids Licensed Character Luggage, $44.99
Samsonite Xenon 2 perfect Fit Laptop Backpack, $34.99


In Store Only

Brandon 6 pc Reclining Sectional, $1499.99


Online Only

Thomas 3 pc Reclining Sofa Set, $1199.99


Online Only

Abbyson Ashworth 3 pc Power Recling Set, $1599.99


Online Only

Ergotec by Cozzia 3D Massage Chair, $1799.99


Online Only

Emerson 3 pc Power Motion Reclining Leather Living Room Set, $2199.99


Online Only

Lifesmart Ultimate Massage Chair, $999.99


Online Only

Peyton 7 pc Standard Height Dining Set with 2 Drop-in Leaves, $799.99


In Store Only

Mayfield 6 pc Dining Set, $1099.99


Online Only

Stafford 5 pc Dining Set, $599.99


Online Only

Winston 7 pc Counter Height Dining Set, $599.99


Online Only

Brady 6 pc Dining Set with 4 Chairs and Bench, $799.99


Online Only

Berkley Jensen 15″ Euro Pillowtop King Mattress, $549.99


Online Only

Berkley Jensen Firm King Mattress, $499.99


Online Only

Sullivan 5 pc Bedroom Set, $999.99


Online Only

Westbrook 5 pc Queen Size Storage Bedroom Set, $1499.99


Online Only

Chadwick 5 pc Bedroom Set, $1199.99


Online Only

NewAge Products Bold 3.0 Series 12 pc Cabinet Set, $1599.99


Online Only

SafeRacks 4'x8′ Overhead Storage 2 Rack Kit, $269.99


Online Only

Caio 20″ Hardside Spinner Carry-On, $29.99
Whirlpool 4.3 cu. ft. Stainless Steel Refrigerator, $129.99


Online Only

RCA 6.5 Cu. Ft. Upright White Freezer, $179.99


Online Only

RCA 7.5 cu. ft. Top Freezer Black Stainless Steel Refrigerator, $179.99


Online Only

Berkley Jensen Bar Harbor 10′ x 12′ Hardtop Gazebo with Netting, $1099.99


Online Only

Global Outdoors 30″ Steel Square Fire put with Glass Fire Beeds, $149.99


Online Only

Lifetime 15′ x 8′ Dual Entry Shed, $1499.99


Online Only

Radiant 4 Person Cedar Comer Infrared Sauna with 10 carbon Heaters, $1589.99


Online Only

Lifesmart Portable Infrared Heater Fireplace with Stone Accent, $149.99


Online Only

KitchenAid 8 pc Hard Anodized Non Stick Cookware Set, $99.99


Online Only

JA Henckels International Solution 12 pc Knife Block Set, $49.99


Online Only

Chefman Ultra Power 6 Speed Stand Mixer with 4 qt Stainless Steel Mixing Bowl, $34.99


Online Only

Chefman Die-Cast Electric Deli/Food Slicer, $49.99


Online Only

Chefman Grind and Brew 4 Cup Coffee Maker, $49.99


Online Only

Hamilton Beach 2 Way Coffee Maker with 12 cup Carafe and Pod Brewing, $69.99


Online Only

Power XL Vortex 2 qt Air Fryer, $39.99


Online Only

Kalorik 4 qt 6 in 1 Multiuse Stainless Steel Pressure Cooker, $44.99


Online Only

Cuisinart Black Stainless Steel Toaster Oven Broiler with Convection, $69.99


Online Only

Dash Family Sized Air Fryer Oven, $89.99


Online Only