This post may contain affiliate links. Read our disclosure here.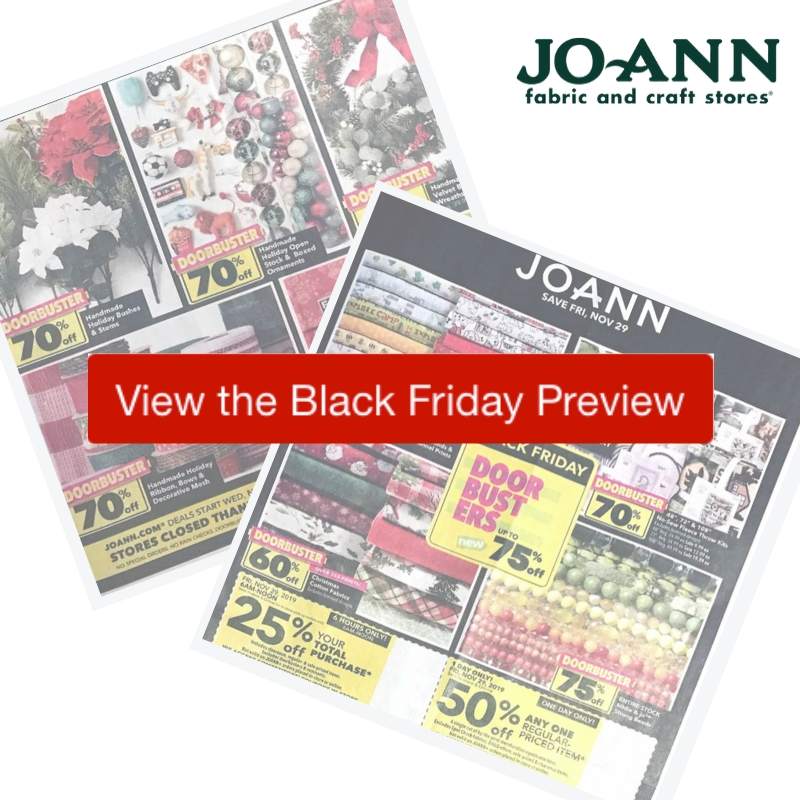 Love all things fabric and crafts? If so check out all the deals in the 2019 Joann Black Friday Ad. Many of the deals you can grab online this year with sales starting Wednesday online.
Doors will open Thursday at 6 pm in your local store and at 6 am on Friday.
See the full Joann Black Friday Ad
Search across all the Black Friday ads
and see what stores have the best deals.
2019 Joann's Black Friday Ad Deals
In ad Coupon
25% off Total Purchase Friday 6AM-Noon Only
50% off Any Regular-Priced Item Friday Nov. 29 ONLY
60% off + 25% Entire Custom Framing Order Entire Stock of 400 Quality Frames


Valid through Dec 4th

40% off Regular Priced Item


Valid through Dec 4th

25% off Total Purchase Saturday 7AM-1PM Only
50% off Any Regular-Priced Item Saturday Only
Crafting
Entire Stock Comfy Cozy Flannel Solids & Super Snuggle Flannel Prints 70% off


Doorbuster

Christmas Cotton Fabrics 60% off


Doorbuster

No Sew Fleece Throw Kits 70% off


Doorbuster

Hiddle & Jo Strung Beads 75% off


Doorbuster

Handmade Holiday Bushes & Stems 70% off


Doorbuster

Handmade Holiday Open Stock & Boxed Ornaments 70% off


Doorbuster

Handmade Holiday Red Velvet Bow & Farmhouse Wreaths , $9.99


Doorbuster

Fabric Quarters, 79¢


Doorbuster

Handmade Holiday Ribbon, Bows & Decorative Mesh 70% off


Doorbuster

Entire Stock Singer Sewing Machines up to 55% off


Doorbuster

Singer Heavy Duty 4452 Sewing Machine, $179.99


Doorbuster

Singer Heavy Duty 4411 Sewing Machine, $129.99


Doorbuster

Singer Fashion Mate 3342 Sewing Machine, $99.99


Doorbuster

Singer Start 1304 Sewing Machine, $69.99


Doorbuster

54″ Home Decor Prints, Solids & Upholstery Fabrics 60% off


Doorbuster

Entire Stock Irons & Steamers 40% off


Doorbuster

Entire Stock Ottlite Lighting 60% off


Doorbuster

Fairfield Toasty Cotton 90″ x 20 yd Batting Roll, $79.99


Doorbuster

By the Yard Batting & Foam 70% off


Doorbuster

So Slime DIY Shakers, $14.99


Doorbuster

Crazy Art Creative Artist Studio, $12.99


Doorbuster

Wool Blend Apparel Fabrics, $8.99


Doorbuster

Scentos Slime, Dough & Sand Mega Kit, $24.99


Doorbuster

Shimmer n Sparkle DIY Kits, $4.99


Doorbuster

Diamond Dotz & Dotzies Kit 50% off


Doorbuster

Cricut Lilac Maker Bundle, $399.99


Doorbuster

Cricut Accessories 50% off


Doorbuster

Cricut Explore Air 2 Wild Rose Bundle, $229.99


Doorbuster

Cricut EasyPress 2.0
Mini $49.99
6×7 $69.99
9×9 $129.99
12×10 $179.99
Doorbuster
Cricut BrightPad, $49.99


Doorbuster

Cricut Maker, $349.99


Doorbuster

Cricut Explore Air 2, $199.99


Doorbuster

Cricut Infusible Ink, 40% off


Doorbuster

Country Classic Solids $1.79 yard


Doorbuster

Entire Stock Papercrafting 50% off


Doorbuster

Print & Cardstock Open Stock Paper 75% off


Doorbuster

Entire Stock Baby Yarn 50% off


Doorbuster

Bernat Blanket Yarn, $5.99


Doorbuster

Red Heart Super Saver Yarn, $2.50


Doorbuster

Glidan Adult Youth & Toddler Short Sleeve T-Shirts 4 for $10


Doorbuster

Wilton 3 in 1 Red Caddy & Copper Baking Sets, $9.99


Doorbuster

Handmade Holiday Styrofoam Ornament Tubes, $9.99


Doorbuster

Entire Stock Unfinished Wood 50% off


Doorbuster

Americana Ceramcoat & FolkArt 2 oz Acrylic Paints 5 for $5


Doorbuster

The Happy Planner Collection 50% off


Doorbuster

Anti-Pill Plush & Lush Fleece Solids and Prints 70% off


Saturday and Sunday Doorbuster Only

Handmade Holiday Wreaths & Garlands 70% off


Saturday and Sunday Doorbuster Only

Paper Pads & Stacks 70% off


Saturday and Sunday Doorbuster Only

Handmade Holiday Wall Decor 70% off


Saturday and Sunday Doorbuster Only

Kids Kits, Art & Toys 50% off


Saturday and Sunday Doorbuster Only

Cricut Mats & Tools B1G1


Saturday and Sunday Doorbuster Only

Hildie & Jo Charms & Pendants B2G3


Saturday and Sunday Doorbuster Only

Bernat Alive Blanket-EZ Yarn, $6.99


Saturday and Sunday Doorbuster Only

Caron One Pound or Jumbo Yarn & Buttercream Cozy Yarn, $4.99


Saturday and Sunday Doorbuster Only

Keepsake Calico Cotton Prints 70% off


Saturday and Sunday Doorbuster Only

Novelty Cotton Prints 60% off


Saturday and Sunday Doorbuster Only

Pellon Interfacing 60% off


Saturday and Sunday Doorbuster Only

Entire Stock Sewing Notions 60% off


Saturday and Sunday Doorbuster Only

Entire Stock Casa Special Occasion Fabrics 60% off


Saturday and Sunday Doorbuster Only

Entire Stock Apparel Fabrics 60% off


Saturday and Sunday Doorbuster Only

Licensed Character Fabrics & Team Shop Fabrics 50% off


Saturday and Sunday Doorbuster Only