This post may contain affiliate links. Read our disclosure here.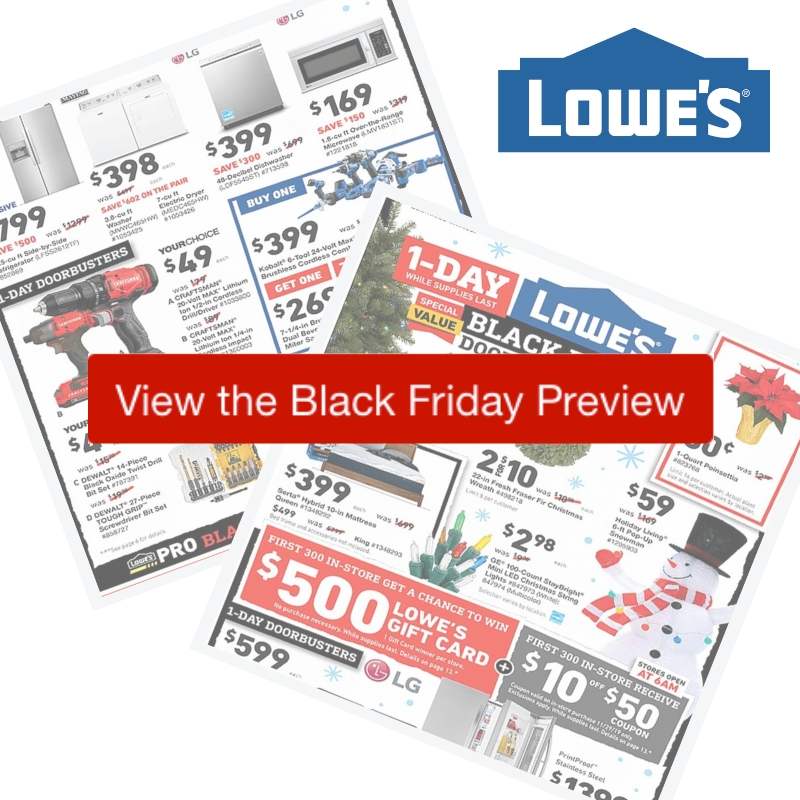 Here are all the deals in the 2019 Lowes Black Friday Ad. Get great prices on appliances, tools and home decor items.
You can shop all the deals online starting Thursday or doors open at 6 am on Friday, 11/29. The first 300 in the store will get a $10 off any $50 purchase coupon that is good on Black Friday only.
See the full Lowes Black Friday Ad
Search across all the Black Friday ads
and see what stores have the best deals.
2019 Lowes Black Friday Ad Deals
Appliances
LG 5.2 cu. ft. Washer, $599
LG 7.3 cu. ft. Electric Dryer $5.99
Doorbuster 11/29 In Store Only
LG Printproof Stainless Steel, $1399
27 cu. ft. French Door Refrigerator
Doorbuster 11/29 In Store Only
Frigidaire Easy Care Stainless Steel 25.5 cu ft. Side by Side Refrigerator, $799


Doorbuster 11/29 In Store Only

Maytag 3.8 cu ft Washer, $398
Maytag 7 cu. ft. Electric Dryer $398
Doorbuster 11/29 In Store Only
LG 1.8 cu. ft. Over the Range Microwave, $169


Doorbuster 11/29 In Store Only

Bella Non-Stick Electric Griddle, $19.99
Oster Cordless Electric Wine Bottle Opener, $14.99
Bella 3.7 qt Convection, $49.99
Frigidaire 3.3 cu ft. Compact Refrigerator, $99
Frigidaire 34 Bottle Wine Chiller, $199
Frigidaire Gallery 25.5 cu ft. Side by Side Refrigerator, $1099
Frigidaire 28.8 cu. ft. French Door Refrigerator, $1399
Frigidaire 26.8 cu ft. French Door Refrigerator, $1050
Frigidaire Gallery 26.8 c ft French Door Refrigerator, $1050
Frigidaire 60 Decibel Dishwasher, $299
Frigidaire Easy care Stainless Steel 54 Decibel Dishwasher, $329
Fridgidaire Easy Care Stainless Steel 49 Decibel Dishwasher with Hard Food Disposer, $449
Frigidaire Gallery Smudge Proof Stainless Steel 49 Decibel Dishwasher with Hard Food Disposer, $429
Frigidaire 5.3 cu ft. 5 Element Smooth Surface Electric Range, $499
Frigidaire Gallery Easy Care Stainless Steel 5.4 cu ft. 5 Element Smooth Surface Self-Cleaning Electric Range, $549
Frigidaire Gallery 5.4 cu ft 5 Element Smooth Surface Self Cleaning Convection Electric Range, $599
Frigidaire Gallery 5.4 cu. ft. 5 Element Smooth Surface Self Cleaning Convection Electric Range, $999
GE 27.8 cu ft. French Door Refrigerator, $1699
GE 4.2 cu. ft. Washer OR 7.2 cu. ft. Electric Dryer, $428
GE 4.5 cu ft Washer or 7.5 cu ft Electric Dryer, $598
10% off Via Rebate WYB 4+ Qualifying LG Kitchen Appliances
LG 29.7 cu ft French Door Refrigerator, $2999
LG 27.6 cu ft 4 Door French Door Refrigerator, $2299
LG 6.3 cu ft. 5 Element Smooth Surface Self-Cleaning Electric Range, $599
LG 7.3 cu ft 5 Element Smooth Surface Self-Cleaning Double Oven Convection Electric Range, $999
LG 4.5 cu. ft. Washer OR 7.4 cu. ft. Electric Dryer, $598
Whirlpool 24.5 cu ft 4 Door French Door Refrigerator, $1599
Maytag 48 decibel Dishwasher with Hard Food Disposer, $629
Maytag 5.3 cu ft. 5 Element Smooth Surface Self-Cleaning Electric Range, $599
Whirlpool 4.8 cu ft Smooth Surface Electric Range, $449
Whirlpool 3.5 cu ft Washer or 7 cu. ft. Electric Dryer, $528
Maytag 4.5 cu ft Washer OR 7.3 cu ft. Electric Dryer, $648
Amana 4.3 cu ft Washer OR 7.4 cu ft. Electric Dryer, $528
10% off Via Rebate WYB 4+ Qualifying Samsung Kitchen Appliances
Samsung 5.4 cu ft. Washer OR 7.4 cu ft Electric Dryer, $798
Tools
Craftsman 20 Volt Max Lithium Ion 1/2 inch Cordless Drill/Driver, $49


Doorbuster 11/29 In Store Only

Craftsman 20 Volt Max Lithium Ion 1/4 inch Cordless Impact Driver, $49


Doorbuster 11/29 In Store Only

Kobalt 6 Tool 24 Volt Max Lithium Ion Brushless Cordless Combo Kit, $399


FREE

7 1/4 inch Brushless Cordless Dual Bevel Sliding Compound Miter Saw WYB Kobalt Brushless Cordless Combo Kit
Doorbuster 11/29 In Store Only
DeWalt 14 pc Black Oxide Twist Drill Bit Set


Doorbuster 11/29 In Store Only

DeWalt 27 pc Tough Grip Screwdriver Bit Set, $4.98


Doorbuster 11/29 In Store Only

Kobalt 24 Volt Max Lithium Ion 1/2 inch Brushless Cordless Impact Wrench with Soft Case, $139


Doorbuster 11/29 In Store Only

Craftsman Pro-10 25ft Tape Measure, $4.98


Doorbuster 11/29 In Store Only

Shop-Vac 12 Gallon Tank 6 Peak HP Shop Vacuum, $39.98
Kobalt 10 inch 15AMP Dual Beverl Sliding Compound Miter Saw with Laser, $199
DeWalt 110 pc Tough Grip Screwdriver Bit Set, $19.98
Shop-Vac Cartridge Filter B1G1
Kobalt 15AMP 10inch Jobsite Table Saw with Rolling Stand, $199
DeWalt 5 Tool 20 Volt Max Lithium Ion Cordless Combo Kit with Soft Case , $249
DeWalt Battery Kit, $199


FREE

Select 20 Volt Max Power Tool or Battery WYB DeWalt Battery Kit
DeWalt 2 Tool Combo Kit, $249


FREE

20 Volt Max Power Tool or Battery WYB DeWalt 2 Tool Combo Kit
DeWalt 4 Tool Combo Kit, $299


FREE

DeWalt 20Volt Max Power Tool or Battery WYB DeWalt 4 Tool Combo Kit
Kobalt 2 Tool 24 Volt Max Lithium Ion Brushless Cordless Combo Kit, $199


FREE

Kobalt 24 Volt Max Batteries Cordless Tool or Battery WYB Kobalt 2 tool combo kit
Kobalt 4 Tool Combo Kit, $249


FREE

Kobalt Select 24 Volt Max Brushless Cordless Tolo or Battery WYB Kobalt 4 Tool Combo Kit
Bosch the Freak 2 Tool Combo Kit, $229


FREE

Bosch 18Volt Cordless Bare Tool or Battery WYB Bosch 2 Tool Combo Kit


FREE

Core 18V Lithium Ion 4AMP Hours Power Tool Battery VIA Rebate
DeWalt 4 Tool Combo Kit, $299


FREE

Bosch 18Volt Cordless Bare Tool or Battery WYB Bosch 4 Tool Combo Kit


FREE

Core 18V Lithium Ion 4AMP Hours Power Tool Battery VIA Rebate
Craftsman 4 Tool 20 Volt Max LIthium Ion Compact Cordless Combo Kit, $199


FREE

Select Craftsman 20 Volt Max Bare Tool or Battery WYB Craftsman 4 Tool Combo Kit
DeWalt 52 pc Tough Grip Screwdriver Bit Set, $12.98
DeWalt 14 pc Speed Tip Titanium Twist Drill Bit Set, $12.98
DeWalt 82 pc Tough Grip Screwdriver Bit Set, $14.98
DeWalt 2 pk 20 Volt Max XR Lithium ION 2.0 AMP Hours Power Tool Batteries, $79
DeWalt 4 pk 20 Volt Lithium Ion Power Tool Batteries, $159
DeWalt 20 Volt Max XR Lithium Ion Brushless Cordless Oscillating Tool Kit with Soft Case, $99
DeWalt 3 Tool 20 Volt Max XR Lithium ION Cordless Combo Kit with Soft Case, $199
DeWalt 10 Tool 20 Volt Max Lithium ION Cordless Combo Kit with Soft Cases, $529
DeWalt 12 inch 15 AMP Compound Miter Saw, $199
Kobalt 106 pc Drill/Drive Bit Set with Hard Case, $18.98
Kobalt 230 pc Drill/Driver Bit Set, $18.98
Kobalt 24 Volt Max Lithium ION 1/4 inch Brushless Cordless Impact Driver with Soft Case, $99
Kobalt 24 Volt Max Lithium Ion 1/2 inch Brushless Cordless Drill with Soft Case, $99
Kobalt 12 AMP Fixed Corded Router with Table Combo Kit, $129
Kobalt 1.3HP 20 Gallon 175 PSI Electric Air Compressor, $215
Kobalt 1.8 HP 26 Gallon 150 PSI Quiet Tech Portable Electric Air Compressor, $278
Kobalt 3.7 HP 60 Gallon 175 PSI Electric Air Compressor, $530
Bosch 21 pc Black Oxide Twist Drill Bit Set, $14.98
Bosch 40 pc Impact Tough Screwdriver Bit Set, $14.98
Blaze 65 ft Indoor/Outdoor Laser Measurer, $29.98
Bosch The Freak 18 Volt Lithium Ion Cordless Impact Driver with Soft Case, $79
Bosch 12 Volt Max Lithium Ion Cordless Combo Kit with Soft Case, $99
Bosch 2.5 AMP Variable Speed Corded Orbital Sander, $49
Bosch 1HP Colt Variable Speed Fixed Corded Router, $79
Bosch SDS Plus Bulldog Xtreme Rotary Hammer with Bonus Angle Grinder Kit, $199
Bosch 10 inch 15AMP Table Saw with Rolling Stand, $449
Craftsman 47 pc Screwdriver Bit Set, $7.98
Craftsman 14 pc Gold Oxide Twist Drill Bit Set, $7.98
Craftsman 60 pc Drill/Drive Bit Set, $19.98
Craftsman 2 pk 20 Volt Max 4.0 AMP Hour Lithium Ion Power Tool Batteries, $119
Craftsman 6 Tool 20 Volt Max Lithium Ion Compact Cordless Combo Kit with Soft Case, $249
Craftsman 8 Tool 20 Volt Max Lithium Ion Compact Cordless Combo Kit with Soft Case, $299
Craftsman 10 inch 15 AMP Portable Table Saw with Stand, $159
Craftsman 10 inch 15AMP Sliding Miter Saw, $189
Spyder 6 pc SpyderStinger Spade Bit Set, $5.98
Kobalt 16 oz Smooth-Face Claw Hammer, $6.98
Skil 21 pc Gold Oxide Twist Drill Bit Set, $7.98
SpeedOut Pro 4 pc Double Ended Screw Extractor Set, $8.98
DeWalt 24T and 40T 7 1/4 inch Circular Saw Blade Set, $9.98
Craftsman 9 ft Pocket Tape Measure with Bottle Opener, $4.98
DeWalt 7 1/4 inch 24T Framing Circular Saw Blade, $3.98
Irwin Marathon 7 1/4 inch 24T Framing/Ripping Circular Saw Blade, $3.98
Kobalt 38 pc Drill/Drive Bit Set, $9.98
Kobalt 62 pc Screwdriver Bit Set, $9.98
Kobalt 2 pk Lockback Utility Knives, $11.98
Craftsman 250 Lumen Swivel LED Flashlight, $12.97
DeWalt 16 pc Bi-Metal Reciprocating Saw Blade Set, $12.98
Kobalt 3 pc Locking Pliers Set, $12.98
23 pc Household Tool Set, $16.98
Kobalt 2 pc Self Adjusting Auto Lock Pilers , $17.98
Irwin 4 pk Quick Grip 6 inch Mini Bar Clamps, $19.98
Kobalt 3 pc Locking Pliers Set, $12.98
Kobalt 3 pc Adjustable Wrench Set, $12.98
Kobalt 3 pc Groove Joint Pliers Set, $12.98
Kobalt 20 pc Screwdriver Set, $19.98
Black Decker 4 Volt Lithium Ion Pivot Cordless Screwdriver, $24
Black Decker 4 Volt Roto Bit Lithium Ion Cordless Screwdriver, $19
Gerber Evo Knife Combo Set, $24.98
Crescent Lufkin 2 pk 25 ft Shockforce Tape Measures, $29.98
Metabo HPT 12 inch 80T Fine Finish Miter Saw Blade, $29.98
Kobalt 42 inch Steel Sawhorse, $29.98
Kobalt 63 pc Standard/Metric Mechanics tool set with Hard Case, $29.98
Lenox 13 pc Speed Slot Bi-Metal Hole Saw Kit, $39.98
Spyder 13 pc Bi-Metal Hole Saw Kit, $39.98
Dremel Versa Cordless Power Cleaner Kit, $49.99


FREE

3 pk Power Cleaner Kitchen Scout Pads $9.99 WYB Dremel Versa Cleaner Kit

Gerber 2 pc Suspension Multi-Tool and Paraframe Knife, $34.98
Skil 30 pc Router Bit set with Hard Case, $49
Kobalt 20 pc Standard/Metric Combination Ratchet Wrench Set, $49.98
Kobalt 129 pc Standard Metric Mechanics Tool Set with Hard Case, $59.98
Kobalt 73 pc Household Tool Set with Folding Case, $59.98
Dremel 53 pc 4000 Series Corded Multipurpose Rotary Tool Kit with Hard Case, $79
Dremel 13 pc Multi-Max 3.5 AMP Variable Speed Corded Oscillating Multi-Tool Kit with Soft Case, $79
DeWalt 10 AMP Variable Speed Control Reciprocating Saw, $79
Metabo HPT 10 inch 15 AMP Compound Miter Saw, $89
Black & Decker 4 Tool 20 Volt Max Lithium Ion Cordless Combo Kit, $99
Bosch 12 AMP Variable Speed Corded Reciprocating Saw with Case, $99
Dremel Ultra-Saw 7.5 AMP 4 inch Corded Circular Saw Kit, $99
Kobalt 7 1/4″ 10 Amp Sliding Compound Miter Saw with Laser, $99
Kobalt 200 pc Household Tool Set with Hard Case, $99
Kobalt 227 pc Standard Metric Mechanics Tool Set with Hard Case, $99
Work Pegasus Multi-Function Work Table and Sawhorse, $99.98
4 in 1 Rolling Jobsite Tool Storage System, $99.98
DeWalt 12 inh 15AMP Dual Bevel Sliding Compound Miter Saw, $399


FREE

DeWalt Heavy Duty Adjustable Miter Saw Stand WYB DeWalt Miter Saw
DeWalt 10 inch 15 AMP Table Saw with Folding Stand, $299
DeWalt 2 pc 12 inch Construction Saw Blade Set, $39.98
Metabo HPT 2 Tool MultiVolt Lithium Ion Brushless Cordless Combo Kit, $399


FREE

36 Volt MultiVolt Brushless Cordless Bare tool WYB Metabo HPT Combo Kit
Metabo HPT 18 Guage 2 in Brad Pneumatic Nailer, $49.98
Metabo HPT 21 Degree 3 1/2 inch framing Pneumatic Nailer , $159
Spyder 7 1/4 in 24T Framing Construction Circular Saw Blade, $5.98
Spyder 14 pc SpyderStinger Spade Bit Set with Pouch, $19.98
Spyder 3 pc SpyderStinger Auger Bit Set, $12.98
Spyder 14 pc Carbide Tipped Hole Saw Kit, $89
Kreg Jig k4 Master System, $139
Mechanix Wear DuraHide M-Pact Leather Palm Gloves, $24.98
Gladiator 36″ w x 72″ H x 18″ Steel Freestanding or Wall Mount Garage Cabinet, $199
Craftsman 41 inch 7 Drawer Steel Rolling Work Station, $349
Craftsman 26 inch 4 Drawer Tool Chest, $199
Craftsman 26.5 inch 5 Drawer steel Rolling Tool Cabinet, $199
Craftsman 41 inch 6 Drawer Steel Tool Chest, $249
Craftsman 41 inch 10 Drawer Stool Rolling Tool Cabinet, $349
Craftsman 52 inch 8 Drawer Stool Tool Chest, $299
Craftsman 52 inch 10 Drawer Stool Rolling Tool Cabinet, $399
Craftsman 74 inch H x 48 inch W x 18 inch D Steel Garage Storage Cabinet, $299
Craftsman 16 inch Lockable Tool Box, $6.98
Craftsman 20.5″ 3 Drawer Steel Tool Chest, $59.99
Versatack System Rolling Tool Box Tower, $79.98
Craftsman 9,000 Lumen Portable LED Work Light, $79.78
GunMetal Chrome 81 pc Standard/Metric Mechanics Tool Set with Hard Case, $79.98
GunMetal Chrome 121 pc Standard/Metric Mechanics Tool Set with Hard Case, $119
GunMetal Chrome 150 pc Standard/Metric Mechanics Tool Set with Hard Case, $149
Craftsman 10 pc Multi-Bit Screwdriver and Pen Set, $7.98
Craftsman 8 pc Screwdriver Set, $14.98
Craftsman 26 pc Ratcheting Multi-Bit Screwdriver Set, $14.98
Craftsman 3 pc Utility Knives Set, $14.98
Craftsman 2 pk 25 ft Pro-11 Tape Measure, $17.98
Craftsman 40 pc Standard/Metric Mechanics Tool Set with Hard Case, $39.98
Craftsman 15AMP 7 1/4 Magnesium Corded Circular Saw, $49.98
Craftsman 7.5 AMP Variable Speed Corded Reciprocating Saw, $59.98
Craftsman 15 pc 20 Volt Max Lithium Ion Cordless Oscillating Tool Kit with Soft case, $99
Craftsman 20 Volt Lithium Ion 18 Gauge 2 in Cordless Finishing Nailer, $179
Craftsman 3/8 inch 50 ft. Poly Hybrid Air Hose with Reel, $69.98
Craftsman 2 Gallon 125 PSI Portable Electric Air Compressor, $59.98
Craftsman 6 Gallon 150 PSI Max Electric Air Compressor, $99
Craftsman 6 gallon 150 PSI Electric Air Compressor 3 Tool Combo Kit, $199
DeWalt 2 pk 20 Volt Max 3.0 Amp Hour Lithium Ion Power Tool Batteries, $99
DeWalt 20 Volt Max Lithium Ion 1/2 in ch Compact Brushless Cordless Drill/Driver with Soft Case, $99
Craftsman 2 Tool 20Volt Max Lithium Ion Compact Cordless Combo Kit with Soft Case, $99
Kobalt 2 Tool 24 Volt Max Lithium Ion Brushless Cordless Combo Kit with Soft Case, $139
DeWalt 2 Tool 20 Volt Max Lithium Ion Compact Brushless Cordless Combo Kit with Soft Case, $149
Craftsman 20 Volt Max Cordless Leaf Blower, $69
Craftsman 216 pc Standard/Metric Mechanics Tool set with Hard Case, $99
Craftsman 26.5 inch 4 Drawer Steel Rolling Workstation , $99
5 Tier 72″ H x 48″ W x 24″ D Steel Shelving Unit, $49.98
Werner 45 inch Aluminum Work Platform, $24
Masterbuilt John McLemore Signature Series 1,500 Watt Electric Smoker, $99
Char-Broil Performance 5 Burner Gas Grill, $189
Pit Boss 456 Wood Pellet Grill with Cover, $269
Werner 5 ft RealTree Camouflage Fiberglass Step Ladder, $29.98
Bosch 40 ft VisiMax Self-Leveling Cross-Line Beam Laser Level , $79


Doorbuster 11/29 In Store Only

4 pc Steel Bar Clamps, $19.98


Doorbuster 11/29 In Store Only

Project Source 2 pk Satin Nickel Flush Mount Lights, $12.48


Doorbuster 11/29 In Store Only

Metabo HPT 1/4 inch x 100 Kink Resistant Polyurethane Air Hose, $9.98


Doorbuster 11/29 In Store Only

Hi-Viz D-Ring 5 Point Safety Vest, $7.98
Seasonal
25% off Artificial Christmas Trees
Holiday Living 7.5 ft Greenville Fir Slim Pre-Lit Artificial Christmas Tree, $104.25
GE 7.5 ft Just Cut Colorado Spruce Pre-Lit Artificial Christmas Tree, $148.50
Holiday Living 7.5ft Flocked Essex Fir Slim Pre-Lit Artificial Christmas Tree, $178.50
GE 7.5 ft. Just Cut Frosted Aspen Fir Pre-Lit Artificial Christmas Tree, $193.50
Holiday Living 9ft Robinson Fir Pre-Lit Artificial Christmas Tree, $193.50
Holiday Living Pencil Pine Pre_lit Artificial Christmas Tree, $89.25
Holiday Living 7ft Flocked Saratoga Slim Pre-Lit Artificial Christmas Tree, $89.25
GE 7.5 ft. Just Cut Oakmont Spruce Pre-Lit Artificial Christmas Tree, $198
GE 7.5ft Just Cut Boone Pre-Lit Artificial Christmas Tree, $148
2 Quart Poinsettia 3 for $12
GE 100 ct. Staybright LED Christmas Icicle Lights, $14.98
19 inch Velvet Bow, $6.48
GE 300 ct Christmas Icicle Lights, $14.98
GE 300 ct Christmas Icicle Lights, $14.98
Holiday Living 100 ct Mini Christmas String Lights , $2.29
Holiday Living 4 ft. x 6 ft Christmas Net Lights, $8.98
GE 150 ct. Staybright C5 LED Christmas String Lights with Storage Reel, $24.98
GE Crystal Star LED Tree Top, $14.98
Holiday Living 7.5ft Colorado Spruce Pro-Lit Artifical Christmas Tree, $208.50
GE 7.5ft Just Cut Flocked Alaskan Fir Pre-Lit Artifical Christmas Tree, $223.50
GE 7.5 ft Just Cut Nordic Fir Pre-Lit Artificial Christmas Tree, $268.50
GE 9ft Just Cut Oakmont Spruce Pre-Lit Artificial Christmas Tree, $298.50
Holiday Living 12ft Douglas Fir Pre-Lit Artificial Christmas Tree, $523.50
Disney 7.5 ft. Mickey Mouse Inflatable, $69
Disney 7.5 ft Santa and Rudolph the Red Nose Reindeer Inflatable, $69
Disney 7.5ft Frosty the Snowman Inflatable, $69
GE 28 inch StayBright Random Sparkle LED Snowflake, $49.98
GE 49 inch StayBright LED Joy, $49.98
GE 36 inch StayBright LED Candy Canes, $49.98
Holiday Living Pre-Lit Christmas Decor Set 4 pc, $49
Holiday Living 9 ft Colorado Pre-Lit Artificial Christmas Garland, $16.98
GE 48 inch StayBright LED Snowman, $69.98
ColorChanging Spotlight LED Christmas LightShow Projector, $14.98
StarSpiner LED LightShow Projector, $15.98
Indoor Plug-in Lighting Timer, $2.97
Utilitech 40 ft. 16 Gauge Outdoor Extension Cord, $9.97
Indoor Digital Plug-In Lighting Timer, $12.98
Werner 6 ft Aluminum Step Ladder , $49.96
Holiday Living 9 ft Ellstone Pine Pre-Lit Artifical Christmas Garland, $4.98
Household
Holiday Living 6.5 ft Seneca Pine Pre-Lit Artificial Christmas Tree, $49


Doorbuster 11/29 In Store Only

Serta Hybrid 10 inch Mattress Queen, $399


Doorbuster 11/29 In Store Only

Google Home Mini, $19
Google Nest Hub, $79
Google Nest Learning Thermostat 3rd Generation, $179
Amazon Fire TV Stick with Alexa Voice Remote, $19.99


(valid 11/28-12/2)

Amazon Echo Show 5, $49.99
Ring Video Doorbell 2, $139


(Valid 11/28-12/2)

Caseta Smart Bridge and Dimmer, $79.95
Assure Lock Touchscreen Electronic Deadbolt, $99
iRobot Roomba 675 Robotic Vacuum, $199.99


Valid 11/28-12/2)

Squatty Potty Fold n Stow Toilet Stool, $19.99
Utilitech 3 pk 85 Watt Equivalent LED Recessed Downlights, $9.98
GE 6 pk Basic 65 Watt Equivalent Soft White Indoor LED Floodlight Bulbs, $9.98
Dyson V7 Motorhead Extra Cordless Bagless Stick Vacuum, $249
Serta 39″ Plush Dog Bed, $29.99
Hunter 60″ Regalia Ceiling Fan, $99.98
Brushed Nickel Pull-Down Kitchen Faucet, $49
Style Selections 24 1/2inch Shaker White Bathroom Vanity with Top, $99
Kwikset Keywayless Touchpad Satin Nickle Electric Deadbolt, $39
inSinkerator Badger 15SS 3/4HP Garbage Disposal, $119
inSinkerator Evolution SpaceSaver XP 3/4 HP Garbage Disposal , $199
Polaroid OneStep 2 Camera Everything Box, $89.99
X-Force Hand Motion Controlled Drone, $29.98
Bungee Saucer Chair, $18.88
Moose Munch Premium Popcorn 24 oz, $12.99
Butane Torch Stick, $6.98
Universal Phone Mount, $24.98
Dazzle the Unicorn 40inch Plush Toy, $19.98
55 inch Canvas Teepee, $39.98
Jr. Jump n Slide Bouncer 7 ft x 10 ft, $175.99
Craftsman Toy Workbench with 53 pc Tool Set, $39.98
Land Shark Long Board Skateboard, $49.99
Thunder Tumbler Remote Control Car, $9.99
3 pc Mini Sport Ball Set, $14.99
Acadia Brown Matte Wood-Look Tile, .99


per sq ft.

Shaw Floors Matrix Luxury Vinyl Plank, $1.68


per sq ft

Serta Jumbo Synthetic Bed Pillow, $7.99
All in Stock Decorative Rugs 25% off
Greentouch Mahogany Finish Rolling Electric Fireplace, $156.79
Utilitech Tilt TV Wall Mount, $29


fits 37 inch to 90 inch tv

Bar Stool 24-29 inch Adjustable Seat, $39.99
60 inch Washed Grey TV Cabinet, $199.99
Washed White Hall Tree with Bench, $129.99
55″ Washed Grey Coffee Table with Articulating Top, $149.99
Dyson V7 Trigger Pro Cordless Handheld Vacuum, $149
Dyson Slim Ball Multi-Floor Bagless Vacuum, $199
Dyson Cyclone V10 Motorhead Cordless Stick Vacuum, $349
Dyson V8 Animal Cordless Stick Vacuum, $249
Dyson Ball Animal 2 Bagless Vacuum, $299
GE 3 pk 60 Watt Equivalent Medium Base Soft White Halogen Light Bulbs, 98¢
Reversible Plaid and Sherpa Throw Blanket, $9.98
Rayovac 36 ct High Energy Alkaline Batteries, $6.97
DesignPac Craftsman Stainless Steel Mug and Ground Roasted Coffee Gift Pack, $9.98
Commander 27 Gallon Storage Tote, $6.98
Mr. BAR-B-Q 20 pc Stainless Steel Tool Set with Case, $14.98
Werner 3 Step Steel Folding Step Stool, $14.99
Outdoor
Poinsetta 1 qt, 50¢
Limit 16 per customer
Doorbuster 11/29 In Store Only
Holiday Living 6 ft Pop-UP Snowman, $59


Doorbuster 11/29 In Store Only

Fresh Fraser Fir Christmas Wreath, $5
Limit 8
Doorbuster 11/29 In Store Only
Garden Treasures Deep Bowl Fire Pit, $49
Garden Treasures Gas Patio Heater, $99
Little Giant Ladders 17 ft. Multi 17 Aluminum Telescoping Multi-Position Ladder, $89