This post may contain affiliate links. Read our disclosure here.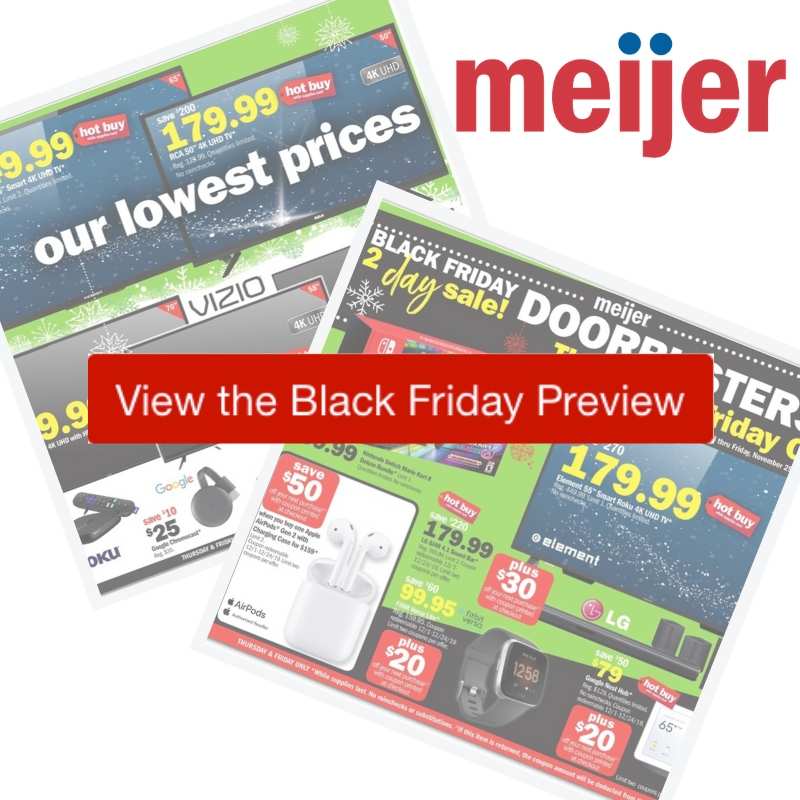 Get ready to shop all the deals in the 2019 Meijer Black Friday Ad. The top deals start Thursday morning at 6 am though there are some deals that will good all week of Thanksgiving week.
See the full Meijer Black Friday Ad
Search across all the Black Friday ads
and see what stores have the best deals.
2019 Meijer Black Friday Ad Deals
Video Games and Movies
Select Video Games, $39.99


Doorbuster Thursday & Friday Only

Select Video Games , $19.99


Doorbuster Thursday & Friday Only

Select Video Games, $29.99


Doorbuster Thursday & Friday Only

Select Video Games B1G1


Doorbuster Thursday & Friday Only

Select Disney Blu-Ray Movies, $15.99


Doorbuster Thursday & Friday Only

Select Movies, $2.99


Doorbuster Thursday & Friday Only

Select Movies, $5.99


Doorbuster Thursday & Friday Only

Select Movies, $8.99


Doorbuster Thursday & Friday Only

Select 4K Movies, $12.99


Doorbuster Thursday & Friday Only

Select Video Games, $14.99


Valid Sun. 11/24 – Sat. 11/30

PS4 Slim Greatest Hits Console Bundle, $199.99


Valid Sun. 11/24 – Sat. 11/30

PS4 Pro 1TB Console or Console Bundle, $299.99


Valid Sun. 11/24 – Sat. 11/30

PSVR Five Game Bundle, $199.99


Valid Sun. 11/24 – Sat. 11/30

Select PS4 Video Game Hit, $9.99


Valid Sun. 11/24 – Sat. 11/30

PS4 Dual Shock 4 Controller


Valid Sun. 11/24 – Sat. 11/30

PS4 Gold Wireless Headset, $69.99


Valid Sun. 11/24 – Sat. 11/30

Sony Earbuds (select) 50% off


Valid Sun. 11/24 – Sat. 11/30

Bandai Namco Flashback Blast! 80% off


Valid Sun. 11/24 – Sat. 11/30

Pacman Countercade, $139.99


Valid Sun. 11/24 – Sat. 11/30

Xbox One S Digital System, $149.99


Valid Sun. 11/24 – Sat. 11/30

Xbox One S Star Wars Jedi Fallen Order Bundle, $199.99


Valid Sun. 11/24 – Sat. 11/30

Xbox One X 1TB Star Wars Jedi Fallon Order Bundle, $349.99


Valid Sun. 11/24 – Sat. 11/30

Xbox One Wireless Controllers $20 off


Valid Sun. 11/24 – Sat. 11/30

Select HBO TV Series, $9.99


Valid Sun. 11/24 – Sat. 11/30

Select Movies $3.99+


Valid Sun. 11/24 – Sat. 11/30
Household
Select Dog Man, 5 Minute Stories or Diairy of a Wimpy Kid Books, $4.99


Doorbuster Thursday & Friday Only

Open Road Garage Decor 50% off


Doorbuster Thursday & Friday Only

Mossy Oak Gift Sets and Knives 50% off


Doorbuster Thursday & Friday Only

Dickies Automotive Accessories 50% off


Doorbuster Thursday & Friday Only

Intex DuraBeam Comfort Plus Mid Rise Airbeds 50% off
Coleman Cozy Foot Sleeping Bags 50% off


Doorbuster Thursday & Friday Only

Ninja Foodi 6 qt Multi-Cooker, $169.99


Doorbuster Thursday & Friday Only

Nutri Ninja AutoIQ or Professional Blender, $59.99


Doorbuster Thursday & Friday Only

NuWave Bravo XL Smart Oven or Duet Pressure Cooker Air Fryer, $99.99


Doorbuster Thursday & Friday Only

Presto Select Small Appliances , $19.99
Save $10 off your next purchase with coupon printed at checkout WYB Select Presto Small Appliances
Doorbuster Thursday & Friday Only
Limit 2
Cuisinart 14 Cup Perfect Temp Coffee Maker or Elemental 8 Cup Food Processor, $49.99


Doorbuster Thursday & Friday Only

Anchor Hocking 11 pc Bakeware Sets, $14.99


Doorbuster Thursday & Friday Only

T-Fal 12 pc Cookware Set 50% off


Doorbuster Thursday & Friday Only

Chicago Metallic 7 pc Bakeware Sets, $29.99


Doorbuster Thursday & Friday Only

Contigo West Loop Thermal Mugs , $9.99


Doorbuster Thursday & Friday Only

Wilton Mega Pans Bakeware , $7.99


Doorbuster Thursday & Friday Only

Granite Stone 10 pc Diamond Cookware Set, $59.99


Doorbuster Thursday & Friday Only

Select Sterilite Holiday Storage 40% off


Doorbuster Thursday & Friday Only

Yankee Candle Home Inspiration Large Jars and Timblers, $8.49


Doorbuster Thursday & Friday Only

Yankee Candle Medium Pillars, $10.49


Doorbuster Thursday & Friday Only

Boston Warehouse 20 or 24 Opening Collage Frames, $17.49


Doorbuster Thursday & Friday Only

CandleLite Jar Candles, $3.24


Doorbuster Thursday & Friday Only

Select Decorative Storage 50% off


Doorbuster Thursday & Friday Only

Keurig K-Duo Coffee Maker, $99.99
Save $20 off your next purchase with Coupon Printed at Checkout WYB Keurig K-Duo
Limit 2
Valid Sun. 11/24 – Sat. 11/30
Faberware or Colourworks Open Stock Cutlery or Cutting Boards B1G1 for $1


Valid Sun. 11/24 – Sat. 11/30

Select Kitchen Gadgets B1G1 for $1


Valid Sun. 11/24 – Sat. 11/30

Grand Gourmet Bakeware B1G1 for $1


Valid Sun. 11/24 – Sat. 11/30

Oster Instant Pot 6 qt Pressure Cooker or Oster 3.2 L Air Fryer, $59.99
Save $20 off your next purchase with coupon printed at checkout WYB Instant Pot
Limit 2
Valid Sun. 11/24 – Sat. 11/30

Rubbermaid Open Stock Food Storage or Beverageware B1G1 for $1


Valid Sun. 11/24 – Sat. 11/30

Pyrex Open Stock Products B1G1 for $1


Valid Sun. 11/24 – Sat. 11/30

KitchenAid 5 qt Pro-Lift 500 Mixer, $229.99
Save $20 on your next purchase with coupon printed at checkout WYB KitchenAid ProLift Mixer
Limit 2
Valid Sun. 11/24 – Sat. 11/30
Keurig K-Select Brewer, $79.99
Save $20 off your next purchase with coupon printed at checkout WYB Keurig K-Select
Limit 2
Valid Sun. 11/24 – Sat. 11/30
Mr. Coffee 12 Cup Programmable Coffee Maker with Stainless Accents, $19.99


Valid Sun. 11/24 – Sat. 11/30

Cuisinart 12 Cup Programmable Coffee Maker, $39.99


Valid Sun. 11/24 – Sat. 11/30

Select Oster, Hamilton Beach or George Forman Products, $29.99
Save $10 off your next purchase with coupon printed at checkout WYB select products
Limit 2
Valid Sun. 11/24 – Sat. 11/30
T-Fal Jumbo Cooker, $14.99


Valid Sun. 11/24 – Sat. 11/30

T-Fal Initiatives Cookware Set, $49.99


Valid Sun. 11/24 – Sat. 11/30

Celphalon 9 pc Space Saving Set, $199.99


Valid Sun. 11/24 – Sat. 11/30

Chicago Cutlery Damen or Precision Cutlery Set, $49.99


Valid Sun. 11/24 – Sat. 11/30

Faberware 21 pc Knife Set, $39.99


Valid Sun. 11/24 – Sat. 11/30

Cuisinart 6 pc Cutlery Set, $19.99


Valid Sun. 11/24 – Sat. 11/30

Anchor Hocking Bake & Take Set, $9.99


Valid Sun. 11/24 – Sat. 11/30

Rubbermaid 40 pc Easy Find Lids Food Storage Set, $10.49


Valid Sun. 11/24 – Sat. 11/30

Grand Gourmet 18″ Roasters with Rack, $9.99


Valid Sun. 11/24 – Sat. 11/30

Oster 22 qt Stainless Steel Roaster, $39.99


Valid Sun. 11/24 – Sat. 11/30

FoodSaver Sealer, $99.99


Valid Sun. 11/24 – Sat. 11/30

Crock-Pot 6 qt Cook & Carry or Manual 7 qt Slow Cooker, $19.99


FREE

Crock-Pot Little Dipper WYB Crock-Pot Cook & Carry
Valid Sun. 11/24 – Sat. 11/30
Pfaltzgraff 87 pc Palisades Stainless Steel Flatware Set, $29.99


Valid Sun. 11/24 – Sat. 11/30

Mikasa 4 pc Barware Set, $39.99


Valid Sun. 11/24 – Sat. 11/30

Olympia 3 pc Mackinac Luggage Set , $99.99


Valid Sun. 11/24 – Sat. 11/30

5 pc Kids Folding Table and Chairs Set or 3pc Licensed Table Ottoman SEt , $34.99


Valid Sun. 11/24 – Sat. 11/30

Sauder Furniture 40% off


Valid Sun. 11/24 – Sat. 11/30

WoodWick Medium and Large Jar Candles 40% off


Valid Sun. 11/24 – Sat. 11/30

Mikasa 18 pc Flameless Candle Sets 50% off


Valid Sun. 11/24 – Sat. 11/30

Intex Queen Raised Airbed with Built in Pump, $29.99


Valid Sun. 11/24 – Sat. 11/30

Ergo-Drive 12V Heated Products 50% off


Valid Sun. 11/24 – Sat. 11/30

Reduce Cold 1 Stainless Steel Tumblers 50% off


Valid Sun. 11/24 – Sat. 11/30

Valvoline MaxLife High Mileage OIl 5 qt, $12.99


Valid Sun. 11/24 – Sat. 11/30

Valvoline Full Synthetic or Full Synthetic High Mileage Oil 5 qt, $17.99


Valid Sun. 11/24 – Sat. 11/30
Toys
50% off Select Board Games


Doorbuster Thursday & Friday Only

Disney Princess Shimmer Dolls, $4.49


Doorbuster Thursday & Friday Only

Select Barbie Products 50% off


Doorbuster Thursday & Friday Only

Disney Princess Styling Head, $9.99


Doorbuster Thursday & Friday Only

Select Fashion Dolls 50% off


Doorbuster Thursday & Friday Only

Select Ugly Dogs 50% off
Select Puzzles 50% off


Doorbuster Thursday & Friday Only

Mega Blok 100 pc Sky High Building Set, $9.99


Doorbuster Thursday & Friday Only

Animal Adventure Jumbo Bear and Unicorn Plush, $29.99


Doorbuster Thursday & Friday Only

Select Nerf Toys 50% off


Doorbuster Thursday & Friday Only

Vtech Prance & Rock Learning Unicorn and Treasure Seekers Pirate Ship, $19.99


Doorbuster Thursday & Friday Only

Disney Jr 50 pc Mousekadoer Tool Set and Minnie Bowtastic Kitchen Accessory Set, $9.99


Doorbuster Thursday & Friday Only

Fisher Price Busy Activity Walker and Little People Garage and Farm Playsets, $9.99


Doorbuster Thursday & Friday Only

Slime Shakers 8 pk Tube, $12.49


Doorbuster Thursday & Friday Only

Sesame Street Talking ABC Elmo, $9.99


Doorbuster Thursday & Friday Only

Hatchimals Hatchibuddies Soft & Cuddly Plush Assortment, $4.99


Doorbuster Thursday & Friday Only

Baby Tender Hearts and Girlfriends Dolls and Playsets 40% off


Doorbuster Thursday & Friday Only

Vtech and LeapFrog Learning Toys 40% off


Doorbuster Thursday & Friday Only

Select FurReal Toys 40% off


Doorbuster Thursday & Friday Only

Crayola Grow with Me Easel, $17.99


Doorbuster Thursday & Friday Only

Elmer's Activity and Slime Kits 40% off


Doorbuster Thursday & Friday Only

Fast & Furious Elite Off Road R/C, $35.99


Doorbuster Thursday & Friday Only

Mongoose 20″ -26″ Inertia Mountain Bikes 50% off


Doorbuster Thursday & Friday Only

Voyager Air Wheel Hoverboard, $99


Doorbuster Thursday & Friday Only

15″ Licensed Flywheels Assortment, $39.99


Doorbuster Thursday & Friday Only

Plasma Car, $49.99


Doorbuster Thursday & Friday Only

Spalding All Conference Basketball and Wilson NFL Air Attack Football, $9.99


Doorbuster Thursday & Friday Only

Franklin Air Hockey and Foosball 50% off


Doorbuster Thursday & Friday Only

Franklin Hoops to Go Pro Basketball and Roller Whirlball, $19.99


Doorbuster Thursday & Friday Only

Rock Around Wobble Disk and Rock & Roll Teeter, $24.99


Doorbuster Thursday & Friday Only

Play-Doh Playsets 40% off


Doorbuster Thursday & Friday Only

Melissa & Doug Toys 40% off


Doorbuster Thursday & Friday Only

Schleich Collectible Figures & Sets 40% off


Doorbuster Thursday & Friday Only

Tonka Steel Classic Excavator, $29.99


Doorbuster Thursday & Friday Only

Intex Jump-O-Lene Castle Bounce, $34.99


Doorbuster Thursday & Friday Only

Lake & Trail Youth Wooden Teepees, $24.99


Doorbuster Thursday & Friday Only

Jump Pro 12′ Trampoline with Enclosure, $149.99


Doorbuster Thursday & Friday Only

Playballs Foam Play Zax or Fun Club Jumbo Bowling or Jumbo Checkers B1G1 50% off


Doorbuster Thursday & Friday Only

Kids Plush Blanket Tails, $9.99


Doorbuster Thursday & Friday Only

Kids Hooded Animal Throws, $14.99


Doorbuster Thursday & Friday Only

Kids Nap Mats, $19.99


Doorbuster Thursday & Friday Only

Kids Saucer Chair or Bean Bag Chairs, $24.99


Doorbuster Thursday & Friday Only

20% off Frozen Licensed Bedding


Doorbuster Thursday & Friday Only

Licensed Hooded Wrap or Towel, $9.99


Doorbuster Thursday & Friday Only

Big Joe Sherpa Or Slalom Chair, $29.99


Doorbuster Thursday & Friday Only

4 Level Garage with Vehicles Playset, $19.99


Valid Sun. 11/24 – Sat. 11/30

New Bright Jeep Trailcat with Dashcam R/C, $29.99


Valid Sun. 11/24 – Sat. 11/30

Beyblade 5 pc Stadium Bundle, $24.99


Valid Sun. 11/24 – Sat. 11/30

Little Live Pets (Select), $7.49


Valid Sun. 11/24 – Sat. 11/30

Calico Critters Playsets (select) 50% off


Valid Sun. 11/24 – Sat. 11/30

Animal Adventure Animal Rockers, $29.99


Valid Sun. 11/24 – Sat. 11/30

Nerf Blasters (select), $20


Valid Sun. 11/24 – Sat. 11/30

Lego Super Heros, Minecraft, City and Friends Set 20% off


Valid Sun. 11/24 – Sat. 11/30

Hot Wheels or Matchbox 5 car Gift Pack B1G1


Valid Sun. 11/24 – Sat. 11/30

Select Games starting at $5


Valid Sun. 11/24 – Sat. 11/30

Rock and Roll it Rainbow Piano or Drum Kit, $39


Valid Sun. 11/24 – Sat. 11/30

6V Boys or Girls Mini Quad, $49.99


Valid Sun. 11/24 – Sat. 11/30

20″ Spectre or Jazzmin Metaloid Bike, $79.99


Valid Sun. 11/24 – Sat. 11/30

Huffy 6″ 3 Wheel Scooter, $19
Hoover-1 Ultra Electric Scooter, $149.99


Valid Sun. 11/24 – Sat. 11/30
Clothing and Accessories
Realtree Hunting Socks and 10 pk Boot Socks 50% off


Doorbuster Thursday & Friday Only

Girls Leggings B1G2


Doorbuster Thursday & Friday Only

Carter's Apparel or Sleepwear B1G2


Doorbuster Thursday & Friday Only

Kids Licensed Graphic or Character Tees, $3.99


Doorbuster Thursday & Friday Only

Kids Character Sleepwear, $9.99


Doorbuster Thursday & Friday Only

Jelli Fish Sleepwear, $7.99


Doorbuster Thursday & Friday Only

Falls Creek Toddlers Fleece Tops or Bottoms, $4.99


Doorbuster Thursday & Friday Only

MTA Sports Girls Crewneck Fleece Pullovers or Joggers or Boys Mesh Panel Poly Pants or 1/4 Zip Fleece Tops, $5.99


Doorbuster Thursday & Friday Only

Young Men's Graphic Tees, $4.99
Falls Creek or Licensed Men's Lounge Pants, $7.99


Doorbuster Thursday & Friday Only

Falls Creek or Licensed Men's Lounge Pants, $7.99


Doorbuster Thursday & Friday Only

Young Men's Licensed Joggers, $9.99


Doorbuster Thursday & Friday Only

Wrangler Men's Quarter zip Fleece Pullover , $9.99


Doorbuster Thursday & Friday Only

Falls Creek Men's Zip Fleece Lined Sherpa Hoodies or Young Men's Hollywood Sherpa Joggers, $14.99


Doorbuster Thursday & Friday Only

Wrangler Men's Shirt Jacket, $14.99


Doorbuster Thursday & Friday Only

Haager Men's Quarter Zip Pullovers, $14.99


Doorbuster Thursday & Friday Only

MTA Sport Men's and Women's Fleece Top and Bottoms , $9.99


Doorbuster Thursday & Friday Only

Watson Thermals Tops, Bottoms and Socks for the Family 50% off


Doorbuster Thursday & Friday Only

Men's Women's or Kids Socks or Underwear or Women's Bras or Shapewear B1G1 50% off


Doorbuster Thursday & Friday Only

Outerwear for the Family 50% off


Doorbuster Thursday & Friday Only

RBX Women's Activewear or Women's Sweatshirt Project Apparel B1G2


Doorbuster Thursday & Friday Only

Urban Rebel Juniors Apparel or Women's or Juniors Leggings B1G2


Doorbuster Thursday & Friday Only

One Step Up Cozy Vibes Juniors Apparel, $6.99


Doorbuster Thursday & Friday Only

Pink Rose or Ultra Flirt Juniors Sherpa Toys, $9.99


Doorbuster Thursday & Friday Only

Women's and Juniors Sweaters 60% off


Doorbuster Thursday & Friday Only

Trend Jewelry or Massini Hair Accessories B1G2


Doorbuster Thursday & Friday Only

Entire Stock of Watches 40% off


Doorbuster Thursday & Friday Only

Select Fine Plated, Sterling Silver and Stainless Steel Jewelry 60% off


Doorbuster Thursday & Friday Only

Women's Handbags, Wallets and Falls Creek Cold Weather Sets 50% off


Doorbuster Thursday & Friday Only

Shoes Boots or Slippers for the Family B1G1 $1


Doorbuster Thursday & Friday Only

Hawke & Co Men's Jackets or Falls Creek Womens Parkas, $19.99


Valid Sun. 11/24 – Sat. 11/30

ZeroXposur Kids Puffer Jackets, $14.99


Valid Sun. 11/24 – Sat. 11/30

CAT Men's Birmingham Steel Toe Work Boots, $49.99


Valid Sun. 11/24 – Sat. 11/30

Sketchers Men's Crankton Shoes, $34.99


Valid Sun. 11/24 – Sat. 11/30

Caterpillar Men's Jacket, $29.99


Valid Sun. 11/24 – Sat. 11/30

Falls Creek Womens Kim II Tall Boots, $14.99


Valid Sun. 11/24 – Sat. 11/30

Carhart Men's Force Extremes Signature Graphic Hoodies, $19.99


Valid Sun. 11/24 – Sat. 11/30

Select NFL Fleece Hoodies and NCAA Licensed Team 1/4 Zip Fleece 50% off


Valid Sun. 11/24 – Sat. 11/30

Holiday FamJams Pajamas for the Family 50% off


Valid Sun. 11/24 – Sat. 11/30

Simple Pleasures Women's Textured Robes 70% off


Valid Sun. 11/24 – Sat. 11/30

Simple Pleasures and Juniors Sleep Sets 50% off


Valid Sun. 11/24 – Sat. 11/30
Tools
Tekton Tools 40% off


Clothing and Accessories

Shop Vac 6 Gallon 3.0 HP Wet/Dry Vacuum, $29.99


Clothing and Accessories

SentrySafe Digital Safe, $99.99


Doorbuster Thursday & Friday Only

Black & Decker and Stanley Tools 25% off


Doorbuster Thursday & Friday Only

Pelonis Digital Turbo Fan Heater, $19.99


Doorbuster Thursday & Friday Only

Konwin 4 Element Infrared Heater, $39.99


Doorbuster Thursday & Friday Only
Personal Care
Meijer Holiday Liquid Hand Soap B1G1 for $1


Doorbuster Thursday & Friday Only

AXE Personal Care Holiday Gift Set, $8.99


Doorbuster Thursday & Friday Only

Crest Whitestrips B1G1 50% off


Doorbuster Thursday & Friday Only

Kiss Lashes and Nails, Real Techniques and EcoTools Brushes and Applicators 50% off


Doorbuster Thursday & Friday Only

Philips Sonicare Protective Clean 4100 or Oral-B Pro 1000 Power toothbrush, $29.99


Doorbuster Thursday & Friday Only

Philips Norelco Series 5000 Shaver, $34.99


Doorbuster Thursday & Friday Only

Wahl and HoMedics Massage and Spa Products 50% off


Doorbuster Thursday & Friday Only

Spinbrush Products B1G1


Doorbuster Thursday & Friday Only

Wahl Lifeproof Rechargeable Trimmer, $17.99


Doorbuster Thursday & Friday Only

Beauty or Personal care Holiday Gift Sets B1G1 50% off


Valid Sun. 11/24 – Sat. 11/30
Pet Care
Tidy Cats Scoop Litter 35 lb 2 for $20
Thursday Only
Limit 4
Meijer Puppy Training Pads 100 ct, $10


Thursday Only

Milk-Bone Medium Dog Toy, $7


Thursday Only

Nerf Dog Toy Specialty Blaster, $10


Thursday Only

Blue Buffalo Dog or Cat Treats 2 oz 3 lb B1G1 50% off


Thursday Only

Beggin Strips 25 oz B1G1


Thursday Only

Rachael Ray Nutrish Dry Dog Food 3.5-6 lb or Dry Cat Food 3 lb B1G1


Thursday Only

KongToys or Treats B1G1


Thursday Only

IAMS Dry Dog or Cat Food 3-7 lb B1G1


Thursday Only

Aquatic Decor or Meijer Cat Furniture 40% off


Thursday Only

Tidy Cats Lightweight Litter 8.5 lb or Non-Scoop Litter 20 lb B1G1
Thursday Only
Limit 4
Pup-Peroni Dog Treats 25 oz or Milk-Bone Treats 60-64 oz B1G1


Thursday Only

Cesar Wet Dog Food 3.5 oz or Sheba Perfect Portions Wet Cat Food 2.6 oz B1G1


Thursday Only

Temptations Cat Treats 2.1-3 oz B1G1


Thursday Only

Nudges Dog Treats or Dentastik 5-36 oz B1G1


Thursday Only

Pet Apparel B1G1


Thursday Only

Meijer Cat litter 10-40 lb B1G1


Thursday Only

Meijer Dog or Cat Toys B1G1


Thursday Only

Nerf Chuckit! Tuffy or Nylabone Dog Toys B1G1


Thursday Only

Pet Factory American Made Rawhide B1G1


Thursday Only

Meijer Dog or Cat Beds B1G1


Thursday Only
Vacuum
Shark ION RV761 Robotic Vacuum, $179.99


Doorbuster Thursday & Friday Only

Shark Navigator DLX NV360 Upright Vacuum, $119.99


Doorbuster Thursday & Friday Only

Shark Zero-M ZU561 Upright Stick Vacuum, $129.99


Doorbuster Thursday & Friday Only

Shark Zero-M Corded ZS351 Stick Vacuum, $129.99


Doorbuster Thursday & Friday Only

Bissell Pet Hair Eraser Turbo Vacuum, $169.99


Doorbuster Thursday & Friday Only

Shark Rotator Pro LiftAway Upright Vacuum, $149.99


Valid Sun. 11/24 – Sat. 11/30

Hoover Power Scrub Elite Deep Cleaner, $139.99


Valid Sun. 11/24 – Sat. 11/30

Hoover Power Drive Pet Upright Vacuum, $129.99


Valid Sun. 11/24 – Sat. 11/30

Hoover Wind Tunnel 3 Upright Vacuum, $119.99


Valid Sun. 11/24 – Sat. 11/30

Bissell Cleanview Upright Vacuum, $69.99


Valid Sun. 11/24 – Sat. 11/30
Linens
Truly Soft Sheet Set, $9.99
Holiday Perfect Touch Throw, $9.99


Doorbuster Thursday & Friday Only

R+R Bath Towels, $2.99


Doorbuster Thursday & Friday Only

Garland Bath Rugs, $5.99


Doorbuster Thursday & Friday Only

Room & Retreat Holiday and winter Decor B1G1 50% off


Doorbuster Thursday & Friday Only

Holiday Rug, $3.99


Doorbuster Thursday & Friday Only

Holiday 3 pc Decorative Pillow 50% off


Doorbuster Thursday & Friday Only

Royal Sateen 1200 Thread Count Sheet Set, $29.99


Doorbuster Thursday & Friday Only

Berkshire Plush Metallic Throw, $5.99


Doorbuster Thursday & Friday Only

Berkshire Sherpa Throw, $17.99


Doorbuster Thursday & Friday Only

Arlee Floor Pillow, $12.99


Doorbuster Thursday & Friday Only

Holiday Table Linens 30% off


Valid Sun. 11/24 – Sat. 11/30

London Fog Twin Flannel Sheet Set, $14.99


Valid Sun. 11/24 – Sat. 11/30

Thermal and Fashion Window Curtains 30% off


Valid Sun. 11/24 – Sat. 11/30

Bed in a Bag Queen Size, $34.99


Valid Sun. 11/24 – Sat. 11/30

Fashion Rugs 30% off


Valid Sun. 11/24 – Sat. 11/30
Seasonal
Tacoma 6′ Pre-Lit Tree, $29.99


Doorbuster Thursday & Friday Only

Santa Airblown Outdoor Decor, $19.99


Doorbuster Thursday & Friday Only

December Home Boxed Glass Ornaments B1G1 50% off


Doorbuster Thursday & Friday Only

December Home 100ct Mini Lights, $2.69


Doorbuster Thursday & Friday Only

December Home 7″ Lifelike Cashmere Hard Needle Tree, $69.99


Saturday Only

December Home 7.5′ Lifelike Mixed Needle Tree, $99.99


Saturday Only

December Home 100 ct Mini Lights, $2.49


Saturday Only

December Home and GE LED Boxed Lights 40% off


Saturday Only

B2G1 December Home Gift Wrap or Gift Bags


Saturday Only

Select Men's and Women's Holiday Apparel and Accessories 40% off


Saturday Only

25% off Indoor Decor, Decorated Wreaths and Garlands 25% off


Valid Sun. 11/24 – Sat. 11/30

December Home 6′ Dakota Lifelike Pre-Lit Tree, $54.99


Valid Sun. 11/24 – Sat. 11/30

December Home 7′ Lifelike Pre-Lit Frosted Tree, $119.99


Valid Sun. 11/24 – Sat. 11/30

Craft Paint, Canvas, Stencils and Holiday Crafts 40% off


Valid Sun. 11/24 – Sat. 11/30

Dixon Simply Art Set with Easel , $29.99


Valid Sun. 11/24 – Sat. 11/30

Photo Frames or Albums B1G1 for $1


Valid Sun. 11/24 – Sat. 11/30

ScentSationals Wax Warmers or Melts B1G1 for $1


Valid Sun. 11/24 – Sat. 11/30
Grocery
Hershey's Bagged Holiday Candy B2G1


Saturday Only

M&M's Medium Bags or Stand-Up Pouches B1G1


Saturday Only

Filled or Name Brand Holiday Candy Canes B2G1


Saturday Only

Lindt Lindor or Ghirardelli Holiday Candy B1G1 50% off


Saturday Only

Woodland Tower with Cookies, Puffs and Popcorn , $19.99


Saturday Only

Hillshire Farm Beer Flight Set 8.5 oz or Bay Island Wine Flight Set, $16.99


Saturday Only

Kellogg's Rice Krispies Cereal 10.3-15.5 oz or Meijer Marshmallows, 16 oz, $1.39


Saturday Only

Kolorae Holiday Treat Tins B1G1 50% off


Saturday Only

General Mills Honey Nut Cheerios 15.4 oz or Cinnamon Toast Crunch, 16.8 oz, $1.88


Saturday Only

Little Debbie Mini Donuts 8.25-10.5 oz B1G1


Saturday Only

Tyspn Frozen Bagged Chicken 20.5-32 oz, $2.99


Saturday Only

Keebler Cookies 6.5-15 oz B1G1


Saturday Only

Snyder's Pretzels 12-16 oz or Pretzel Dips 5-7 oz B1G1


Saturday Only
Electronics
Nintendo Switch Mario Kart 8 Deluxe Bundle , $299.99
Limit 1
Doorbuster Thursday & Friday Only
Element 55″ Smart Roku 4K UHD TV, $179.99
Limit 1
Doorbuster Thursday & Friday Only
Apple Airpods Gen 2 Charging Case, $159
Save $50 off your next purchase with coupon printed at checkout WYB Apple AirPods
Limit 2
Doorbuster Thursday & Friday Only
LG SJ4R 4.1 Sound Bar, $179.99
Save $30 off your next purchase with coupon at checkout WYB LG Sound Bar
Limit 2
Doorbuster Thursday & Friday Only
FitBit Versa Lite, $99.95
Save $20 off your next purchase with coupon printed at checkout WYB FitBit Versa Lite
Limit 2
Doorbuster Thursday & Friday Only
Google Nest Hub, $79
Save $20 off your next purchase with coupon printed at checkout WYB Google Nest Hub
Limit 2
Doorbuster Thursday & Friday Only
Element 65″ Smart 4K UHD TV, $349.99
Limit 2
Doorbuster Thursday & Friday Only
RCA 50″ 4K UHD TV, $179.99
Limit 1
Doorbuster Thursday & Friday Only
Vizio 70″ Smart 4K UHD with HDR TV, $649.99


Doorbuster Thursday & Friday Only

Vizio 58″ Smart 4K UHD with HDR TV, $349.99


Doorbuster Thursday & Friday Only

Vizio 50″ Smart 4K UHD TV, $279.99


Doorbuster Thursday & Friday Only

Roku Ultra, $49.99


Doorbuster Thursday & Friday Only

Google Chromecast, $25


Doorbuster Thursday & Friday Only

Amazon Fire TV Stick with Alexa Voice Remote, $19.99


Doorbuster Thursday & Friday Only

Amazon Fire 4K TV Stick, $24.99


Doorbuster Thursday & Friday Only

Element 32″ LED HDTV, $89.99


Doorbuster Thursday & Friday Only

RVA 40″ LED HDTV, $129.99


Doorbuster Thursday & Friday Only

Vizio 65″ Smart 4K UHD TV, $479.99


Doorbuster Thursday & Friday Only

Vizio 32″ Smart LED TV, $149.99


Doorbuster Thursday & Friday Only

Vizio 40″ Smart LED TV, $189.99


Doorbuster Thursday & Friday Only

GPX Upconversion DVD Player, $19.99


Doorbuster Thursday & Friday Only

Sony Blu-Ray Player, $69.99


Doorbuster Thursday & Friday Only

LG Blu-Ray Player, $49.99


Doorbuster Thursday & Friday Only

LG 4K UHD Player, $99.99


Doorbuster Thursday & Friday Only

Samsung 50″ Smart 4K UHD TV, $279.99


Doorbuster Thursday & Friday Only

Samsung 75″ Smart 4K UHD TV, $749.99


Doorbuster Thursday & Friday Only

Samsung 43″ Smart 4K UHD TV, $229.99


Doorbuster Thursday & Friday Only

Samsung 55″ Smart 4K UHD TV, $329.99
LIMIT 2
Doorbuster Thursday & Friday Only
Samsung Galaxy Tab A Kids Edition 32GB, $99.99
Samsung Galaxy TAB A 8.0 , $119.99


Doorbuster Thursday & Friday Only

Samsung Soundbar with Soundbar, $129.99


Doorbuster Thursday & Friday Only

Samsung Galaxy Watch Active , $199.99
Save $50 off your next purchase with coupon printed at Checkout WYB Samsung Galaxy Watch
Doorbuster Thursday & Friday Only
Apple iPad Air, $499
Save $150 off your next purchase with coupon printed at checkout WYB Apple iPad Air
Doorbuster Thursday & Friday Only
Apple iPad Mini, $399
Save $125 off your next purchase with coupon printed at checkout WYB Apple iPad Mini
Doorbuster Thursday & Friday Only
Apple iPad 7th Gen 32GB , $329


Save $50 off your next purchase with coupon printed at checkout WYB Apple iPad 7th Gen

Apple TV, $149.99
Save $50 off your next purchase with coupon printed at checkout WYB Apple TV
Doorbuster Thursday & Friday Only
Popsockets Phone Grips B1G1 50% off


Doorbuster Thursday & Friday Only

OtterBox and Lifepoint Phone Cases 30% off


Doorbuster Thursday & Friday Only

Amazon Fire Tablet 7 with Alexa 16GB, $29.99


Doorbuster Thursday & Friday Only

Amazon Fire HD 10 Tablet with Alexa 32GB, $99.99


Doorbuster Thursday & Friday Only

Amazon Fire HD 8 Tablet with Alexa, $49.99


Doorbuster Thursday & Friday Only

Amazon Fire 7 Kids Edition Tablet 16GB, $59.99


Doorbuster Thursday & Friday Only

Ring Video Doorbell 2, $139.99


Doorbuster Thursday & Friday Only

Echo Dot 3rd Gen, $22


Doorbuster Thursday & Friday Only

Echo Dot 3rd Gen, $22


Doorbuster Thursday & Friday Only

HP Envy 6255 All in One Printer, $69.99


Doorbuster Thursday & Friday Only

Linksys EA7300 AC1750 Dual Band Router, $79.99


Doorbuster Thursday & Friday Only

Google Home, $49


Doorbuster Thursday & Friday Only

Google Home Mini, $19


Doorbuster Thursday & Friday Only

Echo Show 5″ , $49.99


Doorbuster Thursday & Friday Only

Google Nest Cam, $159


Doorbuster Thursday & Friday Only

Google Nest Thermostat 3
Beats by Dr. Dre Beats EP Headphones, $99.95
Save $25 on your next purchase with coupon printed at checkout WYB Beats products (select)
Doorbuster Thursday & Friday Only
Beats by Dr. Dre Beats Pill + Wireless Speaker, $119.95
Save $25 on your next purchase with coupon printed at checkout WYB Beats products (select)
Doorbuster Thursday & Friday Only
Beats by Dr. Dre Powerbeats Pro Totally Wireless Earphones, $199.95
Save $25 on your next purchase with coupon printed at checkout WYB Beats products (select)
Doorbuster Thursday & Friday Only
Beats by Dr. Dre Beats Powerbeats 3 Wireless Headphones, $119.95
Save $25 on your next purchase with coupon printed at checkout WYB Beats products (select)
Doorbuster Thursday & Friday Only
JBL Free X Truly Wireless Headphones, $74.95


Doorbuster Thursday & Friday Only

JBL Clip 3 Portable Bluetooth Speaker, $29.95


Doorbuster Thursday & Friday Only

JBL Charge 4 Speaker, $99.95


Doorbuster Thursday & Friday Only

Tzumi Soundmates True Wireless Earbuds 50% off


Doorbuster Thursday & Friday Only

SkullCandy Sesh True Wireless Earbuds, $29.99


Doorbuster Thursday & Friday Only

JVC Headphones & Earbuds 50% off


Doorbuster Thursday & Friday Only

Fitbit Versa 2, $149.95


Doorbuster Thursday & Friday Only

Mejer Powercell Batteries B1G1


Doorbuster Thursday & Friday Only

Turtle Beach Recon Chat Headset, $12.99


Doorbuster Thursday & Friday Only

Xbox One Wireless Controller, $39.99


Doorbuster Thursday & Friday Only

Nintendo Switch Pro Controller, $49.99


Doorbuster Thursday & Friday Only

Turtle Beach Recon 200 Headset, $34.99


Doorbuster Thursday & Friday Only

Turtle Beach Ear Force Stealth 600 Headset, $69.99


Doorbuster Thursday & Friday Only

PS4 Dual Shock 4 Controller, $39.99


Doorbuster Thursday & Friday Only

Nintendo Switch Joy-Con Controller, $59.99


Doorbuster Thursday & Friday Only

Sega Genesis Mini, $49.99


Doorbuster Thursday & Friday Only

Nintendo 2DS XL, $149.99
Save $25 off your next purchase with coupon printed at checkout WYB Nintendo 2DS XL
Doorbuster Thursday & Friday Only
Element 50″ Smart LED TV, $249.99


Saturday Only

Select Nintendo Switch Video Game , $59.99
Save $10 off your next purchase with coupon printed at checkout WYB Select Nintendo Switch Games
Saturday Only
Samsung 65″ Smart 4K UHD TV, $479.99
Save $50 on your next purchase with Coupon Printed at checkout WYB Samsung TV (Select)
Limit 2
Valid Sun. 11/24 – Sat. 11/30
Samsung 58″ Smart 4K UHD TV, $379.99
Save $50 on your next purchase with Coupon Printed at checkout WYB Samsung TV (Select)
Limit 2
Valid Sun. 11/24 – Sat. 11/30
Samsung 55″ Smart 4K QLED TV, $699.99
Save $50 on your next purchase with Coupon Printed at checkout WYB Samsung TV (Select)
Limit 2
Valid Sun. 11/24 – Sat. 11/30
Samsung Soundbar with Subwoofer, $169.99


Valid Sun. 11/24 – Sat. 11/30

Samsung Galaxy Buds, $119.99


Valid Sun. 11/24 – Sat. 11/30

Samsung Galaxy Tab A 10.1, $159.99


Valid Sun. 11/24 – Sat. 11/30

Samsung Chromebook 3 11.6″, $149.99
16GB Storage
2GB RAM
Valid Sun. 11/24 – Sat. 11/30
OmniMount Wall Mount 50% off


Valid Sun. 11/24 – Sat. 11/30

LG 2.1 Soundbar with Sub 360W, $159.99


Valid Sun. 11/24 – Sat. 11/30

Roku Streaming Stick, $29.99


Valid Sun. 11/24 – Sat. 11/30

Altec Sound Bucket Bluetooth Speaker, $64.99


Valid Sun. 11/24 – Sat. 11/30

LG 65″ Smart 4K NanoCell TV, $699.99
Save $25 off your next purchase with coupon printed at checkout WYB LG TV (select)
Limit 2
Valid Sun. 11/24 – Sat. 11/30
LG 70″ Smart 4K UHD TV, $649.99
Save $25 off your next purchase with coupon printed at checkout WYB LG TV (select)
Limit 2
Valid Sun. 11/24 – Sat. 11/30
LG 55″ Smart 4K NanoCell TV, $549.99
Save $25 off your next purchase with coupon printed at checkout WYB LG TV (select)
Limit 2
Valid Sun. 11/24 – Sat. 11/30
LG 49″ Smart 4K UHD TV, $279.99
Save $25 off your next purchase with coupon printed at checkout WYB LG TV (select)
Limit 2
Valid Sun. 11/24 – Sat. 11/30
LG 43″ Smart 4K UHD TV, $229.99
Save $25 off your next purchase with coupon printed at checkout WYB LG TV (select)
Limit 2
Valid Sun. 11/24 – Sat. 11/30
Fuji Instax Mini 9 Camera, $49.99


FREE

Fuji 10 pk Instax Mini Instant Rainbow Film WYB
Valid Sun. 11/24 – Sat. 11/30
FitBit Ace 2 Kids' Tracker, $49.95


Valid Sun. 11/24 – Sat. 11/30