This post may contain affiliate links. Read our disclosure here.
The holiday season is here, which means it's time to start buying gifts for the adults and kids in your life. But walking the aisles at Target or Walmart can be completely overwhelming. Never fear, though—I've done all the research for you and today I'm sharing a list of the top gifts for boys ages 5-7. This list is a combination of some of this season's hottest toys as well as classic toys that have long-term appeal.
See all of our 2019 Gift Guides.
Note: All prices on this list are subject to change at any time.
2019 Top Gifts for Boys ages 5-7 | Gift Guide
Animal Planet Extreme T-Rex Adventure Playset, $103.75
Dinosaurs seem to be eternally popular among boys this age, and this playset will provide lots of opportunity for imaginative play.
Hot Wheels Colossal Crash Track Set, $89
This car track lets you race cars against each other and also crash them!
Marvel Avengers: Endgame Titan Hero Series Captain America, $8.99
Superheros never go out of style, and there's actually a whole line of different Marvel superheroes in this Titan Hero Series.
Monster Jam Mega Grave Digger Remote Control, $89.99
Anything a little boy gets to manipulate himself is usually a big hit, and this one is a remote control monster truck!

LeapFrog RockIt Twist, $49.44
If your kid loves video games but you don't want to invest in a huge gaming system yet, this gadget could be just the thing you want.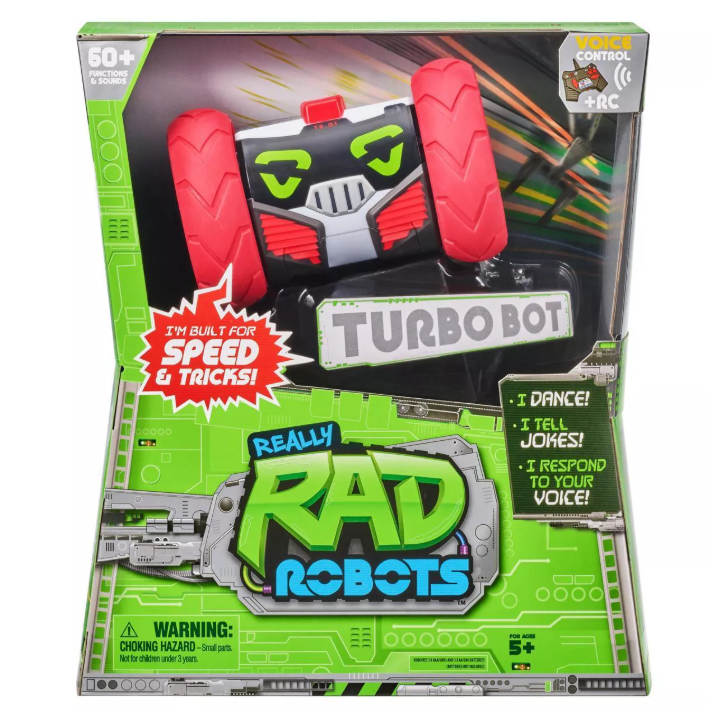 Really Rad Robots Turbo Bot, $49.99
Not only can you control this robot with a remote, but you can also program it to respond to voice commands.
Cloud B Supermax the Turtle Night Light, $19.99
This cool night light is a great gift for boys on the younger end of this age range.

ALEX Toys Little Hands Ready Set Dino, $10
Here we are with more dinosaurs! This one lets your little guy make 8 different arts and crafts activities, with all materials included.
Play-Doh Doctor Drill 'n Fill Set, $12.65
Play-Doh is still a fun toy at this age, and this set lets your kid pretend to be a dentist at the same time!

LEGO Juniors City Central Airport, $33.69
The LEGO Juniors sets are a great bridge between the Duplo blocks and the more complicated LEGO sets. Most boys ages 5-7 will be able to build these sets without any assistance.
4 Puzzles in a Box – Vehicles, $9.80
I'm an adult, and even I love puzzle. This box comes with 4 different vehicle-themed puzzles to challenge the little guy in your life.
Boley 12-Pack Educational Dinosaur Toy, $16.99
Dinosaurs really are so popular with this age group, so a set of a bunch of different dinosaurs will likely be a big hit.
Play Visions Sands Alive! Starter Set, $12.99
This unique sand material lets kids stay inside and play with sand without making a mess.
Camelbak eddy Kids 12oz Water Bottle, $12.31
This could be a great stocking stuffer! These water bottles are sturdy and BPA-free.
Little Pretender Walkie Talkies for Kids, $26.99
Especially if the kid you're buying for has a sibling, these walkie talkies will make outdoor or indoor play even more fun.
Little Tikes Pogo-It Toy, $27.32
Let him get all that extra energy out with this fun balance toy!
ALEX Art Draw Like a Pro, $23.99
If he's a budding artist, this will be a great way for him to exercise the creative part of his mind.
Creativity for Kids Grow 'N Glow Terrarium, $12.19
This is such a cool kit! Kids can grow their own indoor terrarium that glows in the dark.
Scrabble Junior, $27.99
For kids who are just starting to read and spell, this game combines education with lots of fun!
NERF Doubleclutch Inferno Nitro, $25.27
It's a NERF gun—with cars. What could be better?
What are your top gifts for boys ages 5-7? Let us know in the comments!