This post may contain affiliate links. Read our disclosure here.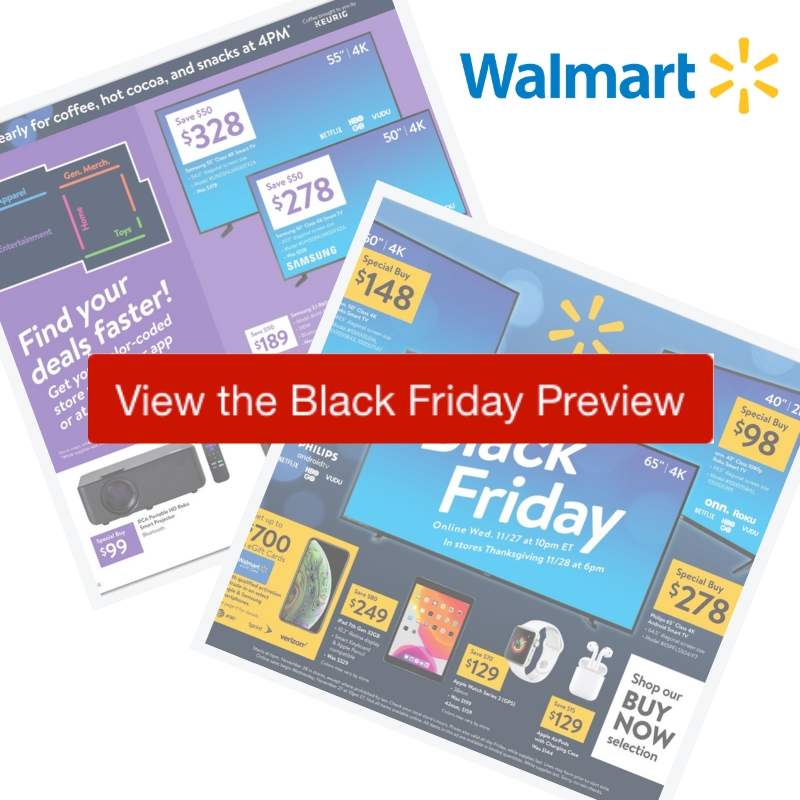 We've got all the deals in the 2019 Walmart Black Friday Ad typed up! Scroll the list or use the search below to find deals on things you are wanting and make sure you are getting the best prices.
The sales all start online Wednesday, 11/27, at 10 pm. Or head to your local store starting at 6pm Thanksgiving Day. Note: The ad does state that not all deals will be online, but it doesn't state what the items are. You can always check online first and then head in to shop if they aren't online.
See the full Walmart Black Friday Ad
Search across all the Black Friday ads
and see what stores have the best deals.
2019 Walmart Black Friday Ad Deals
TVs
Onn 60″ Class 4K Roku Smart TV, $148
Phillips 65″ Class 4K Anroid Smart TV, $278
Onn 40″ Class 1080P Roku Smart TV, $98
Samsung 55″ Class 4K Smart TV, $328
Samsung 50″ Class 4K Smart TV, $278
Vizio 65″ Class 4K Smart TV, $398
Onn 58″ Class 4K Roku Smart TV, $198
Electronics
iPad 7th Gen 32GB, $249
Apple Watch Series 3, $129
Apple AirPods with Charging Case, $129
Samsung 3.1 R60M Soundbar, $189
RCA Portable HD Roku Smart Projector, $99
RCA Projector , $49
Google Smart TV Kit, $35
Vizio 20″ 2.0 Soundbar, $49
LG 2.1 Soundbar, $99
Onn Full Motion TV Mount, $29
LG Wi-Fi Blu-Ray Disc Player, $49
Roku Ultra with JBL Earbuds, $48
Roku SE, $18
Monster LED HDMI Cable, $7
Monster LED Light Strip, $7
PowerBeats 3 Wireless Earphones, $89
Jlab JBuds Air Executive Earbuds, $34
Anker Rave Mini Wireless Party Speaker, $100
Jlab Studio Wireless Headphones, $15
JBL Flip 3 Stealth Bluetooth Speaker, $50
Beats Solo3 Wireless Headphones, $129
Onn True Wireless In-Ear Headphones, $15
JBL Go 2 , $20
Night Owl HD 4 Camera Security System, $150
Lenovo Smart Clock, $39
Arlo 3 Camera Security System, $179
Google Home Mini, $19
Netgear Nighthawk AX3000 Router, $99
Merkury Smart LED Strip or 2 Color Bulbs, $15
HP LasserJet Pro M15A Laser Printer, $59
HP OfficeJet 5212 All in One Printer, $39
Canon Pixma TS3122 All in ONe Printer, $19
FujiFilm Instax Mini 7s Camera Bundle, $50
GoPro Hero7 White, $139
Kodiak PixPro Long Zoom Digital Camera, $99
FitBit Inspire HR, $69
Fitbit Versa Lite Smartwatch, $99
SanDisk Imagemate 128GB Card, $14
SanDisk ImageMate 64GB MicroSD, $8
Kodak Mini 2 Instant Photo Printer, $49
Crosley Cruiser Turntable, $30
Oculus Go Virtual Reality 32GB Headset, $149
Hover-1 All Star Hoverboard, $89
Computers
HP Pavilion 15.6″ Gaming Laptop, $499
15.6″ Full HD Display
8GB Memory
256GB SSD Storage
MSI Optix G27C4 Curved Gaming Monitor, $178
HP Pavilion Gaming Desktop, $579
8GB Memory
256GB Storage
Intel Core i5 9400F Processor
Razer Mamba Wireless Gaming Mouse, $50
HyperX Cloud II Pro Gaming Headset, $59
onn 10.1 Android Tablet & Keyboard, $59
10.1″ HD Display
2GB RAM
16GB Storage expandable to 128GB
Samsung Galaxy Tab A 10.1, $149
10.1 Full HD Display
2GB RAM
32GB Storage, expandable to 512GB
onn 7″ Tablet, $28
1GB RAM
16GB Storage expandable to 128GB
Sylvania 10″ Tablet & DVD Player Combo, $59
HP 14″ Celeron Laptop, $149
14″ HD Display
4GB RAM
64GB Storage
Intel Celeron Processor
Office 365 Personal included (1 year)
HP 15.6″ Chromebook Touch, $299
15.6″ Full HD Display
4GB RAM
128GB Storage
Intel Core i3 Processor
Samsung Chromebook 3 , $99
11.6″ Display
4GB RAM
16GB Storage
HP 14″ Ryzen 3 Laptop, $239
14″ HD Display
4GB RAM 128GB SSD Storage
AMD Ryzen 3 Processor
HP 15.6″ Pavilion Horizon Blue R5 Laptop, $399
15.6″ Full HD Display
8GB RAM
128GB SSD
1TB HDD Storage
AMD Ryzen 5 Processor
SanDisk 64GB USB 2.0 Flash Drive, $7
Cellphones
Up to $450 Walmart Gift Card with Activation and Purchase on installment of select Apple & Samsung Phones
$450 eGift Card on iPhone XS
$400 eGift Card on iPhone XS Max or XR
$300 eGift Card on iPhone 11, 11 Pro or 11 Pro Max
$450 EGift Card on Galaxy S10, S10+ or Note10+
$300 eGift Card on Glaxy Note S10e or Note8
+ up to $250+ Walmart eGift Card with eligible trade in
iPhone 6s Plus, $149


(on Straight Talk or Total Wireless)

Samsung Galaxy S9 on Straight Talk, $399
LG Stylo 5 on Straight Talk, $99
Straight Talk Ultimate Unlimited Plan, $55
Straight Talkk Unlimited Plan, $45
BlackWeb Screen Protector, $6
Tzumi Wireless Charging Lamp, $15
Blackweb 20K mAh Power Bank, $15
Otterbox Defender Pro Phone case, $20
Samsung Galaxy A10e on Straight Talk, $49
Samsung J2 Shine on AT&T, $39.88
Nokia 2V on Verizon, $19.88
LG Journey LTE on Walmart Family Mobile, $39.88
Straight Talk Unlimited Plan, $35
AT&T Wireless Plant, $50
Verizon Wireless Plan, $50
Walmart Family Mobile Unlimited Plan, $49.99
Tzumi Bytes Cable Protectors 2 pk, $2
onn USB-C Cable, $2
onn Lightning Cable, $2
onn Wireless Charging Pad, $5
iPhone 6s on Straight Talk or Total Wireless, $99
Video Games Systems
Xbox One S 1TB All Digital Edition, $149


(includes 3 digital download games)

Xbox Live 3 Month Subscription Card, $15


Limit 3

Playstation 4 1TB Bundle, $199


(includes The Last of Us Remastered & Digital Downloads of God of War & Horizon Zero Dawn: Complete Edition)

Xbox One X 1TB Console Gears 5 Bundle, $349


(Includes Gears of War 1-5 Digital Download)

Xbox One S 1TB Star Wars Jedi Bundle, $199


(includes Star Wars Jedi: Fallen Order Deluxe Edition Digital Download)

Xbox One Controller, $39
Playstation 4 DualShock 4 Controller, $39
Select Video Games, $30
Select Sports Video Games, $27
Select Video games, $25
Call of Duty Video Games for PS4 or Xbox, $38
Nintendo Switch with Mario Kart 8 Deluxe, $299


(includes Mario Kart 8 Digital Download)

Nintendo Switch Retro Wireless Controller, $29
Turtle Beach Universal Gaming Headset, $25
Select Video Games, $20
Select Video Games, $15
Teenage Mutant Ninja Turtles Arcade, $349
Galaga or Final Fight Arcade, $149
DVDs
Select Movies pictured, $3.96
4K Movies Shown, $7.96
Blu-Ray Movies Shown, $5.96
Select Movies starting at, $1.96
Kitchen
Instant Pot 6 qt Duo, $49
Instant Pot 6 qt Vortex Air Fryer, $49
Instant Pot Ace Cooking Blender, $49
T-Fal 20 pc Kitchen Solutions Set, $49
Better Homes & Gardens 23 pc Prep Set, $9.96
George Foreman 2 serving Copper Grill, $9.96
Wilton 2pc Mega Bakeware Set, $9.96
Farberware 16″ Griddle, $9.96
Mainstays Semi Round Waste Can 13 gallon, $25
PowerXL AirFryer Toaster Oven, $69
Keurig K-Compact Brewer Black, $40
Copper Chef 12″ Electric Skillet, $15
The Pioneer Woman 24 pc Cookware Set, $69
Mainstays 60 pc. Meal Prep Storage Set, $7
Rubbermaid Easy Find Lids Storage Set, $7
The Pioneer Woman 20 pc Cutlery Set, $20
The Pioneer Woman 20 pc Gadget Set, $20
The Pioneer Woman 7 qt Slow Cooker, $20
Frigidaire 6 Can Mini Fridge, $20
Anchor Hocking 30 pc Glass Set, $20
Better Homes & Gardens Flip-Tite Set, $25
Linens
Hotel Style 1,100 Thread Count Sheet Set, $24
Mainstays 8 pc Comforter & Quilt Set, $34
Lucid Memory Foam Bedding Basics Bundle, $49
Serta Sertapedic Bed Pillow, $5
Oversized Sherpa Decor Pillow 22″, $5
Kids Character Bed in a Bag , $25
Quick Dry Memory Foam Bath Rug 18″ x 27″, $5
Hotel Style Bath Towel or Bundle 4 pk, $5
Mainstays Washcloths 6 pk, $1.60
Mainstays Bath Towel, $1.60
Toys
6V Mercedes, Chevy Truck or SUV Ride-On, $98
Boys or Girls 12V Ride On, $98
6V Quad Ride On, $39
20″ Rock It or Sea Star Bike, $44
16″ Sea Star or Rock It Bike, $44
12″ Rock It or Sea Star Bike, $44
Neon Street Rollers, $15
Neon Balance Bike, $15
Pulse Revster 12V Electric Scooter, $59
26″ Mongoose Excursion Mountain Bike, $84
Hover-1 All Star Combo, $148
Neon Glider 3 Wheel Scooter, $15
Neon Vector 2 Wheel Scooter, $15
Hover-1 Pioneer Electric Scooter, $198
24″ Mongoose Excursion Mountain Bike, $84
Paw Patrol Vehicle, $5
Select Fisher-Price Toys, $5
Disney Princess or Descendants Doll, $5
Select Board Games, $5
Barbie Fashionista Doll, $5
Melissa & Doug Giant Floor Puzzle, $5
5 Minute Storybook, $5
Ryans World Deluxe Piggy Bank Surpise, $30
Toy Story Figures 2 pk, $30
Hot Wheels Zero Gravity Track Set, $30
Hot Wheels Vehicles 50 pk, $25
Select Games, $10
Barbie Vehicle, $10
Sharpie Marker Set 30 ct, $10
Create A Scene or Face Activity it, $10
Advent Book Calender, $10
Play-Doh Ocean Adventure Set, $10
Crayola Activity Case, $10
Character Activity Table & Chair Set, $25
36″ Mini Trampoline with Handrail, $25
1:6 RC Truck, $44
Singing Machine Bluetooth Karaoke, $39
Mix & Match Jumbo Slime Kit, $15
Spirograph Jumbo Activity Set, $15
FurReal Check-Up Zandi, $15
RC Truck or Car 1:14, $15
Laser X 2 Person Laser Tag, $15
Baby Alive Potty Dance Baby Doll, $15
Character Tent & Tunnel, $15
Nerf n Strike Elite Retaliator, $15
Paw Patrol Total Team Rescue, $15
PJ Mask Jumbo Vehicle 21.5″, $15
Giant Plush Bear, Unicorn or Dinosaur, $20
Lego Classic or Duplo Creative Box, $20
Colossal 115 pc Construction Set, $20
Disney Princess Doll & Dress , $20
Fisher-Price Take Turns Skyway , $20
Checkout Play Center , $20
My Sweet Love Deluxe Baby Playset, $20
Avengers Action Figure Set, $20
Hot Wheels Play SEt, $20
Disney Frozen II Fold & Go Arendelle Castle, $40
Clothing
Girls 2pc Character Sleepwear Set, $4.75
Boys 2 pc Character Sleepwear Set, $4.75
Boys AND1 2pc Active Set, $9
Girls Athletic Works 2pc Active Set, $9
Boys Wrangler Jeans, $9
Child of Mine by Carter's Sleep & Play, $4.75
Baby or Toddler 2 pc Sleepwear Set, $4.75
Boys Character Briefs 5 pk, $5
Girls Character Panties 7 pk, $5
Girls Wonder Nation Gown & Doll Gown, $5
Boys Wonder Nation Boxer Briefs 5 pk, $5
Girls Wonder Nation Panties 10 pk, $5
Kids Character Slippers, $5
Girls Wonder Nation Leggings 2 pk, $8
Boys Wonder Nation Socks 15 pk, $5
Girls Wonder Nation Socks 15 pk, $5
Kids Character Athletic Shoes, $10
Novelty Plush 2 pc Sleep Set, $10
Climate Right by Cuddl Duds Thermal Set, $10
Time & Tru Plush Leggings 2 pk, $10
Secret Treasures Seamless Bra, $5
Fruit of the Loom Panties 7 pk, $5
Novelty Cuffed Sleep Pants, $5
Secret Treasures Cozy Socks 6 pk, $5
Muk Luk A La Mode Socks 3 pk, $5
Athletic Works Hoodie & Leggings Set, $12
Memory Foam Fashion Boots, $12
Earth Genuine Suede Slippers, $7
Warner's Fleece-Lined Tights , 2 pk, $7
Athletic Works Fleece Crew or Pants, $5
Dickies Work Socks 5 pk, $5
AND1 Socks 6 pk, $5
Fruit of the Loom Fleece Sleep Pants, $5
Wrangler 5 Star Jeans, $12
AND1 2 pc Track Set, $12
Novelty Character Sleep Set, $12
George Genuine Suede Slippers, $7
Fruit of the Loom Boxer Briefs 6 pk, $10
Dickies Sherpa Hoodie, $10
Household
5'8 Nutcracker, $68
Norwich 7.5′ Pre-Lit LED Tree, $68
Ultimate 3 in 1 Artist Set, $25
DIY Bath Bomb & Soap Making Kit 2 pk, $15
Better Homes & Gardens Decor Mirror, $20
Mainstays 28″ Wall Clock, $15
Snowman 3 pc set, $49
Deer Family 2 pc Set, $49
Deer Family 3 pc set, $49
Suprise Art Studio, $10
Multi-Opening Collage Frame with Ledge, $10
iRobot 670 Wi-Fi Vacuum, $197
Shark Ion 750 Wi-Fi Robot Vacuum, $149
Dyson V7 Motorhead Stick Vacuum, $179
Dirt Devil Upright Vacuum, $35
Hooover WindTunnel XL Pet Vacuum, $59
Shark Navigator Lift-Away Pet Vacuum, $84
Bissell ProHeat Carpet Cleaner, $99
Protege 5 pc Luggage Set, $54
iFly 20″ Hard Sided Carry On, $39
Mainstays Mid-Back Office Chair, $49
Mainstays 5 pc Card Table Set, $49
Blackstone 3 Burner Cooking Station, $174
Primo Hot & Cold Water Dispenser, $59
Infrared Quartz Electric Heater, $49
4′ Trampoline & Saucer Swing, $144
ESPN Table Tennis, $78
Hyper Tough 20V 4 Tool Combo Kit, $74
Razor 14MP Game & Security Camera Bundle, $44
Hyper Tough 5 Shelf Metal Storage Rack, $38
Ozark Trail 30 can Cooler, $29
Sun Joe Electric Pressure Washer, $69
6 Gallon Stainless Steel Shop Vac, $32
Pilot Dash Cam, $15
2 Step Folding Stool, $12
Hyper Tough 4′ LED Shop Light, $12
$20 off each Goodyear Tire (select)