This post may contain affiliate links. Read our disclosure here.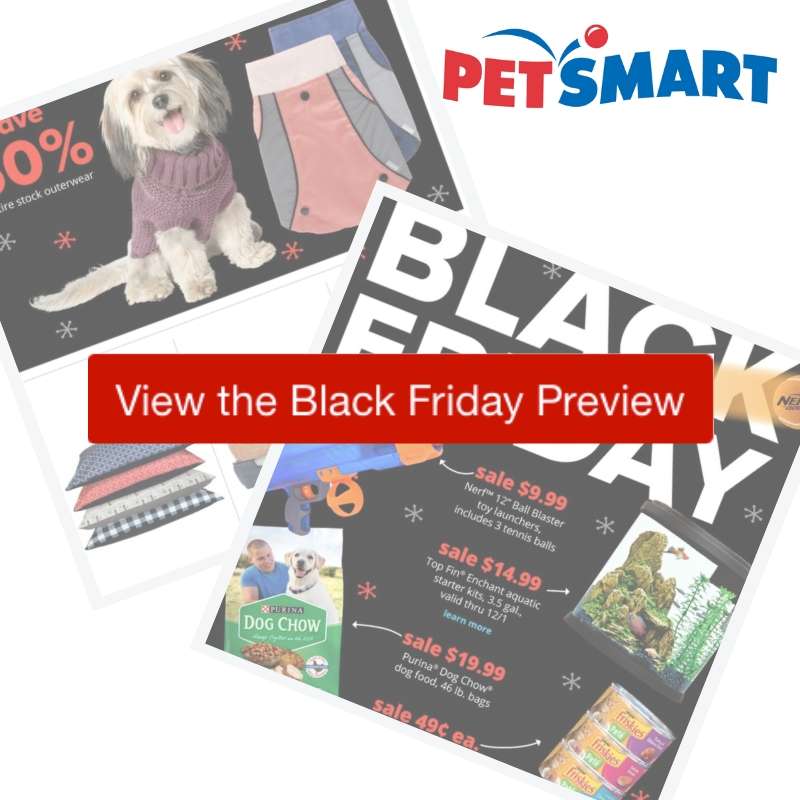 Score great deals for all the furry, fishy and feathery friends on your list this year. Here are all the deals in the 2021 Pet Smart Black Friday ad! You'll get 50% off toys, food, crates and more.
All deals start online on Thanksgiving Day. The stores will open Friday morning at their regular time for in-store deals.
See the full Pet Smart Black Friday Ad
Search across all the Black Friday ads
and see what stores have the best deals.
2021 Pet Smart Black Friday Ad
Pet Deals
Select Advent Calendars & Gift Sets 50% off
Dog & Cat Treats B3G2 Select
Guinea Pigs Hamsters, Reptiles & Parakeets 50% off


(excluding Skinny Pigs)

TopFin LED Aquarium & Stand Ensemble 125 gallon $250 off
Top Paw & Whisker City Small Cuddler Pet Beds, $6.99
ScoopAway 42 lb Bags and Arm & Hammer Cat Litter 28 & 40 lb Boxes 2 for $25
Merry & Bright Holiday Collection Entire Stock 50% off
Merry & Bright Plush Dog Toys XXL, $4.99
Dog Meal Toppers B1G1 50% off
Thrive Desert Essentials Kits 40 gallon $100 off
Top Paw Dog Toys (Select) 50% off
Pet Head Holiday Grooming Pack 50% off
Entire Stock Sweaters & Coats 50% off
Entire Stock Crate Mats 40% off
Grreat Choice Dog Pads 150 ct starting at, $15.99
Entire Stock Dog & Cat Bowls B1G1 50% off
Grreat Choice XL Dog Pads 150 ct, $23.99
Whisker City Plush Mansion Cat Tower 70″, $64.99
Whisker City Cozy Inn Cat Tower 45″, $49.99
Whisker City Cat Towers (select) 40% off
Great Chice Cat Litter 35 lb Bags 2 for $22
Equisicat Cat Litter 25 lb & 40 lb Bags 2 for $25
FreshStep Cat Litter 26 lb, 37.8 lb & 42 lb Bags 2 for $30
ScoopAway Cat Litter 42 lb Bags 2 for $25
Petsafe ScoopFree SelfCleaning Litter Box, $99.99
Cat Treats B3G2 (Select)
Select Cat Meal Toppers B1G1 50% off
Select Cat Food 18-30lb bags B1G1 50% off
Marineland Majesty Aquarium & Stand Ensemble 75 Gallon $250 off
TopFin LED Aquarium & Stand Ensemble 125 gallon $250 off
TopFin Bow Front Aquarium & Stand Ensemble 36 Gallon $125 Off
Fluval Canister Filters & Aquasky Lights 50% off
TopFin Aquarium Stands 30% off
Exotic Bettas 30% off
Cichlids 50% off
All Living Things Small Pet starter Kits 50% off (select)
Oxbow Western Timothy Hay 90 oz B1G1
Carefresh Twin Pack Small Pet Bedding B1G1
Thrive Tropical Essentials Starter Kit 30 Gallon $80 off