This post may contain affiliate links. Read our disclosure here.
Poised strategically on the Georgia/Tennessee border, this city is steadily becoming a very popular city to live in and visit. It's very close to the mountains and has much to offer. The area is beautiful just to be in, but there are also lots of family friendly activities. Here are 25 free things to do in Chattanooga!
Top 25 Free Things to Do in Chattanooga
Lookout Mountain
This long mountain ridge spans three states and has many fun activities for touring or hiking. While the more touristy sites of Rock City and Ruby Falls are quite expensive, there are plenty of scenic overlooks and trails which are free, such as the Bluff Trail.

With three locations, this is an excellent place to look for great produce. I always like to look at a city's farmer's market and see what people bring in.
Take a quick trip from the Walnut Street Bridge to this riverside park. You could climb the Walnut Wall, have a picnic in the park, take a walk along the river, or even take a ride on a century-old carousel.
Originally a train station in 1906, the CCC is a really cool place to visit and see what an old-style train station looked like. There are lots of shops to look into in the hotel and some fine restaurants too.
Walnut Street Bridge is an old trestle bridge and is the longest pedestrian bridge in the United States! It's a great place to walk after a nice meal in one of the nearby restaurants and has great views over the Tennessee River.
One of many local battlegrounds in the area, Chickamauga is one of the best. It is free to tour and offers many wonderful trails to hike on or to tour the many monuments and markers on the battlefield.
Looking for a walk on your vacation?  This park is a 10-mile stretch of parkland down the Tennessee river.  Bring the strollers, bikes or scooters to spice up the trail.
Also a part of Chickamauga Battlefield, this is the site of the "Battle Above the Clouds" where the Union forces scaled Lookout Mountain to take the heights. While adults are admitted with a fee of $3, children under 16 are free. The Visitor Center is free.

This is a lovely place in downtown Chattanooga to visit and offers things for everyone! You can play bocce ball, a game brought over by Italian immigrants, in the district and afterwards walk in the sculpture park. Or you can look at the beautiful houses there and see people make crafts. Free parking is available.
Another great free place to take a dip during the summer is Chickamauga Resevoir! It's a favorite family spot and there is plenty of space for picnics and even a playground for the kids!
Once a very popular hotel, the site was bought by Covenant College which moved there from California in the 1960s. It is a Christian liberal arts college and is located in one of the most scenic locations on Lookout Mountain. Carter Hall was once the hotel and has beautiful architecture and overlooks Chattanooga.
This is a great thing to do if you're in town on a Friday night. It's free during the summer and always on Friday.  They have great lineups of local musicians every summer, so check the website to see when the event runs.
This museum is near the Bluff View area and the permanent collection is free on the first Thursday of every month, from 4:00 pm to 8 pm.

While taking a fancy riverboat tour on the Tennessee River can be expensive, you can still take a look at the old-fashioned boat from the riverfront.
Looking to cool off, especially on those hot Tennessee days?  The Blue Hole is a great place off the beaten path for a swim! You have to hike in but the Blue Hole is cool and deep and has some great high jumps!
Located near the Chattanooga Zoo, this amazing playground is one of the best in the area!
Cool off at one of the numerous Chattanooga splash pads on this list!
This lovely park is not far from Chattanooga and offers many opportunities for outdoor fun! There are trails for walking and biking and plenty of places for picnics. You will also be able to see lots of deer, turkeys, and other wild animals at the park.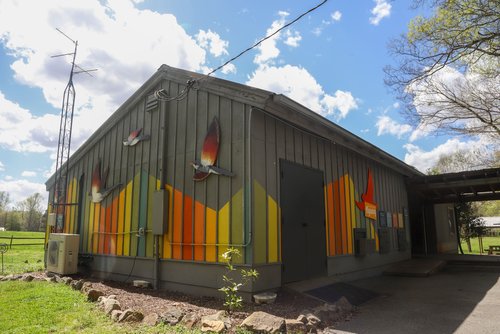 Visiting this wonderful nature center is free, although you do need to reserve tickets ahead of time and they ask for a donation per car to help cover the costs of their programs.
This small cemetery of 60 graves is the site of a mission to the Cherokee Indians that once was in Chattanooga.
Open 24 hours a day, this sculpture garden is great for a quiet stroll viewing some interesting artistic pieces.
If you're in the mood to get out of the city and want to see one of the prettiest towns in Georgia, Chickamauga is just the place. It has lots of neat restaurants and shops just ripe for touring. They have also have some really good festivals throughout the year.
Part of the National Park Service, this historic area was once home to Native Americans as well as being part of the pre-Civil War slave trade.
This is a pedestrian link from the Tennessee River to Chattanooga which memorializes the history of the Trail of Tears. It is a permanent outdoor exhibit and is very educational for children.
Caving
There are lots of caves in the Chattanooga area and most of them are free. Contact the Chattanooga Grotto for more information.