This post may contain affiliate links. Read our disclosure here.
Post sponsored by Mirum but all opinions are my own.
Scoping out the forecast for the next week it appears we are finally going to get a taste of cool weather!  I'm so ready to trade in the short sleeves for sweaters and the smells and tastes of fall. Bring on the cinnamon and spices.
This fall I want to encourage you to switch up your morning routine for some extra kick and flavor with Tazo Teas.  My favorite is their Awake English Breakfast tea. Many of you already know I'm not a coffee girl, but Tazo Awake has a bold and bright flavor and is a fully caffeinated tea that is perfect for the morning when you need to get the day started.
Want to Try It?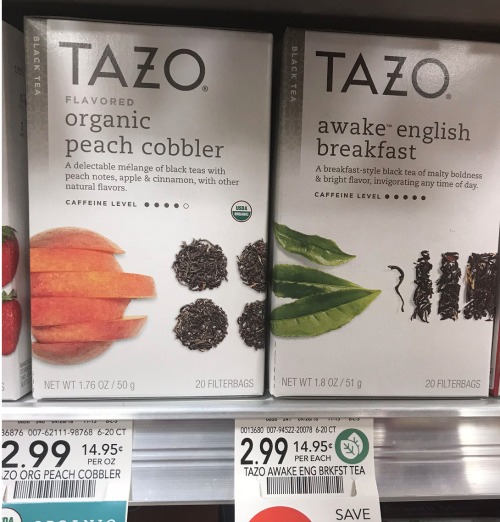 If you head to Publix today there is a store coupon to use along with a manufacturer coupon.  You'll get Tazo Chai Concentrates and Tazo Tea Blends over 50% off!
Buy:
(2) Tazo Tea, 20 ct. or Concentrate, 32 oz, $2.99 (reg. $3.99)
Use:
(2) -.75/1 Tazo Tea, in-store dispenser
-$1/2 Tazo Tea or Concentrates, Publix Green Grocery Flyer in-stores
(makes it $1.74 each)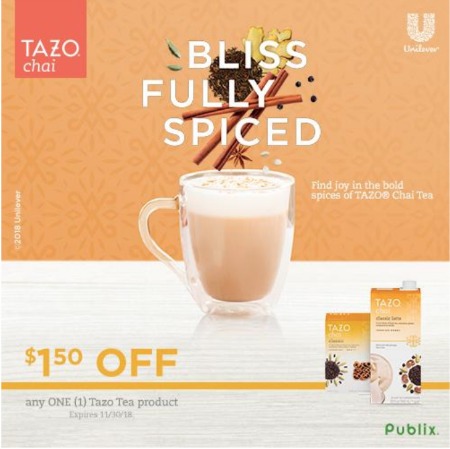 Don't stress if you can't make it though, there is a new digital coupon coming out Saturday that will save $1.50 off any Tazo Tea Product.
Step Up Your Morning With A Chai Tea Latte
This is a great way to blend coffee and tea together into a morning drink that will definitely help you hit the ground running!  It's also the perfect blend for those of us that aren't big coffee fans.
Ingredients:
3 oz – Classic Chai Latte Concentrate
3 oz – Dairy or Non-Dairy Milk
1 shot – Espresso
Ice

Pour equal parts of TAZO Chai Tea Concentrate and milk into a glass. Add the shot of espresso, ice and stir.