This post may contain affiliate links. Read our disclosure here.
I know for some people a car payment is a part of your budget that seems very normal, but in reality it's a budget item that doesn't need to exist.
That brand new car comes with a pricey monthly payment, but also has hidden costs that you may not realize.  Driving an older car can actually save you thousands of dollars a year!!
Here are all the reasons to keep driving that older car:
1. The Obvious One – A Monthly Payment
Of course if you stick with an older car that you can afford and pay cash you won't have a monthly payment.  Skipping that payment though also means skipping the interest payments!
Average car loan interest rates are around 4-5% and they are typically paid over 5 years (or 60 months).  In 2020 the average new car price was $38,378, let's assume you were at least a tad bit frugal and paid $25,000.  With an interest rate of 4.5% you would pay $2,965 in interest and have monthly payments of $466.
What would an extra $466 in your budget each month look like?
2. Lower Insurance Payments
Driving an older car significantly lowers your car insurance payments each month in at least two ways.
First, your older car is worth less to replace and overall the insurance company starts with a lower cost basis compared to a brand new car.  Typically insurance rates drop by 3-4% for every year your vehicle ages.  That means driving an 8 year old car would have 25% cheaper insurance!
Second, not having a car loan helps your credit score stay higher.  Your credit score is used to factor your risk level for most insurance agencies and does have a large impact on the rates you pay.  (This factor  is reduced after approximately 1 year of good payments.)
3.  Lower Property Tax Payments
In 27 U.S. states you'll have to pay property taxes on any cars you own.  If you are in ones of those lucky states, this bill is due every year and is based on the value of your car.  Sticking with the older car is a huge money saver every year when that tax bill is due!
Tip: If your car has lots of miles on it, it's even better.  Check with your county tax office for the tax reduction for "high-mileage" vehicles.  Depending on your county this is not just a flat number, so you may qualify even with newer cars.
4. No Big Depreciation Loss
You know the minute you drive that brand new car away it has already lost thousands in value.  We all know that, but that logic flies out the window when you smell that new car smell…
Even if you go out and buy a 1-2 year old car you will save a huge chunk!  You also aren't out any money if something happened and you needed to sell your car.  With brand new cars you'll need to make sure you keep them for at least 2 years in order to get your moneys worth from the loss of value.
Remember: Cars aren't an investment!  Let someone else deal with the depreciation and buy it from them later.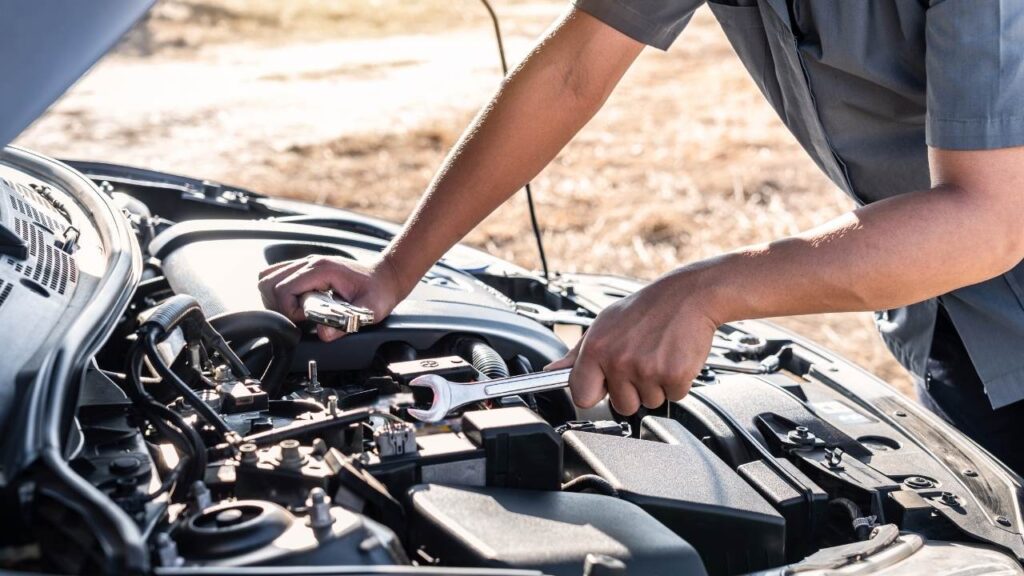 5. Cheaper to Maintain
The older the car, typically the cheaper you'll find parts.
I know your first thought is that older cars need more maintenance, but typically a well maintained car will need the same amount of repairs throughout its life.  Remember that $466 a month payment you're not making… as long as you aren't hitting that you are still coming out ahead (if you are close to that a month though it's time to look for a new to you older car).
6. Keeps You Grounded/Humble
I know this doesn't save you money outright… but if your car is part of the way that you are trying to appear well off, then it's time to drop the act and instead be the person that focuses on retiring early!  Let your friends drive all the flashy cars and work well into their 60's.
I'd like to thank my dad for setting me up on the right path.  My first car was as old as I was, a 1980's Honda Civic Station Wagon…  I installed left over green shag carpet I found in the attic and drove around a very happy teenager!
You'll find that once you get comfortable with not having the latest bells and whistles that this flows over into other areas of your life to.  It's okay for your cell phone to be a few models behind, the 50 inch TV is plenty big, etc. etc.
Looking to buy a car (new or old)?
Here are all my top car buying tips.