This post may contain affiliate links. Read our disclosure here.
Put your apps to work and get some FREE food all around town!  I mean, who doesn't love free chips and salsa?! These apps also make ordering easier and faster, so for me it's a win-win.
Embrace the FREE and enjoy these apps and the freebies they come with.
12 Restaurant Apps That Give Free Food
Chicken Salad Chick
At Chicken Salad Chick, earn a point for every dollar you spend, and two during double points days! Just scan the code on your receipt every time you visit. You'll also get 25 points just for joining! Your points will get you FREE food, special discounts and Chick gear. Best of all, you'll get a FREE Original Chick meal on your birthday.
Chick-fil-a
CFA is one of my favorite restaurant apps. Their Chick-fil-a One app will allow you to earn points based on how much you spend. To start, you earn 10 points for every dollar you spend. Once you reach red status, you will earn 12 points for every dollar! They also sometimes give out free rewards randomly through the app. CFA
This week they gave me FREE DELIVERY just because! In fact, the CFA rewards are so good I usually get a FREE item on most of my orders.
Chili's
If you go to Chili's and you don't have the app, you are totally missing out! With the app, you can get FREE chips and salsa or a FREE drink every time you visit.
Even better, you can get perks like free kids meals, free delivery, free appetizers, free desserts and more! Plus, you'll get a FREE dessert on your birthday. You'll also earn points for rewards when you order to-go, curbside or delivery.
Chipotle
Down the Chipotle app and join the rewards program to earn 10 points for every $1 spent in the restaurant, in the app, or online. You'll also get FREE chips and guac after your first purchase as a member, FREE birthday food and earn extra points when you collect achievement badges in the app.
Firehouse Subs
Sign up for the Firehouse Subs app and you'll immediately get an offer for a FREE large drink with sub purchase! You'll also get a FREE medium sub on your birthday. Purchasing through the app also earns you points that you can redeem for free food rewards like meal upgrades, free subs, and more!
Groucho's
If you like Groucho's, you definitely need the app! Not only can you save your favorite orders to get them quickly, but you'll earn 1 point for every dollar you spend. The points add up quickly and you can use them for credits toward future purchases!
Jimmy John's
Sign up with e-mail on the Jimmy John's app and you can earn rewards and order ahead if you're picking up a quick lunch! When I downloaded the app, I got an offer for a coupon code to get $5 off a $20 order PLUS an offer for a free sandwich after I make my first app order!
Moe's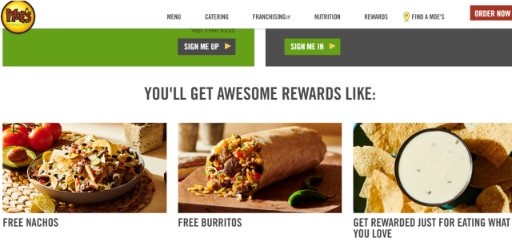 Download the Moe's app and use code Jenny5914 to get 5 free points when you sign up. If you sign up with e-mail, once you confirm it, you get a coupon for free queso with any purchase!
Once you're in the app, you get 10 points for every dollar you spend. When you earn 1,000 points, you get $10 in Moe's Rewards.  You'll also find deals and offers in the app (like the sweet adults eat free with any kids meal purchase offer they ran a few months ago).
Panera
Once you download the Panera app, you can sign up with Facebook, Apple or e-mail. When I first signed up, they automatically gave me a FREE pastry or sweet! Rewards at Panera are not based on the amount you spend, but rather on the number of visits. Many folks also find sweet rewards like free bagels for a month, free drinks, free coffee and more.
Red Robin
Love Red Robin? Download the app and join Red Robin Royalty to get FREE food! You'll get a free birthday burger, plus every 10th item will be FREE! Mix and match burgers, salads, sandwiches and entrées to get your tenth item. Plus, you'll get surprise offers throughout the year.
Even better, teachers and military will get even more freebies!
Zoes Kitchen
Download the Zoes Kitchen app and sign up for ZK Rewards to earn 1 stripe for every $1 spent. You can use your stripes to get FREE food, drinks, sides and more.
But listen to this twist – you can redeem stripes for Zoes Kitchen and Amazon gift cards, too! How fun is that??
Do you have any other favorite restaurant apps?  I'd love to keep adding to our freebies!!
See more freebies!