This post may contain affiliate links. Read our disclosure here.
Father's Day is right around the corner.  If you don't have time to order something and have it shipped, here are some fun DIY options.  If you want even more ideas, check out gifts that I pinned on our Father's Day Pinterest board.
8 Father's Day Crafts
Building Memories Lego Jar
Get together with your kids and ask them things that they like to do with Dad.  Write those activities on Legos and stick them in a jar.  Every time you have free time on a Saturday, pick a Lego and do the activity with Dad!
Dad's Massage Shirt
Make a T-shirt with an outline of a road on it.  The kids can drive around dad's back with a matchbox car by following the road.  They'll have fun and dad will get to relax!  Include some of his favorite stops on the shirt to make it extra special.
Wood Slice Art
I love this art because it's different from the run-of-the-mill hand art done on a piece of paper.  This is more permanent and you can put a hook in the back to hang on the wall.
Handmade Coin Dish
Let your little ones pinch this dish out of air-dry clay.  Let the clay completely dry and then paint it your color of choice.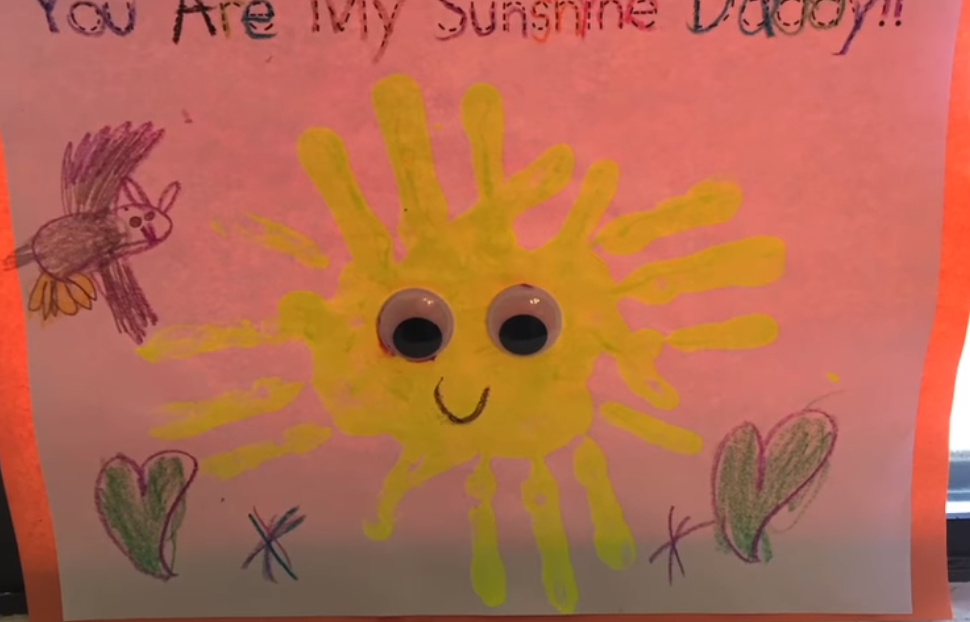 You Are My Sunshine, Daddy Handprint
Help Dad remember how little they were with this fun, quick craft!
Etched Glass Beer Glass
This one can be completely customized!  If you don't have a machine that cuts vinyl like a Silhouette machine, ask your friends!
Father's Day Deployment Package
Here's a great idea for anyone who has a dad that's far away this year.  I tried to find a direct link to this sweet care package, but was left with only the image.  I still think it gives us a good idea of what things to include!
DIY Shaving Cream
If he enjoys a luxurious shave, this is an awesome option!  This recipe is pretty simple and only requires 4 ingredients.