This post may contain affiliate links. Read our disclosure here.
I'm currently trying to stock my chest freezer with some of our family's favorite recipes. These beef meatballs can be used in a variety of ways and can be stored in the freezer so easily. You can serve these with a tomato-based sauce, an alfredo sauce, or even a mushroom gravy served with mashed potatoes. You could also use them for meatball subs! The possibilities are endless. If you're on a lowcarb diet, you can use some almond flour instead of bread crumbs and then serve with zucchini noodles.
For more on this topic, see my post on how to save money by freezing food.
Beef Meatballs (Freezer Recipe)
I paid attention to how long it took me to get these meatballs prepped for the freezer. From start to finish, it was only about 30 minutes of active time, and I made enough  meatballs for at least 3 dinners!
This is everything you'll need (I forgot to pull the garlic out, though).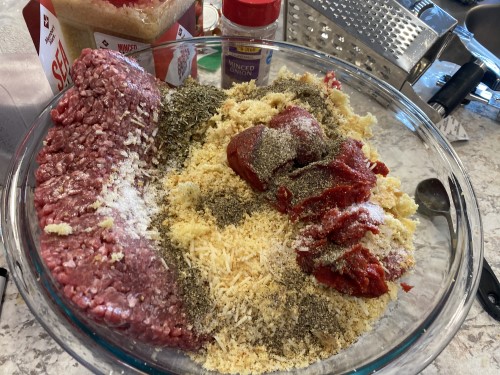 Mix all the ingredients together: ground beef, minced onion, minced garlic, Parmesan cheese, bread crumbs, Italian seasoning, salt, pepper, eggs, and tomato paste. I find it easiest to use clean hands.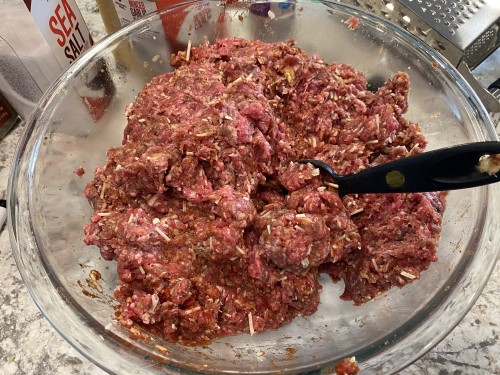 Once everything is blended, it's time to form your meatballs. I used a tablespoon scoop and made each meatball from a heaping scoop.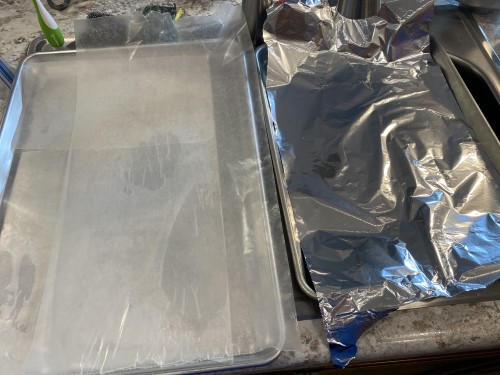 I was making one meal's worth of meatballs for dinner that night and freezing the rest. So I lined one pan with foil (to bake that night) and the other with wax paper (to flash freeze).
I made about 30-35 meatballs for dinner that night, which will give us leftovers. I put about twice that many on the other sheet, meaning I made about 100 meatballs!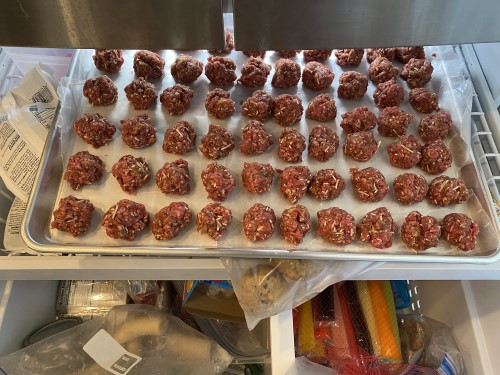 For the ones I was freezing, I put them in the freezer for about an hour to flash freeze them before transferring them to a gallon sized freezer bag.
If you're baking them fresh, bake at 400 for about 18-20 minutes. If they're already frozen, then bake them about 25-30 minutes. Alternatively, you can go ahead and cook them, then flash freeze them already cooked. Then you'll just have to pop them in the microwave to reheat.
Beef Meatballs (Freezer Recipe)
Ingredients
4-4.5 lb ground beef
1/3 cup minced onion
2 tbsp. minced garlic
1 cup Parmesan cheese
1.5 cups bread crumbs
2 tbsp. Italian seasoning
2 tsp. salt
2 tsp. pepper
2 eggs
1 can tomato paste
Directions
Mix all the ingredients in a large bowl (it's easiest if you use your hands).
Shape into meatballs and place on foil-lined rimmed sheet pan (if baking now) or a wax-paper lined pan (if freezing).
If baking, cook at 400 degrees for 18-20 minutes. Then serve with your favorite sauce!
If freezing, flash freeze on the pan for at least an hour, then transfer to a gallon freezer bag. When you're ready to eat them, cook from frozen at 400 for 25-30 minutes.
Created by SouthernSavers.com