This post may contain affiliate links. Read our disclosure here.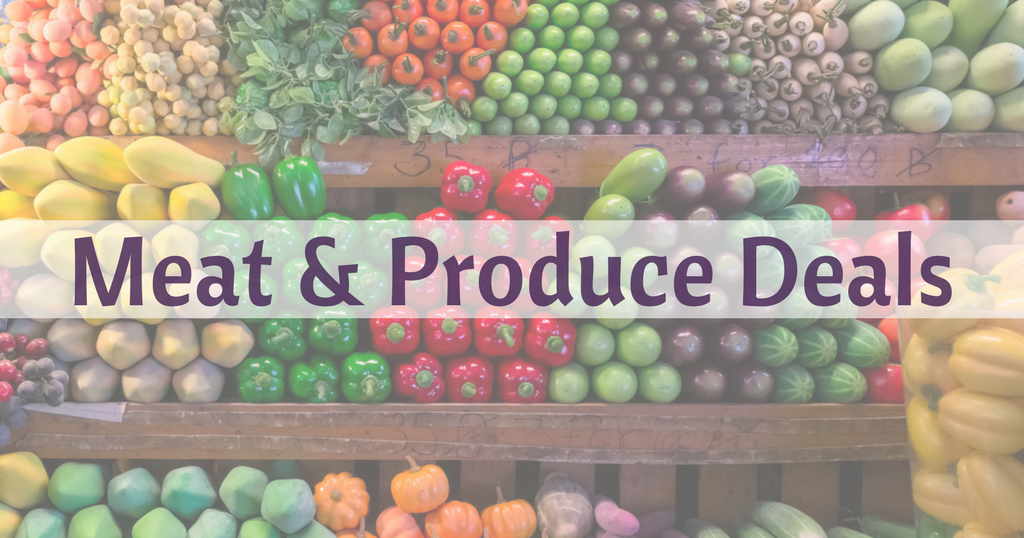 Here are the best deals on meat and produce this week. I've listed out deals from various store around town. Plus, if you are following the Whole30 diet or Paleo diet, this is a great list for you!
Note: I have tried to create the most accurate meat and produce deals that would fit into the Whole30 or Paleo lifestyle, but each person is different and will need to decide which of these items fit your particular diet.
Fruit
Winn-Dixie – Bartlett, Bosc, Red or Anjou Pears, $1.69 lb
Bi-Lo – Bartlett, Bosc, Red or Anjou Pears, $1.69 lb
Ingles – Organic Pears, 2 lb, $2.50
Publix – Organic Lady Alice Apples, 2 lb, $2.99
Publix – Honeycrisp Apples, $2.49 lb
Winn-Dixie – Gala, Red Delicious or Granny Smith Apples, $1.49
Lowe's Foods – New York Evercrisp Apples, 2 lb bag, $2.88
Harris Teeter – Honey Crisp Apples, $1.99 lb
Harris Teeter – Kanzi Apples, $1.49 lb
Kroger – Honeycrisp or Envy Apples, $1.99 lb
Bi-Lo – Gala, Red Delicious or Granny Smith Apples, $1.49
Bi-Lo – Red Delicious Apples, 5 lb bag, $2.99
Food Lion – Granny Smith Apples, per lb, $1.29
Lidl – Honeycrisp Apples, per lb, $1.29
Food City – Harvest Club Jonagold Apples, 5 lb, $3.99
Publix – Navel Oranges, 99¢ lb
Kroger – Medium Navel Oranges, Minneolas or Gold Nugget Mandarins, 49¢ ea.
Kroger – Minneolas or Cara Cara Navel Oranges, 3 lb, $2.99
Kroger – Blood Oranges, 2 lb, $3.99
Bi-Lo – California Navel Oranges, 4 lb bag, $2.99
Sprouts Farmers Market – Navel Oranges, 88¢ lb
Ingles – Organic Minneola Tangelos, 50¢ ea.
Publix – Mandarins, 3 lb, $4.99
Lidl – Mandarins, 3 lb, $2.49
Aldi – Mandarins, 3 lb, $2.29
Food City – Peelz Mandarins, 3 lb, B1G1 at $5.99 ($2.99)
Whole Foods – Organic Mandarins, 2 lb, $3.99
Food Lion – Grapefruits, 3 lb, $2.99
Lowe's Foods – Sunkist Lemons, 2 lb bag, $2.98
Kroger – Lemons or Limes, 2 lb, $2.99
Ingles – SunKist Lemons, 2 lb, $2.98
Food Lion – Limes, ea, 33¢
Food City – Organic Limes, ea, 99¢
Publix – Golden Ripe Pineapple Whole, Peeled and Cored, $2.49
Winn-Dixie – Pineapple or Mixed Melon Chunks, (price not listed)
Bi-Lo – Pineapple or Mixed Melon Chunks, (price not listed)
Sprouts Farmers Market – Golden Ripe Whole Pineapples, 2 for $5


(buy (2), makes it $2.50 ea.)

Whole Foods – Whole Trade Organic Pineapple, $3
Winn-Dixie – Organic Mango, $1.50 ea.
Bi-Lo – Organic Mango, $1.50 ea.
Food Lion – Mango, ea, 89¢
Sprouts Farmers Market – Honey Mangos, 2 for $1


(buy (2), makes it 50¢ ea.)

Winn-Dixie – Red, Green or Black Seedless or Red Globe Grapes, $1.69 lb
Harris Teeter – Green Seedless Grapes, $1.49 lb
Bi-Lo – Red, Green or Black Seedless or Red Globe Grapes, $1.69 lb
Sprouts Farmers Market – Green Seedless Grapes, 98¢ lb
Aldi – Green Grapes, per lb, $1.19
Whole Foods – Seedless Grapes, $1.99 lb
Lidl – Blackberries, 6 oz, 99¢, limit 5
Sprouts Farmers Market – Blackberries, 5.6 oz, 88¢
Sprouts Farmers Market – Organic Blueberries or Blackberries, 5.6-6 oz, 2 for $6


(buy (2), makes it $3 ea.)

Publix – Strawberries, 16 oz, $2.50
Kroger – Strawberries, 16 oz, $2
Ingles – Strawberries, 16 oz, $2.50
Aldi – Strawberries, 2 lb, $1.19
Food City – Blueberries or Strawberries, 18 oz or 2 lb, $5
Kroger – Organic Blueberries, 6 oz, $3
Sprouts Farmers Market – Organic Blueberries or Blackberries, 5.6-6 oz, 2 for $6


(buy (2), makes it $3 ea.)

Food City – Blueberries or Strawberries, 18 oz or 2 lb, $5
Publix – Red Raspberries, 6 oz, B1G1 at $3.99 ($1.99)
Food Lion – Avocado, ea, 79¢
Sprouts Farmers Market – Hass Avocados, 88¢ ea.
-.75/3 Avocados from Mexico (Hass Avocados), Sprouts eCoupon


(makes it 63¢ ea.)

Harris Teeter – Organic Grape Cherry Tomatoes, pint, $2.50
Lidl – Sweet Pops Cherry Tomatoes, 10 oz, $1.59, limit 5
Sprouts Farmers Market – Sunset Snacking Tomatoes, pint, 2 for $5


(buy (2), makes it $2.50 ea.)

Ingles – Beefsteak Tomatoes, $1.78 lb
Vegetables
Lowe's Foods – Fresh Express Spinach, 8 oz, $1.98
Sprouts Farmers Market – Bunched Spinach, 98¢ ea.
Aldi – Simply Nature Organic Broccoli Florets or Chopped Spinach, 16 oz, $1.99
Aldi – Little Salad Bar Flat Leaf Spinach, 8 oz, $1.19
Publix – Allen's Popeye Chopped Spinach, 13.5 oz, $1
Publix – Publix Romaine Hearts, 3 ct, $2.99
Winn-Dixie – Romaine Hearts, 3 ct., $2.99
Bi-Lo – Romaine Hearts, 3 ct., $2.99
Food Lion – Leaf Lettuce, ea, $1.19
Publix – Fresh Express Salad Blend or Kit, 5-13 oz, B1G1 at $4.29 ($2.14)
Winn-Dixie – Dole Salad Blends or Kits, 5-13.2 oz, B1G1 at $3.99 ($1.99)
Harris Teeter – Farmer Market Spring Mix Salad, 5 oz, $1.99
Bi-Lo – Dole Salad Blends or Kits, 5-13.2 oz, B1G1 at $3.99 ($1.99)
Food Lion – Fresh Express Salad Kit, 6.4-13 oz, $2.50
Lidl – Organic Half & Half Salad Mix, 5 oz, $1.99
Publix – Green Cabbage, 29¢ lb
Winn-Dixie – Green Cabbage, 39¢ lb
Lowe's Foods – Crisp Green Cabbage, 39¢ lb
Harris Teeter – Fresh Cabbage, 33¢ lb
Kroger – Green Cabbage, 49¢ lb
Bi-Lo – Green Cabbage, 39¢ lb
Food Lion – Green Cabbage, per lb, 19¢
Lidl – Cabbage, per lb, 39¢
Sprouts Farmers Market – Green Cabbage, 2 lb for $1


(makes it 50¢/lb)

Ingles – Green Cabbage, 28¢ lb
Aldi – Cabbage, ea, 99¢
Publix – Broccoli, $2.50
Winn-Dixie – Broccoli Bunch or Cauliflower, $2.50 ea.
Harris Teeter – Broccoli Crowns, $1.69 lb
Bi-Lo – Broccoli Bunch or Cauliflower, $2.50 ea.
Lidl – Frozen Broccoli Cuts, 12 oz, B1G1 at 99¢ (49¢), limit 4
Sprouts Farmers Market – Organic Bunched Broccoli, $1.48 lb
Sprouts Farmers Market – Cauliflower, 98¢ lb
Kroger – Asparagus, $1.99 lb
Lidl – Asparagus, 1 lb, $1.69, limit 5
Sprouts Farmers Market – Asparagus, $1.98 lb
Sprouts Farmers Market – Organic Asparagus, $2.48 lb
Whole Foods – Organic Asparagus, $2.99 lb
Winn-Dixie – SE Grocers Yellow Onions, 3 lb, $2.50
Bi-Lo – SE Grocers Yellow Onions, 3 lb, $1.99
Food Lion – Food Lion Yellow Onions, 3 lb, $1.39
Sprouts Farmers Market – Red, White or Sweet Onions, 88¢ lb
Winn-Dixie – SE Grocers Baby Cut Carrots, $1.50
Lowe's Foods – Organic Cut & Peeled Carrots, 1 lb, $1.78
Kroger – Mini Peeled Carrots, 2 lb, $1.98
Bi-Lo – SE Grocers Baby Cut Carrots, 2 lb, $2
Food Lion – Food Lion Whole Carrots, 1 lb, 69¢
Food Lion – Organic Baby Carrots, 1 lb, $1.29
Sprouts Farmers Market – Organic Baby Peeled Carrots, 2 lb bag, 2 for $5


(buy (2), makes it $2.50 ea.)

Aldi – Georgia Carrots, 2 lb, $1.49
Winn-Dixie – SE Grocers Colored Peppers, 3 ct., $2.99
Kroger – Red, Orange or Yellow Bell Peppers, 99¢ ea.
Bi-Lo – SE Grocers Colored Peppers, 3 ct., $2.99
Ingles – Red, Orange or Yellow Bell Peppers, 88¢ ea.
Kroger – English Cucumbers, 99¢ ea.
Ingles – English Cucumbers, $1.50 ea.
Publix – Publix White Whole Mushrooms, 8 oz, $1.79
Winn-Dixie – Whole or Sliced White Mushrooms, 16 oz, $2.99
Harris Teeter – Whole or Sliced White Mushrooms, 8 oz, $1.50
Bi-Lo – Whole or Sliced White Mushrooms, 16 oz, $2.99
Ingles – Whole or Sliced Mushrooms, $1.50
Harris Teeter – Yukon Gold Potatoes, 3 lb bag, $1.99
Kroger – Russet Potatoes, 5 lb, $2.49
Food Lion – Food Lion Red Potatoes, 5 lb bag, $2.89
Lidl – Baby Red Potatoes, 2 lb, $1.99, limit 5
Sprouts Farmers Market – Red Potatoes, 88¢ lb
Aldi – Red Potatoes, 5 lb, $2.29
Food City – Yellow Potatoes, per lb, 99¢
Food City – Harvest Club Red or Yukon Gold Potatoes, 5 lb, B1G1 at $5.99 ($2.99)
Chicken
Winn-Dixie – Fresh Chicken Drumsticks or Thighs, value pack, B1G1 at $2.29 ($1.14) lb
Winn-Dixie – Fresh Boneless Skinless Chicken Breast Tenders, B1G1 at $5.99 ($2.99) lb
Winn-Dixie – SE Grocers Chicken Tenders, Breasts or Wings, 40-48 oz, B1G1 at $14.99 ($7.49)
Lowe's Foods – 25% Off Lowes Foods Fresh Chicken, all varieties


-$1 Lowes Foods eCoupon

Lowe's Foods – Foster Farms Chicken Strips or Wings, selected, 16-24 oz, $5.99
Harris Teeter – Smart Chicken Boneless Skinless Drumsticks, $3.99 lb
Bi-Lo – Fresh Boneless Skinless Chicken Breast Tenders, $3.99 lb
Bi-Lo – Fresh Chicken Drumsticks or Thighs, value pack, B1G1 at $2.29 ($1.14) lb
Bi-Lo – SE Grocers Chicken Tenders, Breasts or Wings, 40-48 oz, B1G1 at $14.99 ($7.49)
Bi-Lo – 100% Natural Boneless Skinless Chicken Breast, $1.99 lb
Lowe's Foods – Amick Farms Boneless Chicken Breast, $1.97 lb


(ends 4/14)

Food Lion – Food Lion Chicken Drumsticks or Thighs, per lb, $1.29
Food Lion – Boneless Skinless Chicken Thighs, per lb, $1.99
Lidl – Chicken Wings, Family Pack, per lb, $1.99
Lidl – Boneless Skinless Chicken Breast Fillets, per lb, $1.49
Lidl – Whole Young Chicken, per lb, 55¢
Harris Teeter – HT Chicken Leg Quarters, value pack, 79¢ lb


(ongoing sale)

Harris Teeter – Perdue Organic Ground Chicken, 16 oz, $4.99


(ends 3/17)


-$1/2 Perdue fresh chicken products printable
-$1 off Perdue ground chicken printable


(makes it $3.99)

Sprouts Farmers Market – Perdue Boneless Skinless Chicken Breasts, $2.99 lb
-$1/2 Perdue fresh chicken products printable
Ingles – Tyson Boneless Skinless Chicken Breast Tenders, family pack, $2.28 lb
Ingles – Harvest Farms Boneless Skinless Chicken Breast Fillets, $3.68 lb
Aldi – Fresh Family Pack Chicken Tenderloins, per lb, $1.99
Food City – Gerber's Chicken Drumsticks, per lb, $1.49
Food City – Perdue Boneless Chicken Breast, per lb, $1.99
Beef
Publix – Publix Lean Ground Beef 3lb+, $4.99 lb
Lowe's Foods – Premium Black Canyon Angus Corned Beef Brisket Flats, $4.49 lb
Lowe's Foods – Grass Fed Whole Beef Tenderloin, $8.97 lb
Lowe's Foods – 100% Grass Fed Boneless Beef Ribeye Steaks, $7.97 lb
Harris Teeter – Corned Beef Brisket, $3.99 lb
Kroger – Private Selection Angus Beef Patties, 2 lb, $9.99
-$1 off Private Selection Frozen Angus Burgers, use up to 5x in a single transaction, Kroger (exp 3/17) eCoupon


(makes it $8.99)

Kroger – Ground Beef, 93% lean, 16 oz, $4.99
Kroger – Boneless Corned Beef Brisket, $3.99 lb
Bi-Lo – Corned Beef, $3.99 lb
Food Lion – Beef Cubed Steak, per lb, $3.99
Food Lion – Flat Cut Corned Beef Brisket, per lb, $3.49
Lidl – 80% Lean Ground Beef Chuck, 3 lb, $6.59
Lidl – Colorado Premium Flat Cut Cornered Beef Brisket, per lb, $2.99
Lidl – Corned Beef, 12 oz, $2.49
Sprouts Farmers Market – 85% Lean Ground Beef or Turkey, $2.99 lb
Ingles – Murphy & David's or Grobbel Corned Beef Brisket, $3.98 lb
Ingles – Boneless Beef Chuck Roast, $3.48 lb
Aldi – Cattlemen's Ranch Fresh Flat Cut Corned Beef Brisket, per lb, $2.99, limit 2
Aldi – Simply Nature Organic Grass Fed Beef Stew Meat, per lb, $6.99
Food City – Corned Beef Brisket, per lb, $4.99
Food City – Certified Angus Beef Beef Chuck Mock Roast, per lb, $3.99
Food City – Certified Angus Beef Beef Round Tip Roast, per lb, $3.99
Food City – Certified Angus Beef Beef Top Sirloin Steak, per lb, $4.99
Whole Foods – Animal Welfare Certifed Organic Grass-Fed 85% Lean Ground Beef Brick, 16 oz, $4.99
Publix – Publix Boneless New York Strip Steak, $8.99 lb
Publix – Publix GreenWise Angus Top Sirloin Steaks, $6.99 lb
Winn-Dixie – Boneless Ribeye or New York Strip Steaks, $8.99 lb
Winn-Dixie – Boneless Top Round, London Broil, Roast or Steaks, B1G1 at $8.29 ($4.14) lb
Winn-Dixie – Boneless New York Strip or T-Bone Steak, value pack, $4.99 lb
Winn-Dixie – Angus Choice Boneless Sirloin Tip Roast or Steak, value pack, $4.99 lb
Winn-Dixie – Bone-In or Boneless Pork Shoulder Steaks or Country Style Ribs, B1G1 at $4.99 ($2.49) lb
Kroger – Boneless Ribeye Steak, family pack, $9.99 lb
Bi-Lo – Angus Choice Boneless Sirloin Tip Roast or Steak, value pack, $4.99 lb
Bi-Lo – Boneless New York Strip or Ribeye Steak, value pack, $6.99 lb
Bi-Lo – Angus Choice Cubed Steak, value pack, $2.99 lb
Bi-Lo – Bone-In Ribeye or T-Bone Steak Value Pack, $4.99 lb
Lidl – Organic Grass Fed Sirloin Steak, 8 oz, $4.99
Ingles – Boneless Sirloin Steak, $4.98 lb
Pork
Publix – Publix Pork Loin Chops Center Cut, $3.59 lb
Winn-Dixie – Boneless Sirloin or Ribeye Pork Chops, B1G1 at $5.99 ($2.99) lb
Winn-Dixie – Bone-In or Boneless Pork Shoulder Steaks or Country Style Ribs, B1G1 at $4.99 ($2.49) lb
Harris Teeter – Smithfield Boneless Pork Loin Filet, 23-27.2 oz, B1G1 at $9.99 ($4.99)
Harris Teeter – Niman Ranch Boneless Pork Loin, $3.99 lb
Kroger – Pork Spareribs, bone-in, $2.49 lb
Bi-Lo – Bone-In or Boneless Pork Shoulder Steaks or Country Style Ribs, B1G1 at $4.99 ($2.49) lb
Bi-Lo – Half Boneless Pork Loin, $2.29 lb
Food Lion – Pork Baby Back Ribs, per lb, $1.99
Food Lion – Pork Whole Boston Butt, per lb, $1.59
Ingles – Assorted Bone-In or Loin End Pork Chops, $1.78 lb
Food City – Food City Boneless Pork Sirloin Chops, per lb, $2.99
Seafood
Winn-Dixie – Fisherman's Wharf Raw Shrimp, 41-50 ct., 32 oz, $11.99
Winn-Dixie – Fisherman's Wharf Tilapia Fillets, 80 oz, $14.99
Winn-Dixie – Fisherman's Wharf Raw Shrimp, 51-60 ct., 16 oz, $5.99
Winn-Dixie – Fisherman's Wharf Tilapia, Swai or Whiting Fillets, 40 oz, $8.99
Winn-Dixie – Fisherman's Wharf Shrimp, 70-90 ct. or 150-250 ct., 16 oz, $7.99
Winn-Dixie – Fisherman's Wharf Flounder, Cod or Swai Fillets, 12-16 oz, $4.99
Winn-Dixie – Fisherman's Wharf Cooked Shrimp, 16-20 ct., 26-30 ct. 16 oz, $9.99
Winn-Dixie – Fisherman's Wharf Shrimp, 26-30 ct. or 41-50 ct., 16 oz, $7.99
Bi-Lo – Fisherman's Wharf Flounder, Cod or Swai Fillets, 12-16 oz, $4.99
Bi-Lo – Fisherman's Wharf Raw Shrimp, 41-50 ct., 32 oz, $11.99
Bi-Lo – Fisherman's Wharf Raw Shrimp, 51-60 ct., 16 oz, $5.99
Bi-Lo – Fisherman's Wharf Shrimp, 70-90 ct. or 150-250 ct., 16 oz, $7.99
Bi-Lo – Fisherman's Wharf Shrimp, 26-30 ct. or 41-50 ct., 16 oz, $7.99
Bi-Lo – Fisherman's Wharf Tilapia Fillets, 80 oz, $14.99
Harris Teeter – HT FIsherman's Market Farm Raised Salmon Fillet, $6.99 lb


(ongoing sale)

Aldi – Fremont Fish Market Jumbo Cooked Shrimp, 12 oz, $5.99
Publix – Extra Large White Shrimp 21-25 per lb, $6.99 lb
Winn-Dixie – Easy Peel Colossal Shrimp, 13-15 ct., 2 lb, $15.98


makes it $7.99 lb

Harris Teeter – EZ Peel White Shrimp, 2 lb, Buy (1) and Get (2) FREE
Lowe's Foods – Carolina Large Shell-On Shrimp, B1G1 at $7.99 ($3.99) lb
Bi-Lo – Easy Peel Colossal Shrimp, 13-15 ct., 2 lb, $15.98


makes it $7.99 lb

Food Lion – Food Lion Cooked Shrimp, 26-30 ct, 16 oz pkg, $8.99
Food Lion – Food Lion Raw Shrimp, 16-20 ct, 16 oz pkg, $7.49
Sprouts Farmers Market – EZ Peel Medium Raw Shrimp, 2 lb bag, $3.99 lb, limit 4
Sprouts Farmers Market – Wild Colossal Sea of Cortez Raw Shrimp, $7.99 lb
Aldi – Sea Queen Medium Cooked Shrimp, 12 oz, $4.99
Bi-Lo – King Crab Legs, $12.99 lb
Ingles – Bantry Bay Mussels, 16 oz, B1G1 at $6.98 ($3.49)
Whole Foods – Responsibly Farmed Previously Frozen Bay Scallops, 40/60 ct, $11.99 lb
Publix – Publix Tilapia Fillets Frozen, 24 oz, B1G1 at $10.29 ($5.14)
Publix – Salmon Fillets, $8.99 lb
Kroger – Kroger Tilapia or Cod Fillets, 24 oz, $3.99
-$1 off Kroger Bagged Fish Fillets, use up to 5x in a single transaction, Kroger (exp 3/17) eCoupon


(makes it $2.99)

Kroger – AquaStar Pacific Salmon Fillet, 1.25 lb, $5.99
Sprouts Farmers Market – Wild Alaskan Sockeye Salmon Fillets, $7.99 lb
Whole Foods – Responsibly Farmed Fresh Arctic Char Fillets, $9.99 lb
Other Grocery Items
Publix – Happy Egg Co. Free Range Eggs, 12 ct, $2.99
Winn-Dixie – Egg Land's Best Large Eggs, 12 ct., $2
-.50/1 Eggland's Best Eggs, SS 01/05
-.55/1 Eggland's Best Eggs, SS 01/05


(use .55/1, makes it $1.45)

Harris Teeter – Nellie's Free Range Large Eggs, 18 ct, $4.49
-$1.50 off Nellie's free range eggs (email sign up) printable
-.75/1 Nellie's Free Range Eggs, Harris Teeter eCoupon


(use $1.50 off, makes it $2.99)

Harris Teeter – Eggland's Best Organic Large Eggs, dozen, $3.99
-.50/1 Eggland's Best Eggs, SS 01/05
-.50/1 Eggland's Best Organic Eggs, SS 01/05
-.55/1 Eggland's Best Eggs, SS 01/05
-.55/1 Eggland's Best Organic Eggs, SS 01/05


(use .55/1, makes it $2.89)

Kroger – Kroger Large Eggs, 12 ct., 99¢
Bi-Lo – Egg Land's Best Large Eggs, 12 ct., $2
-.50/1 Eggland's Best Eggs, SS 01/05
-.55/1 Eggland's Best Eggs, SS 01/05


(use .55/1, makes it 90¢)

Lidl – Large Cage Free Brown Eggs, Grade A, 12 ct., $1.29, limit 4
Sprouts Farmers Market – Vital Farms Pasture-Raised Eggs, dozen, $3.99
-$1 off Vital Farms pasture-raised eggs, limit 2, SS 11/24


(makes it $2.99)

Ingles – Nellie's Free Range Eggs, 12 ct., $2.98
-$1.50 off Nellie's free range eggs (email sign up) printable


(makes it $1.48)

Food City – Born Free Large Brown Eggs, dozen, $2.99
Winn-Dixie – Pompeian Olive Oil, 32 oz, B1G1 at $16.99 ($8.49)
Harris Teeter – Pompeian Cooling Spray or Olive Oil, 5-24 oz, $3.49
Bi-Lo – Pompeian Olive Oil, 32 oz, B1G1 at $16.99 ($8.49)
Harris Teeter – Bertolli Organic Extra Virgin Olive Oil, 8.5 oz, $3.99


(ongoing sale)

Sprouts Farmers Market – Sprouts Extra Virgin Olive Oil, 1 Liter, $5.99
Ingles – Pompeian Olive Oil, 32 oz, $6.98