This post may contain affiliate links. Read our disclosure here.
This post is sponsored by Sir Kensington's. All opinions are my own.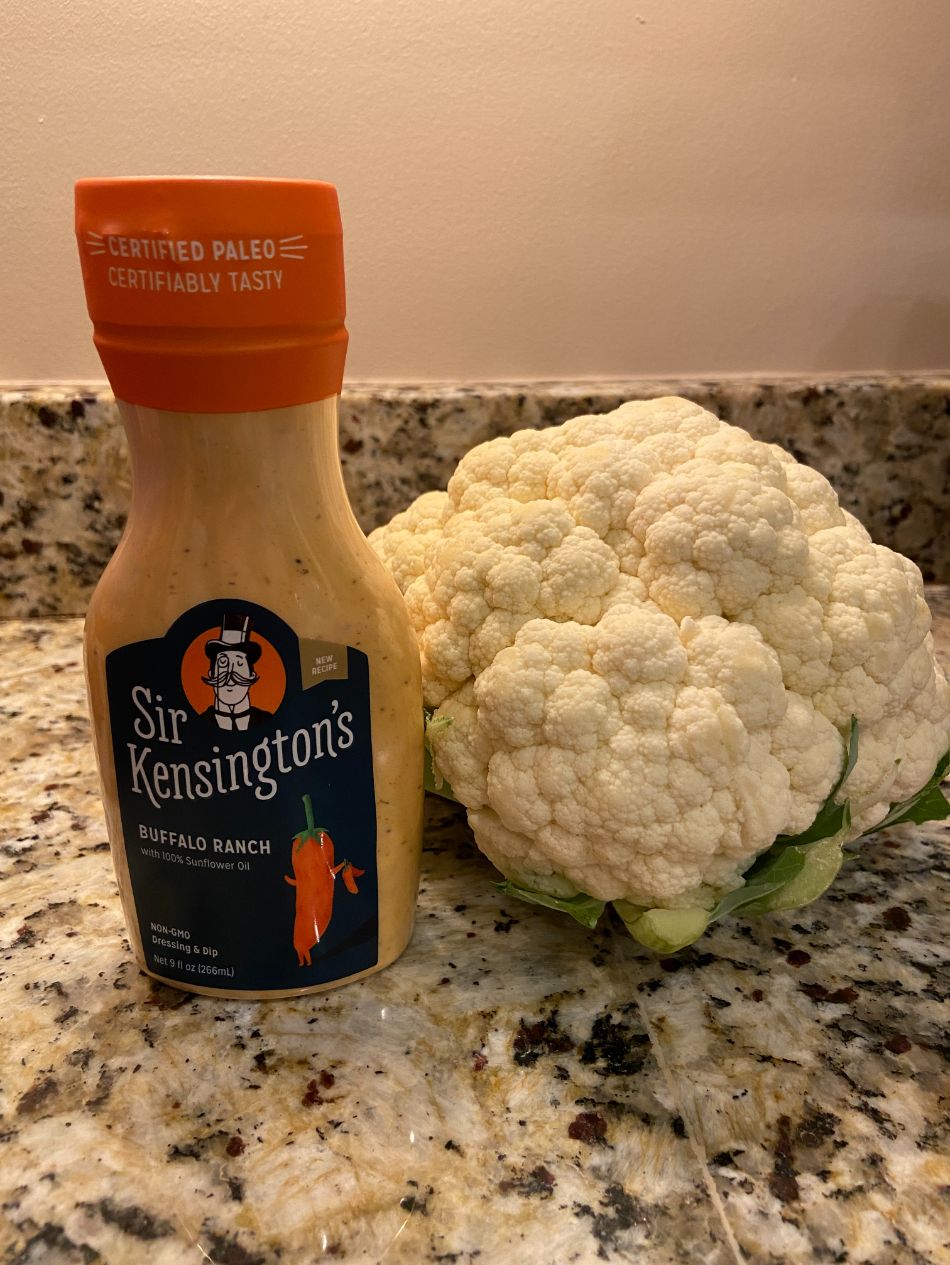 Are you tired of the never-ending question of "What's for Dinner?" It's not that I don't enjoy cooking or family dinners, I just get tired of thinking of meals and tired of trying to make them not seem like something new. I know I'm not alone; meal planning and dinner ideas are one of the most common questions I get.
Having a meal plan is a huge way to save money, but brainstorming different ideas feels like it's going to take all the energy you have left. This week, Publix is here to give you a break from planning, with delicious and easy "all-in-one-and-done" dinner recipes! Get flavor filled dinner on the table in a flash and feel like you are the superhero of the house!
One great new recipe is tangy Buffalo Cauliflower Bites – a family-pleasing, healthy appetizer or side-dish, made with Sir Kensington's tangy Buffalo Ranch Dressing. It's even gluten-free and dairy free !!
Sir Kensington's is made with 100% Sunflower oil, is sugar free and gluten free, and adds a cayenne kick to just about any dish.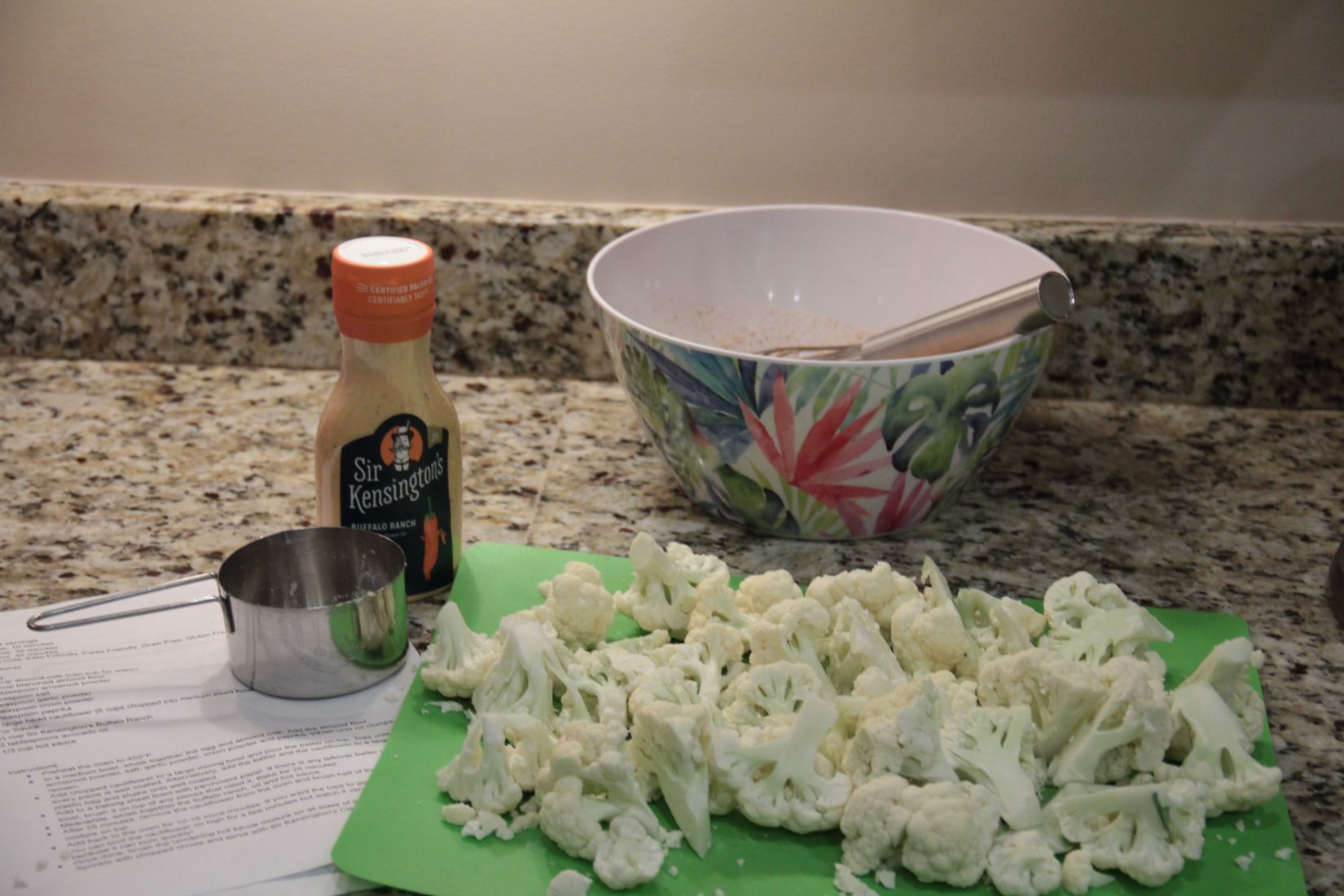 Buffalo Cauliflower Bites
Ingredients
1 egg
2/3 cup almond milk (can sub for water)
2/3 cup blanched almond flour
1 tablespoon arrowroot powder
1 teaspoon salt
1 teaspoon garlic powder
1 teaspoon onion powder
1 teaspoon paprika
1 large head cauliflower (6 cups chopped into medium sized florets)
For Sauce
¼ cup Sir Kensington's Buffalo Ranch
2 tablespoons avocado oil
1/3 cup hot sauce
Instructions
Preheat the oven to 450°F.
In a medium bowl, whisk together the egg and almond milk. Add the almond flour, arrowroot powder, salt, garlic powder, onion powder and paprika. Whisk until no clumps remain.
Add chopped cauliflower to a large mixing bowl and pour the batter on top. Toss until every piece is well coated. Alternatively, add the batter and the cauliflower to a large plastic bag and shake until well coated.
Add to a baking sheet lined with parchment paper. If there is any leftover batter in the bowl, brush it on top of any pieces that need it. Bake for 25 minutes.
Meanwhile, whisk together the buffalo ranch, oil and hot sauce.
After 25 minutes, remove the cauliflower from the oven and brush half of the hot sauce mixture on top.
Add back to the oven for 10-15 more minutes. If you want the tops to get really crispy, you can broil the cauliflower on high for a few minutes but watch it very carefully because it can burn quickly!
Once done, brush the remaining hot sauce mixture on all sides of the cauliflower. Sprinkle with chopped chives and serve with Sir Kensington's Classic Ranch to dip.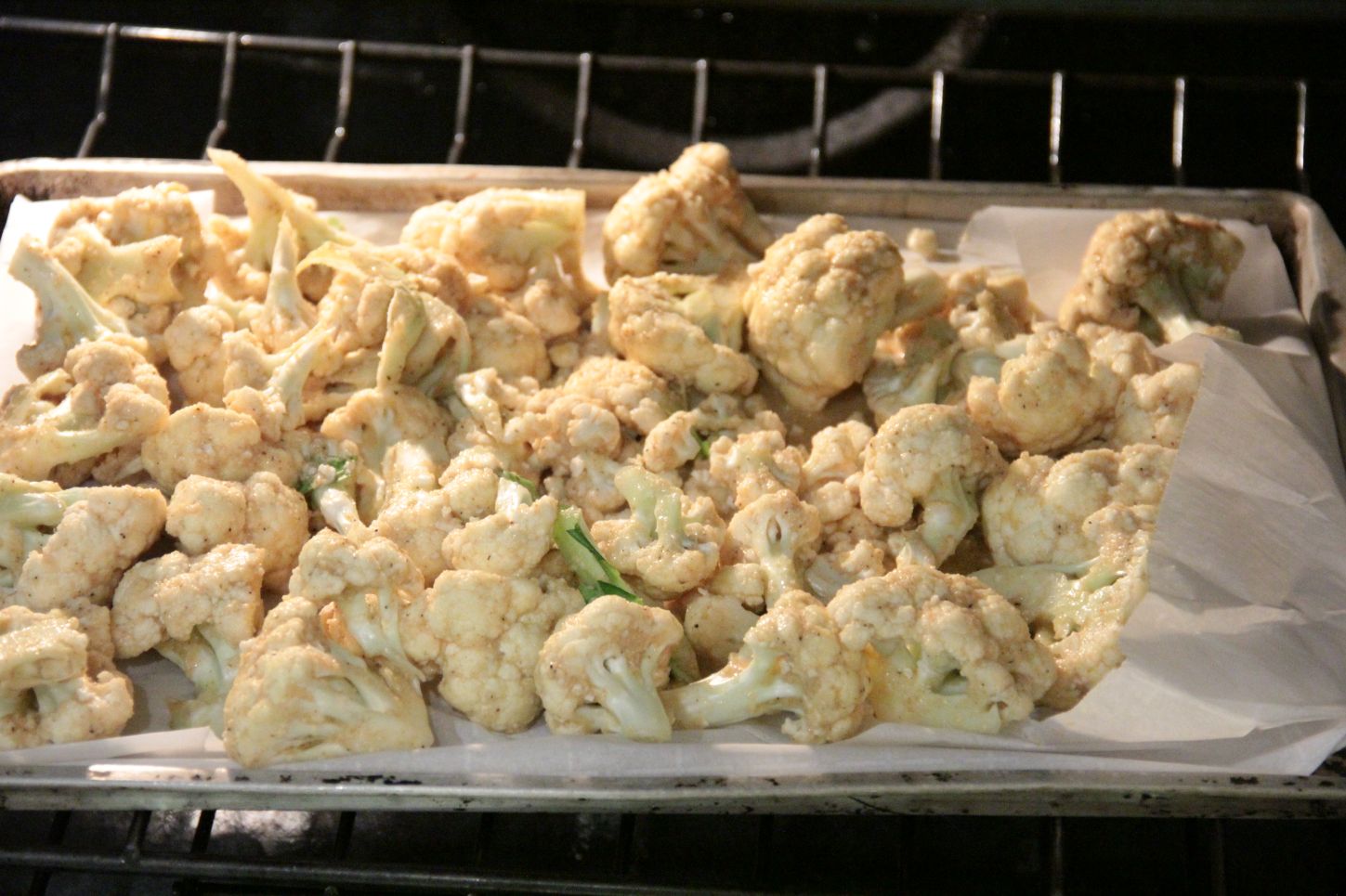 Tip: If you have younger kids, I recommend using just the Sir Kensington's on some cauliflower and the full mixture on the rest. It gets a bit spicy with the added hot sauce and is delicious but slightly less spicy with just the Buffalo Ranch Dressing.
This week you will find Sir Kensington, Lipton and many other Best Meals at Home brands on sale at Publix! Find more recipe ideas to go with these sales at Publix.com/BestMeals
Here are some of the Publix sales to not miss:
BOGO Sir Kensington 8.45-20 oz, B1G1
Lipton Recipe Secrets 1.8-2 oz – $1.18
Manwich Original Sloppy Joe Sauce 16 oz, B1G1
Pace Salsa and Picante Sauce 25 oz, $3
Kraft Mac & Cheese Blue Box/Shapes 5.5-7.25 oz, 99¢
Well Yes Soup, $2
Wish-Bone Dressing 15 oz, B1G1
Pillsbury Dinner Rolls Crescents 4 oz, or Cinnamon Rolls, 7.3 oz; or Grands! Biscuits 10.2 oz or Jr Flaky Golden Layers Butter Tastin' 12 oz can, $1
Yoplait Go-GURT Portable Yogurt, or Simply Go-GURT, 8 pk,$2
Gevalia Kaffe Coffee 10-12 oz or K-Cups 6-12 ct. or Café at Home, 5 or 8 ct., B1G1
Want a few more dinner ideas? Head to Publix.com/BestMeals and take the week off from planning. Let Publix answer the "What's for Dinner?" question for you!