This post may contain affiliate links. Read our disclosure here.
Most major retailers have their own "housebrand" of products.  Even Amazon has jumped into the trend.  The Amazon brand is Solimo, and they make almost anything you can get at a big box store or a drugstore.
We've all started shopping online for more items, how do you know if you're getting a deal… If you are buying household items with coupons and sales at the store, buying Amazon brand items will never be a deal. But if you're comparing the Amazon brand to the cost of local store brand items, you might just come out ahead!
Buying Amazon Brand vs. Store Brand Household Items
To compare items, I found 14 items for which I could find a pretty similar item at Walmart. While Walmart is not the most frugal place to shop, if you're just buying store brand and not using coupons, prices are about as low as they can get, and prices don't change very often. So in every case, I looked for the closest sized similar item for every comparison.
You won't be able to truly compare items without calculating the unit price. Calculating the unit price, such as the price per ounce or the price per item, is the best way to figure out if you're getting a good deal.  Especially when the quantity of the item is very different, you need to find out how much each diaper actually costs, for example.
In the chart below, I highlighted in green which item is the better buy. I assumed that the store brand would be cheaper in every case, but of the 14 items I compared, 5 of them were actually cheaper at Amazon!
I was extremely surprised to see the price comparison between toilet paper at Walmart and the Amazon Solimo toilet paper.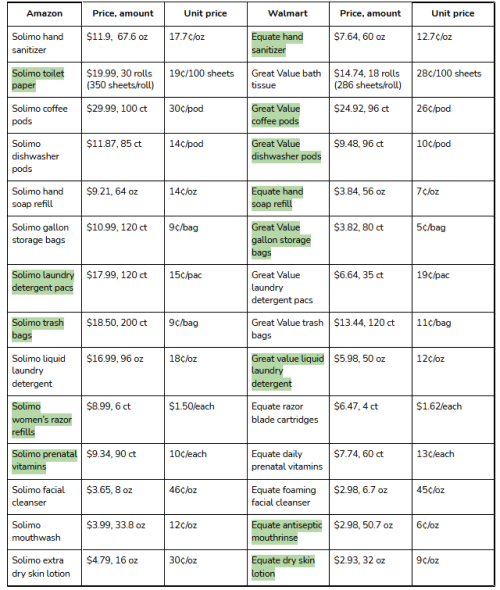 None of the prices above include Amazon Subscribe and Save discounts. For Prime members ordering through Subscribe & Save will save another 5-15% off.  That would push Vitamins, Razors, and many other items to be the same if not better than local brands.
Is there anything you've found cheaper on Amazon than anywhere else? Let us know in the comments!