This post may contain affiliate links. Read our disclosure here.
Calling all noodle lovers! These chicken and zucchini dragon noodles are spicy, savory, a bit sweet, and so delicious.
You'll be making this dish with an easy shortcut: instant ramen noodles! Don't worry; you don't need to use the spice packet. Also, feel free to adjust the amount of heat according to your taste.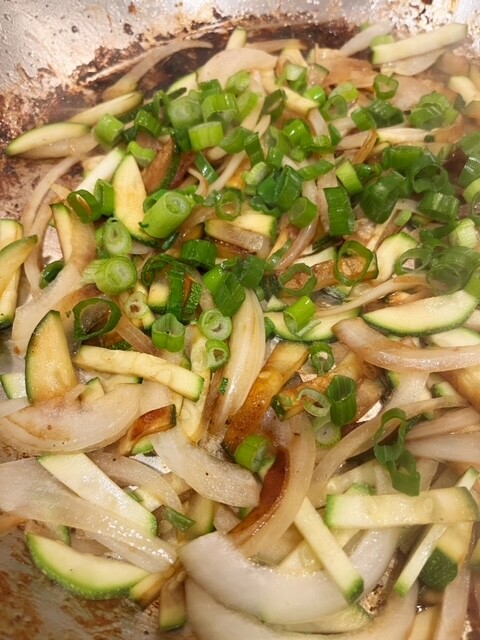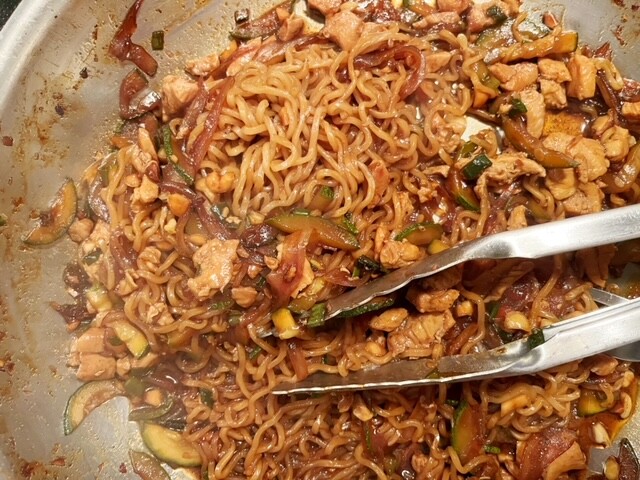 Chicken & Zucchini Dragon Noodles
Ingredients
1 tbsp olive oil
1 tbsp unsalted butter
1 lb boneless, skinless chicken breast, diced into small pieces
3/4 cup reduced sodium soy sauce
1/4 cup water
2 tbsp brown sugar
1/2 tsp ground ginger
1/2 tsp garlic powder
2 tbsp sriracha
2 packs instant ramen, seasoning pack removed
1 zucchini, diced
1/2 cup onion, thinly sliced
1/4 cup sliced green onion, divided
1/4 cup chopped peanuts, divided
Directions
In a large skillet over medium to medium-high heat, add the olive oil and butter.
Add the chicken the pan, spread out evenly, and allow to cook on one side (without stirring), until golden brown, about 4-5 minutes.
While the chicken is cooking on the first side, make the sauce. In a bowl, mix together the soy sauce, water, brown sugar, ginger, garlic, and sriracha. Stir together until the sugar is dissolved.
Add about 1/4 cup of the sauce to the chicken and stir. Allow the chicken to cook through fully while the sauce thickens and evaporates slightly, about 4 minutes.
Remove the chicken from the pan onto a plate and set aside.
Go ahead and start the water for the ramen noodles in a separate pot. Cook according to package directions (usually you'll boil for about 3 minutes).
Add the zucchini and onion to the skillet (the one the chicken cooked in) and cook until softened, about 5 minutes. Stir in half of the green onions, half of the chopped peanuts, and the cooked chicken. Pour in the sauce, reduce the heat slightly, and allow to gently simmer.
Drain the ramen noodles and add to the veggie and chicken mixture. Stir continuously until the noodles are coated in sauce and everything is evenly mixed.
Serve and top with remaining sliced green onion and chopped peanuts.
Created by SouthernSavers.com
See more recipe ideas!