This post may contain affiliate links. Read our disclosure here.
One of my favorite splurge treats to grab is the pumpkin bread at Starbucks! This recipe will let you make your own at home! It's moist with just the right amount of fall flavor.
Note: The pumpkin bread at Starbucks is topped with pepitas, but I chose to leave them off. To add them, just sprinkle them on top of the batter before you bake!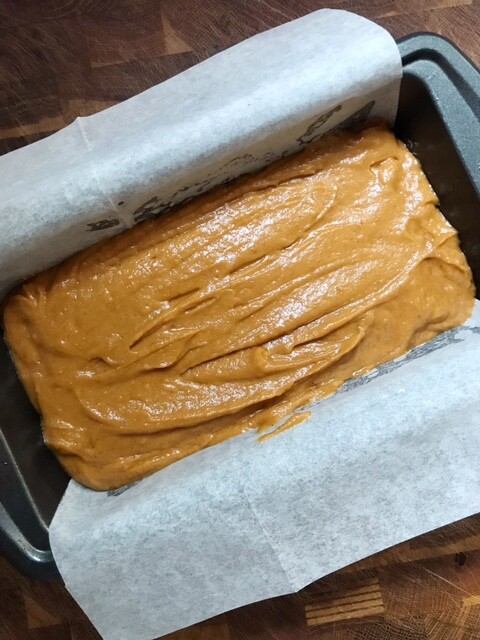 Copycat Starbucks Pumpkin Bread Recipe
Copycat Starbucks Pumpkin Bread Recipe
Ingredients
1 1/2 cups all-purpose flour
1/2 tsp baking powder
3/4 tsp baking soda
1/2 tsp ground nutmeg
1 1/2 tsp ground cinnamon
1/2 tsp ground cloves
1/2 tsp salt
2 eggs
1/2 cup brown sugar
1/2 cup white sugar
1 tsp vanilla extract
1/2 can pumpkin puree (about 7-8 oz or around 1 cup)
1/2 cup vegetable oil
Directions
Preheat your oven to 350 degrees. Grease a loaf pan and line with parchment paper (allowing some overhang on the long sides).
In a mixing bowl, whisk together the flour, baking powder, baking soda, nutmeg, cinnamon, cloves, and salt.
In a stand mixer fitted with the paddle attachment, mix the eggs, brown sugar, white sugar, and vanilla extract together on medium speed until well combined, about 45 seconds to 1 minute.
Add the pumpkin and vegetable oil and mix on medium speed until smooth, about 1 minute.
Add the flour mixture and stir on low until just combined.
Pour into the prepared loaf pan and bake for 50-55 minutes, until a toothpick inserted into the center comes out clean.
Allow to cool for about 20 minutes in the pan and then remove to cool completely.
Created by SouthernSavers.com
See more recipe ideas!