This post may contain affiliate links. Read our disclosure here.
For years, Costco has often been touted as a great way to save money on some key items: diapers, pet food, toilet paper, and more! You know that I love a good deal, but I wanted to find out if it was actually the best deal. Not only was I not convinced it was always a good price even for items you usually buy in bulk, but not everyone has access to a Costco. I didn't want those of you who don't live near one to feel like you were missing out if you could actually find the items on Amazon, which is accessible to almost everyone. And so I went on a long journey to find compare Costco vs Amazon and find out which saves you more!
Note: The graphics below showing the comparison may be too small, so if you're not able to zoom in, you can Download the PDF of the full price comparison!
Costco vs Amazon: Which Saves You More?
How I did the comparison
I compared 28 items at Costco vs Amazon to see which one was a better price. To get the best possible comparison, I used a price per unit comparison. In the graphic and PDF below, you can see the price per battery, price per lightbulb, price per ounce, price per pound, and so on. This is the only way to really see which item is a better price.
A few caveats: I tried to compare items that were similar. In some cases, the item on Amazon was organic and the Costco item wasn't. This wasn't a perfect comparison, but I did the best I could. I also understand that some of you may be more focused on some name brand items. In those cases, you'll have to do the comparison yourself. I mostly compared the cheapest, most basic items. In some cases, that was a name brand item, but it just compared. I've listed the actual item I compared so you can do more research if you want to.
For Amazon, if the item was available with their Subscribe and Save program, I tried to use that price. If you're a frequent Amazon shopper and aren't using Subscribe and Save, definitely look into it. For many items, it can be the cheapest option if it's something you use regularly.
Items that are basically the same price at both places
There were 3 items out of the 28 that were pretty much the same price at both places: allergy medicine, dish soap, and olive oil. I was especially surprised at the allergy medicine! I've always heard that you should buy allergy medicine at the big warehouse stores because it's so much cheaper. But at least at the time I'm writing this post, the price was the same at both Costco and Amazon for 10 mg cetirizine (Zyrtec) pills: 4¢ per pill. So if you have a Costco membership, maybe buy it there! But if you don't, know that you're getting a great price on Amazon.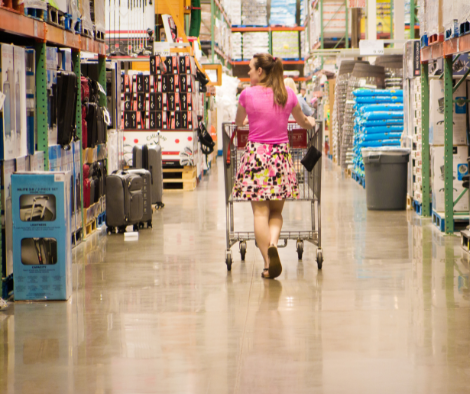 Items you should buy at Costco
I compared 28 items, and 18 of them were actually a better deal at Costco. In some cases, it wasn't a huge difference vs. Amazon, but in same cases, the difference was almost half the price per unit. For example, a 25 lb bag of flour works out to 36¢ a lb at Costco vs 75¢ a lb on Amazon. Another huge difference is the Kirkland Institutional Laundry Detergent. It was 4¢ per ounce vs. the basic Amazon laundry detergent, which is 18¢ an ounce.
Other things definitely worth buying at Costco vs Amazon are: batteries, maple syrup, cashews, ibuprofen, paper towels, pet food, and vitamins.

Items you should buy at Amazon
There were 7 items that were significantly cheaper on Amazon vs Costco. One surprising one was diapers. I've always heard people say you should buy diapers at Costco because it's the cheapest. Well, I'm sorry to be the bearer of bad news, but the Amazon Mama Bear diapers are only 16¢ each if you buy the large box, compared to 20¢ a diaper for the large box at Costco of the same size. Personal care items like bar soap and shampoo and conditioner were also significantly cheaper on Amazon.
The final verdict: which saves more?
I found this comparison really helpful, because as someone with access to both Costco and Amazon, I now know where I can truly save the most money. Remember, though, that these two options are not the only place to buy these items, and there may be a cheaper option than both of these. Especially for food items, Aldi or Walmart might be even cheaper. And for some of the other items, a sale at a place like Kroger or Publix is going to be the cheapest. If you really want to get the best bang for your buck, you'll have to look at several different places to see which is actually the cheapest price.
Without further ado, I'd like to show my work for prices at Costco vs Amazon. Below the graphic you can download the PDF to print out or zoom in for a closer look.
Download a PDF of this price comparison