This post may contain affiliate links. Read our disclosure here.
Odds are your local savings account is currently earning less than 0.5% interest.  No matter how much you have in your savings account, there is definitely a better place to put your money right now!
Many online banks are offering interest rates between 4 to 4.25% for savings accounts with no minimum. You can also get interest up to 6.89% if you branch out from the norm and grab I Bonds from the US Treasury.
Let me walk you through all the options for higher interest right now:
Highest Interest Option – I Bonds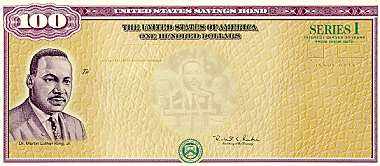 If you already have savings that you are okay with not touching for 12months, then I strongly recommend buying Treasury I Bonds.  These are offered straight from the US Treasury and are paying an extremely high 6.89% interest rate right now.
Rates readjust every 6 months but will stay much higher than your local bank for quite a while as they adjust based on current inflation rates.  You only need to keep your I bonds for 12 months, so the time limit is also much better than most CD's.  (You can keep them much longer than that, 12 months is just the minimum.)
Purchase I bonds here, or get more information.
Wether you buy a lot right away or put a little bit of money aside every month, this is a great option to earn more than even the stock market is making right now!
Great Traditional Savings Accounts
The best rates you'll find are all at online banks.  You can easily transfer money between your local bank and these accounts.  They are also all FDIC insured accounts that are traditional savings accounts or CDs.  No money is invested or at risk of decreasing in value.
Their are two main differences between a CD and a Savings account.  First, you cannot access money in a CD until the term is up, compared to a savings account that you can add money too or take from at any point.  Second, the rates for savings accounts adjust all the time.  They could go higher, or more likely lower, at any time.  CD rates are locked in for the entire term of the CD.
ally Bank – 4% APR on Money Market accounts.  No minimum balance and no monthly account fees. Includes debit card (though you should treat this like savings and not use it). Details here.
Synchrony Bank – 4.15% APR on their High Yield Savings Accounts. No minimum balance and no monthly account fees.  Easily access with ATM card. Details here.
5.15% APR on a 14 month CD.  No minimum balance.  You cannot access money until the end of the CD term.  This rate does not change for the life of the CD  Details here.
Citizens Bank – 4.25% APR on Savings accounts.  No minimum balance and no monthly account fees. Details here.
4.75% APR for a 12 month CD. $5,000 minimum deposit to obtain top rate. Details here.
UFB Direct – 4.81% APR on Premier Savings accounts. No minimum balance and no monthly account fees.  Details here.
Tip: If you don't need the money right away longer CD rates guarantee the higher interest for a longer time.  When the Federal Reserve stops raising interest rates, these savings rates will eventually return to their normal puny rates…
Note: Interest earned on savings accounts, CDs and I Bonds are all taxable.  These rates were all correct as of 4/18/23.