This post may contain affiliate links. Read our disclosure here.
I'm all about convenience, and I don't necessarily think making everything from scratch is the most frugal option. But there are some things that are really easy to make from scratch and that also taste way better than the alternative! Homemade pancakes are one of them. You can buy the mix where you just add water, but making these from pantry staples are almost as easy, and the final outcome is even more delicious. We love having these on the weekends or pairing them with a casserole when we do breakfast for dinner. You can top them with butter, syrup, whipped cream, fruit, or even chocolate chips!
Homemade Pancakes Recipe
This is a recipe that could also be made with buttermilk, but since that's something I don't usually have in my fridge, so there's an easy cheat that works really well. You just need to add vinegar to milk.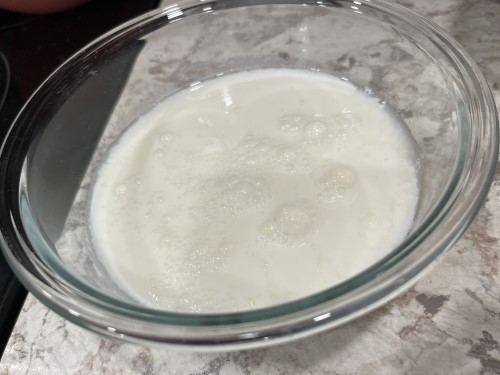 The ratio is 1 part vinegar to six parts milk, so since this recipe calls for 1.5 cups milk, I add 1/4 cup white vinegar. You can also use apple cider vinegar, but it can add a tiny bit of tartness. Let this sit while you mix the rest of the ingredients.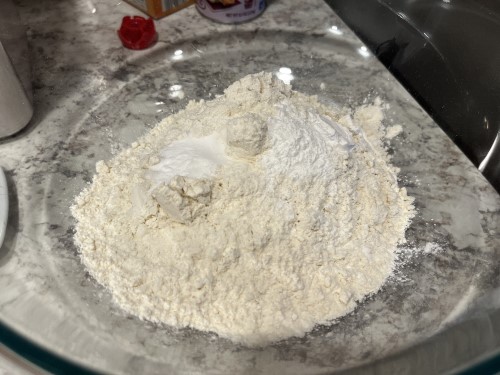 Stir together the dry ingredients in a separate bowl.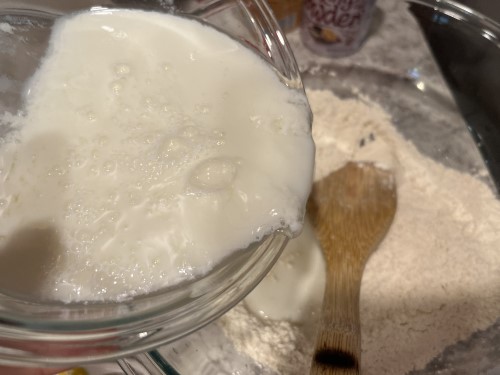 Then you can pour in the curdled milk. It will look a little chunky, but that's how it's supposed to be!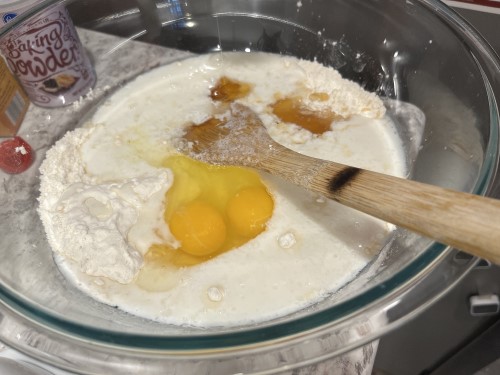 Add the eggs and honey and gently stir to combine.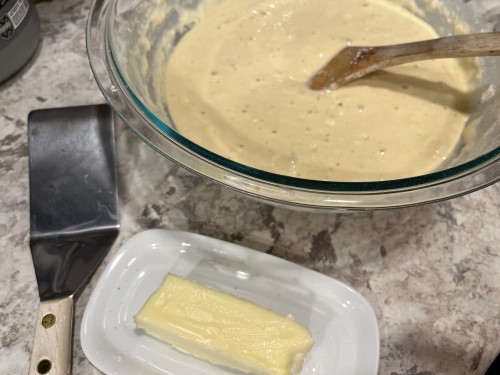 To make the pancakes, heat a skillet to about medium. You can use cooking spray, but the pancakes crisp up way better if you use butter.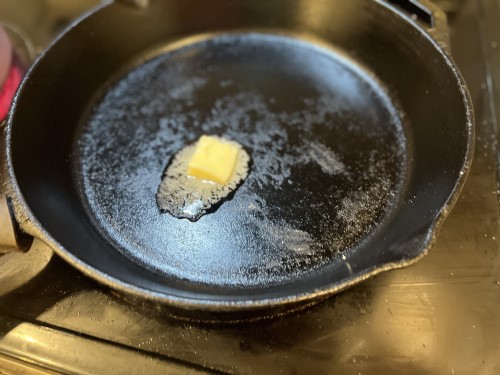 Depending on the size of the pan, add 1/2-1 tablespoon and let it melt.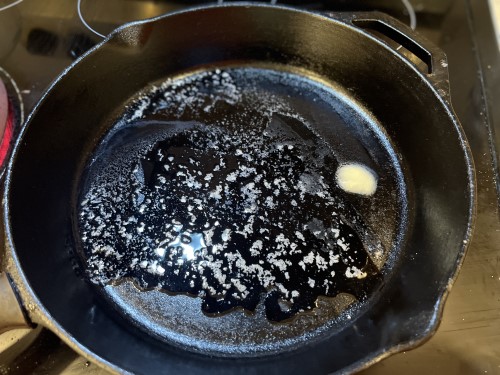 Use your spatula to spread it around before adding the batter.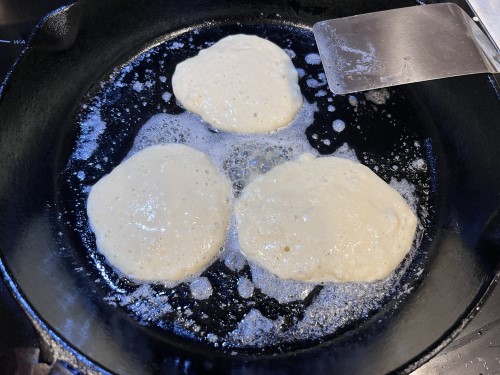 Use a 1/4 measuring cup to put the batter in the pan. In my larger cast iron skillet, I can usually fit three pancakes.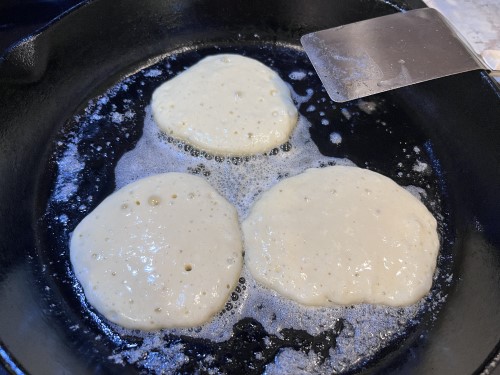 Once the pancakes start to form bubbles that rise to the surface, flip them over.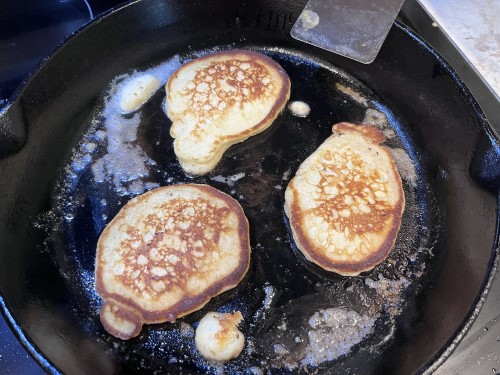 Let them cook for another minute or two, then remove from the pan.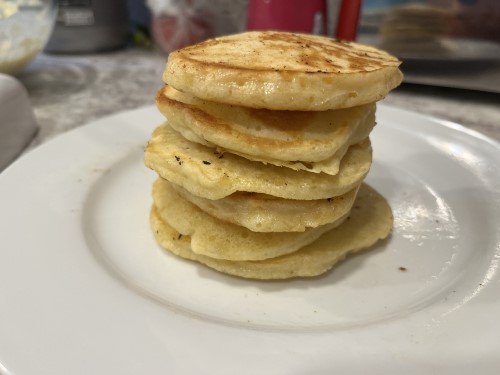 You now have a perfect stack of pancakes to add whatever toppings you want!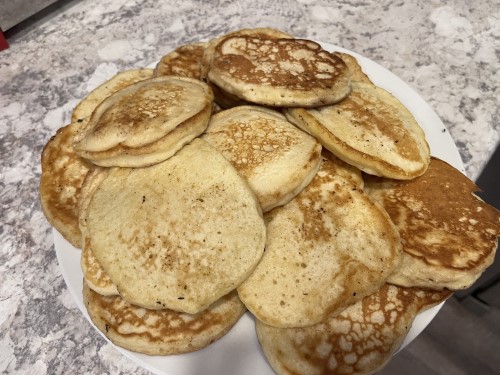 If you are cooking for only a few, you can halve the recipe, as it makes about 20 pancakes. But if you want to save some for later, these are great for freezing!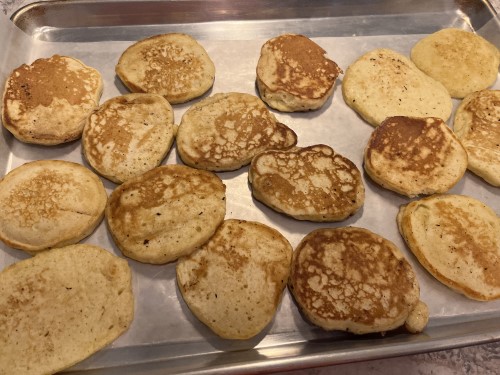 Put the cooled pancakes on a sheet pan with wax paper and let them flash freeze in the freezer. Then stick them in a zipper bag and put them back in the freezer. They can be easily reheated in the microwave for a quick breakfast!
Ingredients
1 1/2 cup milk
1/4 cup white vinegar
2 cups all-purpose flour
2 tsp. baking powder
1 tsp. baking soda
1 tsp. salt
1/4 cup honey
2 eggs
~1/4 cup butter, reserved
Directions
Mix the milk and vinegar in a bowl or large measuring cup and set aside.
Heat a skill to medium heat.
Stir together flour, baking powder, baking soda, and salt in a bowl.
Add honey, eggs, and milk/vinegar mix to the dry ingredients.
Gently stir together until just mixed.
Melt about 1 tbsp. of butter in the skillet and spread it around.
Use a 1/4 measuring cup to scoop batter into the skillet.
Let the pancakes cook until you start to see bubbles coming to the surface, then flip them.
Cook for a couple minutes until done, and then remove to a plate.
Repeat adding butter and batter until you've used up all the batter. Top with syrup, whipped cream, or fruit!
Created by SouthernSavers.com