This post may contain affiliate links. Read our disclosure here.
Lately all I really care about when it comes to meals is doing something easy that everybody will enjoy. I'm not trying any new gourmet recipes or buying expensive ingredients only to have them go to waste. A couple months ago I hadn't planned for dinner, which is rare, so I opened the fridge and realized we had a lot of different things that would all taste pretty good on pasta. I quickly boiled a whole box of pasta, pulled out all the stuff in the fridge, and whipped up a batch of my homemade alfredo sauce. Everyone declared it the best meal they had ever had (I'm thankful they're easy to please) and now the pasta bar has become a part of our regular rotation. It's perfect for more selective eaters and also lets everybody serve themselves!
Pasta Bar with Homemade Alfredo Sauce
The great thing about a pasta bar is that anything goes and it can help you reduce food waste. Lately we've been doing it every week or so and pulling out things like leftover veggies and meat and using them to top our pasta.
The first step to a pasta bar is… pasta! Literally any kind of pasta will work. For this particular pasta bar, we used elbow macaroni.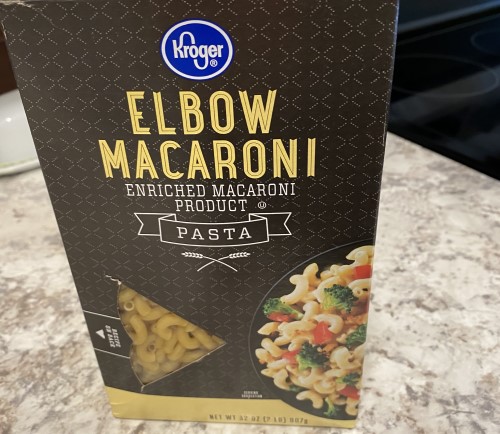 You'll get the water boiling for that and then get the pasta in.
One of the secrets of my pasta bar is that I usually make homemade alfredo sauce. For whatever reason, my kids prefer white sauces over red sauces. You can buy jarred alfredo sauce and usually can get it on sale (and if you like it, more power to you), but making it from scratch tastes so much better and can be done in the amount of time it takes your pasta to cook.
All you need is cream cheese, butter, heavy cream, parmesan cheese, and garlic powder. (Go to the end of the post for the exact measurements). You're just going to dump all this in a saucepan together, turn the heat to medium-low, and keep an eye on it, stirring it frequently with a whisk. If it gets too hot or you don't stir it enough, it will burn on the bottom, so don't stray too far.
The only other things you need for your pasta bar are whatever you want to put on your pasta! For this pasta bar, I used the following:
Homemade alfredo sauce (serves 4; double if you have a bigger family!)

Hot dogs (cut up)

Grilled chicken from the freezer

Bacon bits

Pesto

Peas

Sugar snap peas

Assorted seasonings (salt, pepper, crushed red pepper, Cajun seasoning)
I didn't have enough hot dogs or grilled chicken to feed everyone, so I made both and everyone got to have what they wanted. Another time recently, we only had one small steak left over from a previous meal, so I chopped that up.
I like to put everything out on the counter so everyone can see the options and serve themselves. Here's what the recent lineup looked like.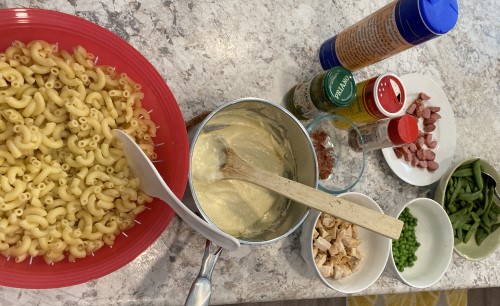 Now all you have to do is let everyone make their choices. I do try to always have at least one vegetable option and require everyone to have some veggies, but other than that, I let them choose. Here's what one of my kids' plates looked like.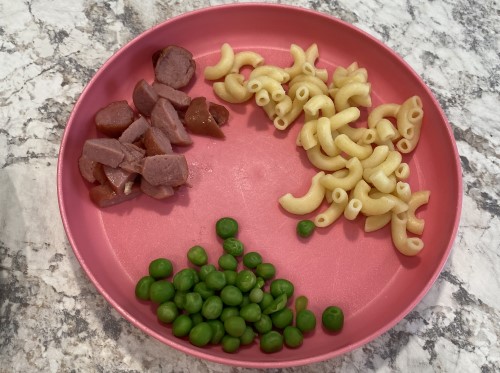 I decided to make mine a little more interesting than that and added alfredo sauce, a dollop of pesto, and grilled chicken, along with some bacon bits (I ate my veggies on the side).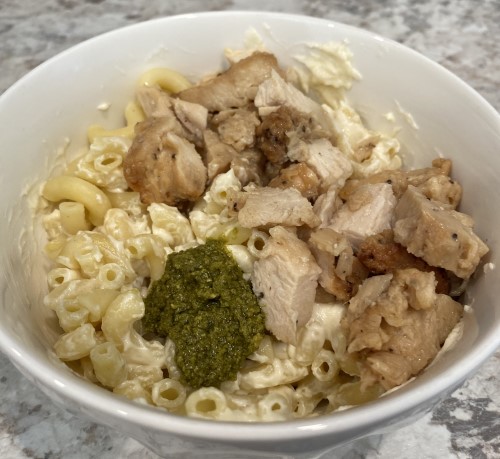 Again, the best part of this meal idea is that you can use whatever you have! Here are some other toppings we've had on other nights:
Sauteed mushrooms

Crumbled Italian sausage

Bacon

Marinara sauce

Meatballs

Broccoli

Green beans

Melted butter

Parmesan cheese

Mexican cheese
 Here's the recipe for the alfredo sauce. It makes enough for about 4 bowls of pasta, so you may need to adjust the recipe depending on how many people you're feeding.
Ingredients
4 oz cream cheese
4 tbsp butter
½ cup heavy cream
½ cup parmesan cheese
1 tsp garlic powder 
Directions
Add ingredients to a saucepan and turn heat to medium low.
Whisk frequently until all ingredients are combined and smooth.
Created by SouthernSavers.com
Lately we've been doing this pasta bar even more often, and no one is complaining. In my mind, anything that's easy, reduces waste, and makes everybody happy is a win-win!
What are your favorite pasta toppings? Let us know in the comments!
See more Southern Savers recipes!