This post may contain affiliate links. Read our disclosure here.
Looking for an easy meal as this week gets started? Try out a family favorite recipe, our easy oven fajitas.  I originally found a version  from Budget Bytes', but found a few areas we could cut to reduce costs and use our own seasoning blend that I keep mixed up for tacos and enchiladas.
A few ways to make this recipe even cheaper:
Double the veggies and reduce the amount meat.
Add in cooked pinto or black beans as you put together your fajitas.
Use chicken thighs rather than chicken breast or look for mark down steak and slice it in thin strips.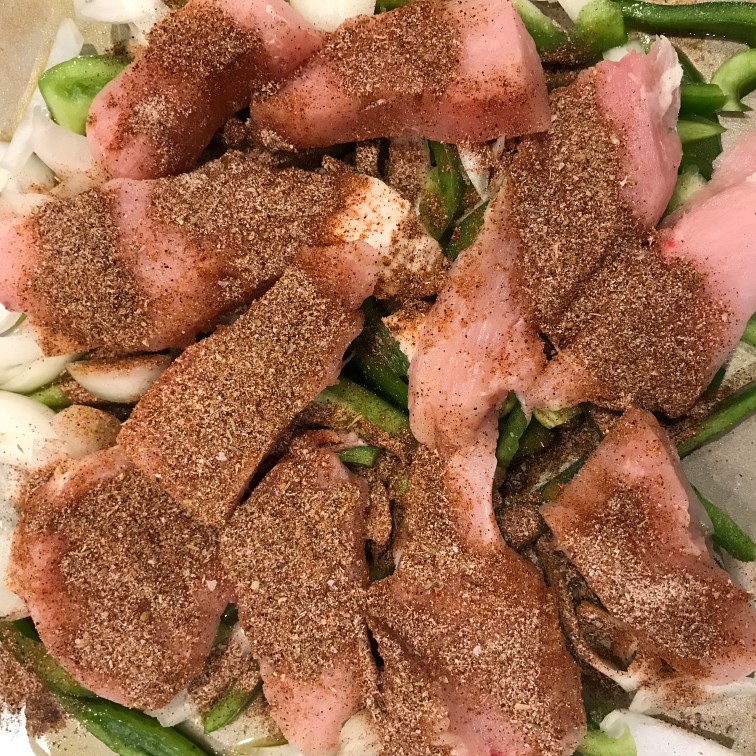 One of the great things about our easy oven fajitas is that you can prep everything in the morning, stick the pan in the fridge, and then just place it in the oven at dinnertime.   Oh, and did I mention it's all in the same pan?!  One dirty pan makes my mama heart happy.
Pull out some tortillas, cheese, sour cream, salsa, and guacamole and other favorite toppings. Really, the meat and veggies have so much flavor that you can go as little or big on the extra toppings as you like.  We tend to just do sour cream and cheese.  Some of our other favorite sides for oven fajitas, in addition to the usual taco/fajita toppings, are black beans, yellow rice, and corn.
Enjoy!
Easy Oven Fajitas: Chicken or Steak
Ingredients
Seasoning Mix:

2 tbsp. chili powder
2 tsp. garlic powder
2 tsp. onion powder
2 tsp. oregano
2 tsp. cumin
2 tsp. paprika
2 tsp. salt

For Oven Fajitas

3 tbsp. Seasoning Mix (1.5 tbsp per lb of meat)
2 lb. boneless chicken or steak
1 large onion
3 bell peppers (green are cheapest, but any color works!)
1/4 cup extra virgin olive oil
Directions
Preheat oven to 400 degrees.
Mix the spice ingredients in a small bowl. (Save extra in an old spice jar or ziploc bag for another meal).
Slice the onion and peppers into thin strips.
Spray a 9x13 baking pan with nonstick spray and place the vegetables in the pan, then place the chicken or steak on top. Drizzle the olive oil over the meat and vegetables, then sprinkle the spice mixture over the top. Use a spoon to stir everything up, then place in the oven and bake for about 40 minutes.
Once it's done, use two forks and pull the chicken into smaller pieces in the pan. Then give it a good stir so that all those yummy spices cover all of the chicken.
Created by SouthernSavers.com
Given the option, one of my kids would choose to eat every meal at Moe's Southwest Grill. That's obviously not nutritionally OR financially responsible, so we have to make do with recreating it at home. This particular child has told me that this chicken, when put on a quesadilla with cheese, "is 90% as good as Moe's," which I take as a high compliment!

Side note: This oven fajita chicken chicken is 100% keto/paleo/gluten-free, but obviously the toppings and sides are where you can get into trouble. Eat the chicken and vegetables over cauliflower rice and choose toppings appropriate for your diet!