This post may contain affiliate links. Read our disclosure here.

Having the realization that I could mix together a pie crust dough directly IN the pie pan without having to roll anything out was amazing to me.
This press in the pan pie crust recipe makes quiches and pies easier than ever!
A few notes:
-This recipe will make one pie crust (enough for a standard pie pan).
-It works with quiche recipes or pie recipes that call for a single crust.
-Make sure to use cold butter and water in this recipe (you can even freeze the butter and then grate it into the flour using a cheese grater).
-Generally, you will want to blind-bake this crust before moving ahead with your pie recipe: Preheat your oven to 350 degrees. Line the crust with parchment and fill with pie weights (or you can go rogue and just skip the weights, which is what I do sometimes and it still turns out delicious…). Bake for 10 minutes. Remove from the oven, remove the parchment and the weights, and prick the crust all over with a fork. Bake for an additional 5 minutes, until the crust starts to turn golden brown. Let it cool before adding your filling.
-This crust really tastes so good (so much better than store-bought) and it requires so much less effort than traditional pie crust recipes!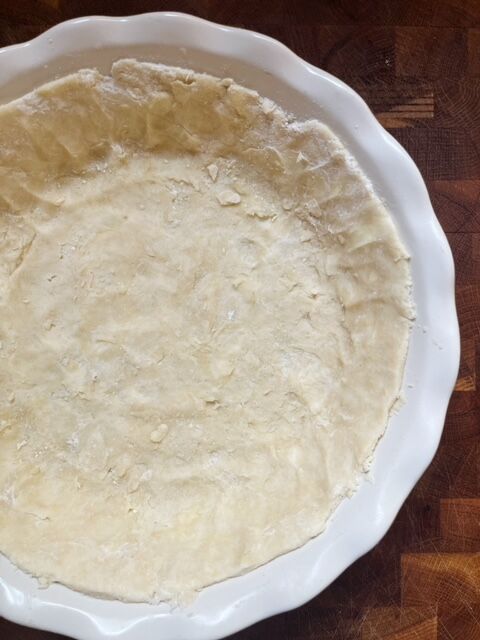 Easy Press in the Pan Pie Crust
Ingredients
1 cup all-purpose flour
1/2 tsp salt
1/2 cup (1 stick) cold unsalted butter, cut into small pieces
1-2 tbsp cold water
Directions
In a pie pan, mix together the flour and salt.
Add the butter and, using your hands or a pastry cutter, rub the ingredients together until the mixture resembles small peas.
Add the cold water (1 tbsp at a time) and mix together with your hands until there is no more dry flour and you can squeeze the dough into a ball. The dough shouldn't be too wet; you should use just enough water to make sure the ingredients are combined. You may end up using more or less water.
Pat the dough evenly into the bottom of pan and then up the sides. You can trim the edges if necessary.
You can use this dough for recipes calling for a single crust. Check out the notes above to see how to blind-bake.
Created by SouthernSavers.com
See more recipe ideas!