This post may contain affiliate links. Read our disclosure here.
Interested in saving some money by growing your own vegetables this spring? If so, now's the time to start thinking about what you'd like to plant!  Today I've got a list of 15 easy vegetables to grow yourself so you can save some money on fresh produce this spring and summer!
Even if you don't consider yourself to have a green thumb, these vegetables are considered a good place to start for first-time gardeners. I wouldn't recommend planting ALL of them your first time growing a garden, but maybe pick 4 or 5 from the list that your family enjoys and see what happens. We've done a garden for the last 5 years and every year it gets a tad larger.  This year we are planning tomatoes, collards, okra, squash, zucchini, onions, butter beans, and lettuce.
For help on figuring out when to start vegetables indoors and outdoors based on where you live, check out the helpful site Planting by Color.  You can also check with your local extension office for your county.  They are eager to help and truly know your area!
15 Easy Vegetables to Grow Yourself
Lettuce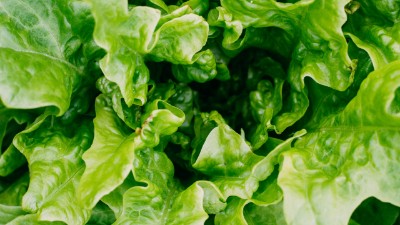 Planting lettuce means that when you're hankering for a salad with dinner, you've got the most essential part only a walk away in your garden.
Tip: Lettuce doesn't like to get super hot, and is one that does well during the spring and fall.  This is the perfect choice to get started with now and then branch out to other veggies as the summer goes on!
Tomatoes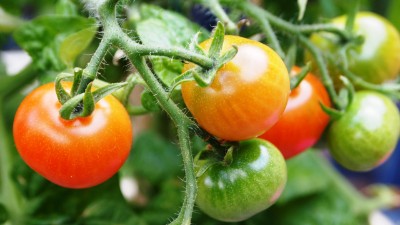 Many varieties of tomatoes are easy vegetables to grow yourself and are great to top your salad with! My kids are quick to eat cherry tomatoes straight off the vine, so make sure all your work doesn't get eaten before it even comes inside.
Tip: Tomatoes grow amazingly well in pots on the porch.  If you have very limited space, don't let that stop you.  Grab a few containers and at least get two plants going (they do better when there are more than one to pollinate flowers).
Cucumbers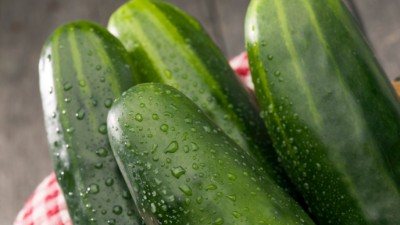 If you decide to grow cucumbers, you've got another great salad topping as well as the potential for making your own pickles!
We first started these in a raised bed and they grew like crazy!  One plant will provide quite a bit of cucumbers so start small with just a few plants.  If not, then start finding deals on mason jars because you're going to be making lots of pickles…
Carrots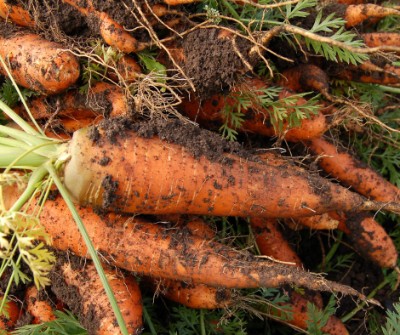 Since they grow underground, carrots are very hardy and a great vegetable for beginning gardeners.  If you don't believe me, this is the go-to veggie for every kid's first garden set.  If my 3 year old can grow them, you can, too!
Radishes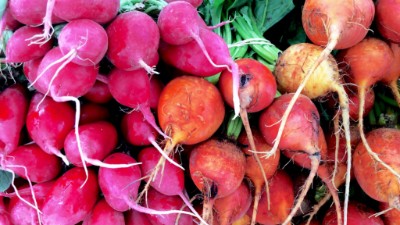 Radishes aren't a big part of our family's diet, but they are one of the first veggies we planted on our farm.  I know that doesn't make much sense… but our horses love them!  After planting them for the horses we started eating them in soup and roasts.  They are a great filler item and taste like potatoes in those dishes.
Green beans
Green beans are another vegetable you can eat raw with some ranch dip or cook up a big pot for a side dish. They're easy to grow and produce abundantly!
Tip: We use wildlife netting, sold in a long roll for $5-$8 at tractor supply, as a fence for the beans to run on.  It's perfect and once they get started growing on it they take over so you don't have to string anything up.
Zucchini
Zucchini is great for a side dish, but you can also shred it to make baked goods. Just be prepared that you don't need very many plants to have a ton of zucchini!
With zucchini, they are ripe even when they are super small.  I would recommend picking them around 7-9 inches in length and not waiting until they turn into the size of baseball bats.
Watermelon
Can you get more Southern than growing your own watermelon?  This is probably the easiest plant in our yard as every one we've grown has been a "volunteer."  The kids spit watermelon seeds over the porch railing and then next year we get watermelon plants growing in the front flower beds!  While it may not be the landscaping we planned on, no one complains.
Peas
All my kids love peas, so having a fresh supply coming out of the garden sounds like a great idea to me.  Some grow like green beans, wanting a place to climb, but you'll find a few varieties that are more like tiny bushes.  Beans like lots of water, just make sure you have the sprinkler on a timer so you don't forget!
Peppers
If there is one vegetable in the garden that makes me feel like we are saving money, it's bell peppers!  They are so expensive in the store!  We use them in so many recipes each week, so having a supply in the yard is wonderful.
While this is an easy vegetable to grow, it's not the easiest.  I wouldn't recommend this be your very first seed in the garden; instead head to the store and get a few starter plants this year.  Next year you can start them from seed.
Pumpkins
You may want to wait until later in the year to try pumpkins, but wouldn't it be great to skip the pumpkin patch this fall and just pick a few out of your own garden?  They grow super easy with little work needed from you!
Spinach
I can never get enough spinach. I love it fresh as part of a salad and I also love it sautéed with seasonings. I'm still trying to get my family on board—I'm hoping if my kids get excited about picking it out of our own garden, they'll be more inclined to give it a try!
Another one that is super easy is collards.  They are very similar to spinach and one that in our area keeps growing all year!  We've had a few collard plants that we just kept in the ground and picked fresh leaves from as needed for 2 years.
Basil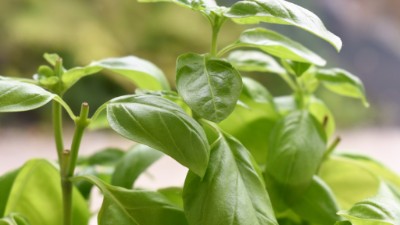 We've had fresh herbs growing in our front flower bed for years.  While they look pretty, they are amazing to step out and get seasonings for meals right when you need them.  Basil is my favorite and one of the easiest to grow.
Potatoes
Who doesn't love potatoes? So many options and ways to eat them. Plus, it's super fun for your kids to pull them out of the ground!  I have fun memories of digging up potatoes in my grandparents garden and am glad to pass that one down to my girls.
Tip: This is one veggie that you can start from potatoes you already have on hand.  No need to buy plants or seeds.  Just cut up a few potatoes and let them start to grow!
Chives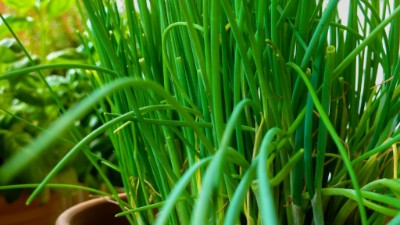 Chives are fun and easy to grow and a great thing to top all kinds of food with. If you end up planting potatoes, then you've got the beginnings of some delicious loaded baked potatoes!
What are you planning to grow in your garden this year? Tell us in the comments!
Looking for more tips on home gardens? Check out some of our previous posts: