This post may contain affiliate links. Read our disclosure here.
One thing that all of us need to work on is practicing wellness.  We tend to put everyone's needs before our own, working to get the house fed, clothes clean and school handled.  Practicing personal wellness doesn't have to be a big lifestyle change.  A few things we have added as a family are daily walks before dinner and having quiet reading time in the evening with the TV and devices off.
One of my favorite ways to practice wellness is making time for tea time.  Tea has long been known for healthful benefits, but it's also a simple way to press the pause button and take a quiet deep breath.  Taking those moments to enjoy a cup of warm tea will become your favorite moments of the day!  
I know you are thinking of how great a cozy tea time would be… make the most of tea time with Lipton Wellness and TAZO blends at Publix.  Lipton Wellness teas come in seven varieties, crafted with botanicals and essential oils.  TAZO Blends can add a little unexpected to tea time with vibrant blends like Energize with green tea and ginseng or Tumeric Bliss with a taste of radiant, aromatic, golden turmeric and sweet passionfruit flavor.
Throughout the month, check out Publix online and save on teas with a Publix $1 off digital coupon of Tazo and a $1.50 digital coupon on Lipton  Look for this online at Publix.com!
Extra Savings Tip: Look for an in-store dispenser with TAZO manufacturer coupons.  We've seen them in many stores over the last few months.  
Some of our favorite blends to try: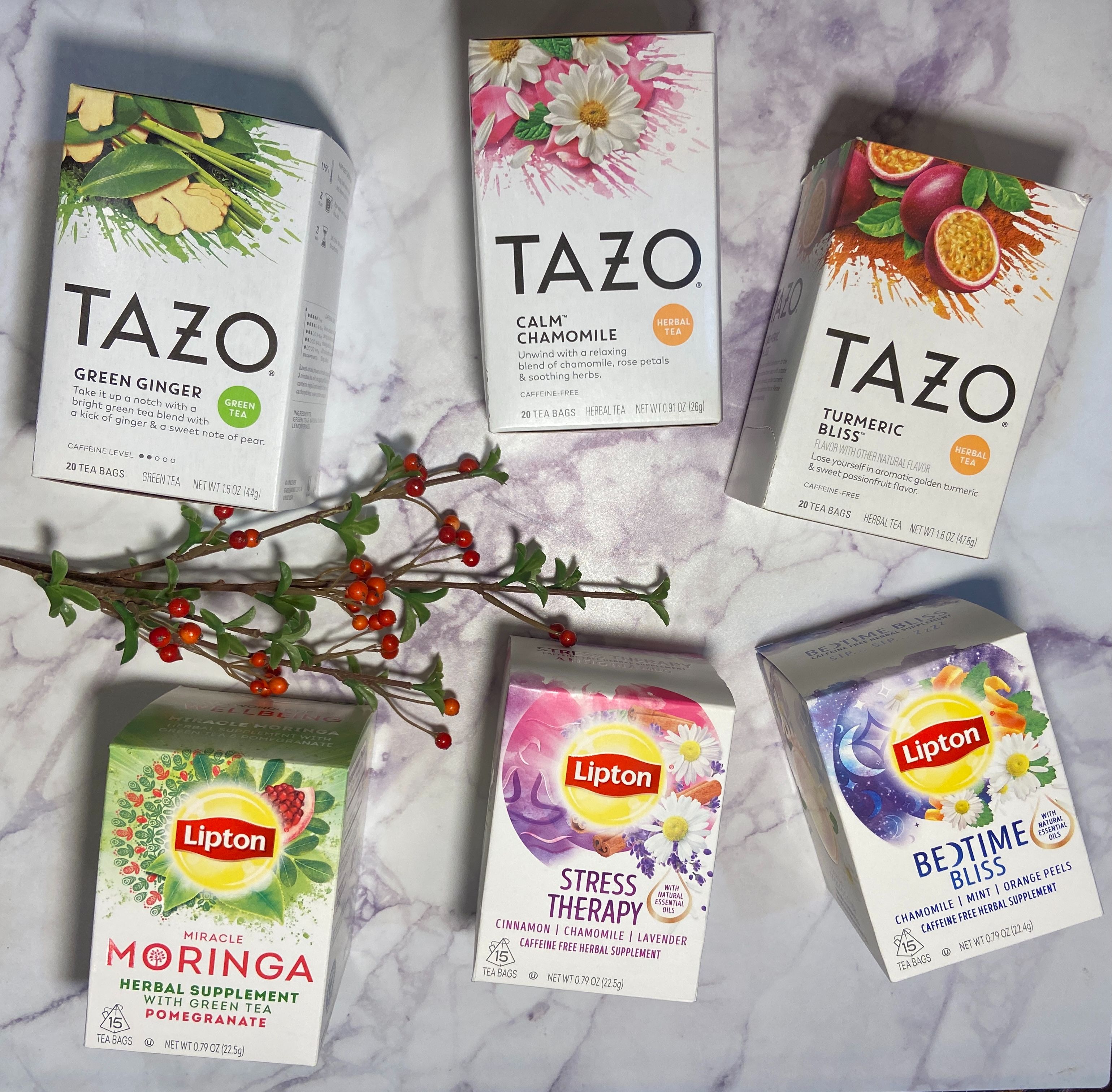 Lipton Miracle Moringa with Green Tea – used for over 3000 years in Asian cultures, Moringa is viewed as a wonder of wellbeing. This tea has a delicate balance of earthy and fruity tones with a hint of pomegranate.
Lipton Stress Therapy – A great choice for unwinding and relaxing, Stress Therapy includes cinnamon, chamomile and lavender.  Think of it as a hug in a mug!
Lipton Bedtime Bliss – A wonderful addition to your bedtime routine, this is a herbal infusion that sings you to sleep.  It includes Chamomile, Mint and Orange Peels that make every cup delicious.
TAZO Green Ginger – Start the day with this bright green tea blend with a kick of ginger and a sweet note of pear.  One of my older girls can go through a box of Tazo Green Ginger every week!!
TAZO Turmeric Bliss – This is a big favorite in our house with a taste of the southern seas in a mug.  Blended with golden turmeric and passionfruit, this smells and tastes amazing.
TAZO Calm Chamomile – Unwind from the day with a caffeine-free blend of chamomile, rose petals & soothing herbs.  Put the kids in bed and enjoy quiet moments with a warm cup.
Save money at Publix with your digital coupons, and be ready for little wellness breaks throughout the week.  Spending those moments on yourself now will help you ring in a healthier and happier new year!