This post may contain affiliate links. Read our disclosure here.
My friend Chelsey is pregnant, so I encouraged her to sign up for as many baby registry welcome boxes as she could just so we could share all the details with you. Over the next few weeks we'll get an in-depth look at every registry box there is!
I'm pregnant with our fourth child, and I don't think registry boxes were even a thing until my last child, who was born in 2017. But even then, somehow I missed the memo, so I was really thankful Jenny encouraged me to sign up for them. As you'll see in the coming weeks, they're totally worth signing up for! I signed up for 5: Amazon, Target, Walmart, Buy Buy Baby, and Babylist. Today I'm going to be sharing what comes in the Amazon Baby Registry Welcome Box!
What Comes in the Amazon Baby Registry Welcome Box
I buy so much on Amazon that it seemed obvious to start there. On September 23, I went to the baby registry section and entered in all the information to get a registry started. Once I did, I had a lot of options.
In the "Welcome Box" category, there are 3 steps you have to take in order to get the Amazon baby registry welcome box.
The three steps are:
1) Be an Amazon Prime member
2) Make a $10 minimum purchase from the registry
3) Complete a registry checklist
I was already an Amazon Prime member, so that part was easy. The registry checklist takes a little bit of time, as you have to mark off a number of categories of baby items. If you don't want to add anything to your registry from those categories (for example, I don't need a carseat this time), then you just check them off.
The final thing I needed to do was make a $10 minimum purchase. I was eager to find out what was in the box so added a cute little hedgehog toy to my registry that cost exactly $10, and then I went ahead and ordered it.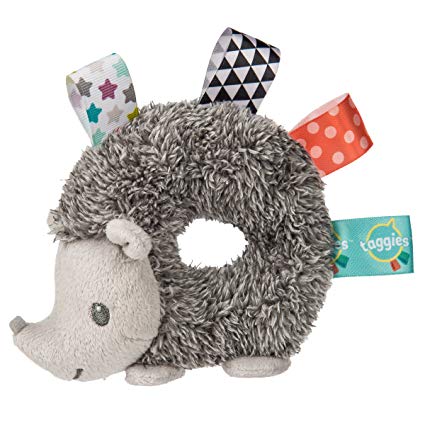 Taggies Heather Hedgehog Baby Rattle
Once I did that, the registry said I had completed all the items. However, it said the Amazon baby registry welcome box was unavailable. Life happened and I didn't check again until October 21 (about a month later), and it still said it was currently unavailable, but that I could opt to get an e-mail when it was available again.
I checked again a week later on October 28, and while I hadn't yet received an e-mail, I now had the option to redeem the box. I added it to my cart and it initially came up as $35, but when I went to when I went to checkout it said I could use a $35 promotional balance. I completed the free order, and it arrived about a week later.
I'm sure you're wondering, what was in the Amazon baby registry welcome box?
It was packaged really nicely, and as soon as I opened it up and tore through the cute paper inside, I could see some of the contents.
Here is a list of everything that was inside the box:
Amazing Baby muslin blanket
Carter's 3-6 month onesie
Hanes 0-6 month gray sweatshirt
WaterWipes sample
Mam newborn pacifiers, 2-pk
Avent Natural bottle, 4 oz
Cetaphil Baby Wash and Shampoo, 1.7 oz
Aquaphor sample
Breastfeeding guide with 2 disposable nursing pads

Pampers diaper changing kit including:

changing pad
Dreft laundry detergent sample
Proctor & Gamble coupons
Pampers wipes sample
Pampers newborn diaper
Having had three kids already, I knew that just the muslin blanket alone was worth at least $10, so I wasn't at all upset that I had to spend $10 in order to get the box (and, I got to keep that cute hedgehog rattle). Overall, I was excited to see many things that were practically useful for the new baby beyond the free samples: the blanket, the clothes, the pacifiers, the bottle, and the diaper changing kit.
Here's everything all together!
Overall, I'd highly recommend signing up for the Amazon baby registry welcome box if you're expecting. I'll definitely be recommending it to all of my friends.
Have you ever received an Amazon baby registry welcome box? Was there anything different in yours?