This post may contain affiliate links. Read our disclosure here.
Make a quick Walmart pickup order today and get everything you need for a basic Thanksgiving Dinner for FREE after Ibotta offers!
You can either use the Ibotta App or the new Ibotta new Browser Extension.  You will need to link your Walmart Account inside the app or extension.
You'll see this offer on the main page as soon as you login. Click to download the browser extension to get started.
Free Thanksgiving Bundle Dinner offers:
(all are limit 1 of each offer)
Butterball Frozen Boneless Turkey Roast, 3 lbs

 

Campbell's Condensed Cream of Mushroom Soup, 10.5 oz
French's Original Crispy Fried Onions, 2.8 oz

 

McCormick Turkey Gravy Seasoning Mix, 0.87 oz
Great Value Frozen Green Beans, 12 oz
Idahoan Mashed? Potatoes, 8 oz
Great Value ?Canned Cranberry? Sauce, 14 oz
Great Value ?Stuffing, 6 oz
Coca-Cola 2 Liter Bottle
My total came out to $20.03 for everything (before tax)!!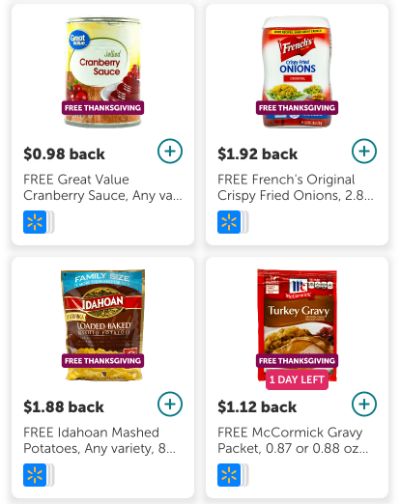 To Redeem the Offers:
Load the offers in your Ibotta app under Walmart Pickup or download the Browser Extension and head to Walmart Pickup & Delivery
The browser extension will automatically pop-up.
Link your Walmart.com account in the app or extension and you'll see each Thanksgiving Bundle offer appear.
Load items to your Walmart pickup/delivery order and checkout!!
You'll get all the money back in your Ibotta account within 24-48 hours.  You can cash out straight to paypal or gift card.
Even if you won't use every item, I'd encourage you to grab the deals and then donate them to your local food back!