This post may contain affiliate links. Read our disclosure here.
What kid doesn't love chicken nuggets? Mine aren't picky at all and will eat pretty much whatever kind I find on sale at the store. There's not much easier than popping a pan of dino nuggets in the oven.  It's actually not that tricky to make your own chicken nuggets and they are much higher on the nutritional side than store bought versions!
My #1 goal of making our own Chicken Nuggets was needing to still be able to pop them in the microwave if we were in a rush. This recipe was perfect for that!  Not only are these chicken nuggets baked instead of fried, but they're crispy on the outside and moist on the inside. In other words, the perfect chicken nugget.
Freezer Chicken Nuggets Recipe
The key to this chicken nuggets recipe is cornflakes! You're basically replacing bread crumbs with these, but you're turning them into a breadcrumb consistency.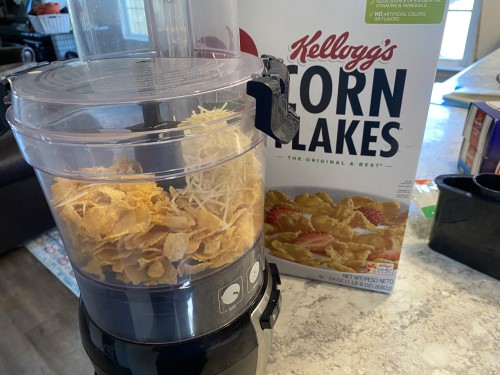 The first step is to mix the cornflakes, parmesan cheese, garlic powder, onion powder, and salt in a food processor.
Then pulse until it looks like bread crumbs.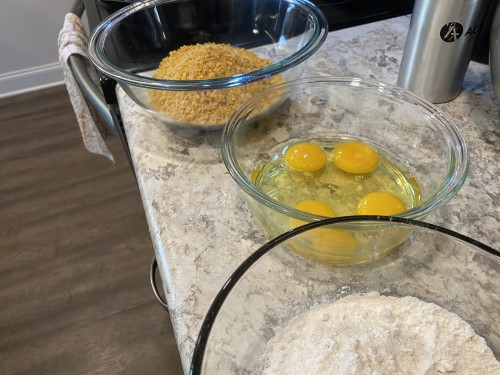 Now you're ready to set up your coating station. The final bowl is the cornflake mixture. The first bowl has plain flour, and the "wet" bowl is eggs.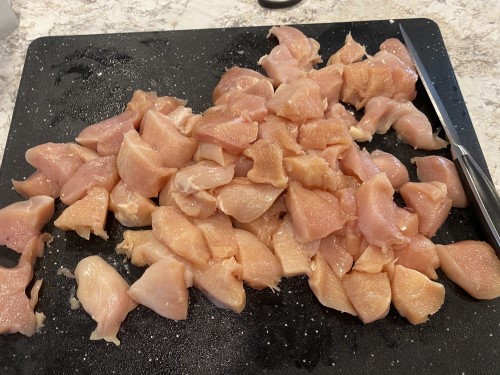 Then you'll want to cut your chicken breasts up into nugget sized chunks. Once you've got the chicken and the dishes ready, you'll start coating them. I did a few at a time, using my right hand to put them in the first and last bowl and my other hand to get them out of the egg. Keeping one hand for the "dry" coating and one for the "wet" lets you work without your hands turning into coated chicken nuggets themselves.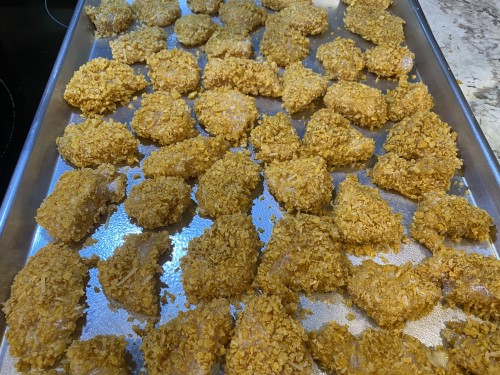 Then place them on a baking pan that you've coated with cooking spray, and cook at 425 degrees for about 15 minutes.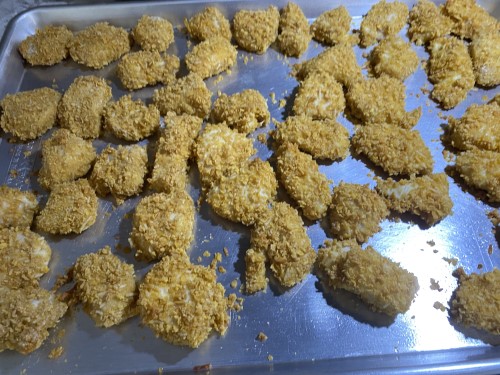 They'll come out looking like this! Crispy without having to be fried.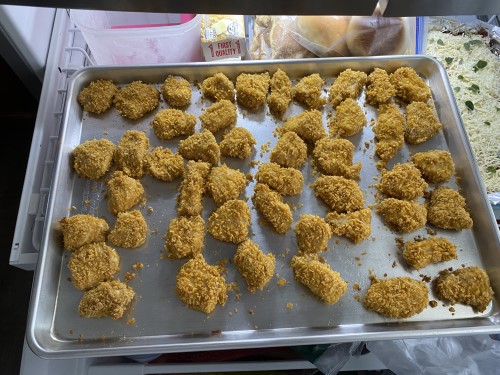 I let mine cool, then placed the pan I cooked them on directly in the freezer to flash freeze.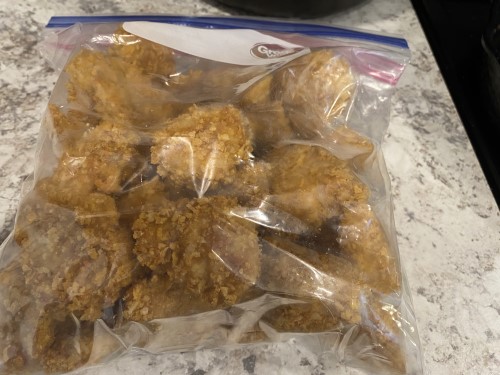 Once they were frozen, I doubled bagged them in freezer bags. To reheat, you can cook them in the oven again (425 for 15 minutes) or pop them in the microwave, where they will still be delicious, although not as crispy.
Freezer Chicken Nuggets Recipe
Ingredients
6 cups corn flakes
2/3 cup parmesan cheese
1 tsp salt
1 tsp garlic powder
1 tsp onion powder
4 eggs
1 cup flour
4-6 chicken breasts
Directions
Add the corn flakes, parmesan cheese, salt, garlic powder, and onion powder to a food processor and pulse until they resemble breadcrumbs.
Using three shallow dishes, put the flour in one, the eggs (whisked) in the second, and the rest of the ingredients in the third.
Cut the chicken breasts into nugget-sized pieces.
Using one hand for the "dry" dishes and one for the "wet" dish, place the chicken nuggets through the three dishes: first flour, then eggs, then the cornflake mixture, coating all sides.
Place on a baking pan until you've done the process to all the chicken.
Bake at 425 for 15 minutes.
If freezing, flash freeze them on a pan for a few hours, then place in a ziptop bag or freezer safe container. Reheat them the same way you cook them fresh!
Reheat the same way you cooked them. (You can also reheat in the microwave, but they won't be as crispy.)
Created by SouthernSavers.com