This post may contain affiliate links. Read our disclosure here.
I'm all about working smarter, not harder. And making this freezer lasagna is one of those things that's just as easy to double as it is to make one. If you make two at a time, then you can either put them both in the freezer or eat one for dinner tonight and save the other one for a future day.
With summer coming, being able to pop something in the oven and forget about it is amazing!  If you have an oven that lets you delay when it starts preheating, you could set the frozen lasagna in the oven for a few hours and then have it start baking while you're at the pool. Not only is it easy, but it's also frugal!
I used cottage cheese, which is much cheaper than ricotta, and I added only mushrooms and spinach to make it vegetarian. You could leave the veggies out altogether or add different veggies if your family doesn't prefer mushroom and/or spinach.
Freezer Lasagna Recipe (Makes Two!)
Other than sautéing the vegetables, this freezer lasagna requires no cooking ahead of time!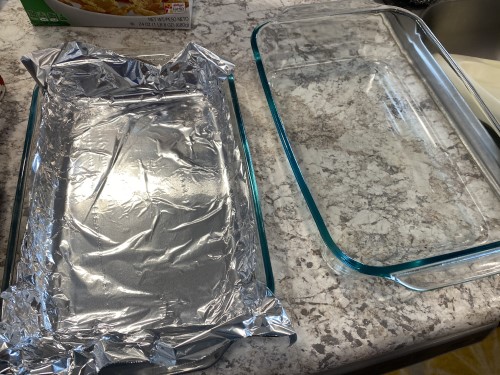 The first step is to prepare your pans. You can use foil pans, foil lined glass pans, or just glass pans. I did one in a glass pan because we were going to eat it for dinner that night. The other one I lined with foil so I could remove it from the pan once it was fully frozen.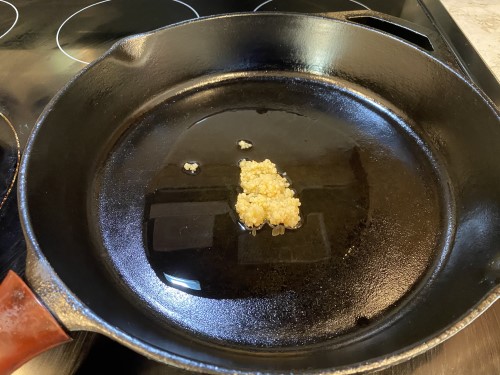 Heat up a few tablespoons of olive oil over medium heat and saute some minced garlic.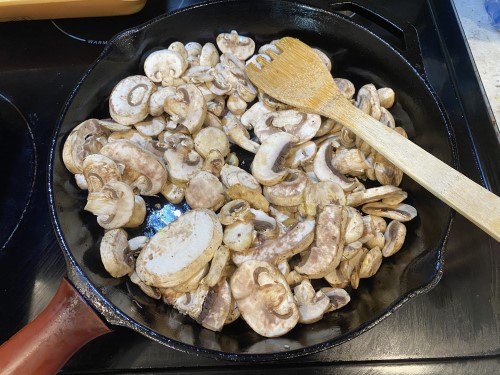 Then add a bunch of sliced mushrooms!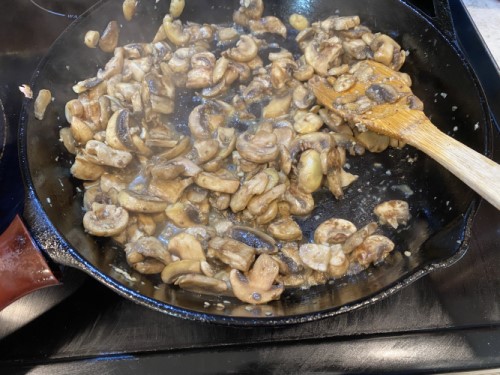 I cooked them for about 5 minutes until they were soft but not all the way cooked.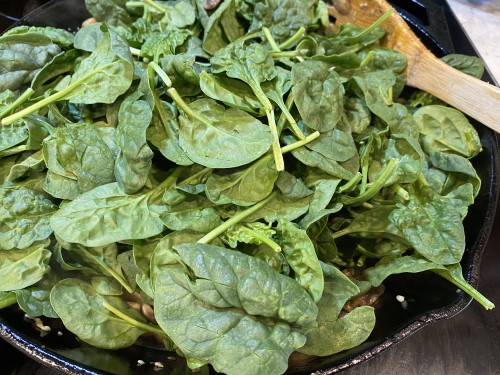 Then I added the spinach and cooked them together for several more minutes until the spinach wilts.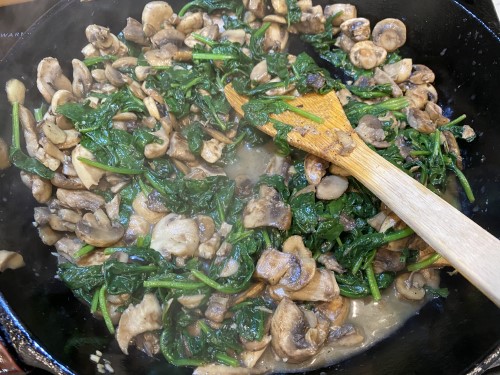 I'm always amazed at how much the spinach cooks down!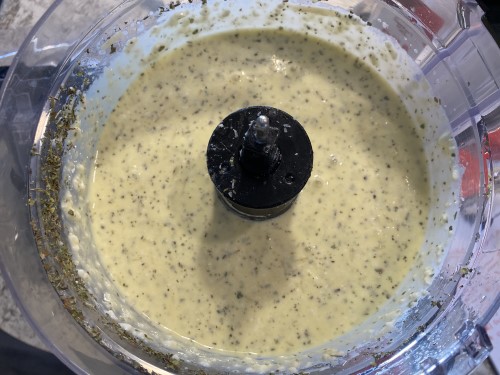 While the veggies are cooking, put cottage cheese, eggs, Italian seasoning, salt, pepper, and parmesan in a food processor and blend until creamy.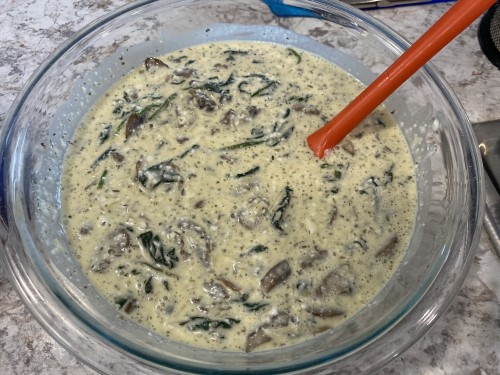 Once the veggies are cooked and cooled, mix the cheese mixture with them.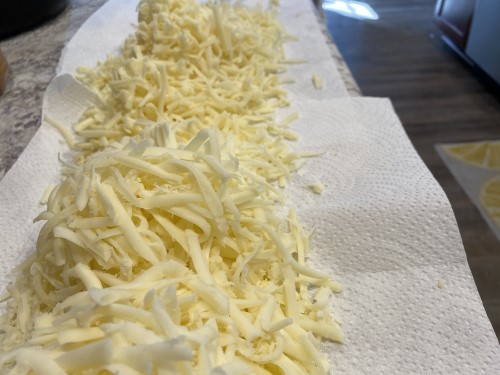 You'll also need lots of mozzarella cheese. I had two 1-lb blocks so I shredded them by hand, but you can certainly use pre-shredded.
Spread a bit of sauce in the bottom of each pan.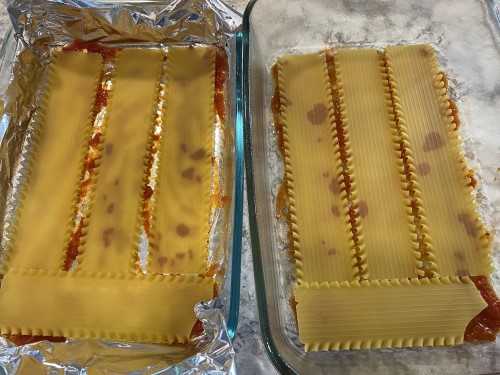 Then cover the bottom with oven ready lasagna noodles. You'll notice along the bottom I used about 2/3 of a noodle. I just broke the end off and saved them for future layers.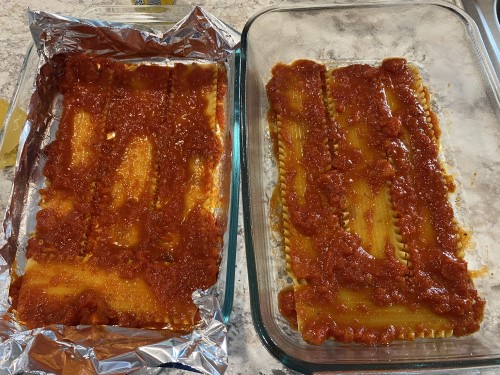 Now you'll continue with each "round" of layers. Each round is: noodles, 1 cup sauce, 1 cup cheese/veggies, 1 cup mozzarella. You'll do three "rounds."
You probably don't need pics of all of them, right?
This is the final layer for the first round.
Now you'll start again with round 2. Notice on the left how I used the pieces I broke off for other layers and made enough for that part. No waste!
Continue with the layers: sauce, cheese/veggies, mozzarella.
Then you'll do the round of layers one more time.
Once you get to the mozzarella cheese at the end of the last round, you'll do something a bit different for the top!
Start with the noodles, as with the other rounds.
Then add sauce.
But you should now be out of the cheesy veggie mixture, so you'll just top with the rest of the mozzarella.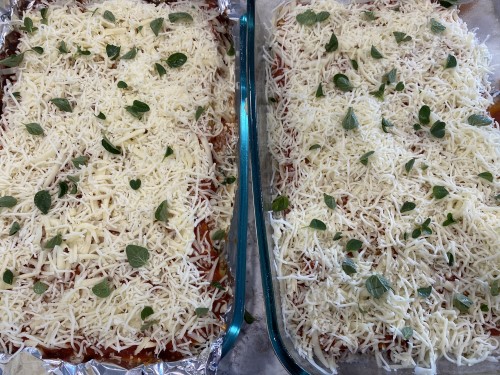 I finished it off with some fresh oregano from our garden.
Then I stuck the one in the foil lined pan in the freezer.
After several hours, it was frozen enough to lift out of the pan.
I folded up the sides first.
Then I wrapped it with 1-2 more layers of foil and wrote what it was.
Then I wrapped it with plastic wrap and put it back in the freezer for an easy dinner another day!
I cooked the other lasagna for dinner that night, and it was a big hit! See the recipe below for cooking directions.
Freezer Lasagna Recipe (Makes Two!)
Ingredients
2 tbsp. Olive oil
2 tbsp. Minced garlic
16 oz sliced mushrooms
9 oz bag baby spinach
Salt and pepper
32 oz cottage cheese
2 tbsp Italian seasoning
4 eggs
1 tsp salt
1 cup parmesan cheese
64 oz (2-3 jars) tomato or pasta sauce
2 boxes oven-ready lasagna noodles (about 30 noodles)
32 oz shredded mozzarella cheese
Directions
Heat the olive oil in a large skillet over medium heat. Add the garlic and saute for a few minutes.
Then add mushrooms and cook for about 5 minutes, until they start to soften.
Add the entire bag of spinach and cook until mushrooms are completely soft and spinach is wilted. Add salt and pepper.
Put cottage cheese, Italian seasoning, eggs, salt, and parmesan in a food processor and blend until creamy.
Mix cheese mixture with spinach and mushrooms.
In two separate 9 x 13 baking dishes or foil pans, spread a few spoonfuls of sauce on the bottom. (If freezing the way I did, line a baking sheet with foil.
Then do the following layers in order in each pan: 3-4 lasagna noodles, 1 cup sauce, 1 cup cheese/veggie mixture, 1 cup mozzarella cheese. Do this two more times.
After the third complete layer, add another layer of noodles, 1 cup sauce, and top with mozzarella cheese. Add other seasonings on top if desired.
If baking from fresh or thawed from frozen, bake at 350 covered for 40 minutes, then remove the cover and bake for another 10 minutes.
If baking from frozen, bake at 425 covered for 1 hr 15 minutes, then remove the cover and bake for another 10 minutes.
Created by SouthernSavers.com