This post may contain affiliate links. Read our disclosure here.
With a quick item search on Southern Savers, I can clearly see there are sales on household cleaners every week. Many of the cleaners are still around $2 though and are full of potentially harmful chemicals.
With a very active one year old, I have be careful about what chemicals are in the house. She spends a lot of time on the floor and anything she can reach will end up in her mouth.
In an effort to eliminate harsh chemicals while staying true to my frugal heart, I have started making my own all natural cleaners. I was surprised at how cheap and easy to make they were. I was even more surprised at how well they work.
Here is a breakdown of everything you need to know to get started.
Supplies:
White Distilled Vinegar
Water
Lemon Juice
Baking Soda
Liquid Castile Soap
Tea Tree Oil
Hydrogen Peroxide
Funnel (saves time and prevents spills)
Spray Bottles
How To Use The Ingredients:
Vinegar
White vinegar is your new best friend. Vinegar is a great cleaner because of its acidic nature and has a natural antibacterial effect. I like to use vinegar in almost all of my cleaners. The major plus side is that it's very cheap!
Baking Soda
Baking soda is great for the abrasive quality. It works well on surfaces in the bathroom and kitchen. You can even add a little salt if you want to boost the abrasive scrubbing power.
Lemon Juice
Lemon juice is another great ingredient to have. It leaves a steak-free shine, kills mold, and even cuts grease.
Hydrogen Peroxide
My favorite use of Hydrogen Peroxide is to use it as a laundry spot cleaner. You can mix it with water and leave it in your laundry room to have on hand.
Olive Oil
Olive oil covers a multitude of sins. I use it on wood and leather to hide scratches. You just rub it on and the scratch blends in. It also moisturizers wood making it great for polishing.
Liquid Castile Soap
I use Dr. Bronner's. It may seem a little expense at first, but a little goes a long way. I grabbed the unscented, but you can use scented as well.
Natural Cleaners Recipes
Glass Cleaner
Ingredients:
1/2 Cup Distilled White Vinegar
Water
Directions:
Combine ingredients in a spray bottle and shake gently.
Total Cost: 12¢ per bottle
Tips: You can also add a little rubbing alcohol to achieve a streak free shine. For an extra shiny finish, wipe the surface with black & white newspaper. Some people also add 1 tablespoon cornstarch to the mix. I'm honestly not sure why, but it seems to work.
All Purpose Cleaner
Ingredients:
2 Tablespoons White Distilled Vinegar
1 Teaspoon Liquid Castile Soap
2 Tablespoons Baking Soda
2 Cups Warm Water
Directions:
-Combine vinegar and Castile Soap in spray bottle
-Add baking soda & wait until it stops foaming
-Add warm water
-Shake Gently
Total Cost: 12¢ per bottle
I use unscented Castile soap and couldn't smell the vinegar at all after combining ingredients.
Furniture Polish
Ingredients:
1 Cup Olive Oil
1/2 Cup Lemon Juice
Directions:
Combine ingredients in spray bottle.
Total Cost: $1.78 per bottle
I hand juice lemons and I need two lemons in order to get the 1/2 cup of lemon juice. This would be an even better price if lemons were on sale.
Tough Surface Scrub
Ingredients:
1 Cup Baking Soda
1/4 Liquid Castile Soap
5 Teaspoons Vegetable Glycerin
5-10 Drops Tea Tree Oil
Directions:
Combine ingredients in spray bottle.
Total Cost: $1.48 per bottle
Homemade Laundry Detergent –Recipe
Scents
You can make your homemade cleaners even more fun by adding scents. To make scents, you will soak orange peels, rosemary, cloves, etc. in vinegar. If you use oranges, be sure you do not have any pulp on the rind. The pulp will make the mixture cloudy.
We have it on the window seal and just let it sit for 2 weeks. You can then add to your cleansers for a great smell!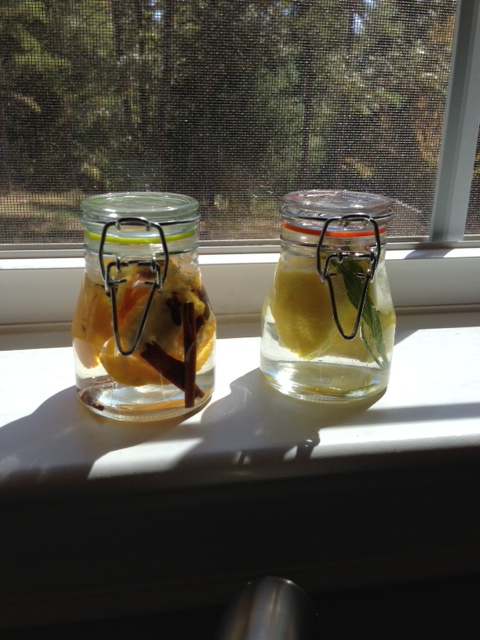 What is your favorite homemade cleaner recipe? Please share all of your cleaning tips in the comments below!
See more organic living tips.