This post may contain affiliate links. Read our disclosure here.
If you've had chili mac and love it, you'll love this recipe for Chuck Wagon mac!
I'm honestly not quite sure of how this dish received its title, but I do know that it's a quick meal to put together that is 1. unique, 2. full of veggies, and 3. really good!
Tip: Use the boxed mac & cheese that comes with the cheese sauce packet (not the kind with the cheese powder).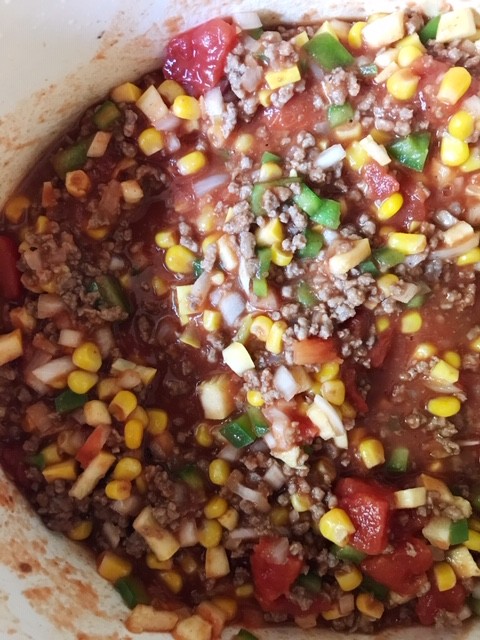 Ingredients
2 tbsp olive oil
1 lb ground beef
1/2 cup diced onion
1/2 cup diced bell pepper
1/2 cup diced yellow squash
1/2 cup corn kernels
2 garlic cloves, minced
1 15 oz can tomato sauce
1 14.5 oz can diced tomatoes
salt and pepper to taste
1 tsp sugar
1 12 oz box Shells & Cheese creamy mac (like Velveeta)
Directions
In a Dutch oven over medium heat, add the olive oil. Add the ground beef and cook until no longer pink (while breaking into small pieces). I like to salt and pepper the meat while it's cooking. Spoon out any excess grease.
Add in the onion, bell pepper, squash, corn, and garlic and stir. Cook until the vegetables are tender, about 5 minutes.
Pour in the tomato sauce and diced tomatoes. Add salt and pepper to taste and the sugar and bring to a simmer. Reduce the heat to medium-low and cook until slightly reduced, about 10 minutes.
While the beef mixture is simmering, cook the shells & cheese according to the package directions.
Add the mac to the beef mixture, stir to combine, and serve hot.
Created by SouthernSavers.com
See more frugal recipes!