This post may contain affiliate links. Read our disclosure here.
I love to make this creamy chicken taco soup and serve it with a bunch of toppings: shredded cheese, tortilla chips, avocado, sour cream, limes, etc.
Quick tip: Use rotisserie chicken meat instead of cooking your own.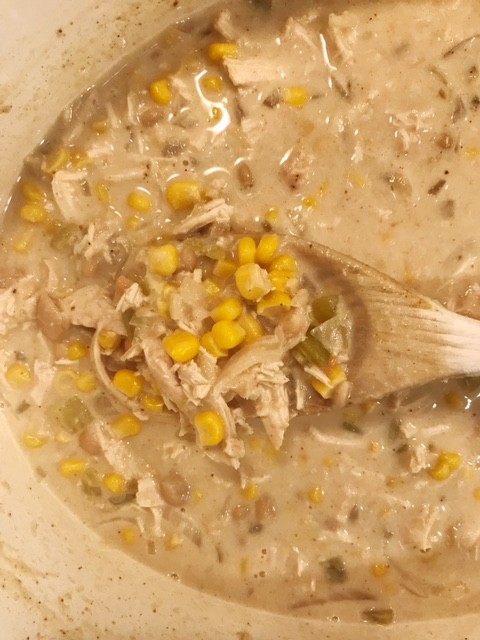 Ingredients
2 tbsp olive oil
2 chicken breasts
1/2 cup diced onion
1 can corn kernels, drained
1 can white kidney beans, drained and rinsed
1 8 oz can diced green chiles
salt and pepper
2 tbsp ground cumin
1 tsp chili powder
1 32 oz carton chicken broth
4 oz cream cheese, room temperature, cut into cubes
2 tsp cornstarch
1 tbsp cold water
Directions
In a dutch oven set over medium heat, add the oil and cook the chicken, browning on both sides, until cooked through (the internal temperature should be 165 degrees), about 12-14 minutes total.
Remove the chicken and set aside.
Add in the onions, corn, beans, chiles, salt & pepper (to taste), cumin, and chili powder. Stir around and cook until onions are soft and the seasonings are fragrant.
Add the broth into the pot and bring to a simmer.
Use two forks to shred the cooked chicken breasts and add to the pot. Add in the cubed cream cheese and stir until completely melted.
Mix together the cornstarch and water and pour into the soup. Stir around and let simmer until thickened.
Serve with your choice of toppings: shredded cheese, avocado, tortilla chips, or limes.
Created by SouthernSavers.com
See more frugal recipes!