This post may contain affiliate links. Read our disclosure here.
If you're feeling like takeout, but want to try to tackle it yourself (with probably some better ingredients), here's a recipe for easy General Tso's chicken!
This chicken is lightly fried and then tossed in a sweet and spicy sauce. Serve it with cooked rice and sauteed veggies for a super satisfying meal.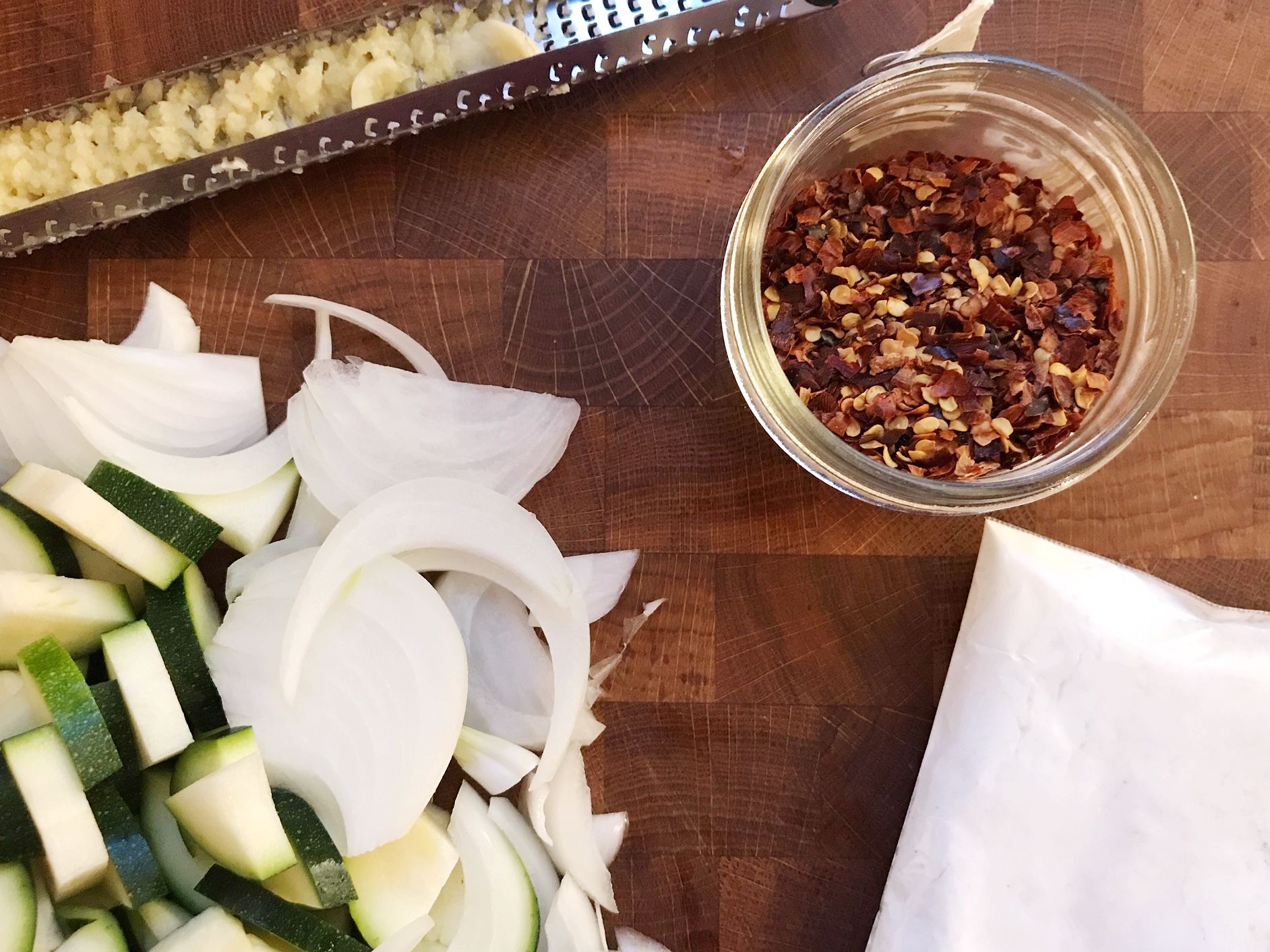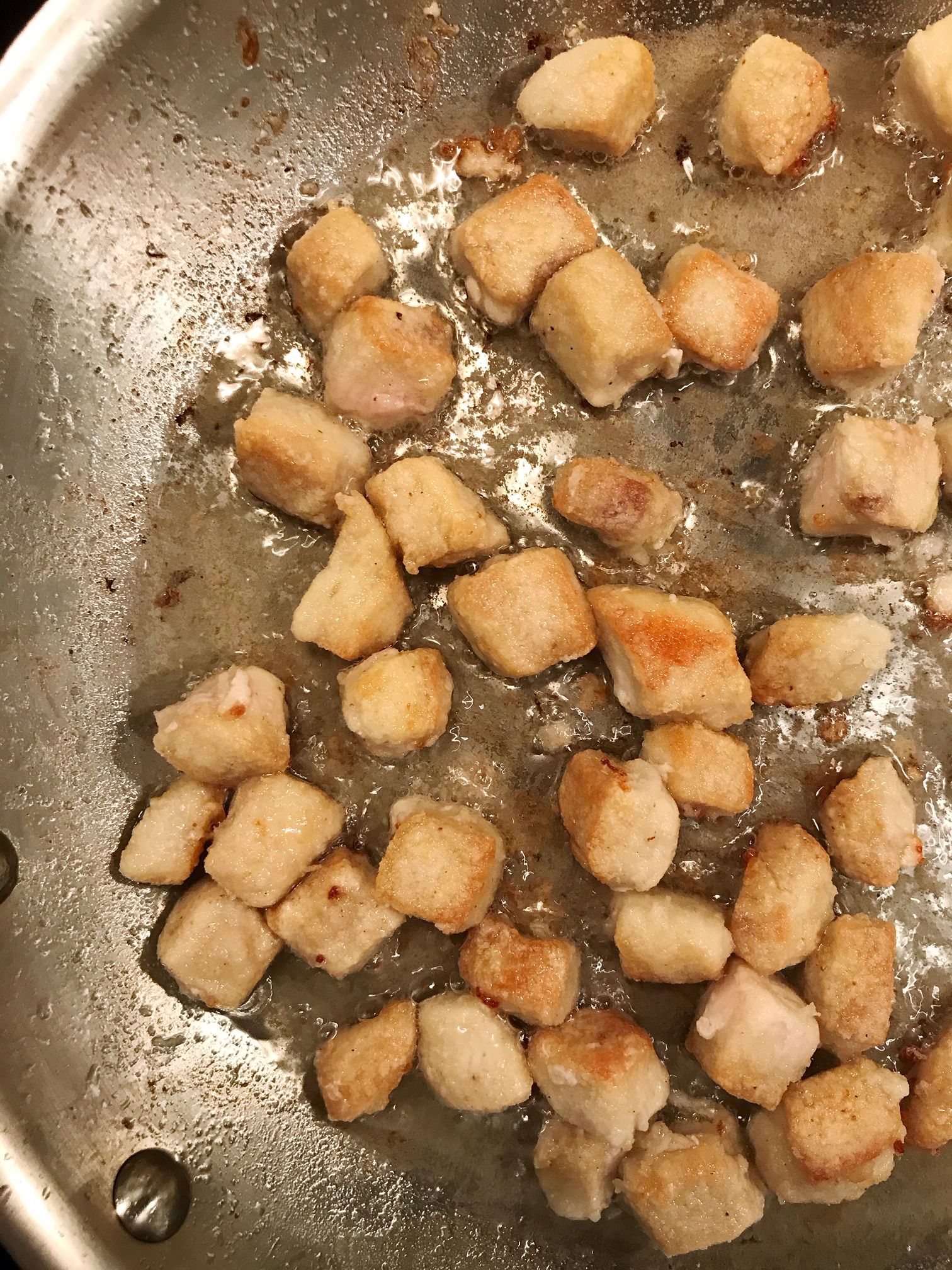 Easy General Tso's Chicken
Ingredients
1 lb boneless, skinless chicken breasts (about 2 chicken breasts), cut into 1" cubes
6 tbsp all-purpose flour
6 tbsp cornstarch
pinch of salt
1/4 tsp pepper
1/4 tsp garlic powder
vegetable oil, enough to cover the bottom of a large skillet
for the sauce:
2 tbsp vegetable oil
1 tsp minced garlic
1 tsp grated fresh ginger
1/2 tsp red pepper flakes
1/2 cup soy sauce
1/2 cup water
2 tbsp hoisin sauce (hoisin is like an asian flavored bbq sauce, so if you don't have it, try subbing with some regular bbq sauce)
3 tbsp brown sugar
1 tbsp cornstarch
Directions
In a large Ziploc bag, add the chicken chunks, flour, cornstarch, salt, pepper, and garlic powder. Shake until the chicken is well coated.
In a large skillet over medium-high heat, heat the vegetable oil (to about 350 degrees). Test to see if the oil is ready by adding one of the chicken chunks. If it's ready, the oil will sizzle around the chicken.
Add the rest of the chicken chunks (shake off excess flour mixture before adding to the skillet) evenly in the skillet (don't overcrowd the pan or the temperature of the oil will drop, resulting in soggy chicken). You can cook in batches if you need to.
Let the chicken cook until well browned on each side, about 5 minutes total.
Remove the chicken from the oil with a slotted spoon and transfer to a plate lined with paper towels to drain.
Make the sauce while the chicken is cooking: In a small saucepan over medium heat, add the vegetable oil.
Add the garlic, ginger, and red pepper flakes and cook until fragrant, about one minute.
Add in the soy sauce, water, hoisin sauce, brown sugar, and cornstarch. Stir until well-combined. As the mixture starts to simmer, it will thicken. Lower the heat to low and allow it to gently simmer for 5 minutes.
Add the cooked chicken to a bowl and pour the hot sauce over the chicken chunks. Gently toss to combine and serve hot over cooked rice and sauteed vegetables.
Created by SouthernSavers.com
See more frugal recipes!